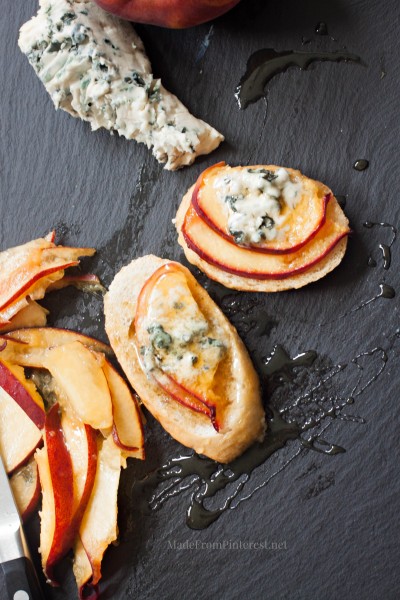 Bleu Cheese, for me, was an acquired taste. The first time I bought it, I returned it because it had a ribbon of mold in it. Imagine my surprise when I came home with fresh new batch, peeled back the wrapper and found it had happened again! I vowed never to return to that grocery store. You can read this article to find out why mold in cheese is different and even good for you. You don't need any article to tell you that bleu cheese tastes good. There is a reason people have been eating it for so long. It is straight up yummy.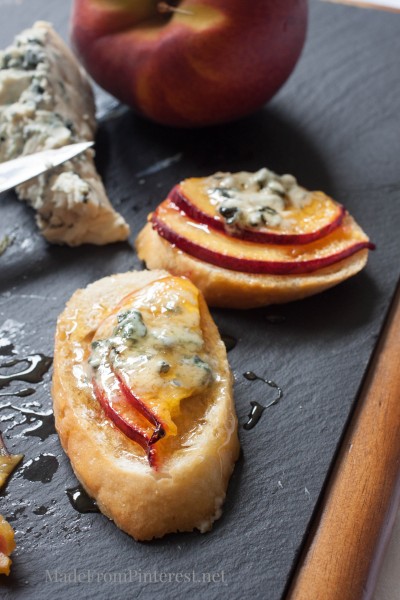 Peaches and honey are a classic pairing. The two of them seem to be meant for each other. Make sure not to peel the peaches. That pretty red stripe is a beautiful contrast against the cheese. This appetizer makes me feel like I should be sitting on a porch swing in a summer dress with a pitcher of fresh made lemonade to be able to eat them. But don't wait for that. Make this southern favorite now and wow your guests. They will think you spent all day making these. Don't worry, I will keep our little secret. I have been living in the south for almost 20 years. This southern treat is simple to make and the type of thing makes me love living in the south. Good thing you don't have to move to the south to enjoy them. Pinterest led me to Bev Cooks to get the recipe. This is a great find. The recipe and the site. Bev is a foodie who decided to learn to cook when she was digging into the bottom of the cereal box to get the toy. After looking at her site, I think she has mastered cooking. You will want to check out her recipes! But make sure to try this one first, because…
This pin rocks!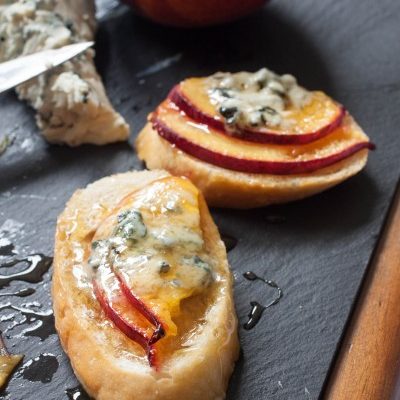 Peach, Honey and Bleu Cheese Crostini
Ingredients
* 1 baguette

cut into 1/2-inch slices

* 2 Tbs. olive oil

* 1 clove garlic

* 1- 2 peaches

pitted and sliced into thin wedges

* 8 oz bleu cheese

* about 2 Tbs. honey
Instructions
Preheat oven to 400.

Arrange the baguette slices on a rimmed baking sheet and brush oil over the slices.

Bake for 7 minutes, or until the toasts are lightly golden.

Remove papery skin from garlic and cut in half. Remove toast from the oven and rub each toast with the cut side of raw garlic clove.

Arrange the peach wedges over the bread, two slices each.

Then divide the cheese over the peaches and place back in the oven for another 5 to 7 minutes, or until the cheese is melting and the peaches have softened.

Drizzle honey over crostini.

Remove from the oven and drizzle with honey.
For more appetizer ideas you might like these! Click on the photo to be taken to the post.
We're sharing this post with: