If you are reading this post it is because you love Pinterest as much a we do! So, what could possibly be better than Pinterest itself?

What is this Pinners Conference & Expo and what is it all about? Three fabulous things…..
Fun classes…………..80 incredible classes to choose from,
Awesome SHOPPING……………….200 booths of DIY, crafts, wedding, holiday and more……….
AND we get to meet YOU!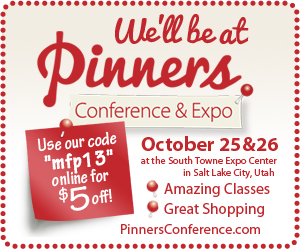 Yup, Deb and I are going to be there! We were so very EXCITED when we heard about this conference…..imagine how we felt when we found out that we are one of the presenters!!! Debbie and I will be teaching the class "Family Memories Through Cooking & Crafting with your Kids". Yes, everything in our class was found on Pinterest and all of it ROCKS!
The best part? Deb and I can't WAIT to shake your hand, give you a hug, say hello and thank you for following our blog! I can't imagine you need more motivation to attend, but just in case you are on the fence about attending, use our code "mfp13" to get $5 off your admission.
Take the code and head on over the the Pinners Conference and Expo page to get your discount ticket and of course sign up for our class. Oh, have we let you know that our class is FREE? Dang right! AND – there will also be 80 other amazing classes. You really don't want to miss the fun! Grab a girlfriend, or your mom or your daughter and make this a girl's day out!
Did we mention how excited we are to meet some of you – our wonderful readers? Leave a comment and let us know if you are coming. We would love to see you in person!!!

See you there!!!