What is Fall and Thanksgiving time without a little pumpkin? This time of year just screams for warm apple cider or hot chocolate, bulky sweaters, seeing your breath in the early morning air and pumpkin recipes.
I am a beach girl, born and bred, and have never grown a thing in my life but secretly I have always wanted to grow some pumpkins. And this year my dream came true. Our neighbors directly behind us planted pumpkins and one rogue pumpkin slipped under the fence and grew in our backyard! I was thrilled when my husband found it while mowing our yard. So for weeks we watched it grow. And grow. And grow. After cutting it from the vine, my husband estimated that this pumpkin grew to weigh in excess of SEVENTY POUNDS! Holy Moly!
We started to feel guilty that we were planning on keeping this pumpkin since it was on our side of the fence, so we ended up calling our neighbor and asked him if he would like it back. He responded that they ended up with a ton of pumpkins and this one must have meant to be ours since it broke free into our yard. So I brought it down to Phoenix to my two little grandsons and here is the littlest grandson standing up against it.
Now I don't know about you but I think that I prefer a pumpkin roll or a pumpkin cake over some pumpkin pie. Call me un-American but there ya go. If you feel the same way, then you are going love today's recipe for Pumpkin Crunch Cake with Cream Cheese Frosting pinned from Ask Chef Dennis.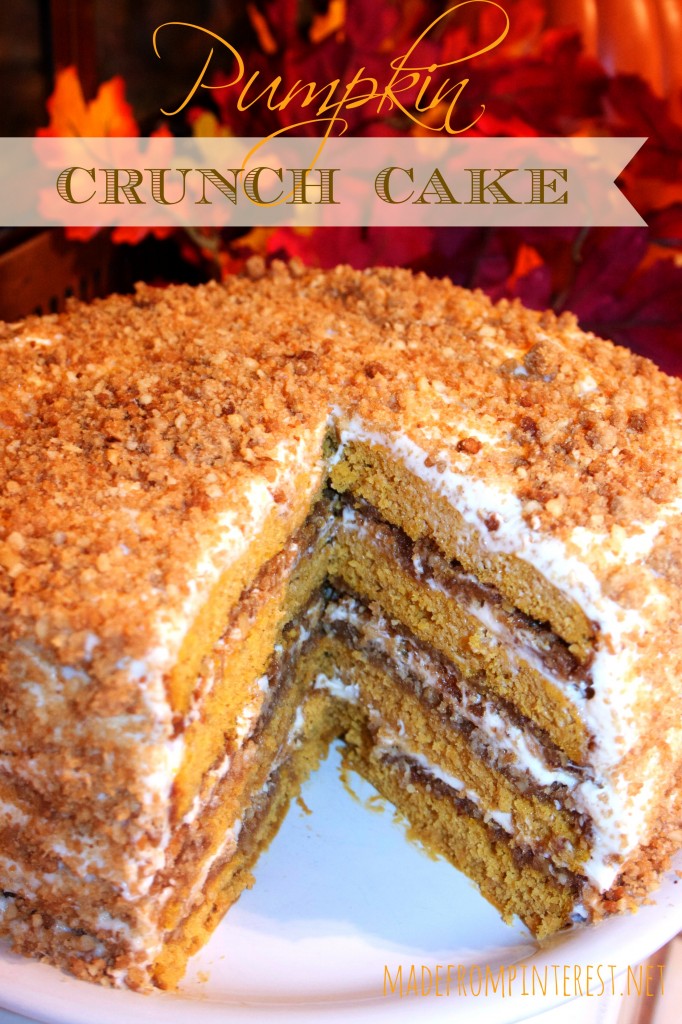 Chef Dennis states that when he gave out slices of this cake out to his neighbors, he ended up getting a marriage proposal. I mean, any man that can cook this good is a keeper, right?
While I didn't receive any offers of marriage, I did receive rave reviews of this Pumpkin Crunch Cake. Each layer has a crunchy topping and combined with the cream cheese frosting, it makes for a decadent result.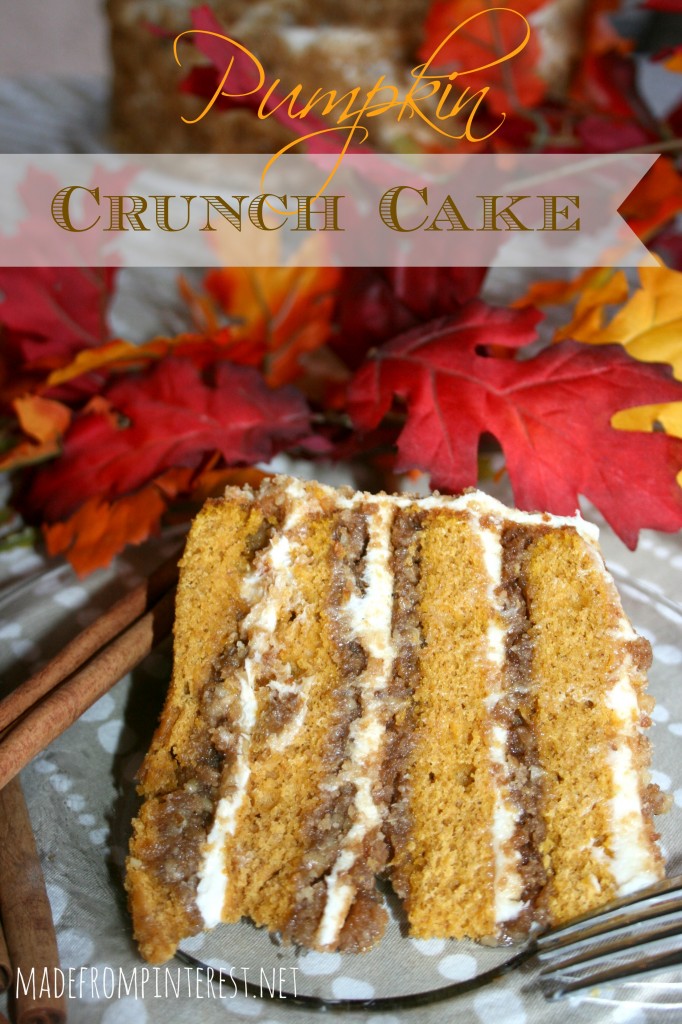 If you are happily married, be careful who you share this cake with. If you are single, you might want to be prepared for some professions of love and a marriage proposal. Either way, this Pumpkin Crunch Cake should be on your Thanksgiving Menu!
My seventy pound pumpkin and I agree that This Pin Rocks!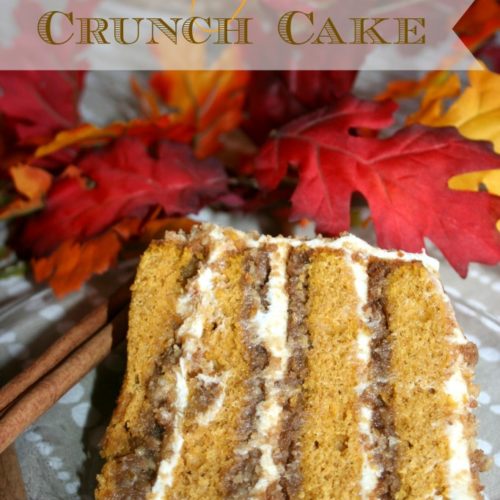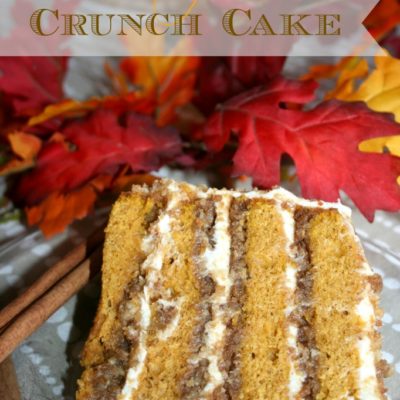 Pumpkin Crunch Cake with Cream Cheese Frosting
Ingredients
Crunch Topping
3

Cups

finely chopped walnuts

3

Cups

vanilla wafers

I used the whole box

3

Cups

brown sugar

8

oz

butter
Pumpkin Crunch Cake
1¼

cup

sugar

6

oz

softened butter

1 15

oz

can solid pack pumpkin

not pumpkin pie mix

2½

Cups

flour

½

Cup

Greek yogurt

1

Tablespoon

vanilla

1

Tablespoon

pumpkin pie spice

2¼

Teaspoons

baking powder

¾

Teaspoon

baking soda

½

Teaspoon

Salt

4

Large Eggs
Cream Cheese Frosting
3

bricks of cream cheese

24oz

8

oz

softened butter

2

cups

powdered sugar

1

Tablespoon

vanilla
Instructions
In a food processor, pulse your vanilla wafer cookies into a fine crumb. Also pulse your walnuts into a fine chop. Mix together until well blended. Next, mix in your brown sugar and mix well again. Now melt your butter and add to this mix and stir until well coated and mixture is crumbly.

Take one very full cup of crumb mixture and pour into a coated cake pan (I used 9") pressing into the bottom and spreading it evenly into the cake pans. Keep about 2 cups of the mixture which will be baked and used on the sides of the cake.

Set aside and start preparing the cake mix.

Preheat your oven to 350 degrees.

Beat the sugar and butter until light and fluffy.

Add in all the rest of the ingredients, except the eggs. Mix until well blended.

Add in the eggs, one at a time until just blended.

Pour your batter equally into your four prepared cake pans.

Place remaining crunch mixture in another cake pan or pie dish and allow to bake for the same amount of time as the cakes.

Bake at 350 degrees for 20-25 minutes. If using 8" cake pans, increase cooking time to 25-30 minutes or until a toothpick comes out clean.

Also remove the extra crunch mixture from the oven and break up any chunks that might have occurred while cooking.

Allow pans to cool about 10 minutes, then put them onto wire racks and allow to cool completely.

Whip the cream cheese and butter until smooth.

Slowly add in your powdered sugar and mix until well blended.

Add your vanilla until also well blended.

After your cake is cooled - begin frosting the layers and putting the cake together.

After putting together all of the layers with some frosting in between them, spread the remaining frosting on the sides and top.

If desired, add the extra crunch mixture to the top and sides of the cake.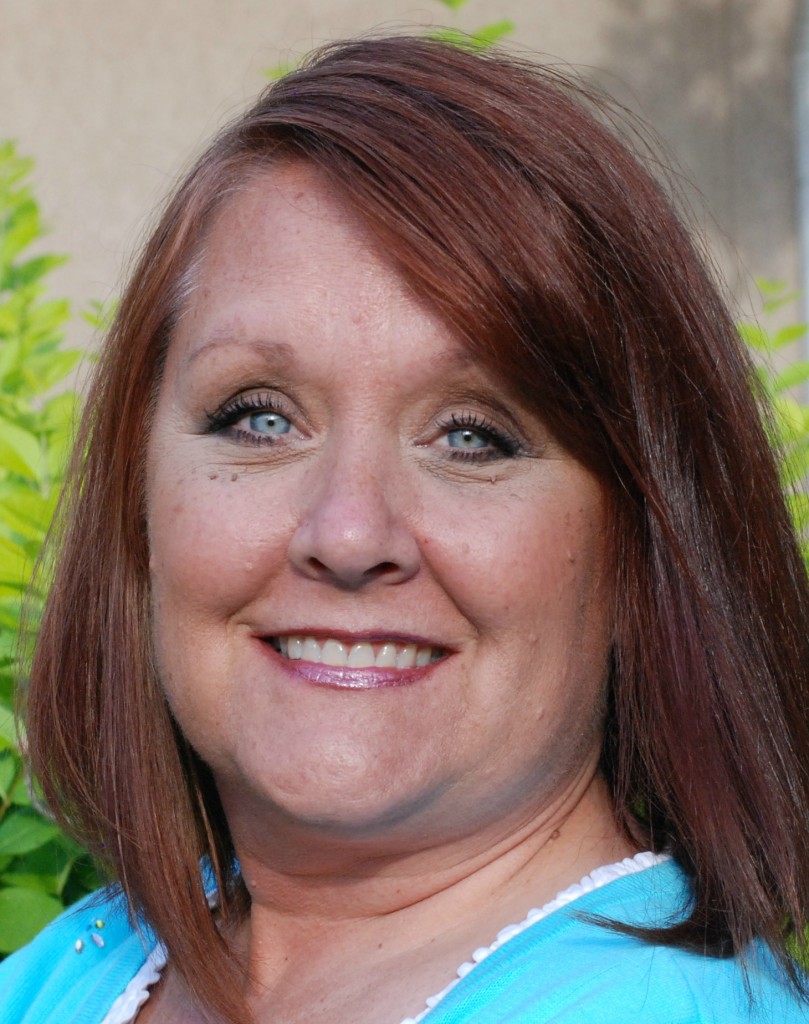 For some other great pumpkin recipes, take a look at these!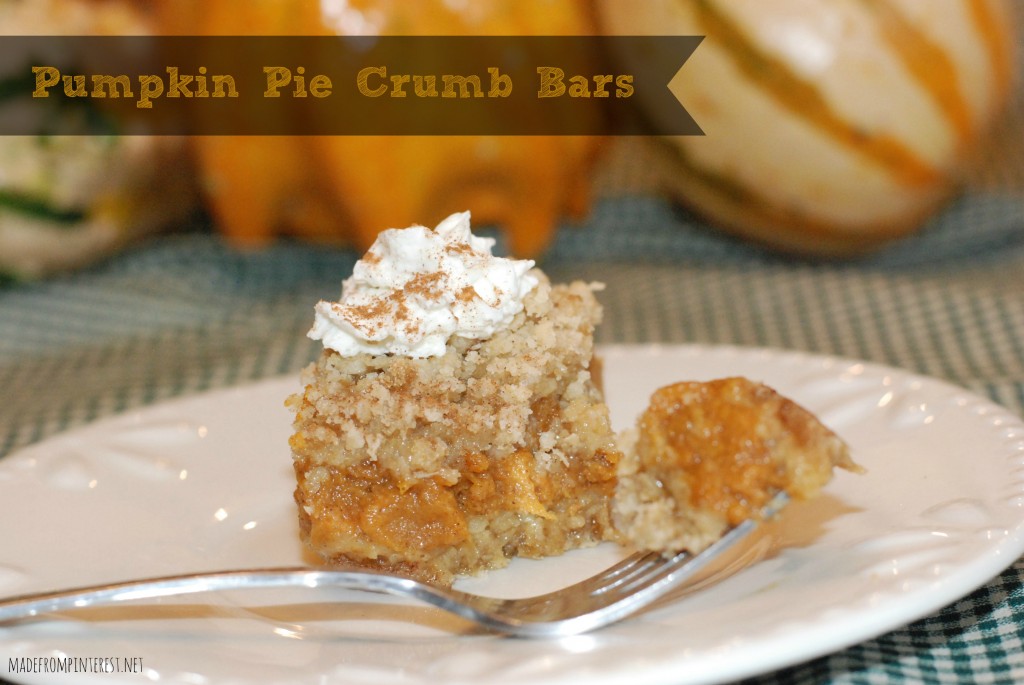 Pumpkin Bars with Cream Cheese Frosting