Raisin, Nut and Spiced Quick Bread
Hello there again MFP friends! Kathy back from Penney Lane with another easy recipe for you.
Happy Fall! Hands down the most popular recipe on my blog is a Lemon Blueberry quick bread. It's moist and delicious and perfect warm for breakfast or with an afternoon hot chocolate or tea. Those flavors are more summery so I decided to create another delicious quick bread but with Fall flavors.
What says fall better than spiced baking? The smell and flavors of cinnamon, nutmeg, and pumpkin spice are beautifully Autumn. This week I made Raisin, Nut and Spice Quick Bread.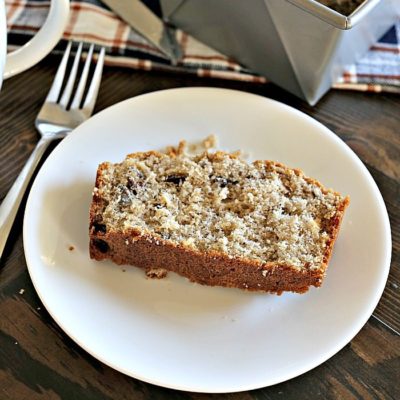 Raisin, Nut and Spiced Quick Bread
Ingredients
2/3

cup

old-fashioned oats

1/3

cup

whole milk

1 1/2

cups

all-purpose flour

4

teaspoons

baking powder

1

teaspoon

ground cinnamon

1

teaspoon

nutmeg

1/2

teaspoon

pumpkin spice

1/2

teaspoon

salt

1/2

cup

raisins

1/2

cup

chopped walnuts

1 1/2

cup

sugar

2

eggs

lightly beaten

1

teaspoon

vanilla

1/2

cup

unsalted melted butter
Instructions
Preheat oven to 350 degrees Fahrenheit.

Spray a 9 inch loaf pan with nonstick baking spray.

Pour the milk over the oats in a small bowl and set aside. Let soak for 10 minutes.

While the oats are soaking, mix 1 1/2 cups flour, baking powder, cinnamon, nutmeg, pumpkin spice and salt in a mixing bowl.

Stir in the raisins and walnuts in the dry ingredients.

In a separate bowl whisk the sugar, eggs, melted butter and vanilla together and then add oat mixture.

Stir to blend.

Pour sugar mixture into flour mixture and mix until all ingredients are combined into a moist batter.

Pour batter into loaf pan and spread evenly.

Bake for 35-40 minutes or until a toothpick comes out clean.
I adapted this recipe from a Crock Pot cookbook. While it's cool to bake in a crock pot, you can't beat 30-40 minutes in the oven. Your whole house smells like fall while this is cooking. The bread is to die for coming out of the oven and if you add just a bit of butter it sends it over the top. This bread is so easy and would be great to divide into small loaf pans for food gift giving season, or maybe for breakfast on Thanksgiving or Christmas morning.
If you enjoyed this recipe, then you'll love these:
Homemade Scones with Raisins and Nuts