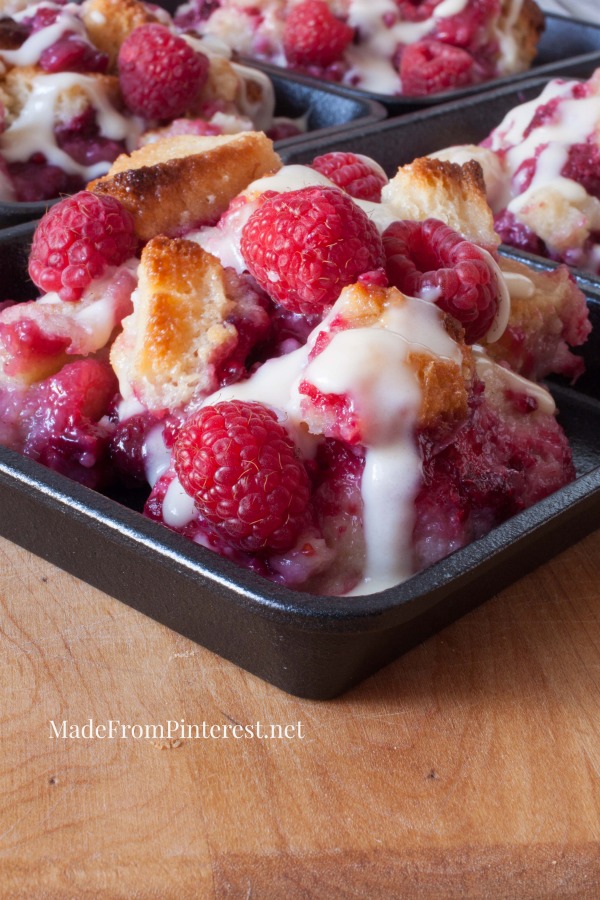 Last year about this time I had just lost 30 pounds. The good new is, I have been able to keep it off. The bad news is…until today. I swear I have possibly gained back all 30, in one day! All because of this Rockin' Raspberry Bread Pudding. I ate the first half OF A HUGE PORTION without the sauce, I was so deeply in love. Then I realized my error and made sure to eat the second half with sauce. ALL OF IT!
Have you ever gone to a restaurant when you are hungry, really hungry, and the food was amazing? Once, after a long day at Disneyland where my kids, Debbie, my mom and I were having so much fun we didn't stop to eat and so much fun we stayed until closing, after which we were starving. So we found a pizza place outside the park. That pizza was incredible. Best we had ever had! Two years later I brought my husband back so he could also experience its awesomeness. Only it was not what we remembered. In fact, it was not so good at all. Things taste better when you are "starving".
I just have to tell you, I was not hungry when I devoured so much of this by myself. I did not eat it to satisfy my body's need for food. Nope, not at all! I did it because it tasted so, so good! Pure pleasure. This is not an every day bread pudding. It is special occasion bread pudding. Which seems contradictory. Bread pudding is a homey dish. Not this bad boy! Roll out the red carpet for this wowzer! Seriously, you have got to make this. Tomorrow! If you are looking for something special for the holidays…this is it!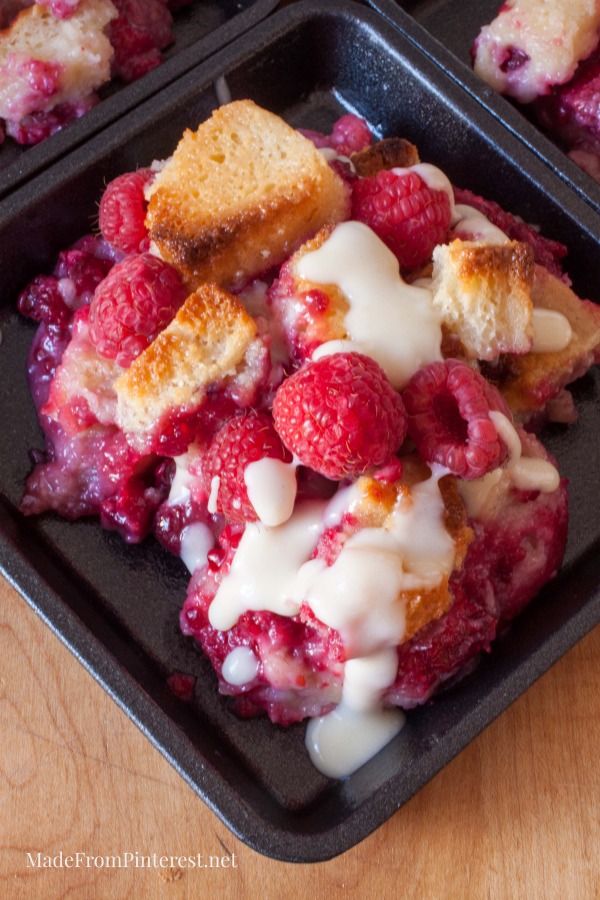 You could even put green food coloring in the vanilla sauce so it would be red and green for Christmas. Gotta say, that sounds disgusting, but just being honest, I would totally eat it. Green sauce and all.
It is just that good.
This party of a good time Rockin' Raspberry Bread Pudding is loaded with cream and butter. I am telling you now, buy the big carton of whipping cream. I told you, this is not your everyday bread pudding. This is gussied up and ready to go to the ball. It is okay to indulge. You are not going to eat like this every day. I might, but you probably have more self control than I do. If not, then sorry for introducing you to this wonderful dessert that will make you want to stick your face in the bowl to lick up every last bit of it and then take your finger and wipe it off your forehead and chin and eat that too. Or your welcome, depending on how you look at it. Probably both. More on the your welcome side, because I am not genuinely sorry.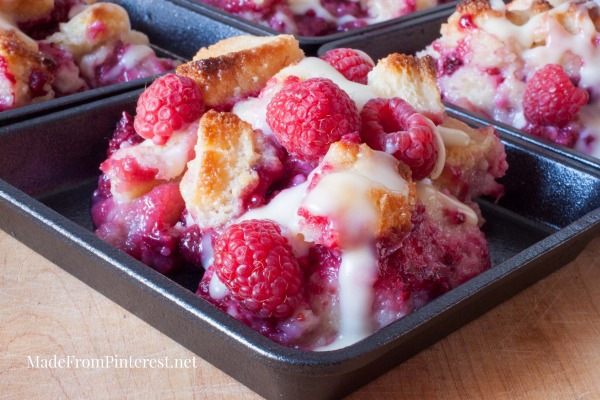 And neither will you be the minute you taste it. Enjoy this mouth party inspired by Purple Chocolat Home's Raspberry Bread Pudding.
This Pin Rocks!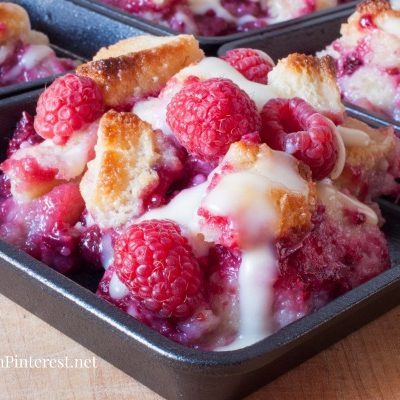 Rockin' Raspberry Bread Pudding
Ingredients
Bread Pudding
1 1/2

loaves aged or day old

white bread - I used 1 1/2 loaves of Challah

1

qt.

heavy cream

3

C.

sugar

1

egg

1

tsp.

vanilla

5

C.

raspberries

fresh or frozen

1

C.

sugar

1/2

C.

apple juice

1

small container fresh raspberries
Vanilla Cream Sauce
1 1/3

C.

butter

5

T.

flour

3

C.

heavy cream

1/2

tsp.

salt

2

tsp

vanilla

2/3

C.

sugar
Instructions
Bread Pudding
In a large bowl mix the cream, sugar, egg and vanilla.

Cut bread into 1 1/2 inch cubes and add to cream mixture,

coating the bread well. Let stand 30 minutes, stirring every

minutes to allow cream to absorb.

While bread is absorbing the cream mixture,mix the raspberries, sugar and apple juice, stirring

until sugar is dissolved.

Butter a 9x13 baking pan and then layer 3/4 full with the bread mixture.

Next pour fruit filling over the bread mixture, spreading evenly.

Top with the remaining bread. Bake 40 minutes at 375.

Serve warm topped with vanilla cream sauce.

(If you want it to cut into nice squares you can chill

it and then cut it into squares, then microwave it

for 20-25 seconds per piece and top with sauce.)
Vanilla Sauce
Melt butter in medium saucepan and add flour. Stir

minutes until it has a nutty aroma over low, do not brown. Add

salt, cream and sugar and cook over medium until mixture is thick. Remove from heat

and stir in vanilla. Serve warm over the pudding. Top with fresh berries.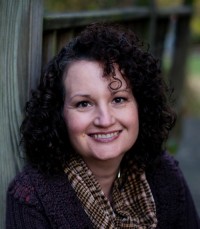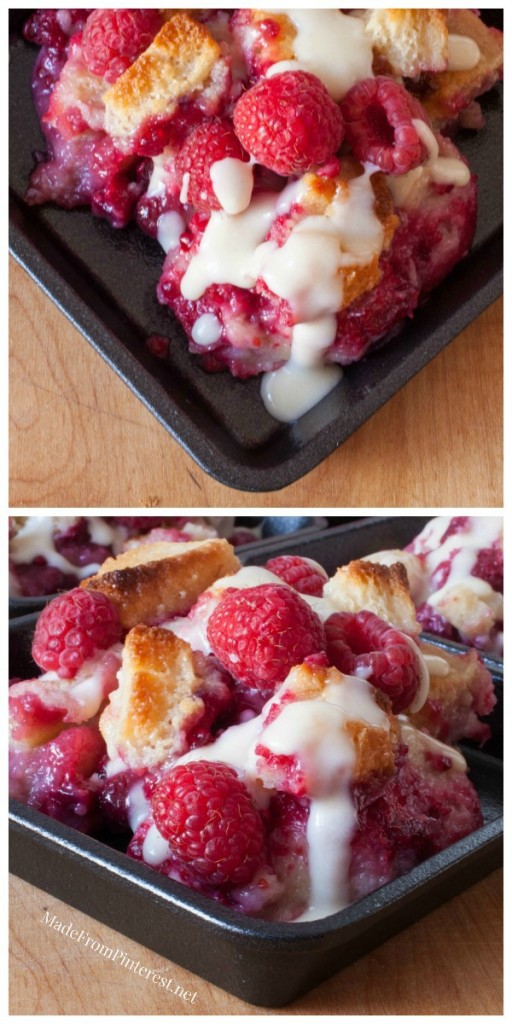 This amazing post has been shared with Tatertots and Jello and Living Well Spending Less!