How many of you remember giant Sugar Babies Caramel suckers? I used to get one in my Christmas stocking when I was a little girl. They were supposed to last a long time….mine never did, I just couldn't stop eating it until it was gone. I became a caramel addict with the first sucker! Salted Caramel Chocolate Pillow cookies……um, YES please!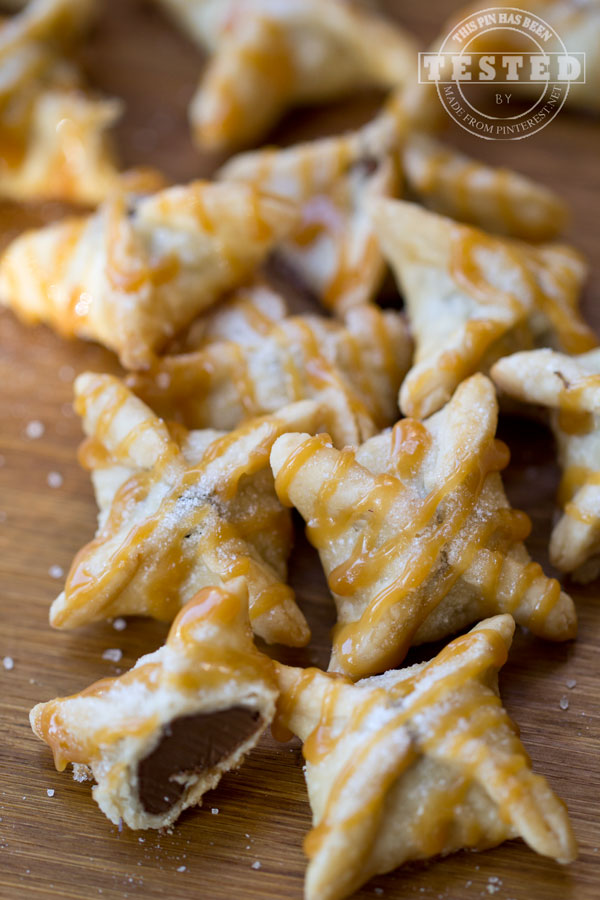 Throw in a Hershey Kiss, caramel topping with sea salt and I'm in cookie heaven. These bite size cookies look so elegant, people will think you spent hours making them. Truth is they are quick and easy to make when you use Pillsbury Refrigerated Pie Crust.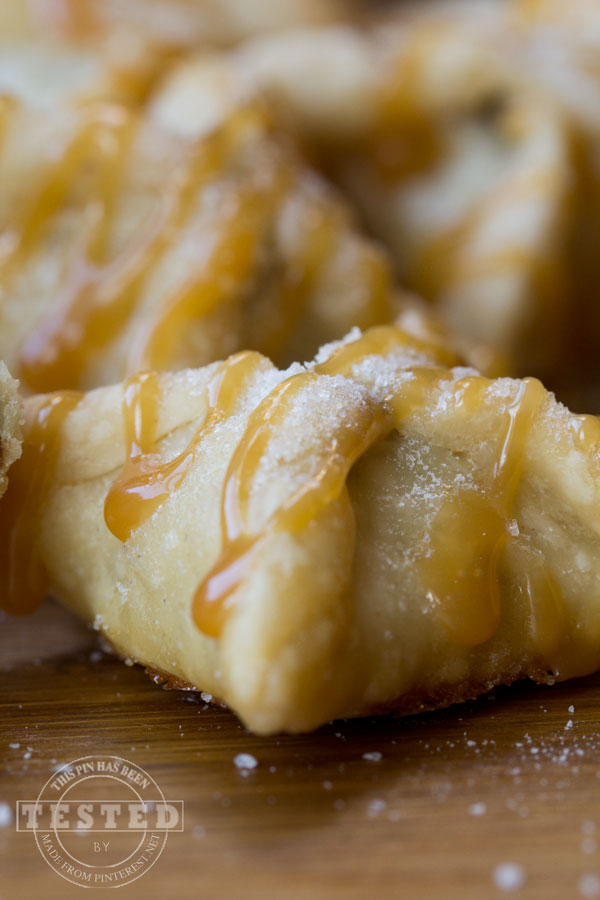 The pie crust bakes up light and flaky, with a crisp crunch that goes perfectly with the chocolate Hershey Kiss. Limiting myself to just one or two never works, I'm not going to admit how many I have eaten in a day!
Enjoy!

Salted Caramel Chocolate Pillows
Author:
Adapted By Made From Pinterest
Ingredients
1 refrigerated pie crust, thawed
14 Hershey Kisses of choice, (you can use different flavored Hershey Kisses)
1 egg white whisked with 1 Tbsp water
1 small jar Mrs. Richardson's Caramel Topping
Mediterranean Sea Salt
Other optional toppings:
1 cup chocolate chips melted
½ cup finely chopped nuts
Powdered sugar for dusting
Granulated sugar for sprinkling before baking
Instructions
Turn oven on to 350 degrees.
Cover a cookie sheet with parchment or spray with non-stick baking oil
Roll out the pie crust on lightly floured counter top.
Made 2½ inch circles with a knife or biscuit cutter (I used a drinking glass)
Place one Hershey Kiss in each circle.
Fold ½ of the pie dough over the Kiss and seal the pie dough.
Pull the other half of the pie dough up forming a criss cross and pinch to seal the edges.
I got 16 pillow puffs by re-rolling all the scraps out.
Brush each pillow puff with the egg wash and then sprinkle with a little granulated sugar or Mediterranean salt.
Bake at 350 degrees, for 15 to 20 minutes or until your pillow puffs are golden brown. Remove from oven, allow to cool for 5 minutes before moving to cooling rack. Drizzle with Mrs. Richardson's Caramel topping and sprinkle with Mediterranean Sea Salt. Serve and enjoy!
Recipe inspired by Debbie at Life is Sweets
We're sharing this post with:
Living Well Spending Less