This reduced balsamic vinegar sauce recipe pairs wonderfully with sirloin steak for an amazing flavor!
I must confess that I enjoy being home alone. Don't get me wrong, I love Mr. Chef and the Chefettes, but sometimes I like that "me" time where I can decompress. I'll even volunteer to do the dishes because everyone goes their own way and I have my time to listen to books on tape or listen to my love of 60's, 70's, and 80's music (am I dating myself here?), or just have the quiet to think things through.
Sometimes Sister Chef blasts her music. It's music that doesn't float my boat–like hip hop or rap, so we bicker over the volume and she bickers over my music choices and the volume. But one thing we don't bicker about is steak. I like to try different variations of steak marinades and my family loved this sirloin steak with balsamic glaze sauce. Mmmmwah–delicioso. I think you'll like it too!
I must also toot my horn…I recently had my cookbook published for the holidays. So if you are looking for ideas and special recipes for Halloween, Thanksgiving or Christmas, you've got to buy my book! There are all kinds of recipes from cookies, cakes, and pies to prime rib, turkey, ham, and cornish game hen recipes. Right now it is the #1 bestseller in the Halloween Cookbook section, which made me completely happy! You can pre order my book now on Amazon or Barnes & Noble or it comes out in stores September 8th at Barnes & Noble, Ingram, Seagull Book & Tape, and Deseret Book.
Pre-order on Amazon and Barnes & Noble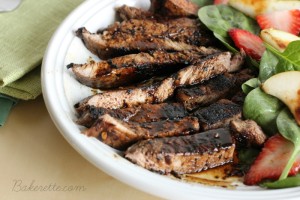 Sirloin Steak with Balsamic Glaze
Ingredients
1

pound

boneless top sirloin steak

about 1" thick

1/2

cup

water

1/2

cup

apple cider

1

cup

worcestershire sauce

1/4

cup

balsamic

1

clove

garlic

minced or pressed

1/2

teaspoon

crushed red pepper

1/4

cup

honey

Salt and pepper

to taste
Instructions
Tenderize meat with a meat tenderizer (optional)

In a small bowl, mix together water, apple cider, Worcestershire sauce, vinegar, and crushed red pepper until well blended.

Place steak in a large one-gallon Ziploc plastic bag, pour marinade over steak, seal, and let sit for 20 or more minutes.

Warm a large skillet over medium-high heat. Remove steak from bag and transfer to skillet. Salt and pepper to taste. Reserve marinade. Cook stead for approximately 12 minutes on each side. If you find the steak is getting too brown on the outside, reduce heat to medium and continue cooking. Remove and keep steak warm.

Transfer marinade to pan, add honey and stir until well combined. Bring to a boil, uncovered. Reduce heat to medium and boil gently until marinade is reduced to about 1/2 cup (about 7 minutes). Divde steak between plates and pour glaze on top.
Recipe inspired by Better Homes and Gardens | August 2015 | p.114
Jeni from Bakerette
This awesome post has been shared with Whipperberry and Tatertots and Jello