Hello MFP friends! Kathy here from Penney Lane Kitchen. Let's talk cookies. I'm not sure I've met a cookie I didn't like, so asking me to narrow it down to one would be like asking me to pick a favorite child, but let's just say "Welcome to the family, snickerdoodles". So when I saw these Snickerdoodle Muffins on Pinterest by Eat Me Delicious I decided to bring them into the fold as well.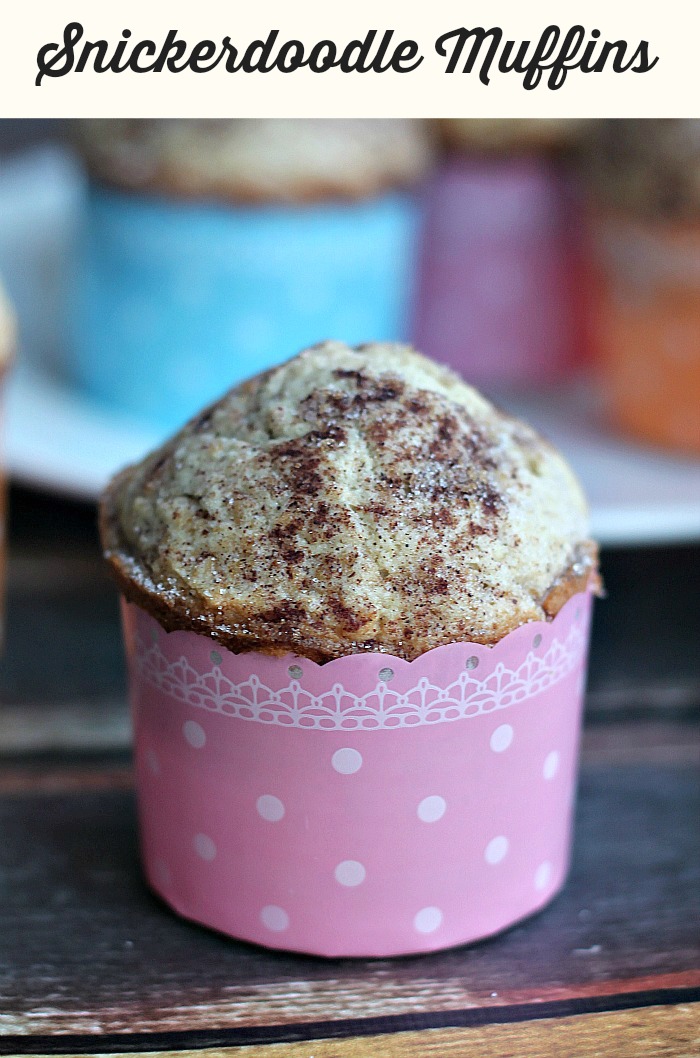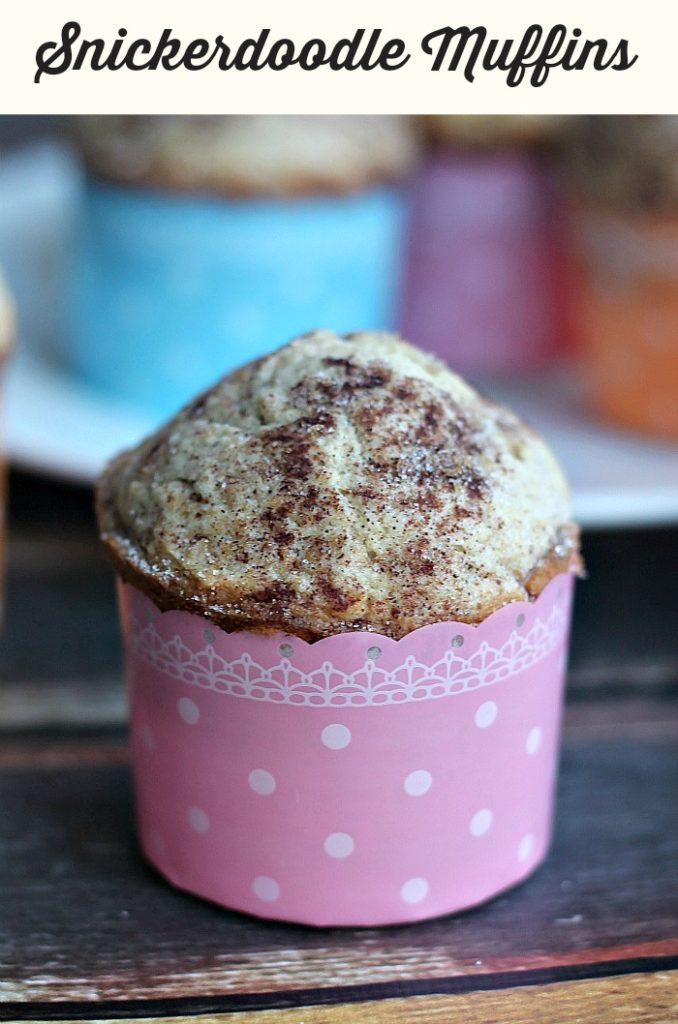 I am normally a savory breakfast kind of person, but I do enjoy a good muffin or quick bread now and then. (And I've got two little beater lickers that have more fun making muffins than frying sausage.) These snickerdoodle muffins were pretty easy to make even if they have quite a few ingredients and they really do bring to mind a snickerdoodle when you're munching on one (or two).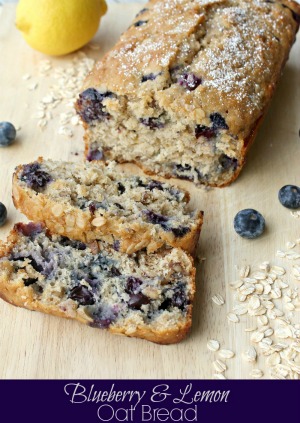 Snickerdoodle Muffins
All the goodness of the favorite cookie with these moist delicious Snickerdoodle Muffins.
Ingredients
2

sticks unsalted butter

1

cup

sugar 2 teaspoon vanilla

2

eggs

3/4

teaspoon

baking soda

3/4

teaspoon

baking powder

3/4

teaspoon

cream of tartar

3/4

teaspoon

nutmeg

1

teaspoon

cinnamon

1 1/4

cup

sour cream

2 1/4

cups

all purpose flour

1/2

cup

sugar

1

tablespoon

cinnamon

1/4

cup

brown sugar
Instructions
Preheat oven to 350 degrees Farenheit.

Spray a muffin tin with nonstick cooking spray.

In a large bowl with a hand mixer or using a stand mixer, cream the butter and sugar together.

Add in the vanilla.

Then add in the eggs one at a time.

In a separate bowl, combine the flour, cream of tartar, baking soda, baking powder, nutmeg, and the one teaspoon of cinnamon.

Alternate adding the flour mixture and the sour cream to the butter and sugar mixture starting and ending with the flour.

Using an ice cream scoop, fill each tin with the muffin batter leaving about 1-1 1/2 inches from the top to give room for the muffins to rise.

In a small bowl combine the remaining sugar, brown sugar, and cinnamon.

Using either your hands or a sieve sprinkle the cinnamon sugar liberally over each muffin.

Bake approximately 20-22 minutes.

Let cool, carefully remove from the muffin tins, and serve.
I added cinnamon to the batter because to me a good snickerdoodle has that noticeable flavor of cinnamon. I also added brown sugar to the cinnamon sugar topping for a bit more of that crunch in the topping. They are moist and delicious and a perfect way to start the day.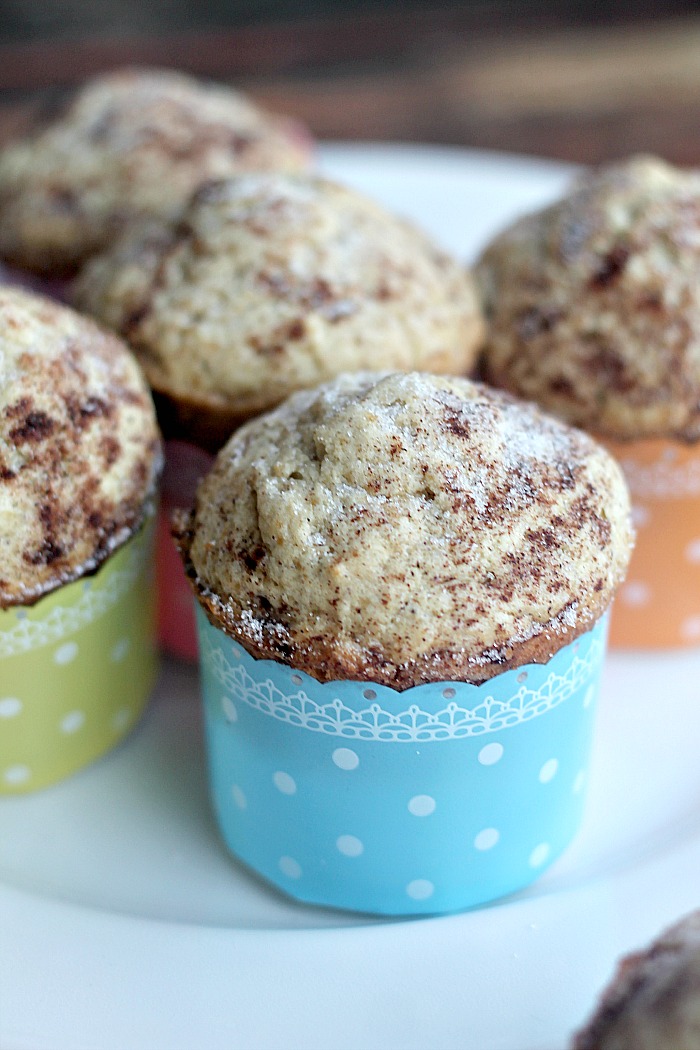 I couldn't have a dozen of these sitting around my house so I sent them to work the next day with my husband for a meeting that morning. I got a text mid morning from my husband saying "People liked those muffin thingys. There's some of them wanting the recipe. I'll just tell them about your blog." 🙂 I let him know that the recipe would be here and I took the text as confirmation of what I already knew: Whether it's a cookie or a muffin, snickerdoodles are awesome!
If you like muffins or quick breads you should totally check out this Lemon Blueberry Oat Bread. It is by far the most visited recipe on my blog and I'm biased but it's because it is absolutely delish!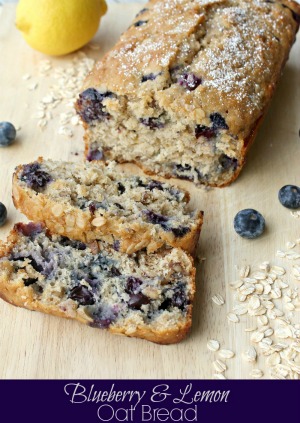 This amazing post has been shared with Living Well Spending Less and Whipperberry.