Make these fun Spritz Shamrock Cookies and have fun celebrating this lucky holiday!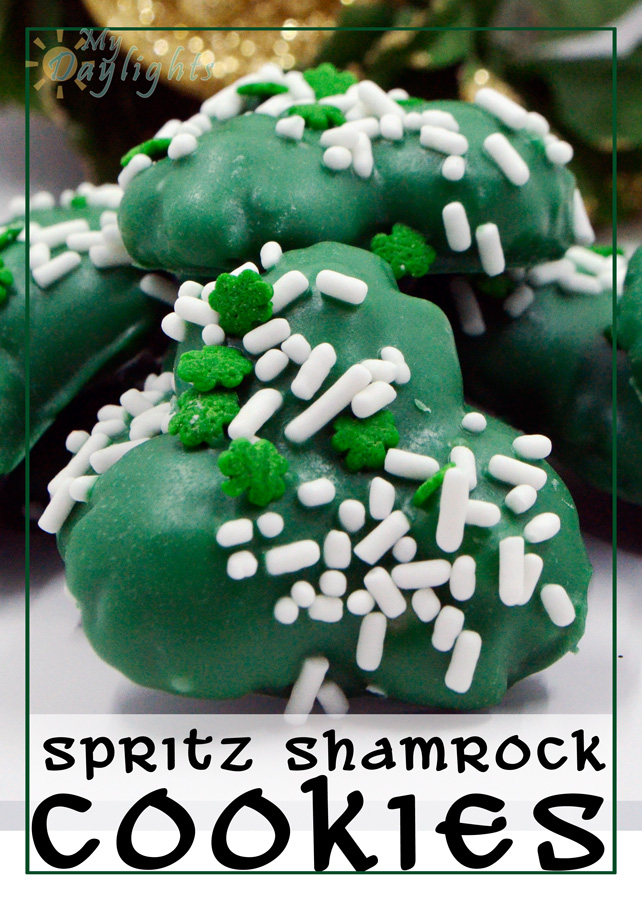 Hi friends and Happy Valentine's Day from My Daylights! I'm Jennifer and I'm so happy to be meeting you as a new contributor here on Made From Pinterest. It's so fun to be a part of such a fun and creative community; I can't wait to get to know you all better!
It's amazing how quickly holidays creep up on us. We're celebrating Valentine's today and in just a month we'll have another of my favorite holidays-St. Patrick's Day!
We have strong Irish roots in my family. My great-grandparents immigrated here from Ireland and we are proud of our heritage. While it's not a major holiday, especially where we live, I still enjoy making fun treats to celebrate this lucky day.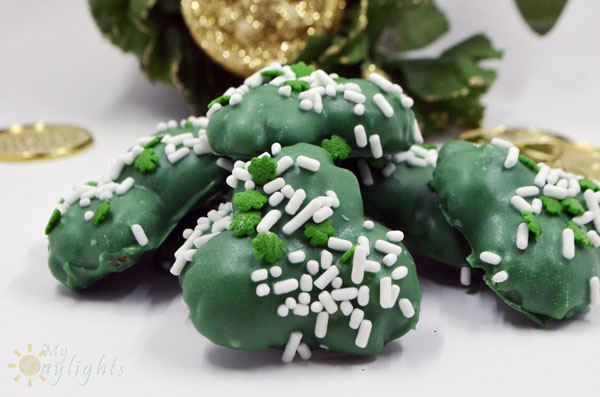 These Shamrock cookies are a family favorite and one that I've never shared before, until today. It's literally your lucky day (see what I did there?) that you're in on an Irish family secret. Althought, this isn't an Irish recipe. Just a recipe from an Irish family.
All right, let's get to it! These cookies are really easy and only use a few ingredients. You will need a cookie press to whip up these puppies, but they can be found anywhere that sells kitchen gadgets. To make the shamrock shape, I used the "coin" press that has three sides. After making the recipe for the cookies, found below, you stuff the dough into the press just like this.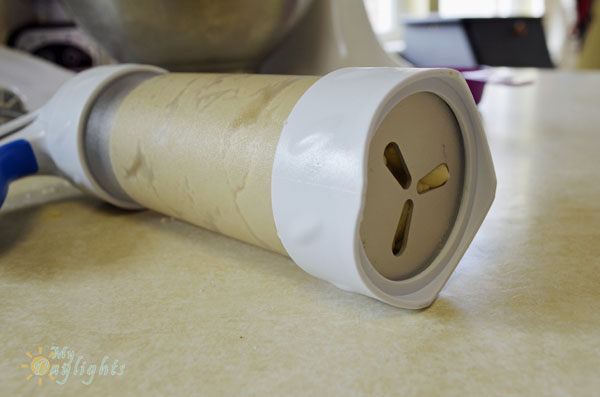 Use this recipe for the cookies: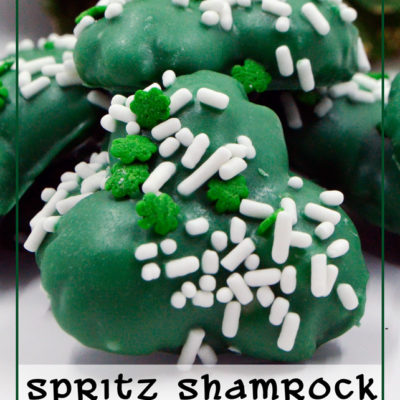 St Patrick's Day Shamrock Cookies
Ingredients
1/2

cup

unsalted butter

softened

1/3

cup

sugar

1/4

tsp

Vanilla or Almond Extract

1

egg yolk

1 1/4

cup

flour
Instructions
Cream together butter and sugar

Add in Vanilla or Almond Extract (I used Vanilla for this)

Mix in egg yolk

Add in flour one bit at a time until dough forms

Push dough into cookie press with "coin" press form

Press cookies onto ungreased cookie sheet

Bake at 375 degrees for 7-10 minutes until golden brown around edges
Once the cookies have cooled, melt the green candy chocolate in 30 second increments in the microwave. Carefully dip the cookies in the melted chocolate and put them on a sheet of parchment paper to cool.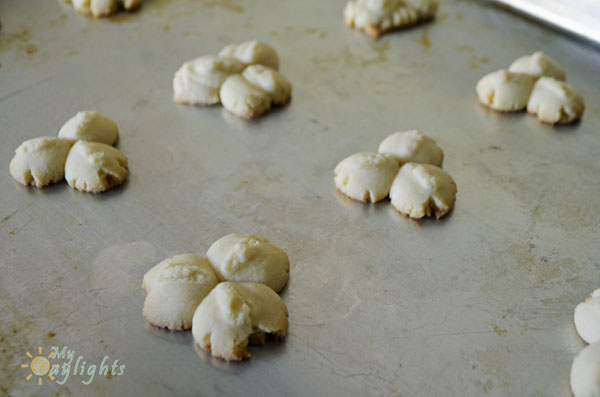 To make it easier to dip treats into the chocolate, I found this really cool scoop that is specifically made for chocolate dipping. It's perfect because it has a nice long handle and you can easily shake off excess chocolate. It's my new best friend for chocolate dipping! It's from Wilton and you can find it at any store that sells chocolate making supplies (most craft stores will carry it).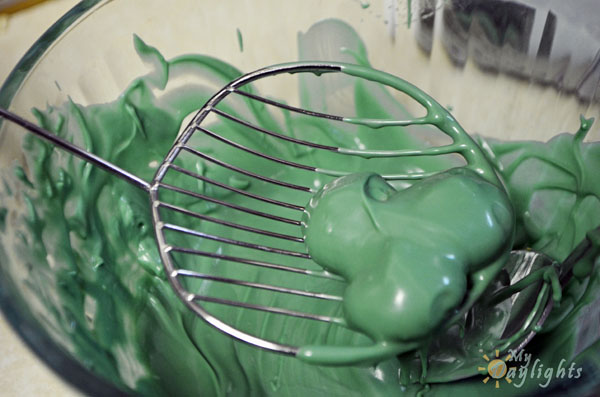 Sprinkle with fun sprinkles before the chocolate hardens. Wrap them up and pass them out to family and friends or eat them up yourself. They are bit sized little gems of luck, perfect for celebrating this fun holiday!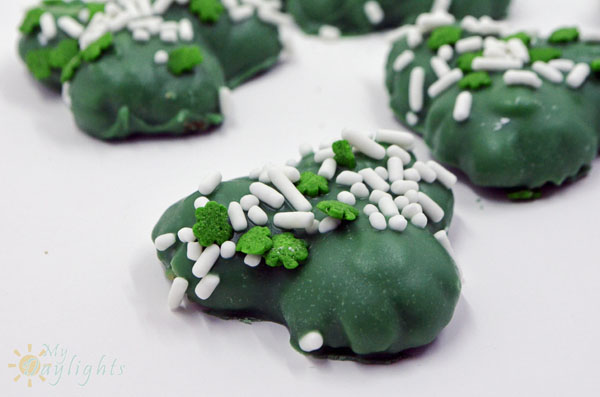 Spritz Cookies are already light and buttery and the addition of the candy coating makes them even more addicting. I'm serious, try eating just one and see how you do. Your mouth will be watering for more! If you're like me, you'll make a batch and save some to the side just for as a special treat you don't have to share!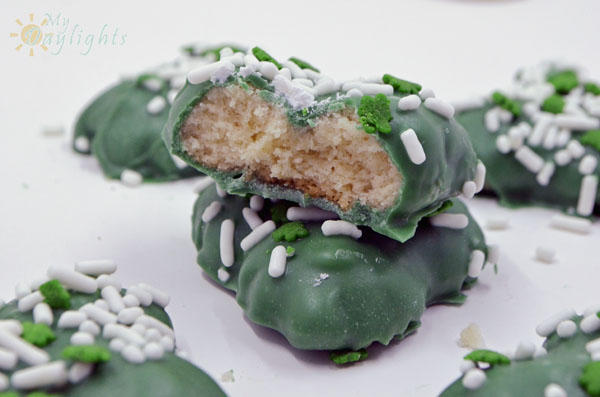 What treats do you make for St. Patrick's Day?
If you loved this, check out some other fun recipes from My Daylights: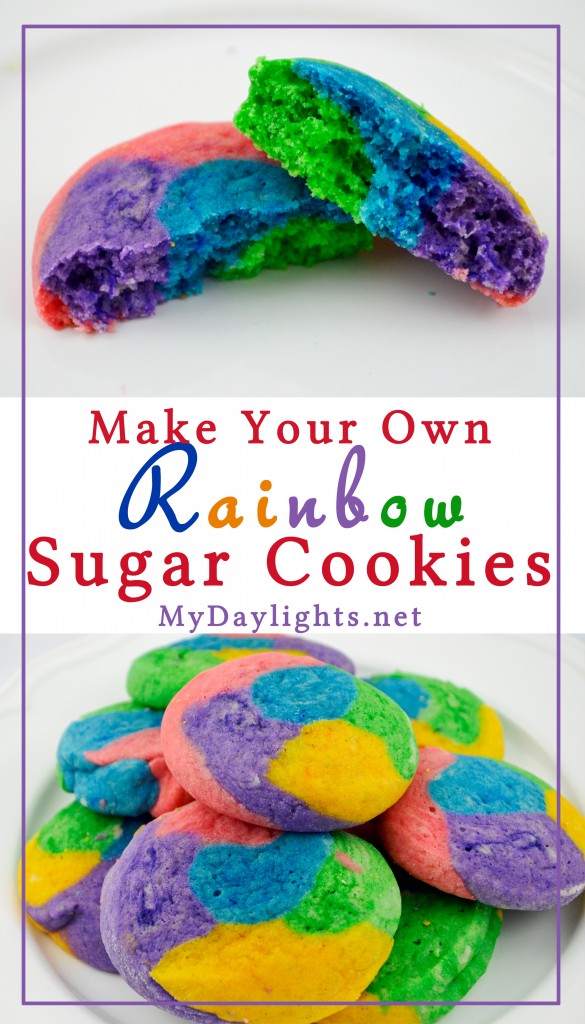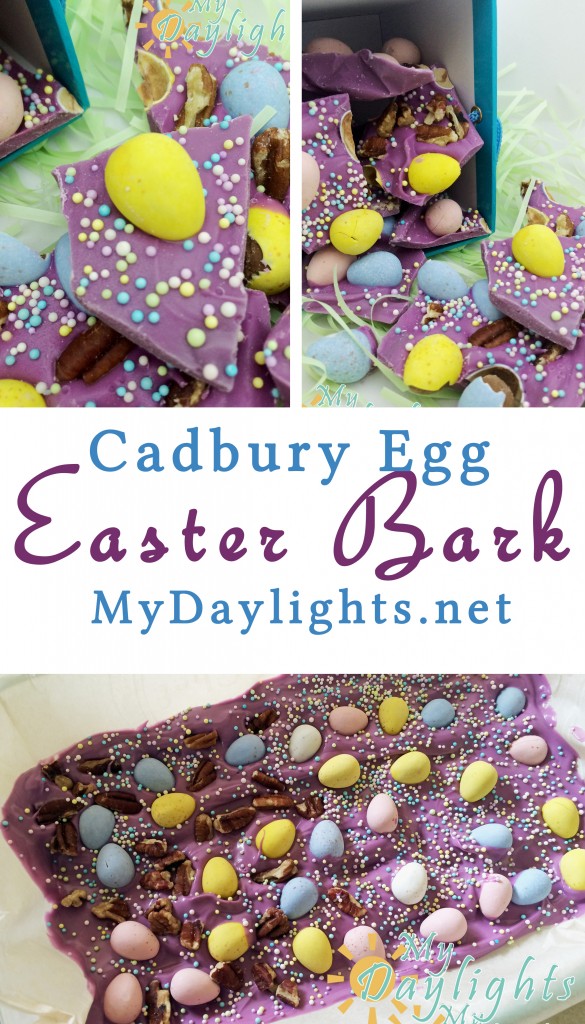 DIY Child's Hand Keychains & Printable