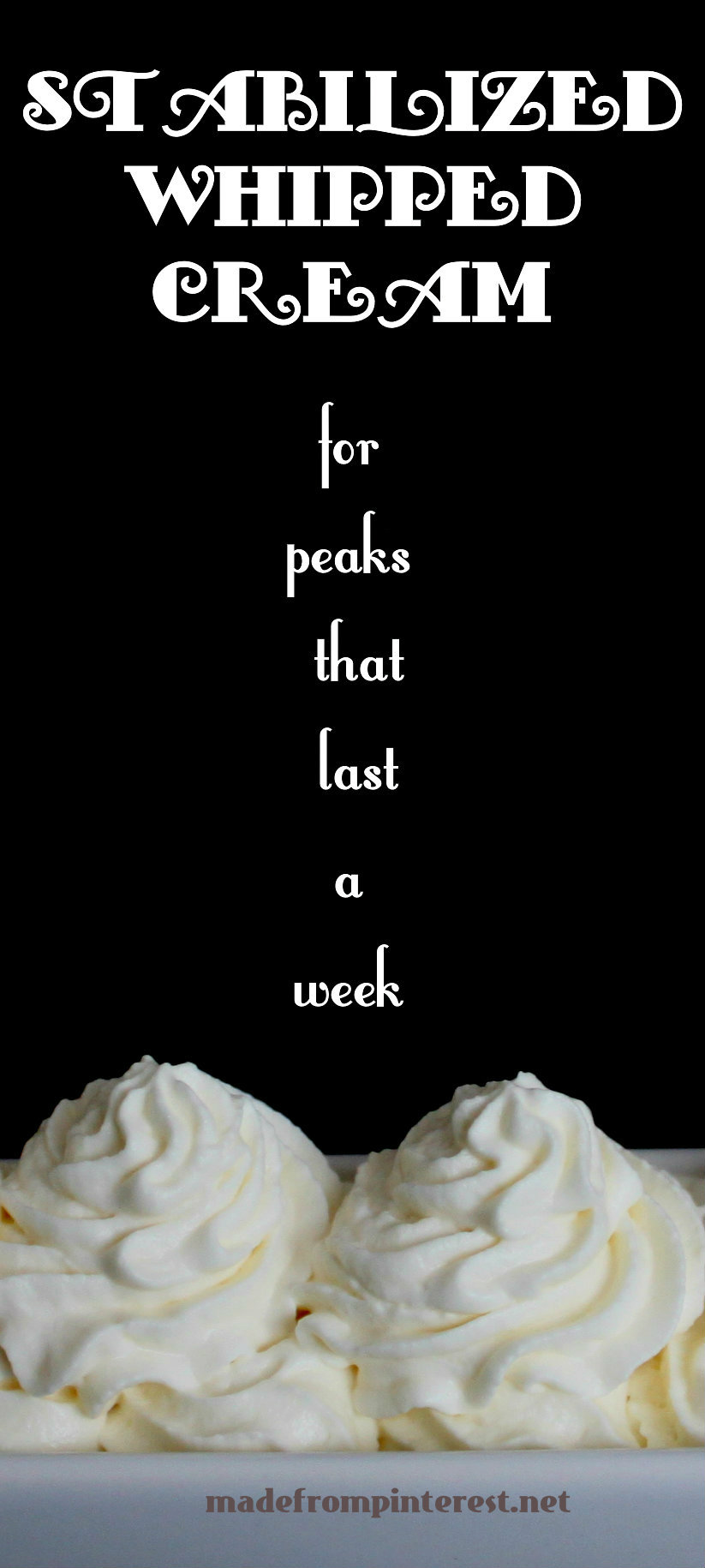 My husband loves Cool Whip more than I do. Still, we both prefer freshly whipped cream. But Cool Whip always has the advantage of staying power. A week later, that tub of sweet, white fluff is still going to be puffy. Whipped cream a week later, well…it becomes a pool of liquid. Tasty liquid, but not the consistency you are looking for. The method I have seen on several sites on Pinterest involved whipping a small amount of gelatin into the cream. I wasted gallons of whipping cream trying to master this method. I did master it, but I found it to be kind of tricky and finicky. Most of the time I ended up with clear jelly blobs that resembled dried rubber cement running through my beautiful cream.
Then I saw this pin from our friend Jeni at Bakerette. She shares a tip for whipped cream that will stand up and shout, "Bring on your cakes, pies, brownies, hot cocoa, pancakes, waffles, strawberries. Put me on whatever you want, I will not dessert you!" Did you catch that play on words? This stabilized whipped cream is clever, I tell you! Smart, different, it stands out from all the rest. It pipes well, it keeps well, it tastes great and…you are gonna love this…it is so easy, anyone can master this technique!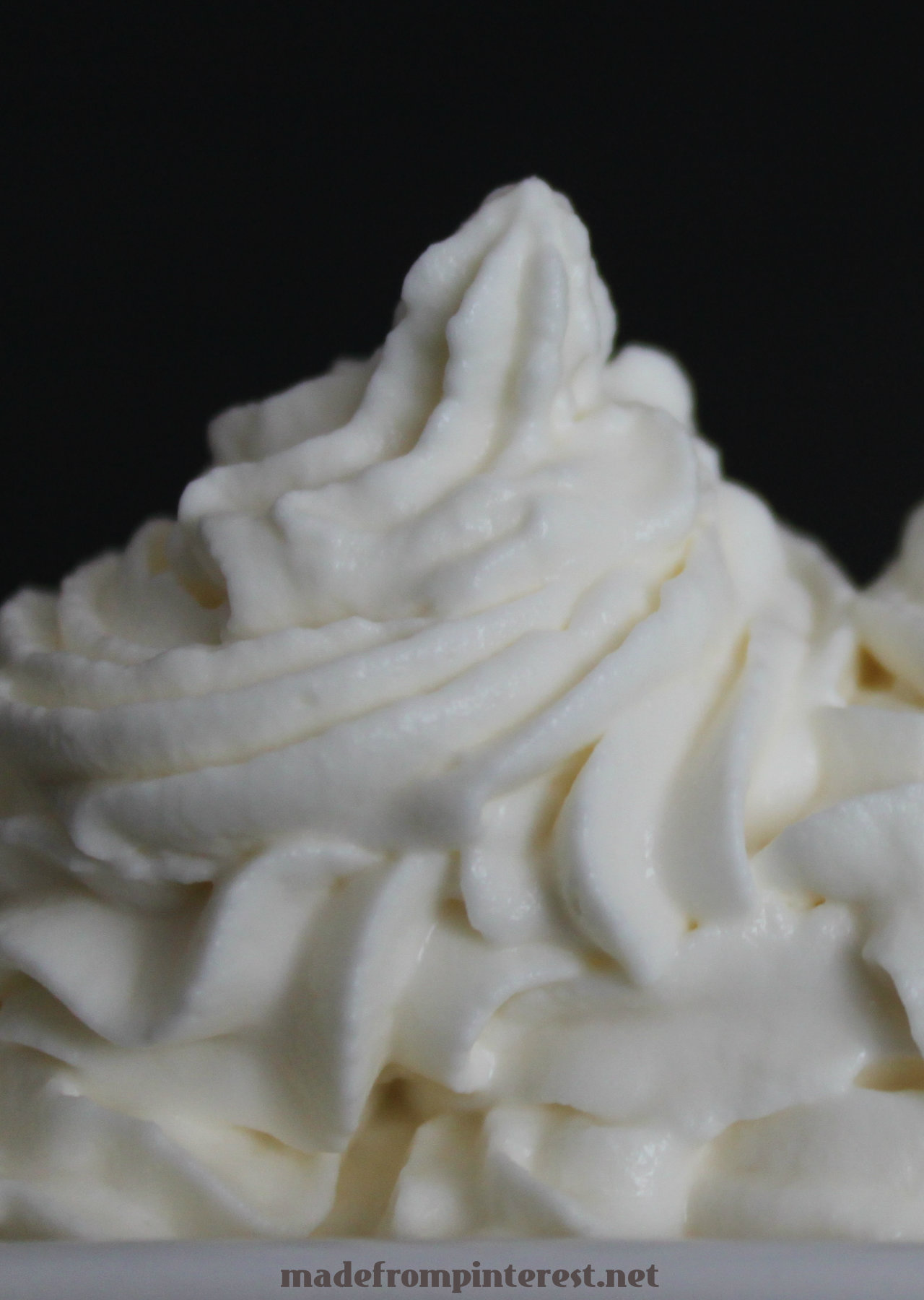 Want to know Jeni's secret? I am going to tell you, but not yet. First, I want to tell you another little secret. All the photos I have here of this beautiful stabilized whipped cream peaks (drum roll please)…are…one…week…old! Seriously, I piped them, put them in a container in a hidden part of my fridge so no one would use them, took them out 8 days later and took the pictures. Then I ate the pretty piped beauties all by lonesome while my family was either at school or work. I had to, it was research. I take my blogging very seriously. It was just business.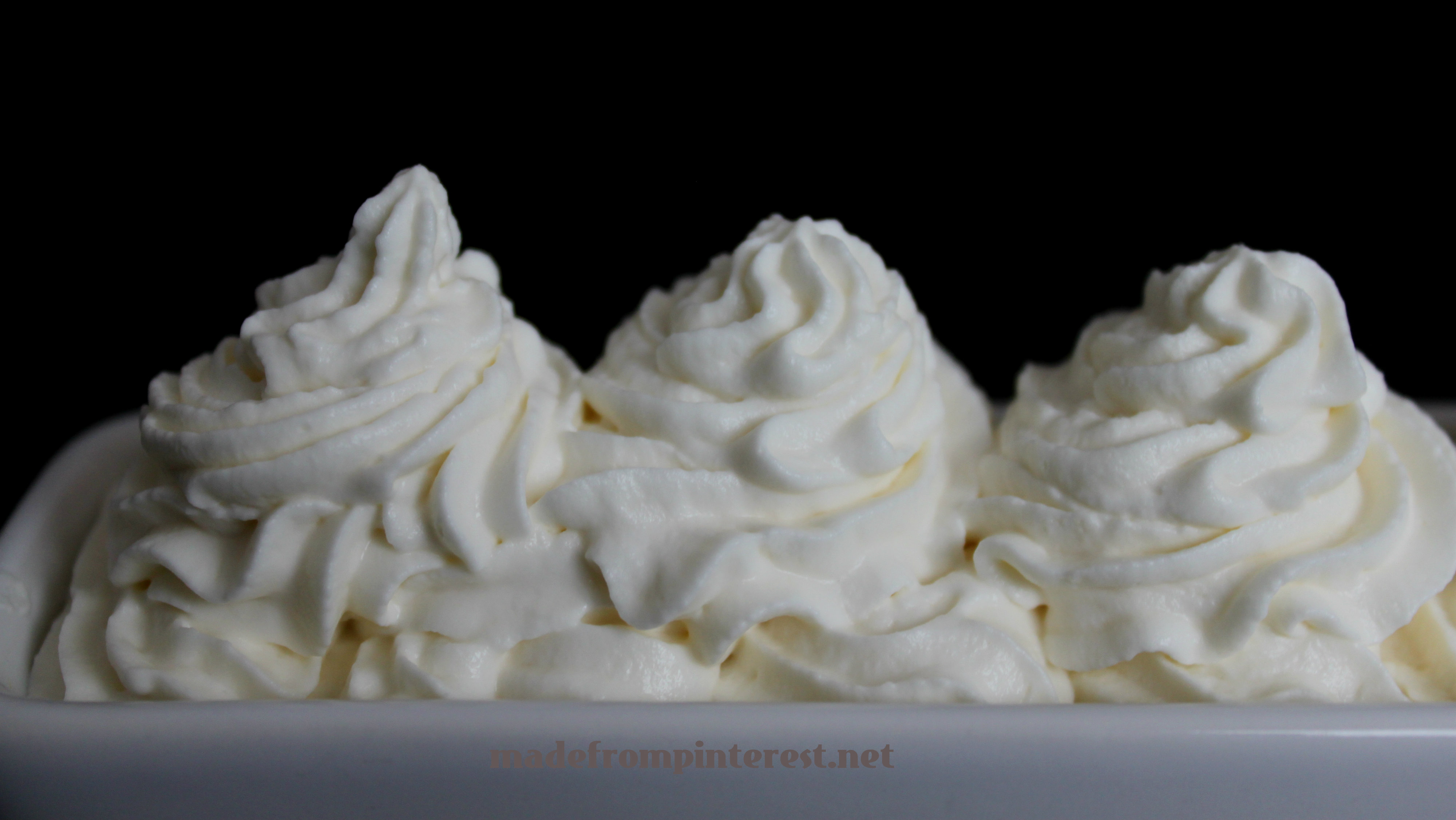 Okay, okay, okay. It is time to tell the secret. You are dying to know, aren't you? The secret is one simple ingredient. One spoonful of one secret ingredient. The magic of these perfect stabilized whipped cream peaks is…cream cheese! One small spoonful of softened cream cheese makes all the difference. I am sorry to say it Jeni, but I doubted your method. I didn't want my whipped cream to taste like cream cheese. Don't get me wrong, I love me some cream cheese, but I like whipped cream to taste like it should. I tested with and without (again while all my family was gone. Working from home can be such a burden. Don't feel too sorry for them, there were plenty leftovers of all the other cream I whipped to compare to Jeni's.) and I was surprised. I didn't taste the cream cheese. I just noticed the difference in texture. It is slightly thicker, easier to pipe, and obviously keeps well. So next time you need a perfect topping on your treat, try Jeni's recipe for whipped cream. It rocks!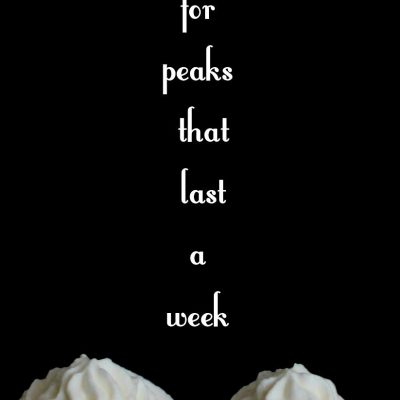 Stabilized Whipped Cream
Ingredients
1

cup

of Heavy whipping cream

1-2

tablespoons

powdered sugar

1

heaping teaspoon softened cream cheese

Sherri@madefrompinterest used a small kitchen spoon

1

teaspoon

vanilla extract
Instructions
Beat the cream cheese on low adding a little cream at a time.

When all the cream is incorporated add sugar and vanilla extract.

Beat on high.

For a soft peak, beat until a soft peak forms when pulling the beaters straight up out of the mixture.

For a stiff peak, continue beating at high speed. You will know when the cream is is done when you pull out the beaters and it sticks to the beaters.
Sherri – The baby of the family
This weekend we are pleased as punch to be linking with – Delicate Construction – Just Us Four – Simply Sweet Home – Best Blog Recipes – Happy and Blessed Home – Whipperberry – Chic on a Shoestring – Shabby Nest