How do men do it?
I mean – watch football.
All.
Day.
Long.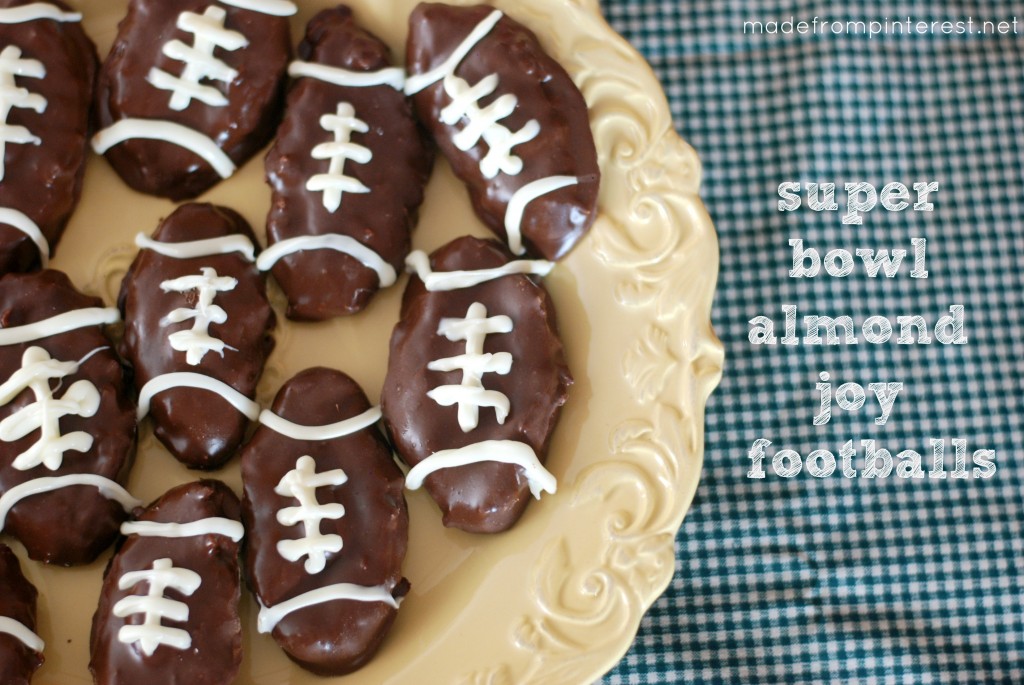 I have a friend whose husband is employed as a Physicist. MAJOR INTELLIGENT GUY. And when he comes home from work, all he wants to do is crash on the couch and watch tv.
Preferably…
Football
I can imagine that maybe his brain is fried from work and he probably wants to come home and think about nothing.
Which is why watching football would be perfect.
To think about…
nothing.
Ouch.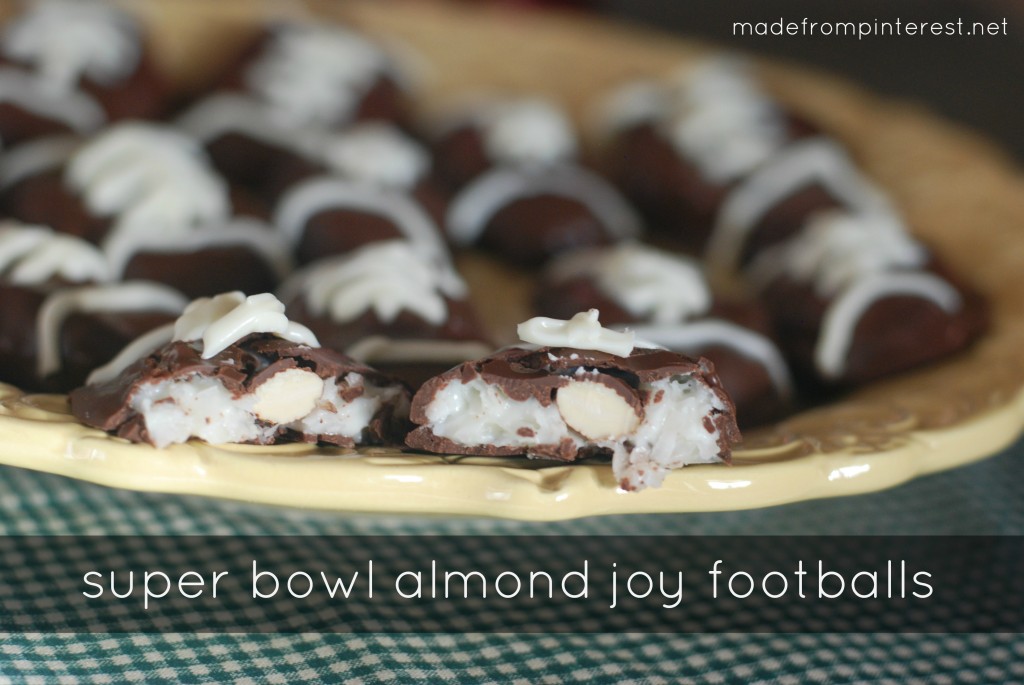 Don't get me wrong. I like to watch an occasional football game. Especially if our local college team is playing. That CAN get pretty exciting!
And I am secretly proud to say that I do NOT throw a football like a girl! Time warp back to when I was a teenager and there was this guy that lived across the street and I had such a crush on him and he was on the high school football team. In order to have to an excuse to talk to him, I asked him to teach me how to throw. I practiced like crazy and to this day I can throw a pretty good spiral.
Yeah.
I have some football skills.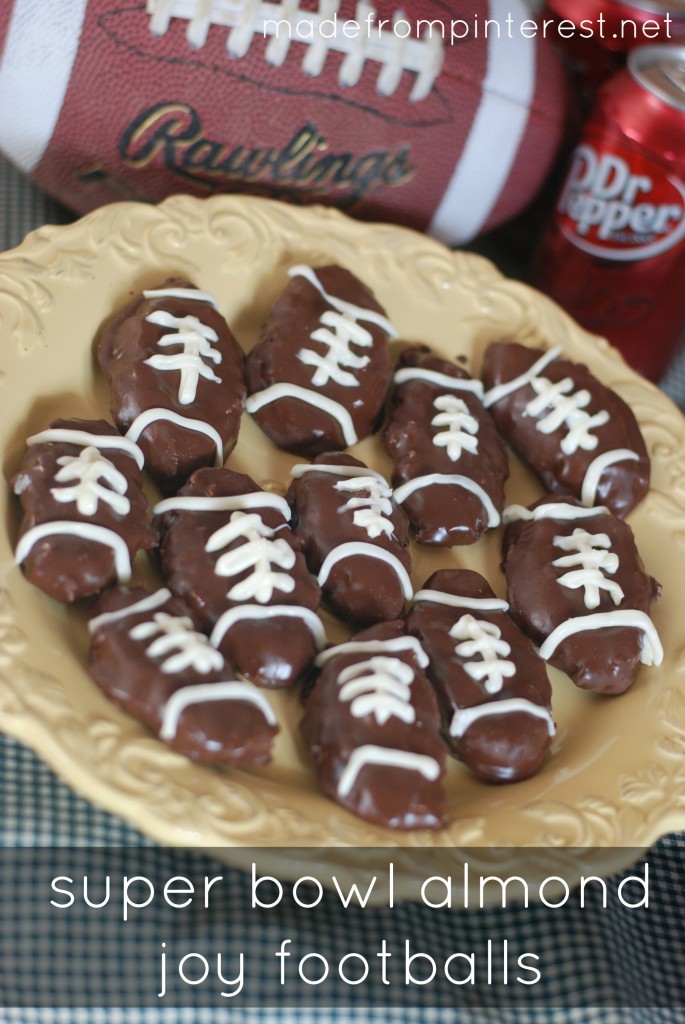 For me the best part of watching a big game like the Super Bowl is having friends over and eating great food. Not to mention the commercials. Have you seen the Old Spice "Mom" commercial yet? Oh my. I'm surprised that they didn't save that one for the Super Bowl!
So in anticipation of the game, I have already made these Super Bowl Almond Joy Footballs. They are in my freezer and all I have to do is pull them out to thaw a little and they will be ready to go. Taking the recipe from a pin from Greens & Chocolate, I shaped them into footballs instead of bars or balls. I think they look so cute!
So if you want to score a touchdown at your Super Bowl party this year, make sure to add these Super Bowl Almond Joy Footballs on the menu. Your guests will be as impressed as if you just threw a spiral!
This Pin Rocks!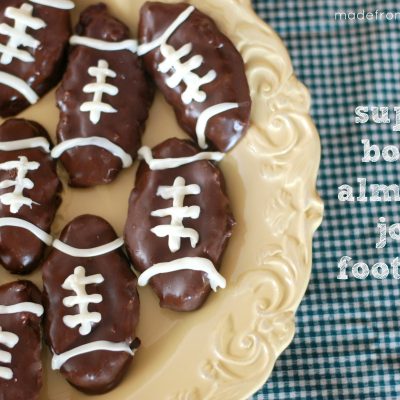 Super Bowl Almond Joy Footballs
Ingredients
1

cup

or 8 oz sweetened condensed milk

a little over 1/2 of the 14oz can

1

tsp

vanilla extract

1 1/2

cups

powdered sugar

14

oz

shredded

sweetened coconut

Whole almonds

2

cups

semisweet chocolate chips

Paraffin wax

Vanilla CandiQuik Melts
Instructions
In a large bowl, mix together the condensed milk and vanilla.

Next add your powdered sugar making sure that you incorporate well.

Pour your shredded coconut into this mixture until very well blended.

Line a cookie sheet with waxed paper. Take your coconut mixture and shape into the shape you desire. Options can be a ball, a bar shape or as in this recipe, into football shapes. Add an almond on the top.

Put these into your freezer and let freeze for 15-20 minutes. This helps firm up the candy a little bit so it won't be so messy when dipping in the chocolate.

Melt your chocolate in a double boiler or in the microwave but watch carefully so it doesn't burn. If desired, to thin your chocolate out a little bit and make it easier for dipping, you can add 1/8 cup of melted paraffin wax.

Dip the almond mixture into your chocolate and set on a clean sheet of waxed paper to cool and set.

After it has set, melt some Vanilla CandiQuik melts in a sandwich size Ziploc bag. Cut a small corner off and use that hole to pipe the lines for the footballs. Candy will set pretty quickly.

These freeze well but my family doesn't even let them thaw before eating. They say that they like them frozen even better!