Valentines Day is one of those holidays where I like to put up a festive piece or two, but not go overboard with anything huge. Which is why I love this Valentine Heart Wreath with Paper Flowers so much. It's simple, but beautiful and has a whimsical romantic quality to it.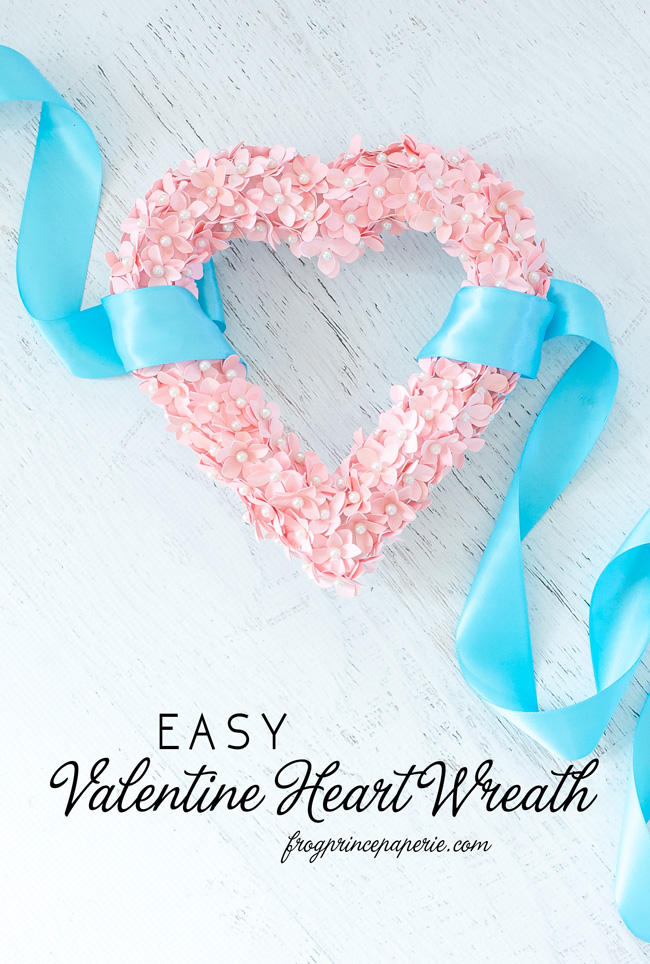 Plus, it's super easy to make. Time consuming? Yes. But since I can't stand to watch a movie or TV with my hands still, it's the perfect project to do while binging on Netflix. And if you have a husband or significant other-type person sitting next to you to help, all the better. You don't have to have super crafting skills to get this done, just a little perseverance.
Valentine Heart Wreath Materials:
8 inch foam heart form
Several sheets of pink cardstock
Hydrangea flower punch (Martha Stewart brand carries the one in this picture)
Corsage pins or straight pins with a white head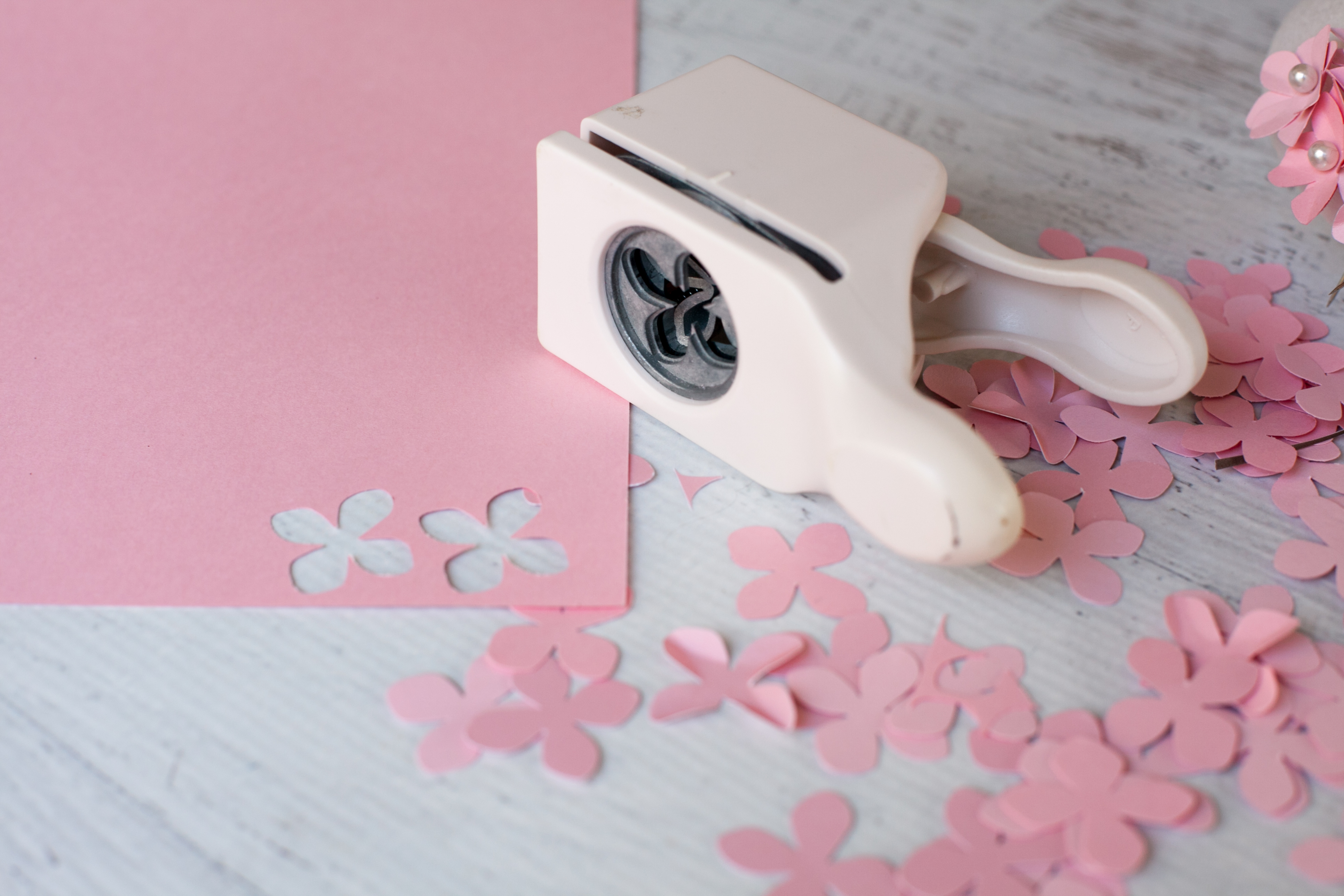 Step 1. Get to punching. I used about 3-3 1/2 sheets of 12×12 cardstock for this project. I use different shades of pink because in the end it gives it more texture and a more interesting look than it all being the same flat pink. Again, this is a great in-front-of-the-TV activity. Or pawn this part off on your partner (like I did).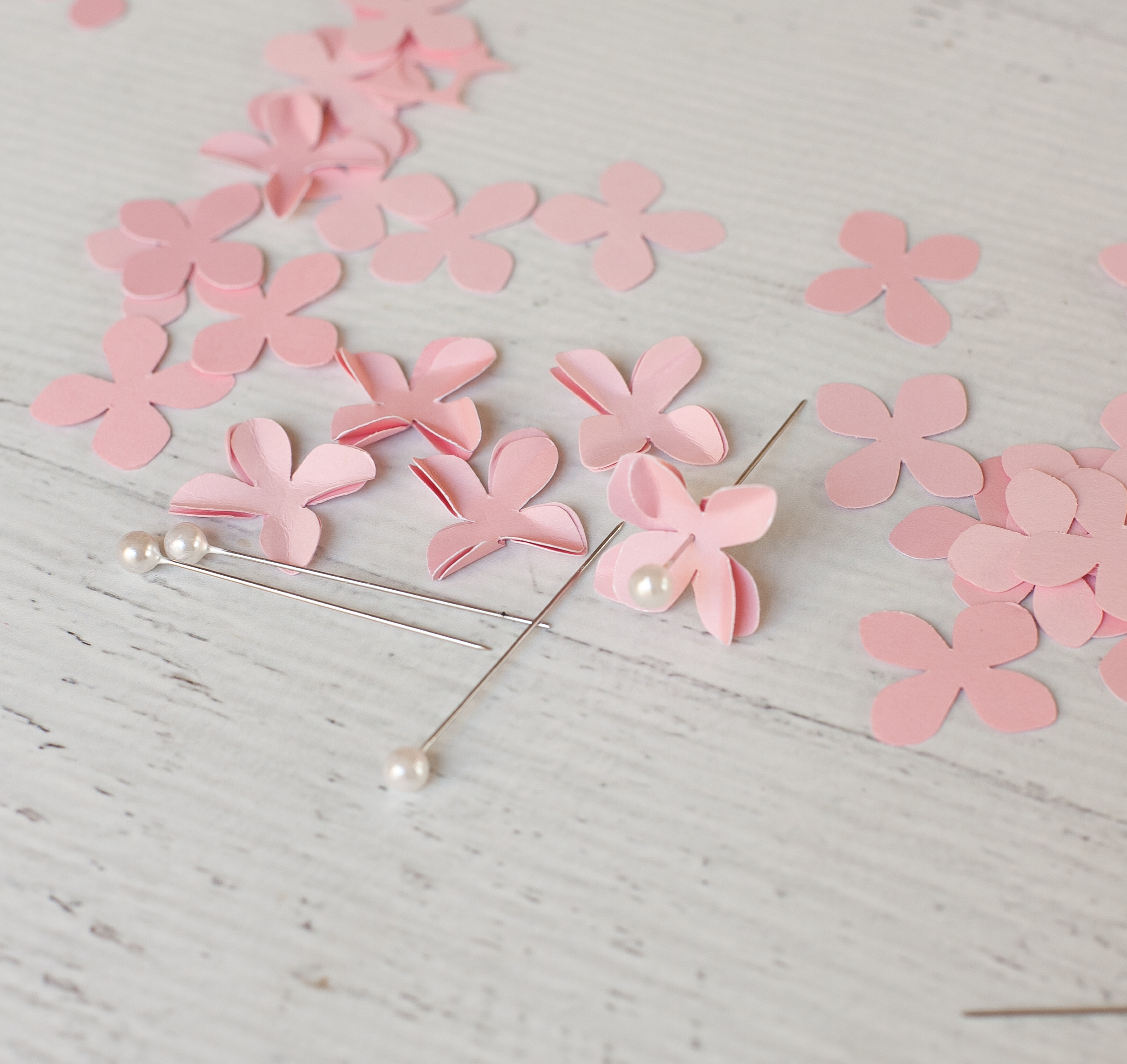 Step 2. Bend and pin. Layer up two of your little flower punches and gently bend the petals inward. Punch one of your pins through the middle. You'll want to twist the top petals around so they don't completely line up and make a full looking flower.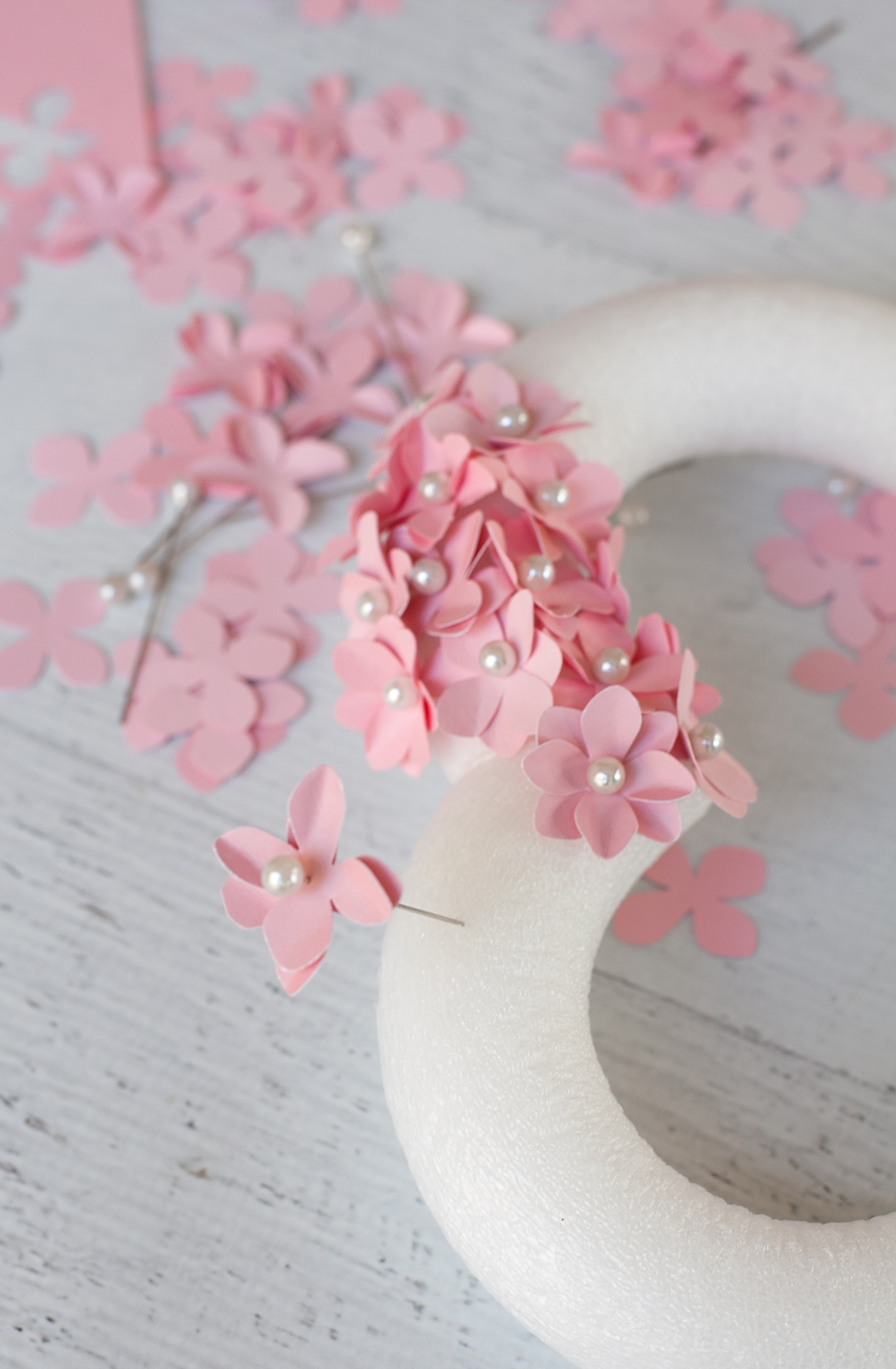 Step 3. Pin, pin, pin. Pick a starting point on your foam form and start pinning the flower petals on. I like to do rows at a time for the sake of knowing all the white spaces are covered. Keep pinning on until the entire foam heart is covered. I used around 140 sets of flowers for my heart; your number of flowers will vary due to heart size and how close together you put them.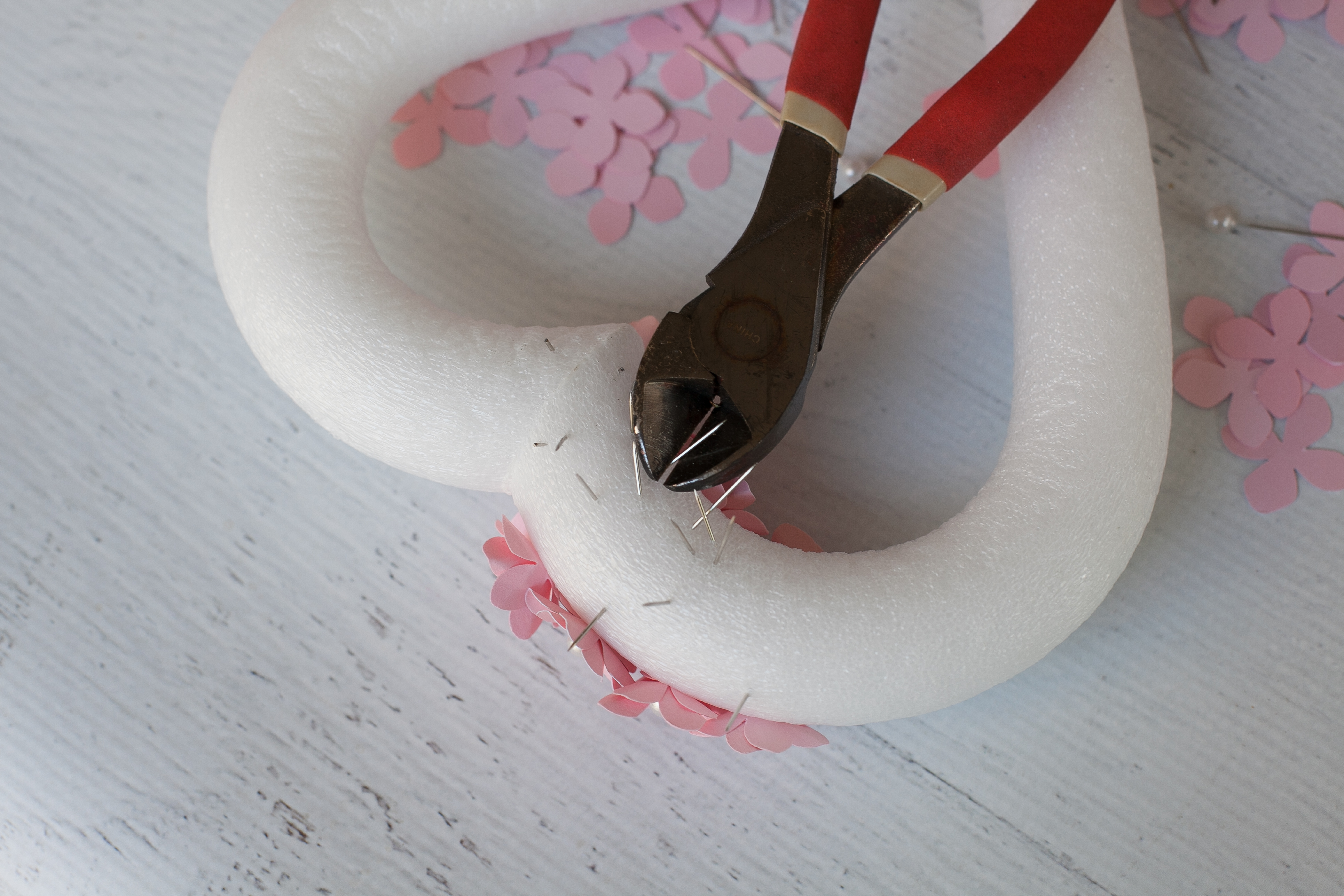 Step 4. Totally optional. But when I was doing this project, I quickly noticed my corsage pins were a whole lot longer than my heart form was thick. Easy enough to fix. I ran out to the garage and got the wire cutters and trimmed down the pins to be flush with the foam form. Makes your pretty heart less of a health hazard, but not totally necessary to the project. Your form and pins may work well enough together that you don't have to do this!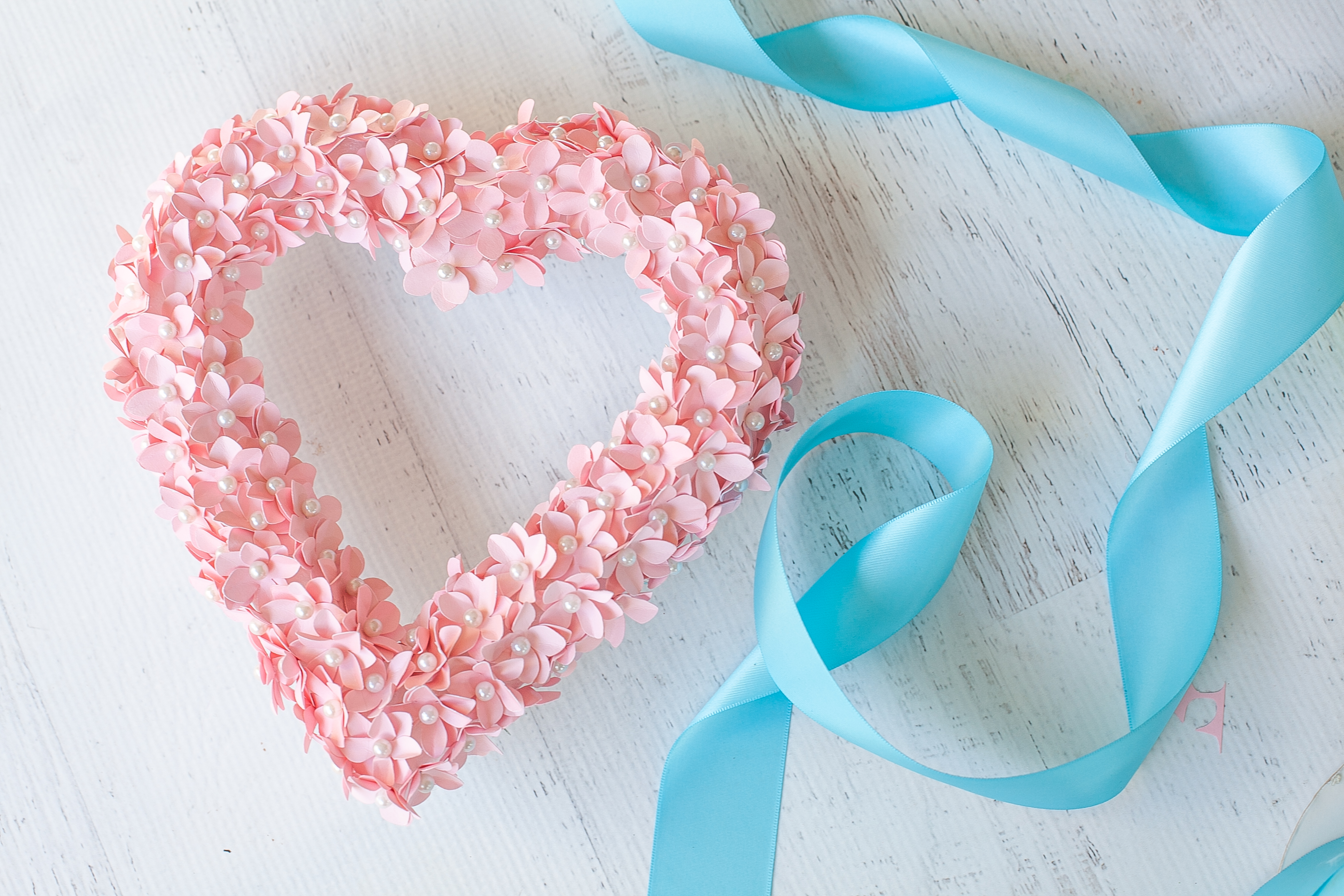 As I said, it takes some time to punch and pin all those flowers but the end result is worth it! You can hang as part of a cluster of Valentine decor or just set amongst your things as a pretty little Valentine perk.
Thanks again to MFP for asking me to be a regular contributor! I'd love it if you'd stop on by Frog Prince Paperie for party inspiration, and maybe find some tutorials and recipes for a few other holidays, too! You can also find me on Facebook, Pinterest, Instagram, Twitter and Google+.