A warm welcome to Carole from "My Kitchen Escapades" who is back again guest posting for us today. We always love hearing stories about her darling family and seeing what recipe she has to share! Take it away Carole!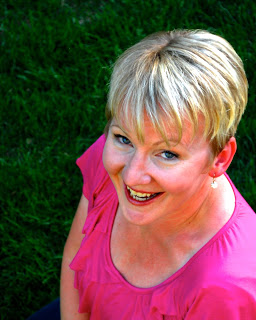 There are many wonderful blessings that come from being a Momma to six children. Listening to their annoying music is not one of them.
I'm sure you are well aware of the song, "The Fox" by Ylvis. (If not, remember, I warned you before you click over to listen to it). While all my kids enjoy the song, my three year old is obsessed with it. It is on constant replay when she uses the iPad, she sings it no matter what else she is doing (playing, eating, peeing, going to bed….) plus insists that I dance along with her anytime she hears it. There is no escaping.
My real problem with this song is the fact that it gets stuck in my head for days on end and drives me insane! Back when my oldest was three, it was all those poke-your-eyes-out Barney songs that would loop around endlessly in my head. I haven't decided yet which is worse.
Last week, in an attempt to bribe my adorable 3 year old to "please stop singing that song", I engaged her help in making these yummy treats. Let's be honest, put M&M's in anything and they are instantly better! However, the addition of vanilla pudding mix to these cookies give them a great chewy texture plus a wonderful flavor. The only thing I will do differently next time I made them is to make them bigger. Bigger is better, right? I just know the chewy texture of these would work great as a monster-style cookie.
And just so you know, my cookie making bribe was a complete failure. Yes, we had a great time together and made some fun memories, but all the while she sang, and sang, and sang.
"What does a fox say?……hi-de, hi-de, hi-de ho….."
Vanilla Pudding M&M Cookies
makes 24 cookies
(recipe adapted from Picky Palate)
1/2 C butter, room temperature
1/2 C sugar
1/2 C brown sugar
1 egg
1/2 tsp vanilla
1 1/2 C flour
3 Tb instant vanilla pudding mix
1/2 tsp baking soda
1/2 tsp salt
1/2 C mini semisweet chocolate chips
3/4 C mini M&M's
1. Preheat oven to 350 degrees. In a large mixing bowl, beat together the butter and sugars until well combined. Add the egg and vanilla and beat again. Add flour, pudding mix, baking soda, and salt. Mix until it comes together into a batter. It will start of dry and crumbly, but keep mixing! Add the chocolate chips and M&M's then stir them in gently.
2. Evenly portion the dough onto the trays. I used a small cookie scoop, but will try a larger one next time for bigger cookies! Bake for 10 minutes or until the cookies are just beginning to lightly brown on the edges. Do not overcook! Let the cookies cool for 8 minutes before removing them from the cookie sheet.
Carole – Thanks so much for this cookie recipe. I can't wait to try it with the pudding mix in it. Sounds wonderful! And did anybody else click through to the Fox Song? I couldn't resist the temptation, could you? I can just imagine Carole's three year old belting out this song! Very cute!

Our Thursday Party List!
Gingerly Made – Glued to my Crafts – Live Laugh Rowe – Lamberts Lately – The 36th Avenue – Fireflies and Jelly Beans
The Crafty Blog Stalker – Real Coake – 52 Mantels – Living Well Spending Less