This Vegetarian Tamale Pie is a hearty meal that is definitely family friendly! Even your most passionate carnivores won't miss the meat in this easy, tasty dish.
Hi y'all! I'm Marye back from Restless Chipotle to share one of my favorite recipes. So glad that the Made From Pinterest crew keeps letting me sneak in here!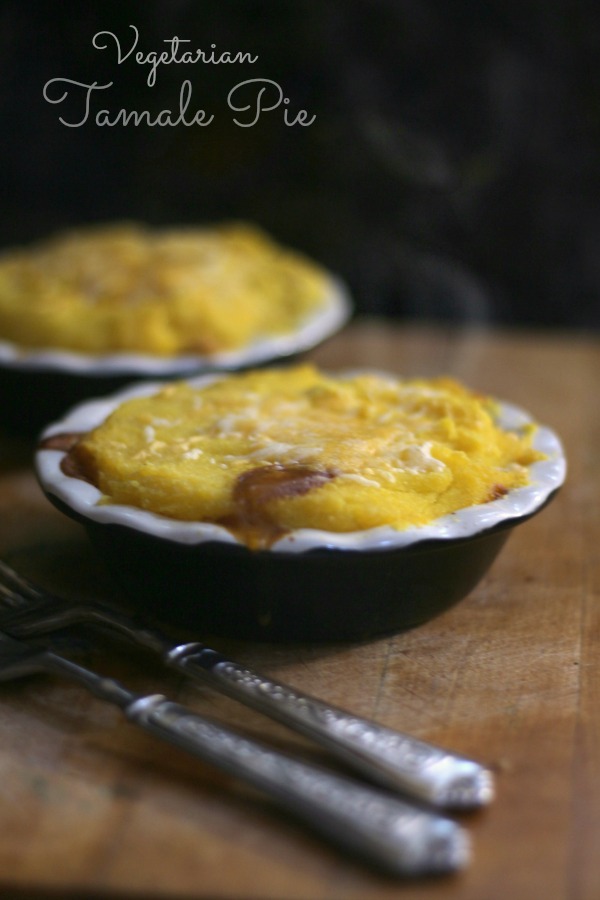 Our family was vegetarian, then vegan, for a number of years. You'd never know it now by the number of Whataburger wrappers around here, but it's true. In fact, my older kids tell my younger kids the horror stories of how they were forced to forgo sugar, junk food, and hamburgers during their formative years. Anyway, I learned to make all kinds of vegetarian dishes and use a variety of herbs and seasonings to give them huge amounts of flavor. One of my favorite cuisines is Tex-Mex (obviously, right?) and it really lends itself well to vegetarian dishes.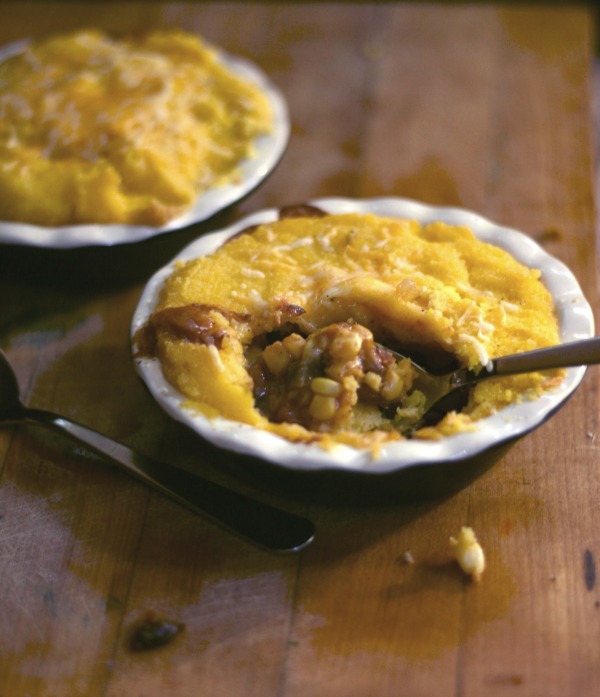 This recipe for Vegetarian Tamale Pie is an adaption of an old recipe I had. Over the years that we were not eating meat, I think I perfected this. It's smoky and a little spicy, rich with warm cumin and bright cilantro, full of tomatoes, beans, and cheese. Then a cornmeal mush is spread over the top and more cheese is added. It's baked until everything is a steamy, gooey perfection. You can make these in individual dishes or in a 13×9-inch baking pan. I used individual dishes because it's prettier for the pictures. 🙂
The church that we belong to is very involved in foster care and many of the families are foster parents. One of the ways that we support those families is to make dinner for them for a couple of weeks after they get a new placement. This gives them time to adjust without having to worry about dinner. I think it just helps them know that they aren't alone in this thing. A couple of weeks ago, one of the families got an older child who was vegetarian. I was thrilled to be able to pull out my notes from my vegetarian days and make this easy tamale pie again.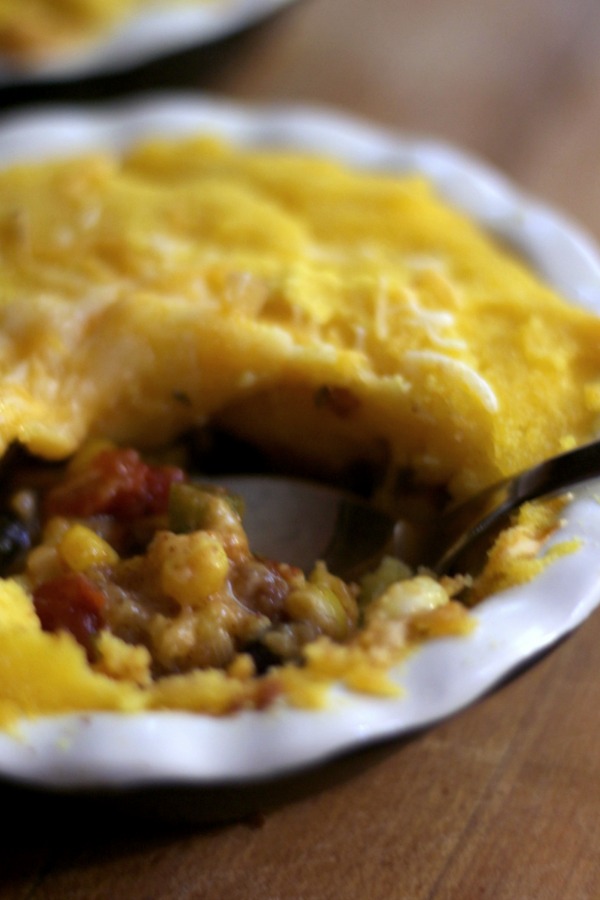 Give this Vegetarian Tamale Pie recipe a try and let me know what you think. See ya next month!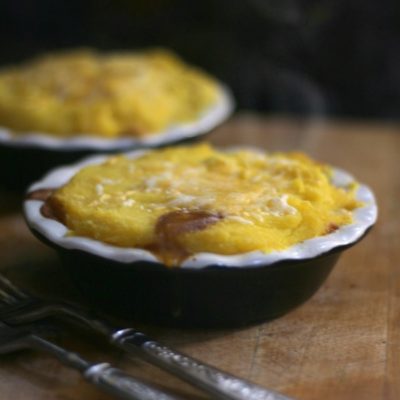 Vegetarian Tamale Pie
Ingredients
2

tablespoons

oil

1

cup

chopped onion

1/2

cup

chopped Bell pepper

2 14-

ounce

cans black beans

2 14-

ounce

cans seasoned pinto beans

2 16-

ounce

packages frozen corn

2 14-

ounce

cans diced tomatoes with chiles

1

can sliced black olives

1/4 to 1/2

cup

chopped fresh cilantro

1

package taco seasoning

1

teaspoon

cumin

1

teaspoon

garlic powder

3

cups

shredded Cheddar or Mexican blend cheese

divided use

2

cups

cornmeal

2

teaspoons

honey

2

cups

boiling water
Instructions
Preheat the oven to 400F.

Spray a baking dish with non-stick cooking spray.

Heat the oil until sizzling.

Saute the onion and Bell pepper in the oil until they are soft and blackened around the edges.

Mix the onion mixture, beans, corn, tomatoes, and olives together in a large bowl.

Stir in the cilantro, taco seasoning, cumin, and garlic.

Spread in the bottom of the baking dish.

Sprinkle with 2 cups of the cheese.

Set aside.

Pour the boiling water and honey over the cornmeal.

Stir until smooth and thick.

Spoon the hot mixture over the bean mixture and gently spread to cover.

Sprinkle the top with the remaining cheese.

Bake for 20 to 30 minutes or until the top is crusty and golden.
Nutrition
Serving:
1
g
Calories:
928
kcal
Carbohydrates:
149.4
g
Protein:
52.1
g
Fat:
16.1
g
Saturated Fat:
4.8
g
Cholesterol:
16
mg
Sodium:
730
mg
Fiber:
31.5
g
Sugar:
10.7
g
I'll be back next month, but hey, don't be a stranger! I'd love it if you'd follow along on Facebook, Pinterest, Twitter, and Instagram! I share lots of nostalgic recipes from my collection of antique and vintage cookbooks.
If you liked this Vegetarian Tamale Pie recipe you might also like these Restless Chipotle Favorites…
Just click on the image to see the recipe.