After reading this you will all want to wish Jen a speady recovery! This delicious soup should help!
This white bean and kale soup is so healthy and low fat. It's quick, easy, and so tasty and filling. Mixing part of the beans in a blender gives the soup the nice creamy look and taste.
I hope everyone had a wonderful, wonderful Christmas. This Christmas was a challenge because my grandma passed away. She lived a long, sometimes hard, but beautiful life…she was 96 years old. She was in good spirits. Had her full faculties, but was recovering from a fall. As she was being bathed, the air seeped from her lungs and she slumped forward and died. That is the way I want to go, folks. In good health, with a good mind, and just drift away. She deserved to die gracefully with dignity and ease.
Once I made it through the funeral, I went to the doctors Christmas Eve day because I had been having a fever, severe back pain, etc. I knew something was wrong. Every bone in my body ached. It turned out I had a full blown case of a kidney infection and UTI. The doc put me on antibiotics, but I am having a hard time recuperating. My fever keeps spiking to 102 and my bones have not quit aching. Very frustrating. I was ready to cancel our Christmas plans with one of our kids and their family, but I felt like I couldn't do that. Christmas wouldn't be Christmas without family to celebrate it with. We ended up having a lovely meal.
As a means to soothe my aching body, I made this white bean and kale soup. It's quick, easy, and so tasty and filling. Mixing part of the beans in a blender gives the soup the nice creamy look and taste.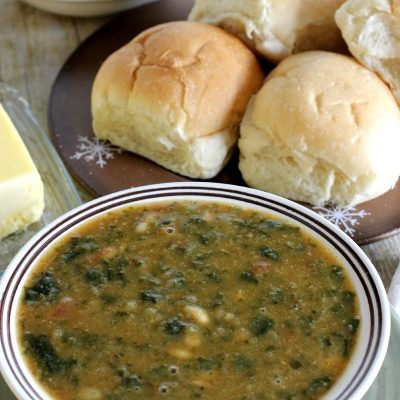 White Bean and Kale Soup
Ingredients
1

tablespoon

olive oil or canola oil

8

large garlic cloves

crushed or minced

1

medium yellow onion

chopped

4

cups

finely chopped raw kale

4

cups

low-fat

low-sodium chicken or vegetable broth

2

15 ounce cans white beans, such as cannellini or navy, undrained

4

plum tomatoes

chopped

2

teaspoons

dried Italian herb seasoning

Salt and pepper to taste

1

cup

chopped parsley

to garnish (optional)
Instructions
In a large pot, heat olive oil. Add garlic and onion and saute until onions are soft and transparent.. Add finely chopped kale and continue to saute, stirring frequently until leaves are wilted.

Pour in 3 cups of broth, 2 cups of beans, tomatoes, herbs, salt and pepper. Simmer 5 minutes. Add remaining beans and broth to a food processor or blender and pulse until smooth. Stir into soup to thicken. Simmer 15-30 minutes more depending on how soft you like your kale. Garnish with chopped parsley, if desired.
Recipe adapted from AllRecipes.com
For more delicious soup recipes, visit Jen at Bakerette.com:
Copycat Olive Garden Minestrone Soup
Thanks Jen! Love and hugs to you and yours.
This awesome post has been shared with Home Stories A to Z and Whipperberry