Hello again MFP friends! Kathy here back from Penney Lane Kitchen to share my first recipe of 2015! You might remember back in December I shared the savory and incredibly delicious Slow Cooker Hot Corn Dip. This time I'm sharing something sweet. I shared Caramel Kiss Cookies coated with almond and toffee on my blog last month and became obsessed with kiss cookies. I found them in one of the cookbooks I hoard collect and they're fancy looking but also fall off a log easy. When I was deciding what to share with you next I came across another adorable version of the Kiss cookie from The Cupcake Diaries and had an idea- white chocolate! And that is how these White Chocolate Peanut Butter Kiss Cookies were born.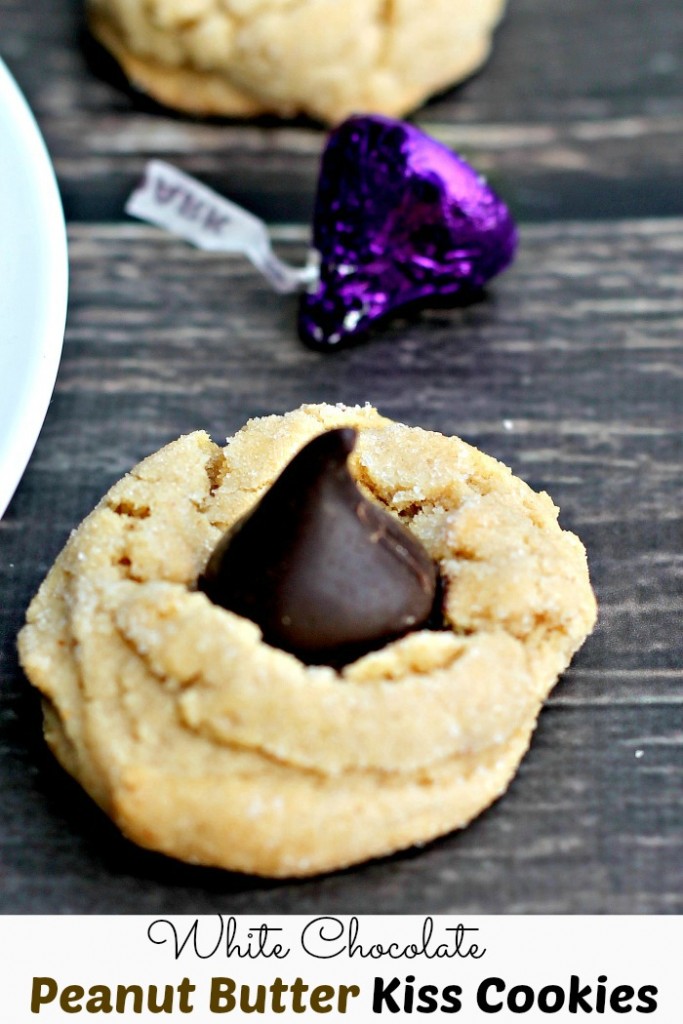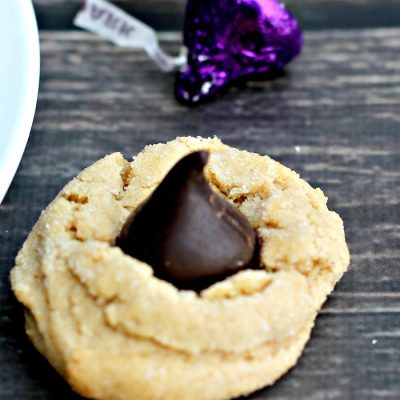 White Chocolate Peanut Butter Kiss Cookies
Delicious soft cookie made with white chocolate peanut butter complimented by a dark chocolate kiss.
Ingredients
3/4

cup

of butter softened

1

cup

white chocolate peanut butter

1 1/2

cup

sugar divided

1

teaspoon

vanilla

2

eggs

1

cup

brown sugar

1 1/2

teaspoon

baking soda

2 1/2

cups

flour

4

dozen dark chocolate kisses wrappers removed
Instructions
Preheat oven to 375.

Cream together the peanut butter and 1 cup of the sugar in a stand mixer.

Add the vanilla, eggs, brown sugar, baking soda, and flour and mix thoroughly to form the dough.

Add the remaining sugar to a small bowl or plate.

Use a cookie scoop to form 1 inch balls from the dough.

Roll the cookies in the sugar and add to a greased cookie sheet.

Bake for 10 minutes.

As soon as the cookies are removed from the oven, press 1 dark chocolate kiss into the center of each cookie.

Let cool completely on a wire rack and enjoy.
I swapped out the regular peanut butter for white chocolate peanut butter (Y'all did you know there were a ton of flavors of peanut butter- even a spicy one?!) because I luurrve white chocolate peanut butter. To balance out the sweetness of the sugars and the white chocolate peanut butter I traded the milk chocolate kiss for the slight bitterness of the dark chocolate one.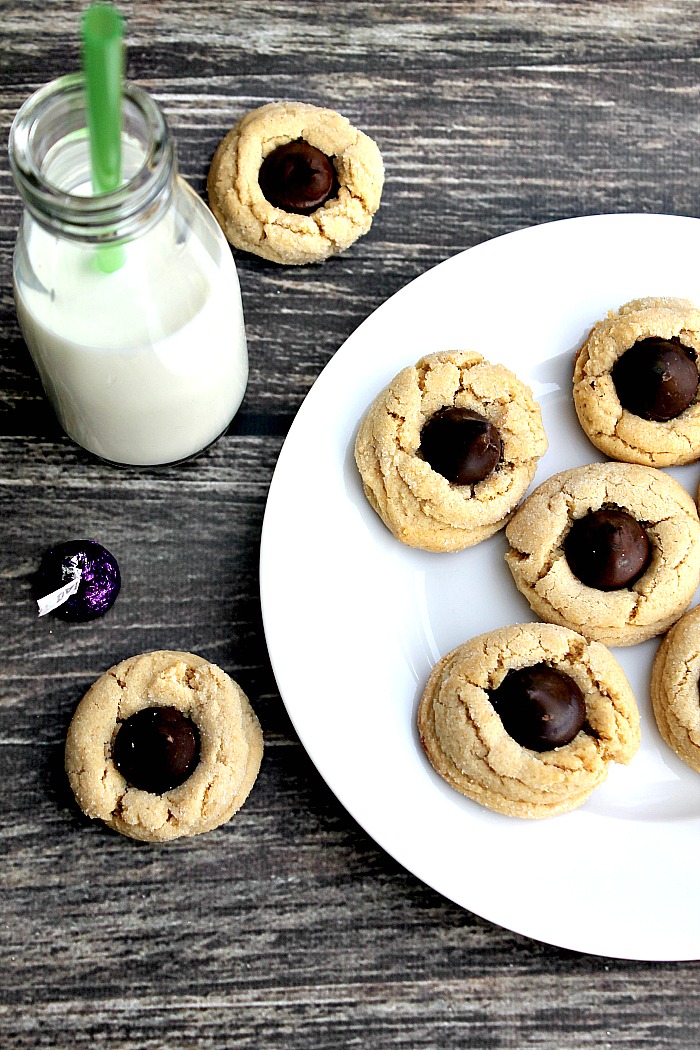 The cookies are so simple to make and the dough is so good I just kept "testing" it. The post from Cupcake Diaries said it was a family recipe and I can see why it was passed down- seriously one of the best peanut butter cookies I've ever tasted. If white or dark chocolate is not your thing, I think the original recipe would be simply amazing too.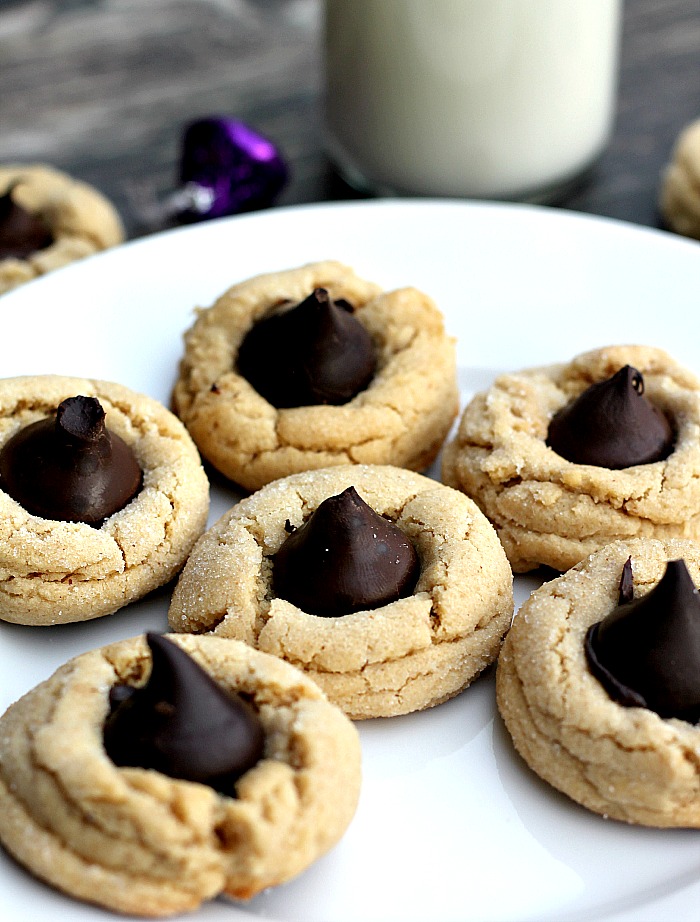 So the recipe makes 4 dozen cookies. I do not need 4 dozen of any kind of cookies in my house let alone ones as good as these cute little morsels. I took two pans of them to my daughter's preschool and left them in the teachers lounge for all the teachers. I let my daughter's teachers know where the cookies were. I came to pick her up in the afternoon and they handed me the two empty pans. I asked them how they liked the cookies and they said the cookies were all gone before they got any! There you have the testimony of 15 preschool teachers that these White Chocolate Peanut Butter Kiss cookies are the bomb dot com. I did promise her teachers I would make a batch just for them and said I would thoroughly "test" them. 🙂

This recipe was modified from this recipe by The Cupcake Diaries.
You might also enjoy from Penney Lane Kitchen: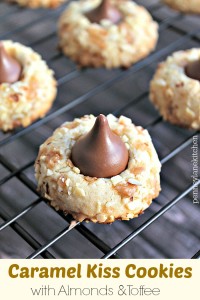 Caramel Kiss Cookies w Almonds & Toffee
This great post has been shared with Living Well Spending Less and Whipperberry.