Hi y'all! I'm Kathy, a country girl and mom of two here from Penney Lane Kitchen where delicious doesn't have to be hard and for me a full table is a happy one. I was wahoo-excited when the sweet ladies from MFP asked me to share a recipe and then could have turned a cartwheel when they requested an appetizer because honestly I could usually skip the meal and just nosh on apps. Oh yes, there's an app(etizer) for that!
Dips are probably my favorite appetizer because there is a huge variety of them, they're hardly ever hard to make, and well, they're just plain good. Easy and eat it with a spoon delicious definitely describes this Slow Cooker Hot & Corn Chile Dip I pinned to my Appetizer Board by Damn Delicious.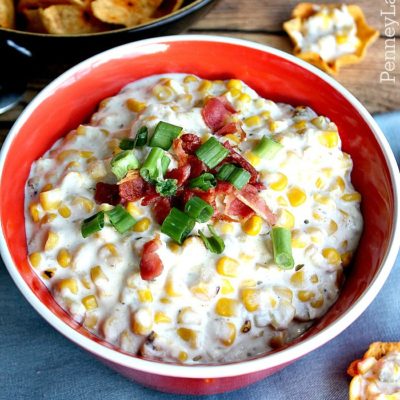 Slow Cooker Hot Corn & Chile Cheese Dip
Creamy and cheesy hot corn dip with a chile kick and a bacon crunch done in the slow cooker.
Ingredients
4

slices

of bacon broken into bacon bits

3

15.25 oz Fire Roasted Corn (drained)

1

small can Fire Roasted Green Chiles

drained

1/2

cup

sour cream

1

cup

shredded Pepper Jack cheese

1/4

cup

grated Parmesan cheese

Salt and pepper to taste

8

oz

softened cream cheese cubes

2

tablespoons

chives
Instructions
Add corn, chiles, sour cream, Pepper Jack cheese, and Parmesan Cheese to the slow cooker.

Salt and pepper to your taste.

Stir well to combine.

Place cubes of cream cheese on top of corn mixture.

Cover and cook on low for 2 hours.

At 2 hour mark stir to blend in cream cheese.

Cook an additional 10 minutes.

Garnish with bacon bits and chives and serve immediately.

(This dish is best served hot.)
This dip has so many wonderful things going on- the creaminess of the cheeses (How could anything with cream cheese be wrong??), the crunch of the bacon, the kick of the chiles, and the heartiness of the corn. Magic happens when you dump these ingredients in the slow cooker.
I have tried two other hot corn dip recipes and honestly, I don't know if I will ever try another one. The other two recipes were good but this one from Damn Delicious had that something that the other two were missing that kept me from saying "Woah! Call in the search party we found it, boys! Hot corn dip perfection." The ingredients in the 3 dips were pretty similar. The difference in this dip? Sour Cream. I truly believe that the sour cream in this dip is what gives it that zing and turns it into a full blown flavor party.
I kept the ingredients pretty close to Damn Delicious' original recipe. My only changes were using microwave bacon (which does come out crispy) and I used Fire Roasted corn (You can find it next to regular and cream style corn at most stores.) and chiles instead of jalapenos. I also paired the dip with Fajita seasoned Tostitos scoops which went perfectly with the dip and for even more flavor it that's possible. You could also use little crostinis for the dip as well. It's that thick and hearty.
After having tried the other two corn dip recipes, this one is a keeper. Believe me, I took one for the team and tried it both with the chips and a spoon. I like to be thorough. 🙂 This hot corn dip recipe would be so easy to throw in the slow cooker and let the magic happen before a holiday party or game day get together. You won't have to worry about what to do with leftovers.
Thanks again to MFP for having me and letting me make one of my favorite types of comfort foods.
I hope you will stop by Penney Lane Kitchen (FYI Penney is my last name courtesy of my hubs from Ireland hence the blog name) where you will find more easy comfort food like this or give me a follow on Pinterest or Instagram so you don't miss a drool worthy photo and hop over to Facebook for more recipes and fun.
Some of my most popular recipes are:
Salted Caramel Pudding Parfait
Oven Roasted Rosemary Potatoes