When I was first married, my new husband and I lived near my parents. Like most newlyweds, we were both working, we were tight on money and didn't own our own washer or dryer. So every Sunday night, we would go over to my parents to do our laundry. My mother would make a big Sunday dinner and after cleaning up, we would settle down to fold our clothes while all the family watched "Star Search". Does anyone remember that show?
When my husband's brother moved into our same town, the Sunday dinner invitation was extended to them and we all looked forward to getting together on Sundays to enjoy each other's company. I only have sisters so my mother didn't have any boys and so she LOVED to cook for my husband and his brother. They licked the plates clean and we rarely had any leftovers. It was so fun!
I now have son-in-laws myself and it is so fun to cook for my one son and my other two "boys". One of my son-in-laws is a meat and potato kinda guy. Give him a steak and a baked potato and he is a happy camper. Knowing this about him, I try to have this kind of meal when they come to visit so I am always on the lookout for some great potato dishes.
Enter this Cheesy Potato Gratin that I pinned from Williams-Sonoma!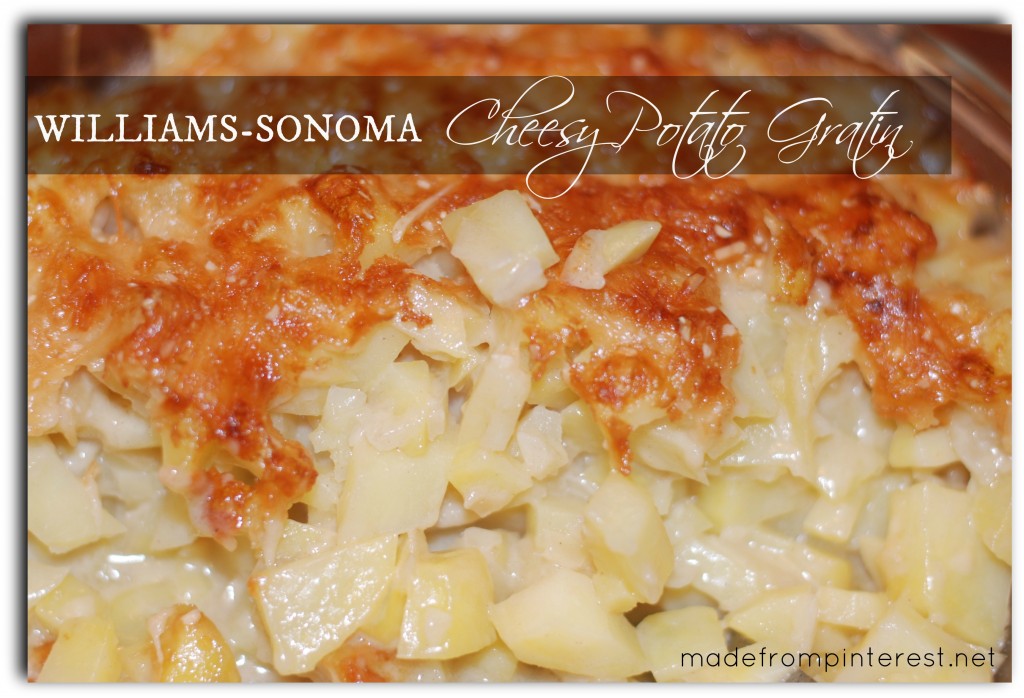 This son-in-law will be coming for the Christmas holidays so I wanted to try this dish before they are here, so I made this for dinner last night.
My daughter made three comments about this dish:
When she entered the kitchen as I was cooking this dish: "Mom, something smells REALLY GOOD."
Sitting at the table when I set this out: "Mom, this looks sooo good!"
And then…. "Mom, these potatoes taste SOOO good!"
I think my meat and potatoes son-in-law will be a happy camper at Christmas!
This Pin Rocks!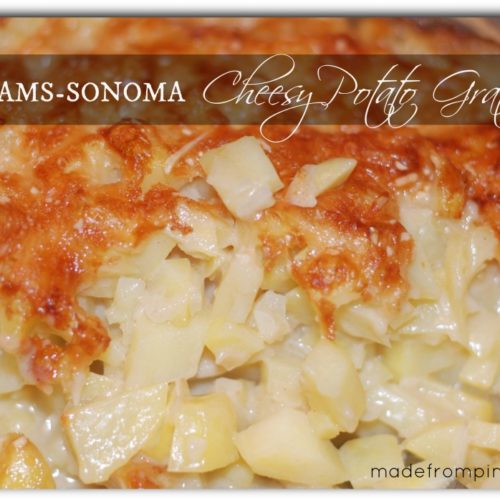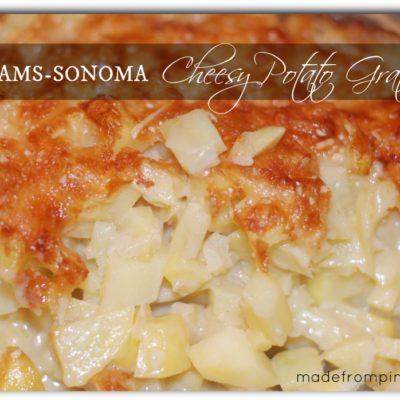 Williams-Sonoma Cheesy Potato Gratin Recipe
Ingredients
1

Tbs.

unsalted butter

1

shallot

finely chopped

2

Tbs.

all-purpose flour

1/2

cup

chicken stock

1/2

cup

heavy cream

1

cup

grated Gruyère cheese

1

tsp.

chopped fresh thyme

Salt and freshly ground pepper

to taste

3

lb.

Yukon Gold potatoes

peeled and cut into 1 1/2-inch chunks

1/2

cup

grated Parmigiano-Reggiano cheese
Instructions
Preheat your oven to 375 degrees.

Melt the butter in a non-stick frying pan. Add the chopped shallot under tender. I cooked mine for about 4 minutes. Add the flour, stirring constantly, for 1 to 2 minutes. Slowly stir in the stock and heavy cream. Next, add the Gruyère cheese and thyme and stir until the cheese has melted. Season with salt and pepper. Add the potatoes and coat them well. Cover the pan and cook over medium heat for 15 minutes.

Transfer the potatoes into an oven safe dish. Sprinkle the Parmesan-Reggiano cheese on top. Bake uncovered for 30-35 minutes until it is golden brown and bubbling.

Let cool slightly before serving.
Looking for some other great potato dishes? Check these out!