I love cinnamon! There are definitely spices that I don't like but cinnamon isn't one of them. Maybe that's why I am drawn to so many pins that have cinnamon in in them like Mini Apple Pie Cookies, French Toast Rollups, and Apple Pie Fries!
The spice that I definitely don't like is curry. YUCKO. Don't like the way it smells, don't like the way it tastes….give me something that has cinnamon in it over a curry dish any day.
Like this Cinnamon Crumb Cake that I pinned from Tasty Kitchen. There's definitely no curry in this baby! Only cinnamon. Yummy tasting, great smelling cinnamon!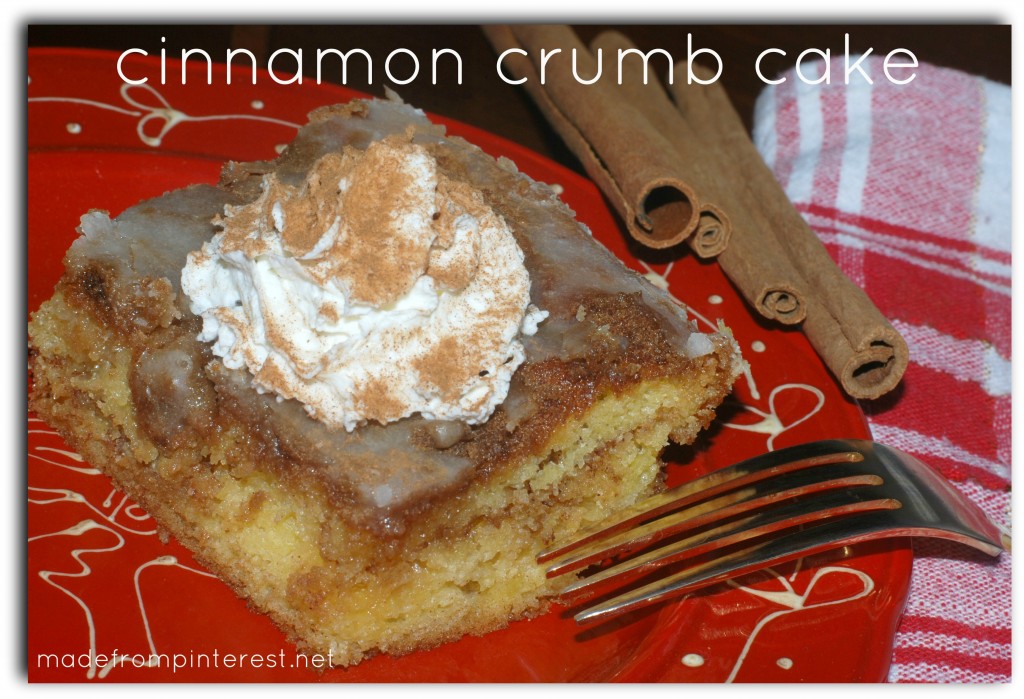 I may or may not have had some of this cake for breakfast.
Me and my cinnamon-luvin self says that This Pin Rocks!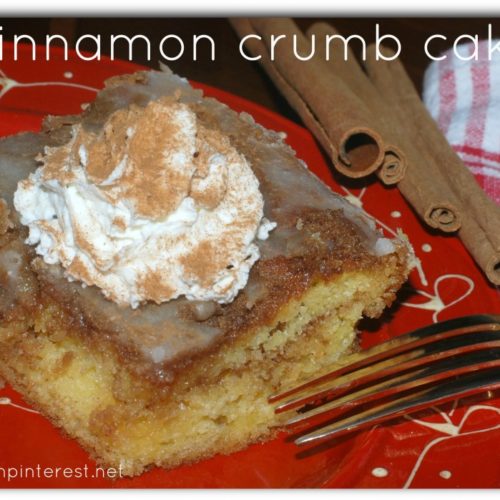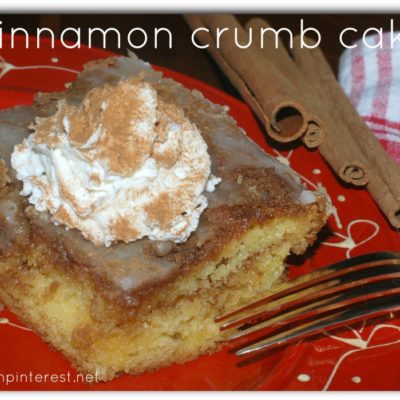 Cinnamon Crumb Cake
Ingredients
1

box yellow cake mix

4

whole Eggs

1

cup

Sour Cream

¾

cups

Vegetable Oil

1

cup

Light Brown Sugar

2

teaspoons

Cinnamon

2

cups

Powdered Sugar

6

Tablespoons

Milk

1

teaspoon

Vanilla Extract
Instructions
Preheat your oven to 325 degrees

Mix together the cake mix, eggs, sour cream, and oil until well blended.

In a separate bowl, mix together the cinnamon and brown sugar then set aside.

Grease a 9x13 pan and pour half of your cake mixture into the pan. Then sprinkle half of your cinnamon sugar mixture over the cake batter. Next take the remaining cake batter and pour over the cinnamon layer. End with sprinkling the remaining cinnamon sugar mix on top.

Bake for 40-45 minutes or until a toothpick comes out clean.

While the cake is baking, make your glaze. Mix the powdered sugar, milk and vanilla until blended. When the cake comes out, immediately pour the glaze over the hot cake.

You can eat this cake warm or at room temperature. Vanilla ice cream would make a great addition!