This is one pin I was really excited to try. But first I have to laugh at the difference between boys and girls.
Laurie's picture is full of pink, ruffles and pearls. Thank you Laurie from Tip Junkie for this great pin. My picture is all boy, grey, blue, red and bold stripes. This was a trip we took to Utah for our daughter's graduation from college and my nephew's wedding.
It did take longer to get all of Landon's clothing packed and put into the ziploc bags. I wondered at the time if it would really be worth it. Of course I had to "burp" each bag to get out the extra air. This helped to save some extra space in his suitcase. Some of his clothes were a tight fit for the bags. Next time I'm at the grocery store I'm going to purchase some of the larger bags for future travel.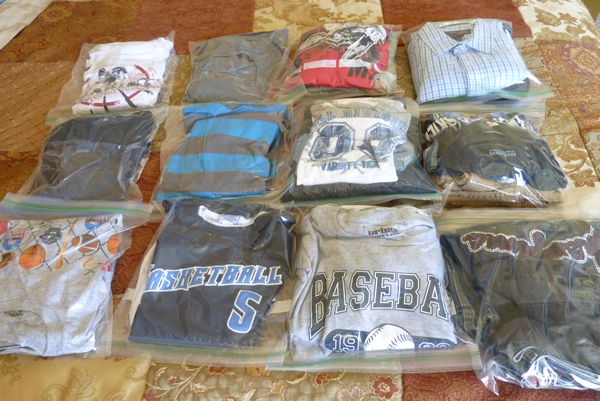 We arrived in Utah and hit the ground running. Everyday was packed with activities. Having Landon grab one of his "bags" with everything in it was a
huge time saver!
There was no "where are my socks", "I can't find my belt" or "where did you put my pajama's"? The extra effort in the beginning was worth it!.We will definately pack this way again.
Both Landon and I agree,
This Pin ROCKS!