Who doesn't love a great pan of macaroni and cheese? This was another of the "hard" foods to give up going GF. So I went on a quest looking for that "perfect" recipe. I must say that Martha doesn't disappoint on this one. This makes a TON of mac-and-cheese. Even with our family (5) we still had plenty of leftovers. Which of course did not last more that a day! Half the recipe would be plenty for one meal.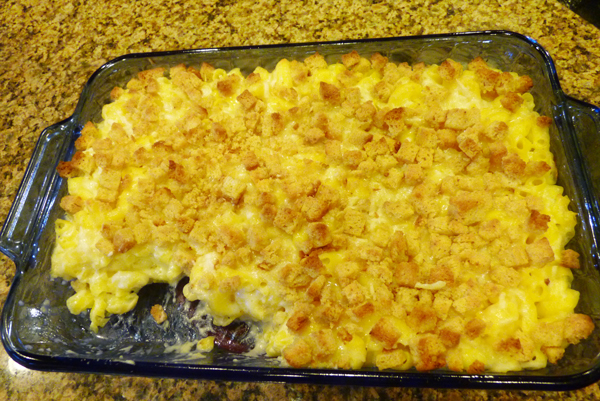 My favorite part of this dish is the bread crumbs on top. I love the crunchy buttery flavor and texture.
The cheese sauce? Fantastic, it would also be great in a crockpot used for dip with veggie's, bread, crackers etc. (I just used a spoon)!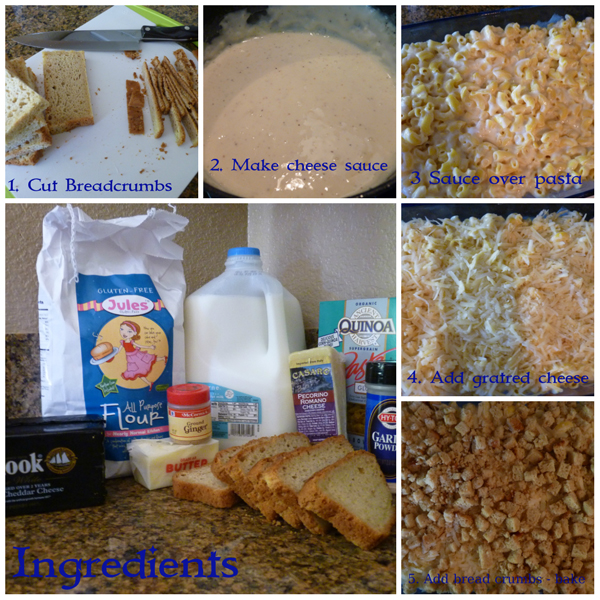 The nutmeg is what I think causes this recipe to stand out from the rest. It gives the dish
a unique taste without you really knowing its nutmeg. I was worried about the cayenne pepper being to strong, it
turned out to be fine. Combine the dish with a crunchy salad and veggie and you have the perfect meal.
The verdict on Martha's culinary skills……
This Pin ROCKS!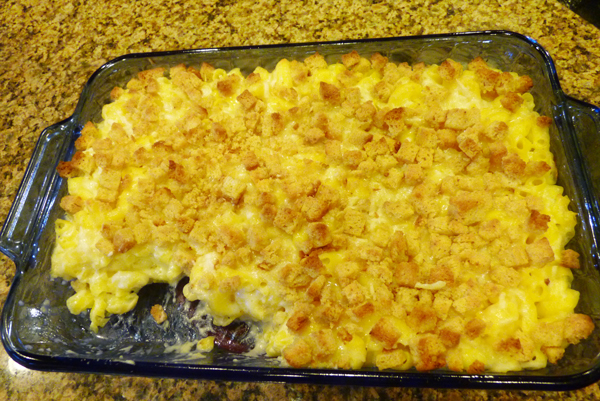 Martha Stewart's Creamy Mac & Cheese
Ingredients
8

tablespoons

1 stick unsalted butter, plus more for casserole

6

slices

white bread

crusts removed, torn into 1/4- to l/2-inch pieces

5 1/2

cups

milk

1/2

cup

all-purpose flour

2

teaspoons

coarse salt

plus more for water

1/4

teaspoon

ground nutmeg

1/4

teaspoon

freshly ground black pepper

1/4

teaspoon

cayenne pepper

4 1/2

cups

about 18 ounces grated sharp white cheddar cheese

2

cups

about 8 ounces grated Gruyère or 1 1/4 cups (about 5 ounces) grated Pecorino Romano cheese

1

pound

elbow macaroni

Gluten Free Substitutions:

GF Bread

GF Flour

I used cornstarch

GF Pasta I used Ancient Harvest Quinoa Elbow Macaroni
Instructions
Preheat oven to 375°F. Butter a 3-quart casserole dish; set aside. Place the bread in a medium bowl. In a small saucepan over medium heat, melt 2 tablespoons butter. Pour the melted butter into the bowl with the bread, and toss. Set the breadcrumbs aside.

Warm the milk in a medium saucepan over medium heat. Melt the remaining 6 tablespoons butter in a high-sided skillet over medium heat. When the butter bubbles, add the flour. Cook, stirring, 1 minute.

While whisking, slowly pour in the hot milk a little at a time to keep mixture smooth. Continue cooking, whisking constantly, until the mixture bubbles and becomes thick, 8 to 12 minutes.

Remove the pan from the heat. Stir in salt, nutmeg, black pepper, cayenne pepper, 3 cups cheddar cheese, and 1 1/2 cups Gruyère (or 1 cup Pecorino Romano); set the cheese sauce aside.

Cover a large pot of salted water, and bring to a boil. Cook the macaroni until the outside of pasta is cooked and the inside is underdone, 2 to 3 minutes. Transfer the macaroni to a colander, rinse under cold running water, and drain well. Stir the macaroni into the reserved cheese sauce.

Pour the mixture into the prepared dish. Sprinkle the remaining 1 1/2 cups cheddar cheese, 1/2 cup Gruyère (or 1/4 cup Pecorino Romano), and the breadcrumbs over the top. Bake until golden brown, about 30 minutes (though we needed a bit more time to get it brown, but your oven may vary). Transfer the dish to a wire rack for 5 minutes; serve.