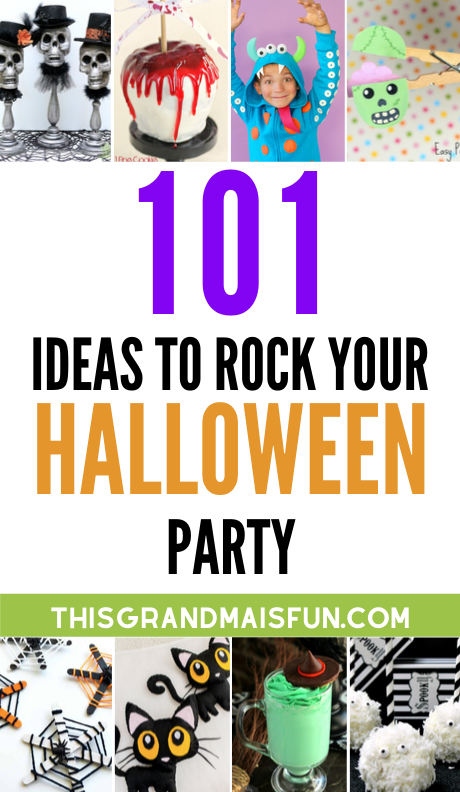 If you're planning on throwing the creepiest, ghastliest, most haunted, Monster Mashiest Halloween party ever, you'll love this compilation! Here are 101 ideas to rock your Halloween party!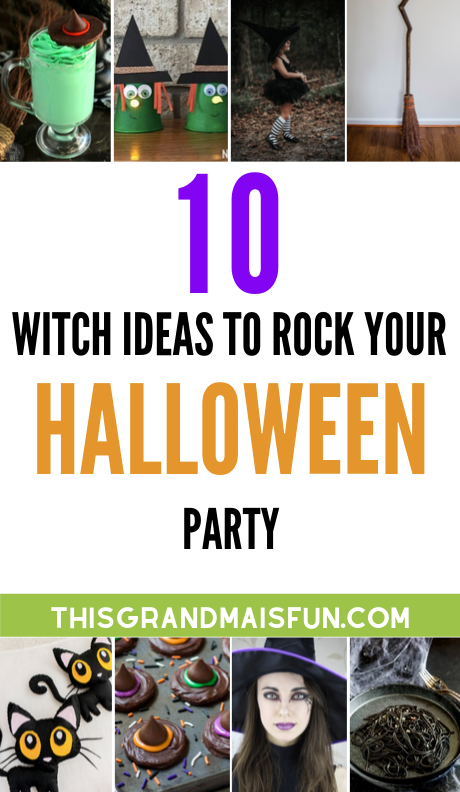 Time to create a little hocus-pocus with these enchanting witch ideas!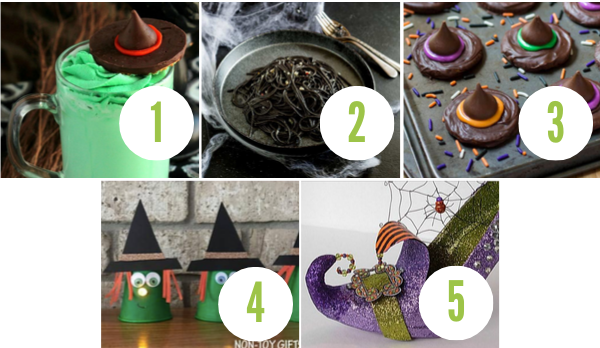 1. Melting Witch Hot Chocolate– If the melting witch scene from The Wizard of Oz made you oddly thirsty, you'll love Southern Halloween Queen's delicious hot cocoa!
2. Witch's Hair Pasta– Now, normally the goal is to avoid leaving hair in people's food, but since it's Halloween, we'll make an exception with this recipe from Sprinkles and Sprouts.
3. Witch Hat Cookies– Make some magic of your own with Dizzy Busy and Hungry's cookie recipe!
4. Paper Cup Witch with Glowing Nose– Kids will love the erie glow from this craft by Non-Toy Gifts.
5. Witch Shoes– The real reason I wish I was a witch is not because of the magic (although that is pretty great!) and not even the flying around on a broom deal- it's because of the shoes! Learn how to make these whimsical witch shoes from Abbigli!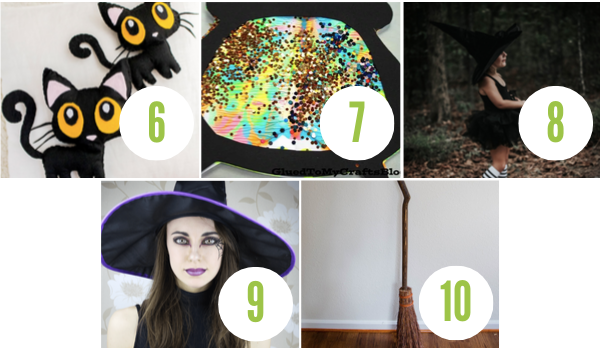 6. Black Cat Softie Pattern– Every witch needs a cat! Sew your own with this cute tutorial from The Crafting Nook!
7. Paint Splat Witch's Cauldron– Brew up some witchcraft with Glued to My Crafts's witch's cauldron!
8. Easy Halloween Witch Costume for Girls– Chanel Moving Forward's witch costume is just right for little witches!
9. Spellbound Witch Makeup Tutorial– This makeup tutorial from Cup of Sprinkles is perfectly bewitching!
10. DIY Witch's Broom– You've gotta get around somehow, right? Sincerely Sarah Anne's broom is no ordinary cleaning broom!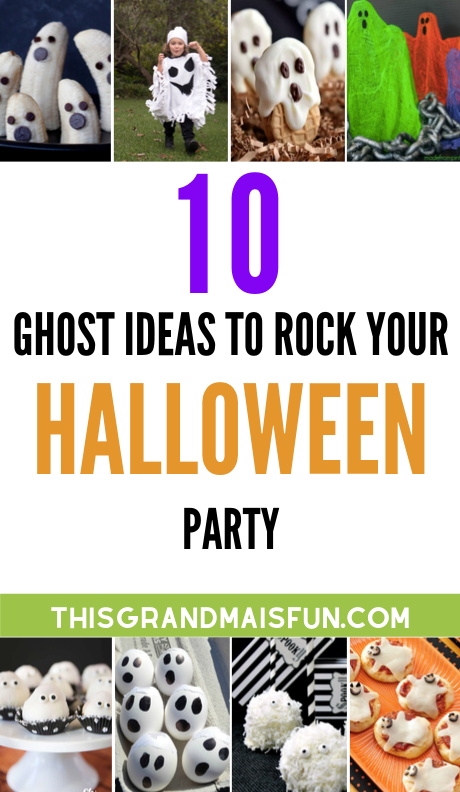 These spooky ghost ideas will scare your guests to death!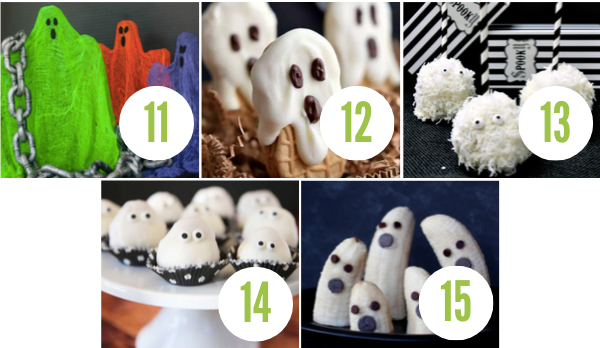 11. Cheesecloth Ghosts– You will love how easy and haunting this decoration is!
12. Nutter Butter Boos– Home Made Interest's nutter butter boos are the perfect fit for anyone holding a seance! Or, you know, a Halloween party.
13. White Chocolate Coconut Apple– Nothing says, "Come visit us from the other side!" like these apples from Kicking It with Kelly!
14. Chocolate Strawberry Ghosts– If you're looking for something both spooky and luxurious, check out Skip To My Lou's strawberry ghosts.
15. Boonanas– Sometimes, the amount of candy and sugar at Halloween time can be overwhelming. We found a solution! Check it out at Eating Richly!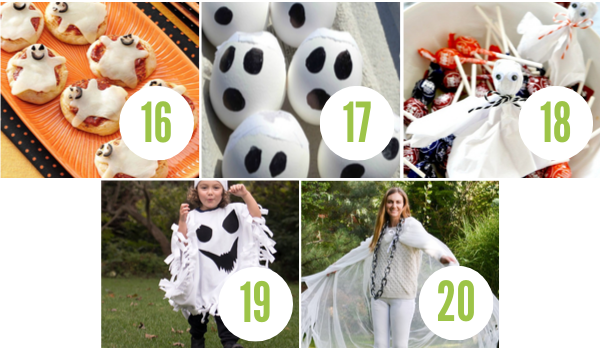 16. Ghost Pizza– Rumor has it that the flavor of this pizza is so strong and wonderful, the otherworldly can almost taste it. Try this creepy recipe at Taste of Home!
17. Ghost Bombs– We love this Halloween trick from Growing a Jeweled Rose!
18. Ghost Lollipops– We love how simple Momdot's ghost lollipops are! Sadly, we cannot recommend them for any real ghosts as they are sure to fall right through their spirit bodies.
19. No-sew Ghost Costume– If you're looking for an easy but spooky costume this Halloween, check out Gina Michelle's no-sew ghost.
20. DIY Easy Ghost Costume– Heather Handmade 's costume will make for a frightening hostess!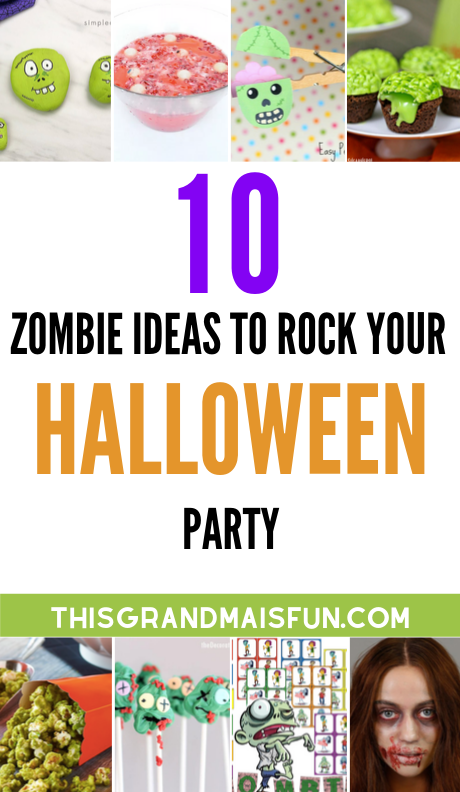 Throw a zombie jamboree with these great ideas!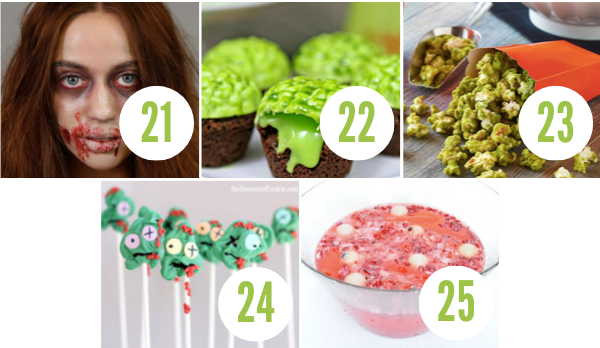 21. Zombie Halloween Makeup Tutorial– Searching for a new daytime look? Try out Style Caster's zombie makeup! You're sure to make heads turn! Or fall off completely…
22. Zombie Brain Brownies– Some people consider the brain of the zombie to be a rare delicacy. Try it for yourself with these brownies from Sugar Hero.
23. Zombie Boogers– When one is awakened from the dead, it becomes socially acceptable to pick one's nose. Find this recipe at McCormick.
24. Zombie Candy Pops– We love the grotesque faces on The Decorated Cookie's candy pops!
25. Zombie Punch– What could be more refreshing than a glass of punch with your favorite flavor of eyeball? Go to Our Thrifty Ideas for this disgustingly good recipe.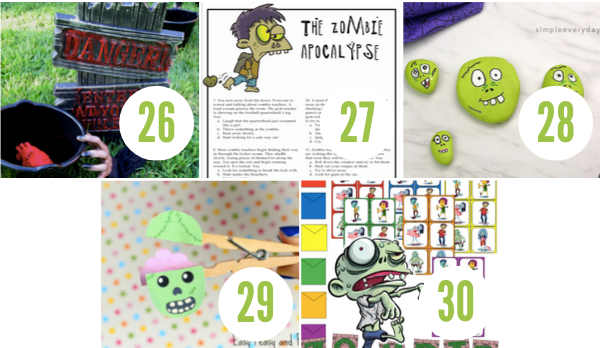 26. Zombie Body Parts Toss Game– If zombies are going to leave their body parts everywhere, you've got to do something with them, right? Try this game from My Pinterventures!
27. Zombie Apocalypse– Would you survive a zombie apocalypse (pretty sure I would be one of the first to get eaten….)? Find out at Woo Jr. !
28. Zombie Halloween Painted Rocks– Simple Everyday Mom's painted rocks make for an easy craft for little zombies.
29. Clothespin Zombie– Put on a zombie puppet show with this fun craft from Easy Peasy and Fun!
30. Kids' Zombie Party Hunt– Go on a zombie hunt with Queen of Theme Party Games zombie party game!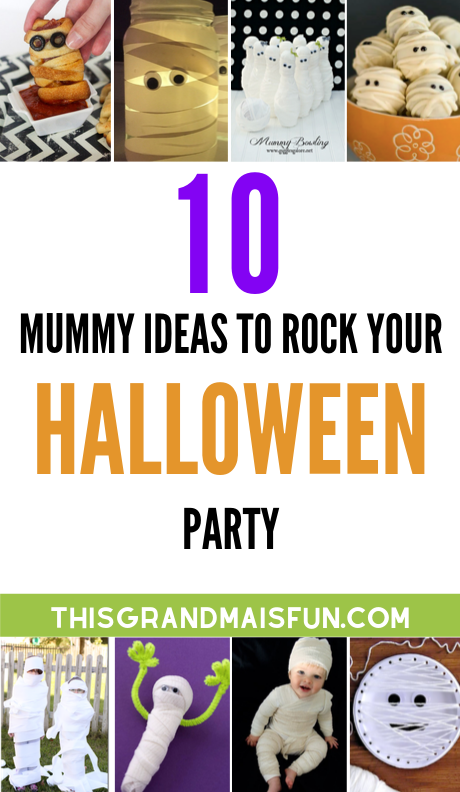 Maybe if zombies were wrapped up like their Egyptian counterparts, they wouldn't lose their body parts all over the place.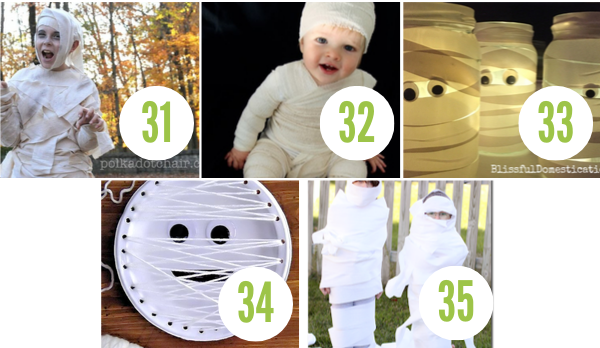 31. DIY Kids Mummy Costume– Make a mummy costume using Polkadot Chair's DIY, no embalming required!
32. Baby Mummy Costume– We love Super Lucky's costume tutorial! Who knew mummys could be so adorable?
33. Simple Mummy Jam Jar Lanterns– Light up the night with Blissful Domestication's fun mummy craft!
34. Paper Plate Lacing Craft– If you need something to keep the kids busy for a while, try Our Kid Things's fun craft!
35. Toilet Paper Mummy Game– For the more competitive mummy, we have this classic game from Sugar Bee Crafts.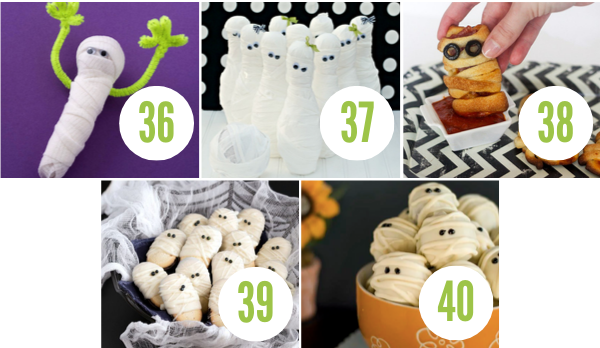 36. Mini Mummy– Make your own mummy buddy at Parents.
37. Mummy Bowling– Practice your best defense against mummys with Giggles Galore's mummy bowling game.
38. Mummy Pizza Bites– Pizza is even older than we originally thought. Ancient hieroglyphs recently discovered in a tomb in Egypt indicate that pizza was considered the food of the gods, and a personal favorite of Ramesses II. Printable Crush was able to procure the ancient recipe that coincidentally looks like a mummy.
39. Mummy Cookies– Need a treat that's quick, easy, and delicious? I mean, really, who's not looking for a treat like that, am I right? Head over to Chelsea's Messy Apron for a recipe that fits the bill!
40. White Chocolate Mummy Truffles– If these truffles from Oh My Goodness Chocolate Desserts are what they're eating in the afterlife, it certainly gives us all something to look forward to.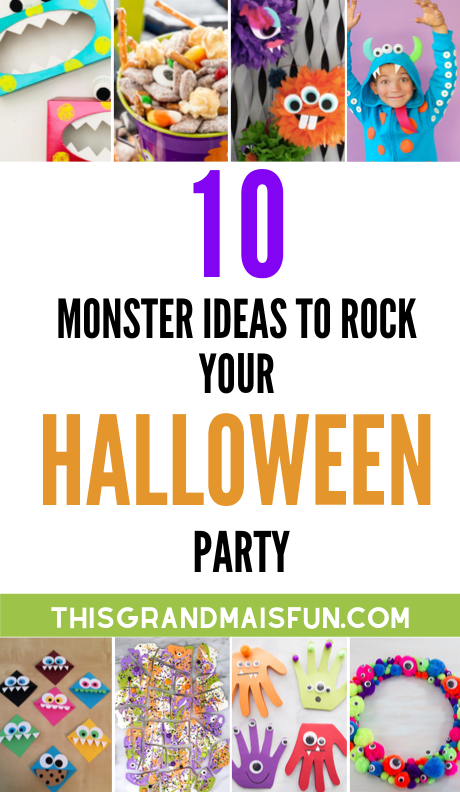 From what I've heard, monsters love a good party, especially one filled with lots of food.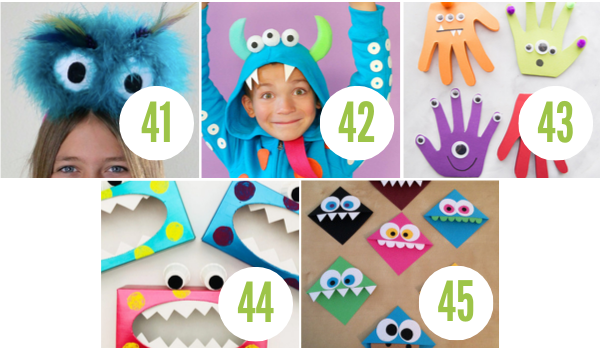 41. Fluffy Monster Eye Headband– Simultaneously cute and creepy! Learn to make one at The Crafty Blog Stalker.
42. Easy Monster Costume– One thing I love about monster costumes is how you can add as many eyes as you want. Two eyes? Great! 33 eyes? Sure! No eyes? Why not?! Make your own monster costume at Fiskars
43. Monster Handprint Craft– These monsters from The Best Ideas for Kids remind me of the monster minions from Despicable Me 2. Funny yet ferocious!
44. Tissue Box Monsters– You'll want to save your tissue boxes for this scary craft from Mas & Pas!
45. Monster Bookmarks– For those monsters that are more bookish, they'll love this cute craft from Kelly "D" Dot!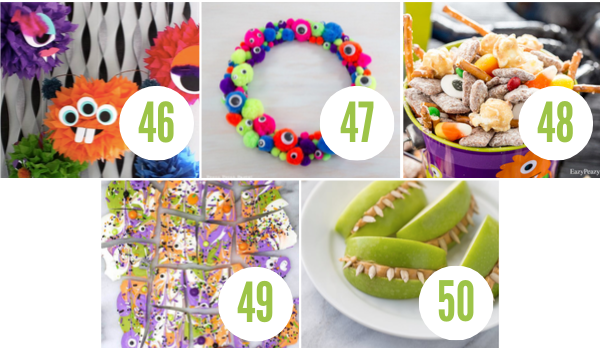 46. Monstrous Tissue Pompoms– No, we are not talking about cheerleaders. We are talking about these monstrous decorations from Persia Lou.
47. Easy and Fun Monster Wreath– This wreath from Press Print Party is almost too cute for Halloween. Almost…
48. Monster Munch– Watch out! This recipe from Eazy Peazy Meals will be quickly devoured by ravenous monsters!
49. Monster Mash Halloween Bark– Those who have tried Sarah's Bake Studio's Halloween bark have been known to spontaneously break out into various versions of The Monster Mash dance.
50. Peanut Butter Apple Monster Teeth– Monsters love candy, of course, but eventually, they too are ready for something a little healthier, like Meaningful Eats's monster teeth snack.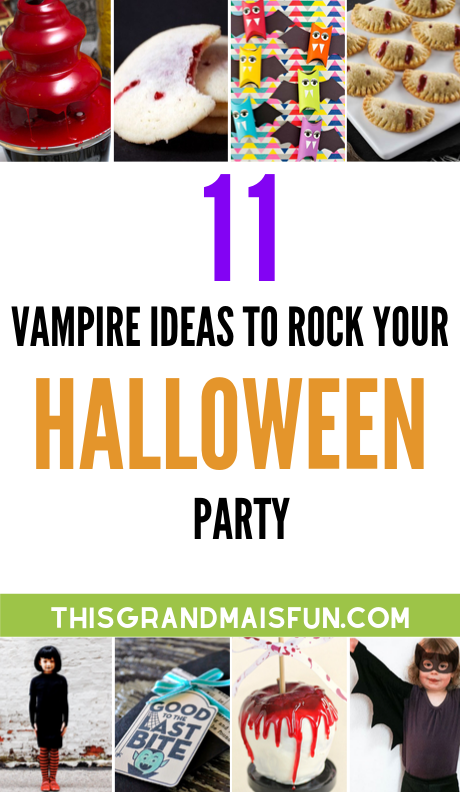 I'll take a shot of blood, Type O- negative…..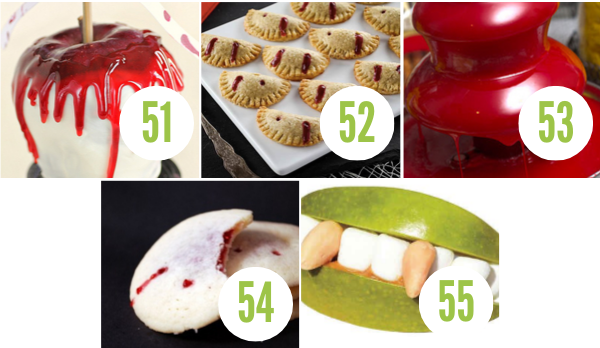 51. Bloody Candy Apple– 1 Fine Cookie's apples are certainly delicious, but some vampires have lost a fang or two in the sticky blood syrup. Maybe a good thing???
52. Vampire Pie Bites– Life hack #1: A vampire can be persuaded to take a bite out of a pie instead of a human neck, especially if it's pie bites from Eat Rules.
53. Blood Fondue Bar– Ah, yes, a true vampire dream from Sugar & Spice by Celeste.
54. Vampire Cookies– Mmmm, cookies filled with ooey-gooey blood. Find the recipe at the aptly named Baking Bites.
55. Vampire Lips– Thanks to Edward Cullen, we've all wondered what vampire lips would taste like. Luckily, Martha Stewart has the answer.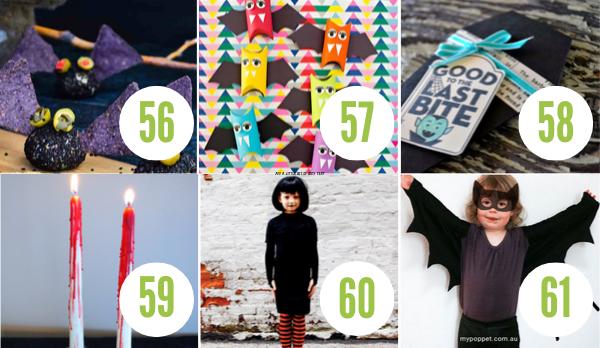 56. Halloween Bat Garlic Cheese Bites– Can't wait to try this wonderfully ironic recipe from Fostering the Good Life!
57. Rainbow Paper Tube Bats– Just because they only come out at night doesn't mean they can't be colorful! Try this craft at Hello, Wonderful!
58. Vampire Coffin Treat Bag– That's right. Coffins now fulfill a number of purposes besides containing the dead (and undead of course!). They can be used as beds, storage, dinner tables, and yes, treat bags! We love Nice People Stamp's coffin treat bags!
59. Bloody Candles– These bloody candles from Residence Style really set the mood, don't you think?
60. DIY Mavis Costume– I cannot lie. Hotel Transylvania is a Halloween favorite at our house, and I know this costume from See Kate Sew would be a huge hit!
61. DIY Bat Wings– We love these bat wings from My Poppet! PSA: These bat wings do not give anyone the ability to fly or hang upside down from the rafters.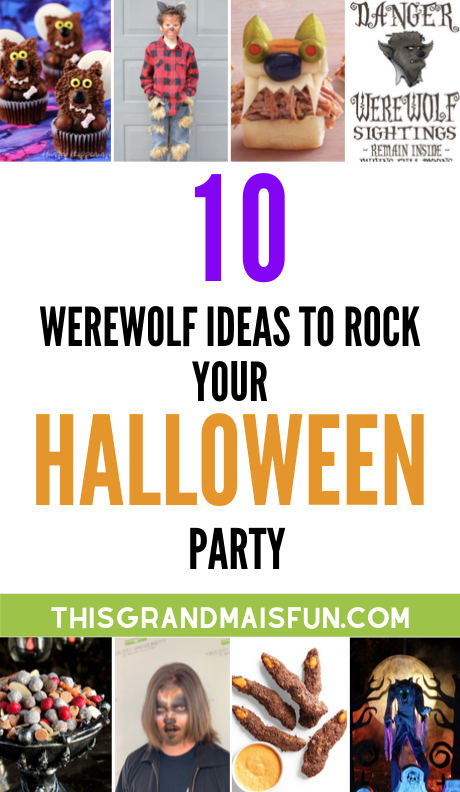 Look at that doggy! Come here, boy, come here! Nice doggy, nice doggy. Who's a good boy? Who's a goo- ACK! AHH! HEEEELP!!!!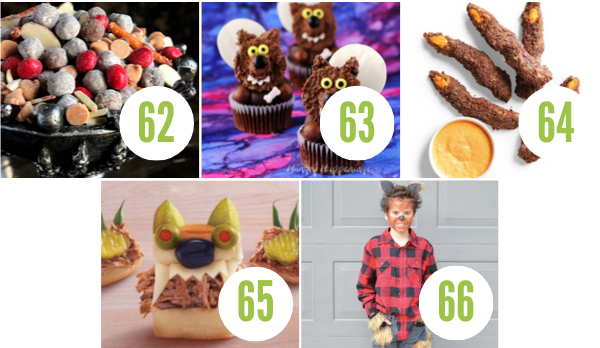 62. Werewolf Kibble– If you'd like to tame a werewolf, Big Bear's Wife's kibble is the first place to start.
63. Werewolf Cupcakes– These cupcakes from Hungry Happenings prove werewolves are just big, fluffy dogs.
64. Werewolf Claws– Don't worry. These claws from Rachel Ray aren't as sharp as they look.
65. Kings Hawaiian Werewolf Sliders– Release your inner wolf with King's Hawaiian's werewolf sliders!
66. DIY Werewolf Costume– If you've ever wanted to experience the inner turmoil that comes with being half human, half wolf, then you'll love The Happy Scraps's costume tutorial!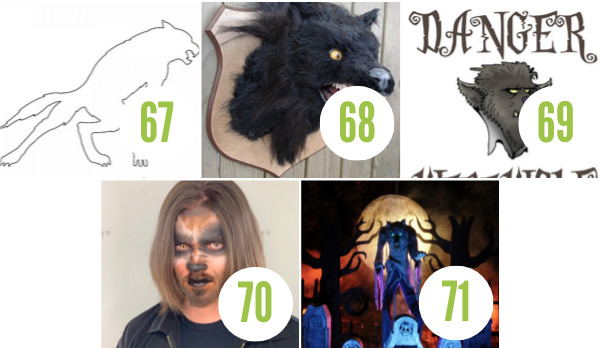 67. Werewolf Stencil– Hang a couple of these bad boys around the house, and your place will be the spookiest on the block! Find the stencil at Free Stencil Gallery!
68. Mounted Werewolf Head– With this decoration from Instructables, people will be more afraid of you than a werewolf!
69. Werewolf Warning Sign– We love this creative sign from Dave Lowe Design!
70. Werewolf Makeup Tutorial– You don't have to grow hair all over your body in order to look like a werewolf! Try Tricoci University's awesome makeup tutorial!
71. DIY Spooky Werewolf Scene– Make your home a haunted forest with Home Depot's werewolf scene!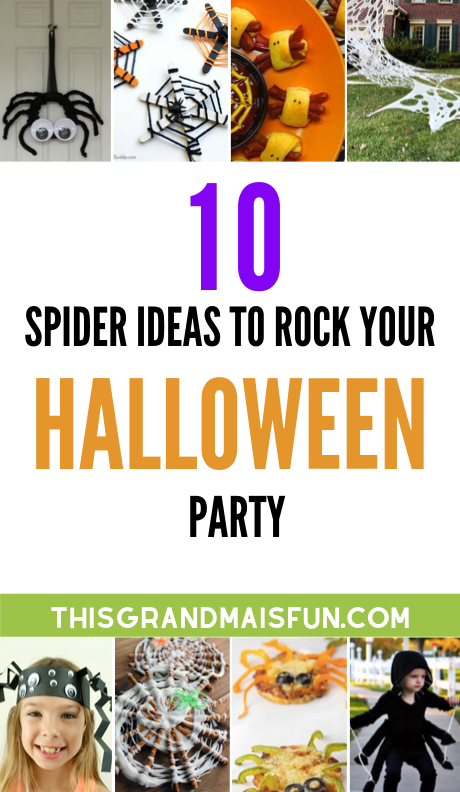 I can handle ghosts. I can handle zombies. I can handle witches, and monsters. But, throw a spider at me and I will immediately flee in terror, or die trying.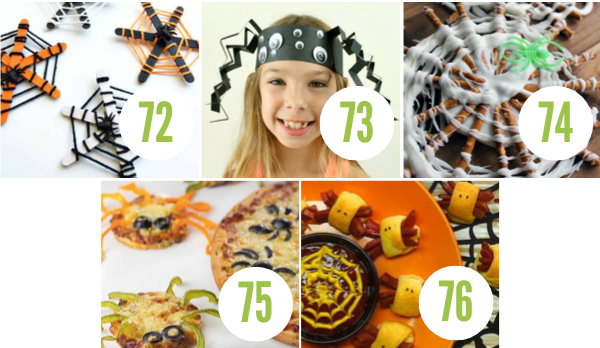 72. Popsicle Stick and Yarn Spiderweb– Careful that no spiders make this web from Buggy and Buddy their home. Eeewww.
73. Spider Headband– Because everyone wants a giant spider on their head! Find this creepy craft at Fantastic Fun and Learning.
74. Spider Web Pretzels– No real spiders were involved in the making of The Joys of Boys's web pretzels.
75. Halloween Spider Pizza– Aah, yes, a Halloween favorite: pizza topped with spiders! What monster wouldn't love it? Try Kids Craft Room's tasty recipe.
76. Hotdog Spiders– I've always heard that spiders taste like hotdogs, so this recipe from Shared seems fitting.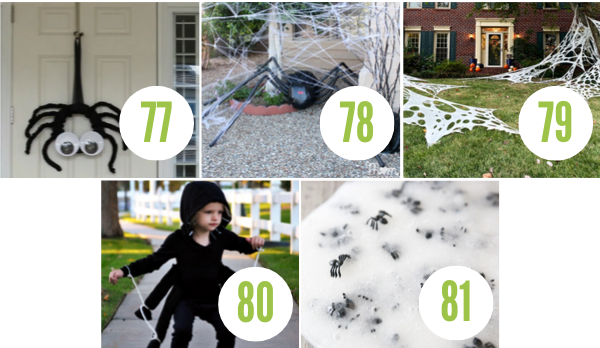 77. Spider Halloween Wreath– I never knew it was possible for a spider to be so adorable! Find this craft at Mama in the Now.
78. DIY Giant Spider– Freak out your neighborhood with Mom Endeavors's giant spider tutorial.
79. DIY Giant Spider Webs– These giant spider webs from South Lumina Style will go along nicely with the giant spiders.
80. Spider Costume Halloween Hack– We love the creativity behind The Shaffer Sisters's spider costume!
81.Spider Slime– Since spiders aren't already gross enough, try putting them in some slime your kids are sure to love playing with! Try this recipe at Simply Being Mommy!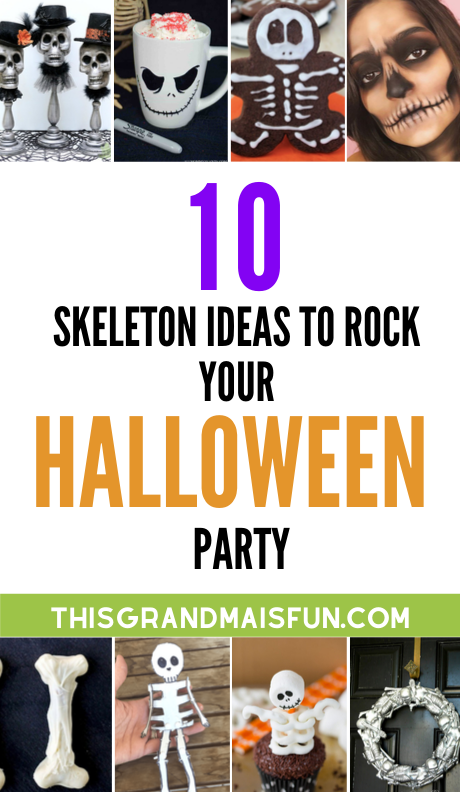 What is it about skeletons that is so creepy? We all have them, and yet, they are so spooky.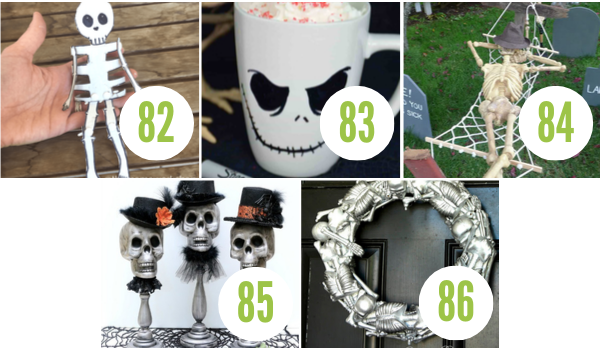 82. Cardboard Tube Skeleton– Start saving up cardboard tubes for this cute craft from Mama Workshop!
83. Jack Skellington Mug– The most famous skeleton of them all! Find this craft at The Life She Has.
84. Hilarious Skeleton Displays– If you're looking for something creepy and humerus (get it?), you'll love these ideas from Kid Friendly Things to Do!
85. Dollar Tree Halloween Skull Decor– My favorite part about Juliana Michaels skull decoration are those jaunty Halloween hats! I need one for myself!
86. Skeleton Wreath– Welcome guests with this horrifying wreath from Southern Scraps!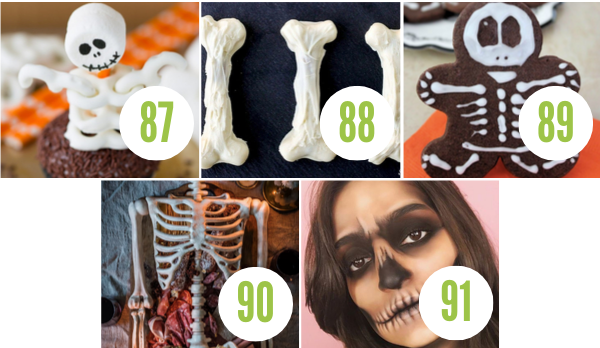 87. Skeleton Cupcakes– Make sure to eat your daily dose of skeleton cake for an extra helping of calcium! Try this recipe from Your Cup of Cake.
88. Chocolate Covered Pretzel Bones– I understand now why dogs love chewing on bones so much. These bones from Princess Pinky Girl are delicious!
89. Bittersweet Chocolate Skeleton Cookies– Forget gingerbread men! It's all about Mom Foodie's skeleton cookies.
90. Skeleton Charcuterie Platter– If looking at skeletons and all things creepy makes you especially hungry, you'll love Honestly Yum's charcuterie platter!
91. Skull Makeup Tutorial– Follow Liliana Toufiles's tutorial to turn your face into a ghastly skull.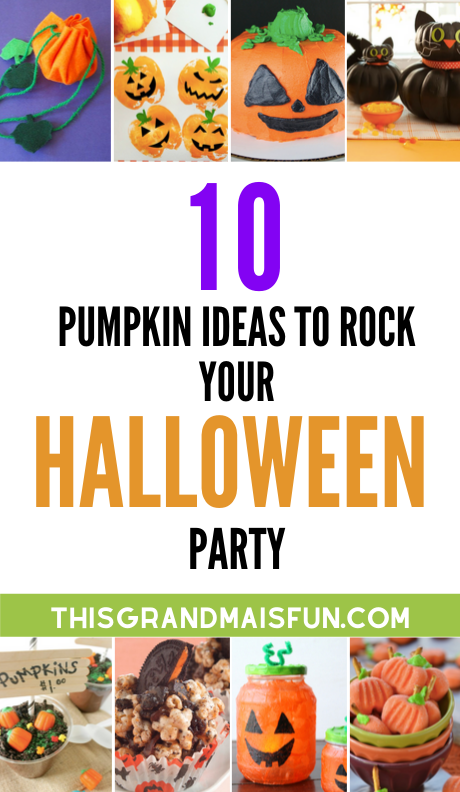 What would Halloween be without pumpkins?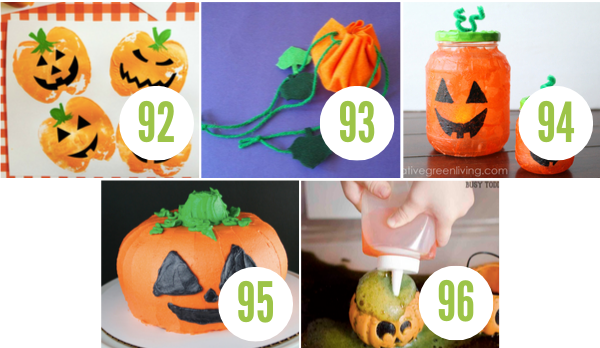 92. Pumpkin Apple Stamps– Create beautiful (or haunting) fall scenes with this simple craft from Frugal Mom Eh!
93. Easy Pumpkin Treat Bag– A great first-sewing project for little hands from Hello, Wonderful.
94. Halloween Luminaries– If you don't feel like carving a whole jack-o-lantern, try these glowing "pumpkins" from Creative Green Living instead.
95. Halloween Pumpkin Cake Tutorial– Who need's pumpkin pie when you can have Mom Loves Baking's delicious pumpkin cake?!
96. Pumpkin Fizz Halloween Science– Busy Toddler's experiment is perfect for any mad scientists out there!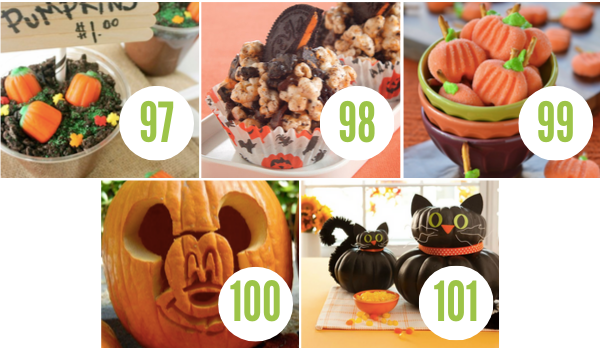 97. DIY Pumpkin Patch Dirt Cups– A Halloween twist on a preschool classic from Arts & Crackers!
98. Jack O' Lantern Popcorn Balls– If you're looking for a treat that isn't cupcakes or cookies, you'll love this orignal treat from My Food and Family!
99. Easy Pumpkin Patties– For making such a cute presentation, these Mom on Time Out's pumpkin patties are surprisingly easy!
100. Disney Pumpkin Stencils– For any Disney fans, you'll love the pumpkin ideas at Mommy Musings!
101. No-Carve Pumpkin Ideas– Some years, carving a pumpkin just seems overrated. If you're having a year like that, you'll love these no-carve ideas from The Crafted Sparrow!