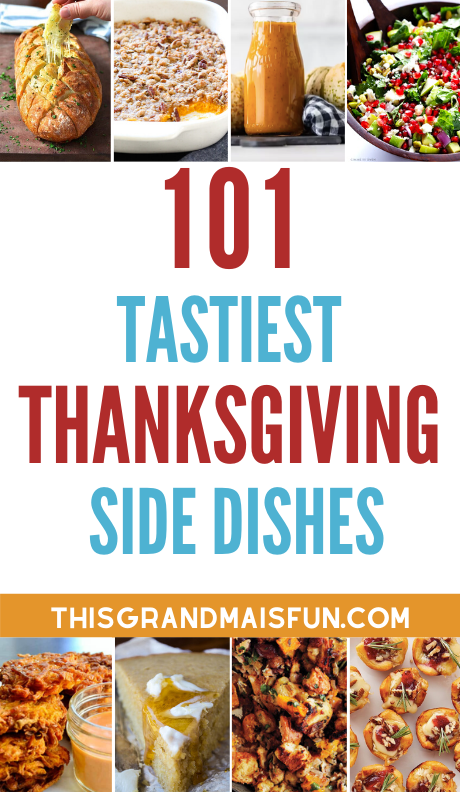 The second phase of the holiday season has started! It's time to start the countdown to friends, family, and warm, cozy, comfort food. Are you ready for Thanksgiving? Here's 101 tastiest Thanksgiving side dishes for you to try this year!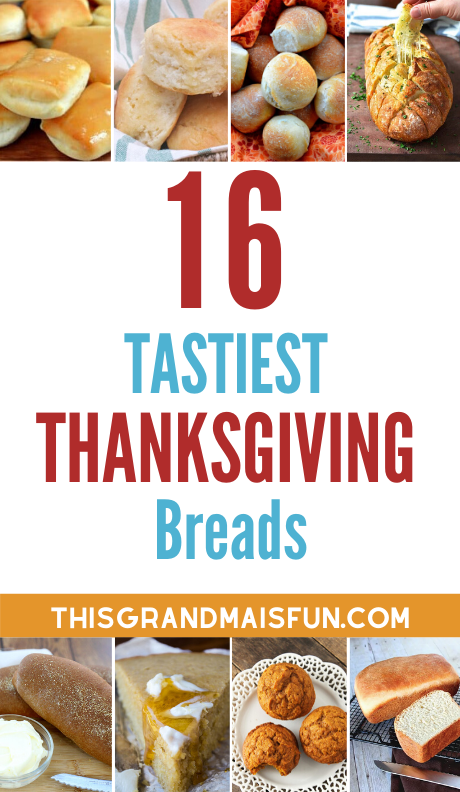 Nothing makes you feel better than a warm slice of bread with melted butter. Mm-MMM!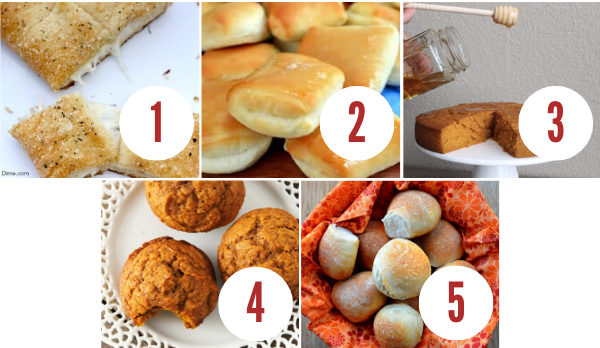 1. 15 Minute Stuffed Cheesy Bread– Eating on a Dime cheesy bread is making my mouth water.
2. Copycat Texas Roadhouse Rolls– If you make The Cozy Cook's copycat rolls, prepare a ton because they will get gobbled up fast!
3. Sweet Potato Honey Cornbread– So many wonderful fall foods combined into one! Find this recipe at Black Girls Who Brunch!
4. The Best Pumpkin Muffins Ever– We do not use the word "best," lightly. Try it out for yourself and you'll see what we mean!
5. French Bread Dinner Rolls– Can you just imagine the flavor of this bread from Serena Bakes Simply From Scratch spread with warm butter? I'm not drooling…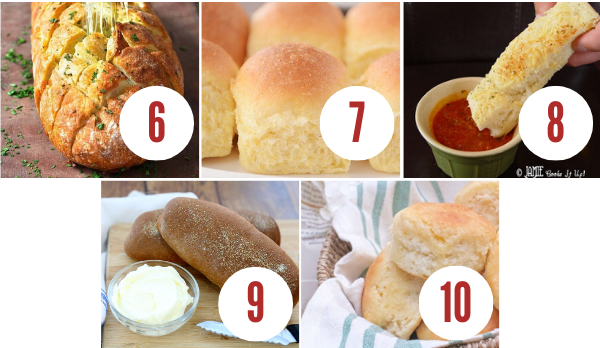 6. Cheese and Garlic Crack Bread– RecipeTin Eats's bread is a fun way to bring guests together.
7. Buttery Fluffy Cornmeal Dinner Rolls– Buttery? Fluffy? Count me in! Check out this recipe at Mel's Kitchen Cafe.
8. Quick and Easy Bread Sticks– If Thansgiving gets a little busy at your house (I know it does at our's!), you'll love quick and easy bread sticks from Jamie Cooks it Up!
9. Outback Molasses Bread– I love a lot of things about Outback, but I can't lie that their bread is my favorite. Thankfully, It's Always Autumn has a perfect copycat recipe!
10. Grandma's Southern Buttermilk Biscuits– You know it's good if it has the words "Grandma" and "Southern" in the title! Try these biscuits from Divas Can Cook!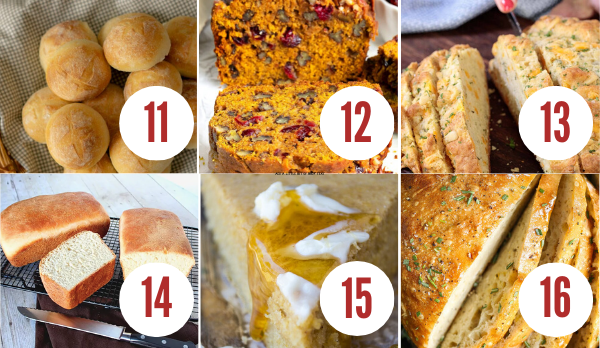 11. Crusty Sourdough Rolls– Where has this bread been all my life?! Fin it at Heart's Content Farmhouse.
12. Cranberry Pecan Pumpkin Bread– This bread from Mom On Timeout is everything a fall bread should be!
13. Cheddar Herb Irish Soda Bread-I can't wait to try this cheesy bread from The Café Sucre Farine!
14. Buttermilk Honey Bread– Kudos Kitchen by Renée says this bread is like a little piece of heaven!
15. Fall Spiced Cornbread– With just the right blend of nutmeg, cinnamon, and ginger, you'll fall in love with the flavor in The View From Great Island's cornbread.
16. No Knead Rosemary Bread– Whoever is looking for an easy, make-ahead bread, check out Damn Delicious's no knead rosemary bread!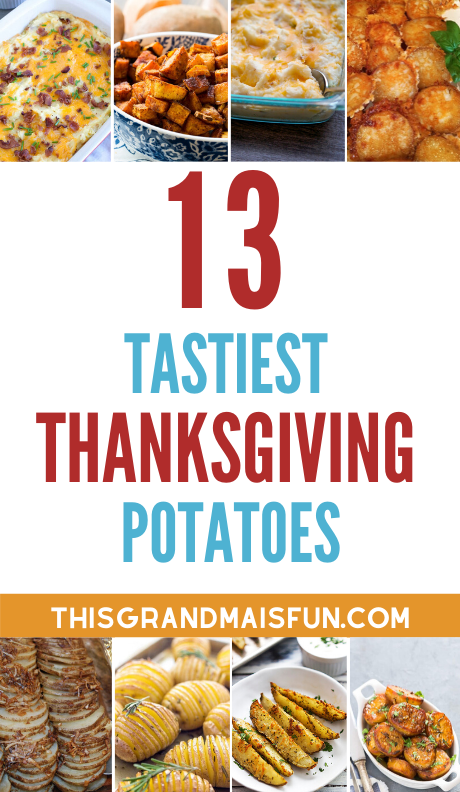 My favorite part of Thanksgiving- potatoes!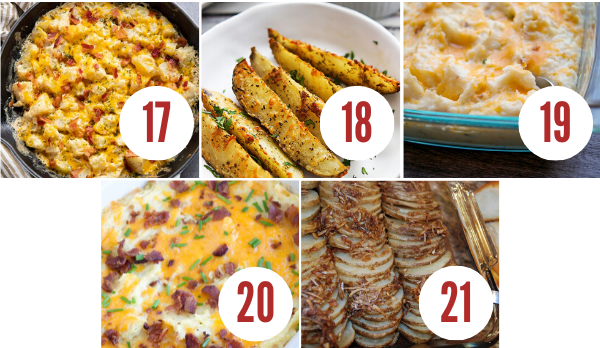 17. Cheesy Ranch Potatoes– If you want to change things up with your potatoes this Thanksgiving, try The Salty Marshmallow's recipe!
18. Baked Garlic Parmesan Potato Wedges– Who says Thanksgiving potatoes need to be mashed? Try potato wedges this year from Creme de la Crumb.
19. Loaded Mashed Potato Gratin– Carrie's Experimental Kitchen's recipe includes lots of bacon and lots of cheese. What's not to love?
20. Twice Baked Potato Casserole– Because baking potatoes twice brings them to the next level. Try this mouthwatering recipe at Simply Stacie!
21. Lipton Onion Potatoes– It's almost ridiculous how easy and delicious these potatoes are!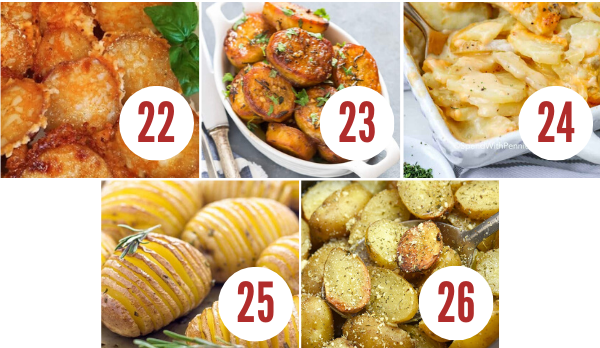 22. Parmesan Garlic Butter Potatoes– So cheesey, so crispy, so right. Find the recipe at Norine's Nest.
23. Melting Potatoes– I can't even fathom how delicious this recipe from Curry Trail sounds.
24. Cheesy Scalloped Potatoes– An American classic for an American holiday! We love Spend with Pennies's recipe!
25. Best Hassleback Potatoes– I love how fancy these potatoes from Lavender & Macarons look!
26. Slow Cooker Ranch Potato– The ultimate easy potato recipe from The Recipe Pot!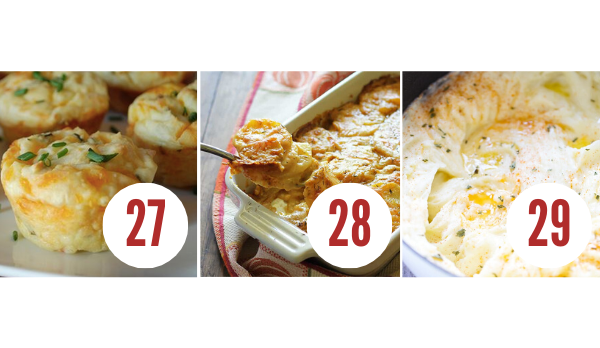 27. Baked Cheesy Mashed Potato Bites– I love how Trending Recipes's potato bites sneak in broccoli. Kids will love them!
28. Pumpkin Scalloped Potatoes– You've had cheesy scalloped potatoes, now try The Blond Cook's pumpkin scalloped potatoes!
29. Best Creamy Dreamy Mashed Potatoes– If you dream of potatoes, you'll love this recipe from Cooking For Keeps.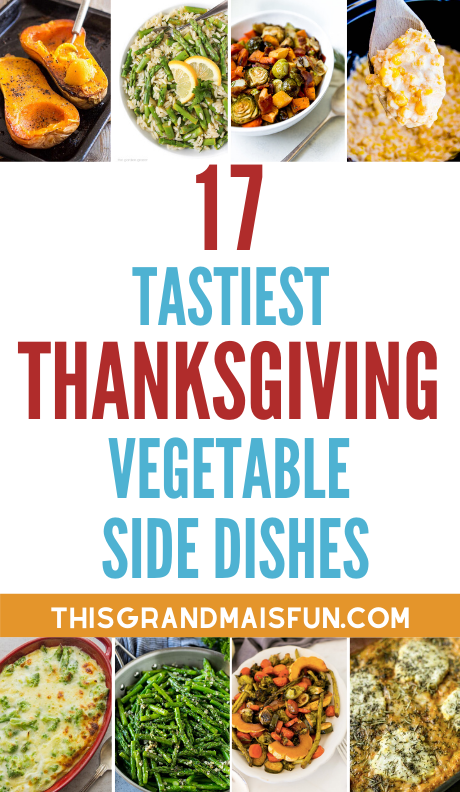 These savory dishes will have all your guests' mouths watering!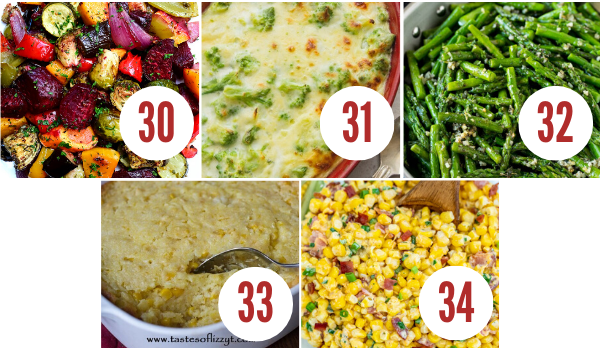 30. Scrumptious Roasted Vegetables– Looking for a way to livin' up your vegetables? Try Craving Tasty's roasted vegetables!
31. Broccoli Cheese Bake– This dish from An Italian in My Kitchen will be a hit with all your guests, even kids!
32. Garlic and Herb Asparagus– I love asparagus and was thrilled to find this recipe from Dinner at the Zoo. It gives me one more reason to eat asparagus.
33. 5 Ingredient Corn Casserole– You'll love this easy and delicious corn casserole! So simple, but the results are amazing!
34. Crack Corn Salad– You'll never get enough of this corn salad from Sweet and Savory Meals!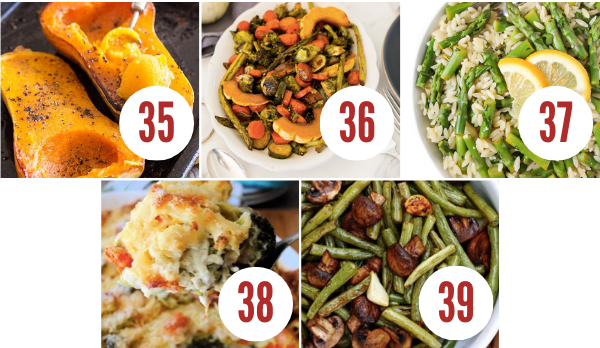 35. Oven Roasted Butternut Squash– The Healthy Foodie's butternut squash is everything I imagine a fall dish should be.
36. Honey Glazed Roasted Veggies– These vegetables from Lauren Conrad are the perfect blend of sweet and savory!
37. Lemon Garlic Orzo with Asparagus– The Garden Grazer's recipe adds a fresh flavor to asparagus.
38. Cheddar Vegetable Au Gratin– Mmmmm, easy and cheesy! Try it at McCallum's Shamrock Patch.
39. Balsamic Green Beans and Mushrooms– You'll love this vegetable casserole from Let's Dish.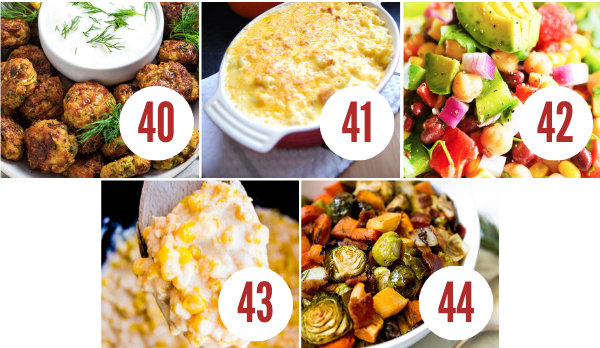 40. Cheesy Garlic Zucchini Bites– These zucchini bites from Host the Toast are drool-worthy!
41. Roasted Pumpkin Macaroni Cheese– Who knew pumpkin and mac n' cheese would make such a delicious combination? Check out Something Sweet, Something Savory's recipe!
42. Loaded Veggie Salad– We love how beautiful Pip and Ebby's vegetable salad is! So many colors!
43. Slow Cooker Cheesy Creamed Corn– As if creamed corn wasn't good enough, The Diary of a Real Housewife added cheese! Yum!
44. Harvest Thanksgiving Vegetable Hash– All the best vegetables combined into one dish with this recipe from Unbound Wellness.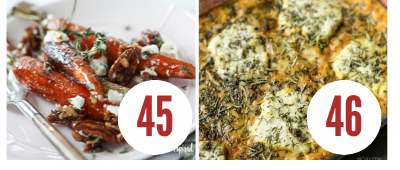 45. Roasted Carrots with Candied Pecans and Goat Cheese– This dish from Inspired by Charm is light and tasty!
46. Savory Pumpkin Casserole– I recently found out that pumpkin is in fact a fruit, not a vegetable. Nevertheless, it makes for an excellent faux-veggie dish in this recipe from Low Carb Yum!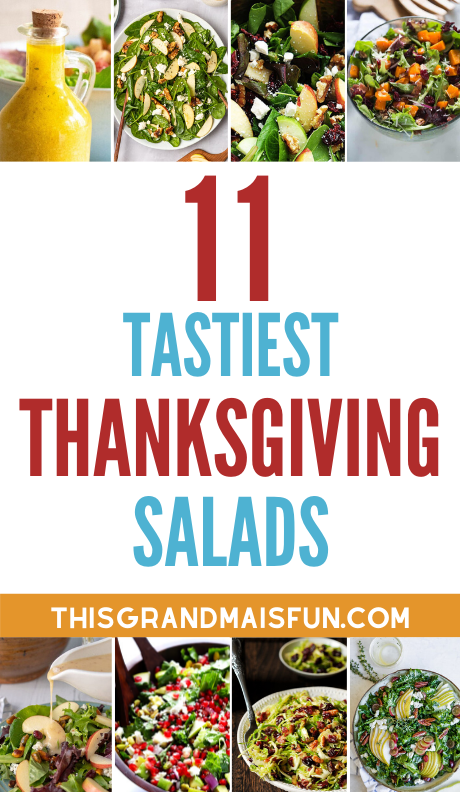 Check out these beautiful greens!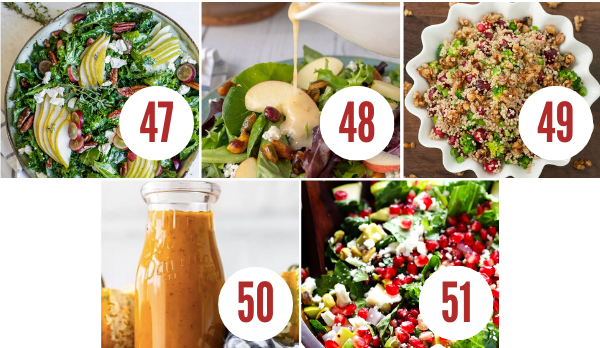 47. Autumn Pear Salad– Feel Good Foodie salad is seasonal and festive!
48. Apple Pecan Fall Salad– Nothing says fall like pecans and apples! Try them in this beautiful salad from Mamagourmand!
49. Cranberry Quinoa Salad with Candied Walnuts– Peas and Crayons's salad proves that is possible to be both nutritious and delicious.
50. Maple Pumpkin Autumn Salad Dressing– Where has this dressing been all my life?! Check out this recipe at The Cookie Rookie.
51. Pomegranate, Pear & Avocado Salad– Did you say avocado? You can count me in! I can't wait to try Gimme Some Oven's salad!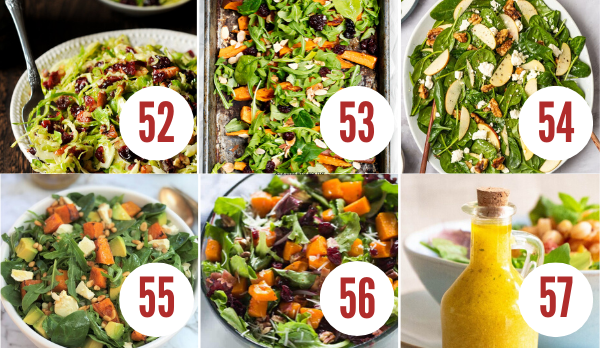 52. Honey Mustard Brussels Sprout Salad– If you never thought liking brussels sprouts was a possibility, think again. What's in the Pan?'s salad is sure to change your mind!
53. Roasted Sweet Potato & Arugala Salad– This salad from Ambitious Kitchen is everything a Thanksgiving salad should be.
54. Spinach Salad with Apples, Walnuts & Feta– This salad from The Kitchn looks irresistible!
55. Pumpkin Avocado Feta Salad– You will love Chef Not Required's unique blend of fall flavor in this salad.
56. Roasted Butternut Squash Salad– Lucky for everyone reading this, Tastes Better From Scratch found another delicious way to eat butternut squash.
57. Apple Cider Vinegar Salad Dressing– Bonus: this recipe from Hungry For Inspiration is also keto friendly!
One thing I look forward to every Thanksgiving is the cranberries! They add such a unique flavor that comes only once a year.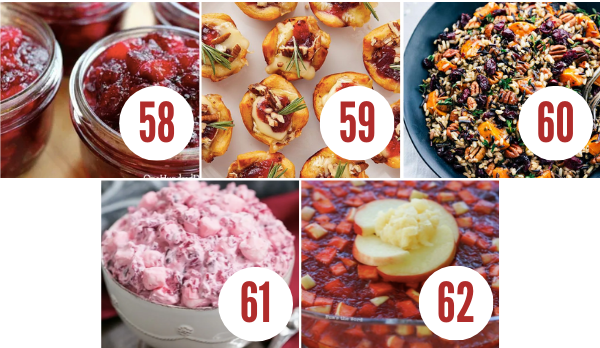 58. Cranberry Cinnamon Pear Sauce– This sauce from One Hundred Dollars a Month is the perfect companion for your Thanksgiving turkey.
59. Cranberry Brie Bites– What is it about brie that makes everything fancier? This recipe from Mommy's Kitchen makes me feel so high-class.
60. Cranberry Pecan Sweet Potato Wild Rice– Fun fact: wild rice is not actually rice. It is, however, wildly delicious, like in this recipe from The Recipe Critic.
61. Cranberry Fluff Salad– That Skinny Chick Can Bake's fluff salad is heavenly!
62. Cranberry Jello Salad– Num's the Word's salad is traditional with a hint of tropical.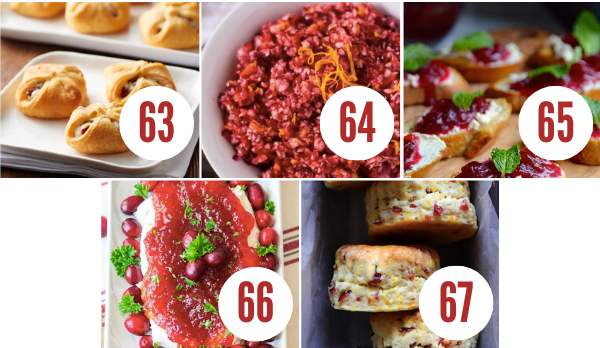 63. Cranberry Cream Cheese Crescent Bites– Can you ever go wrong with Pillsbury crescents? The answer is, no, you can't. They are perfect for any and all occasions, as you can see with this recipe from Pillsbury.
64. Cranberry Orange Relish– Everyday Eileen's relish pairs with many foods, and will bre great not only for the Big Day, but for left overs.
65. Cranberry Sauce Crostini– Always Order Dessert's crostini is both easy and impressive.
66. Cranberry Pepper Jelly Dip– We love this original take on cranberries from Life With the Crust Off.
67. Orange, Cranberry Cream Biscuit– Food Ahead's biscuits are delicious and pretty to look at too.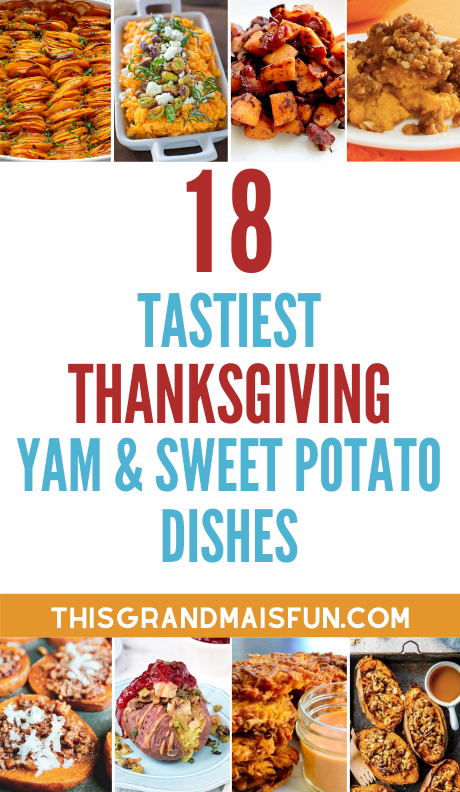 Believe it or not, most "yams," we eat in the USA are actually sweet potatoes.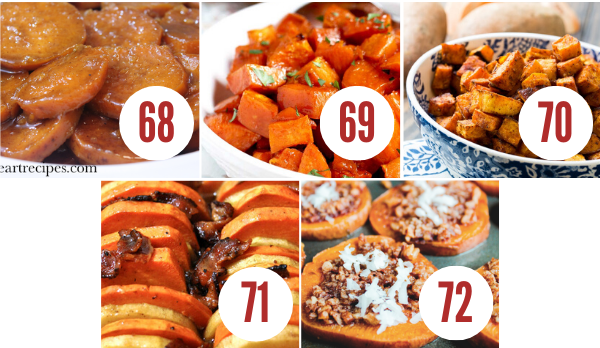 68. Baked Candied Yams Soul Food Style– I Heart Recipes's candied yams are melt-in-your-mouth-good
69. Maple Oven Roasted Sweet Potatoes– Fill your kitchen with the sweet aroma of maple and sweet potatoes with this recipe from Lemon Blossom.
70. Spicy-Sweet Roasted Sweet Potatoes– If you like to have a little kick in your potatoes, you'll love Spicy Southern Kitchen's recipe.
71. Baked Yams with Apple and Bacon– You'll love this delicious fall dish from D'Artagnan.
72. Cinnamon Pecan Sweet Potato Rounds– The Whole Cook's sweet potato rounds are the perfect sweet addition to Thanksgiving.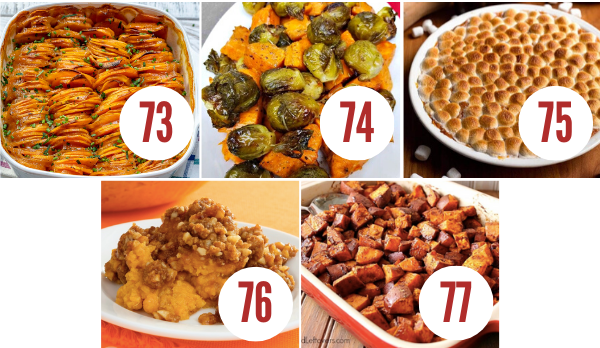 73. Creamy Sweet Potato Bake– If you're looking for the new family favorite, look no further than Clean Food Crush's sweet potato bake!
74. Baked Yam Brussel Sprouts– Want something sweet and saltfy? You'll love Canadian Cooking Adventures's recipe.
75. Instant Pot Candied Yams– Whip up tender, tasty yams in a flash with Simply Happy Foodie's Instant Pot recipe!
76. Praline Yams – Give your yams an extra crunch with Confessions of an Overworked Mom's yam dish.
77. Pumpkin Pie Spiced Sweet Potatoes– You can never have too much pumpkin spice in the fall, am I right? Follow Premeditated Leftovers's recipe for pumpkin spice sweet potatoes!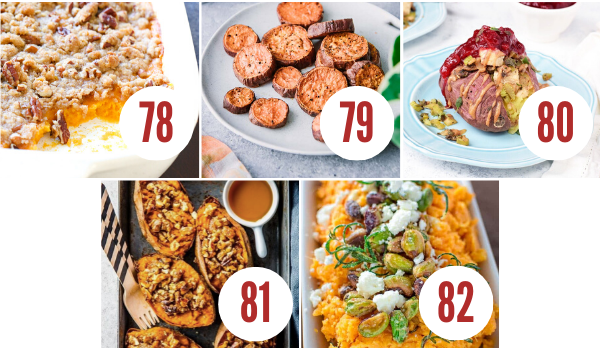 78. Sweet Potato Souffle– I have one word for you- streusel. If that doesn't convince you that you'll love these sweet potatoes from Daily Appetite, I don't know what will.
79. Roasted Sweet Potato Rounds– Who wants to wait an hour for baked sweet potatoes? Cut that time by 20 minutes with this recipe from Fork in the Road!
80. Thanksgiving Stuffed Yams– Everything should be stuffed on Thanksgiving. Turkey, yams, and finally your belly! Try this recipe from Living Loving Paleo
81. Maple Walnut Twice Baked Sweet Potato– We have twice baked potatoes and then we have twice baked sweet potatoes. Choices, choices. Find this recipe at Diaries of Nia.
82. Mashed Yams with Feta– Doesn't this recipe from Cooktoria sound dreamy?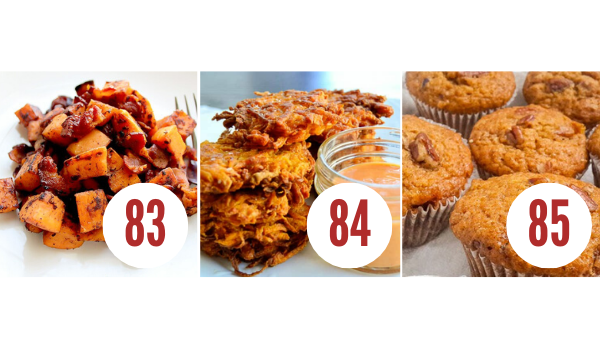 83. Maple Bacon Sweet Potato Hash– The fun thing about this recipe from Delicious Little Bites is that it can be used for Thanksgiving or breakfast.
84. Sweet Potato Fritters– If you need something a little fancier than fries for Thanksgiving, you'll love Mommy Cooking's fritters.
85. Sweet Potato Muffins– Sweet potatoes are also delicious in bread. You'll love these muffins from The Pretend Chef!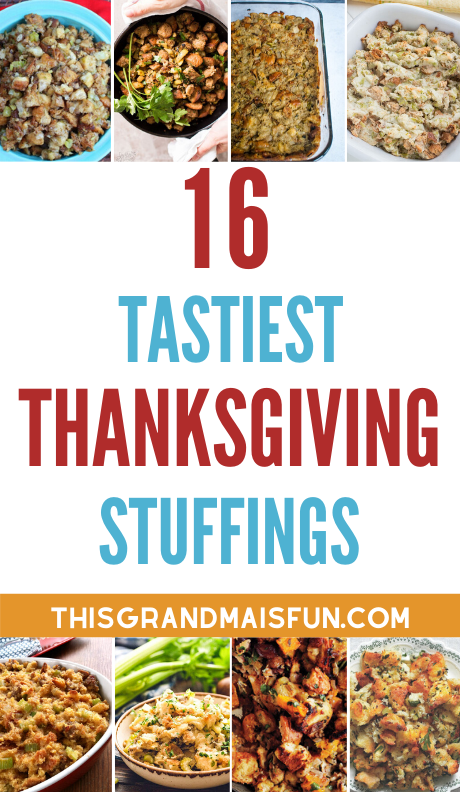 Everyone has their own special stuffing recipe they like to use. These bloggers shared their favorites and they all look amazing!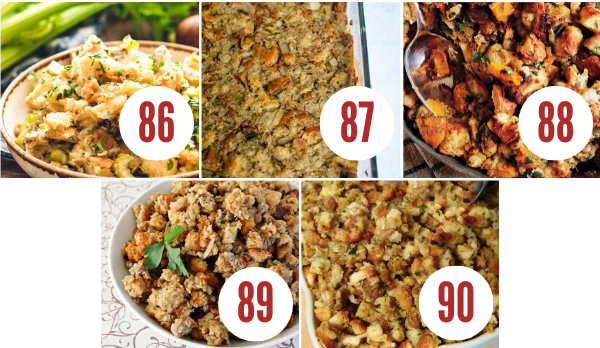 86. Crockpot Stuffing– Make it easy for yourself this year with Julie's Eats and Treats's crockpot stuffing!
87. Grandma's Thanksgiving Dressing– Who knows how to make Thanksgiving stuffing better than Grandma? Try this reicpe at Sweetpea Lifestyle.
88. Squash, Chestnut, & Brioche Stuffing– Try something new with this stuffing from Martha Stewart!
89. Homestyle Sausage Stuffing– This stuffing from Cinnamon, Spice & Everything Nice is described as being "worth fighting over." I don't think we need to do any more convincing that this recipe is good!
90. Sage, Onion and Smoked Bacon Stuffing– Can you imagine how delicious the aroma from Garden & Table's stuffing would be? My mouth would definitely be watering.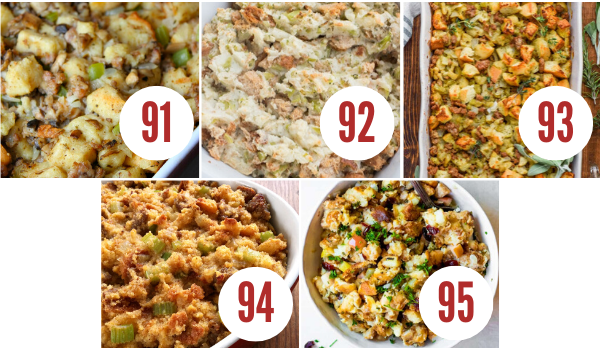 91. Classic Stuffing– If just need a good ol' classic, head over to Recipe Girl!
92. Amish Potato Stuffing– One thing I know about Amish food is that it tastes incredible! Brooklyn Farm Girl's Amish potato stuffing is sure to be a hit!
93. The Best Homemade Stuffing– If you're a stuffing fanatic, you'll love this recipe from Wine & Glue!
94. Southern Cornbread Dressing– As if cornbread wasn't already amazing, you can put it in stuffing, ahem- excuse me- dressing for incredible texture and flavor! Try this dish at South Your Mouth
95. Cranberry Apple Stuffing– Cranberries and apples add just the right amount of sweetness in this recipe from House of Yumm.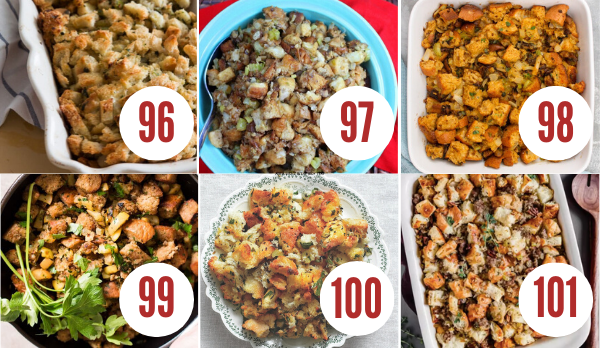 96. Make Ahead Herb Stuffing– Give yourself a break Thanksgiving day with Call Me Betty's make-ahead stuffing.
97. Old Fashioned Chestnut Stuffing– Who says chestnuts are only for Christmas? You'll love Palatable Pastime's stuffing on your turkey!
98. Smoked Oyster Stuffing– For any seafood lovers, give this stuffing from Champagne Tastes a try!
99. Rye Bread, Onion and Apple Stuffing– Savory Nothings's recipe is sure to have everyone drooling!
100. Simple is Best Dressing– Check out this simple, easy recipe from Bon Appetit</>
101. Caramelized Onion, Sausage & Pecan Stuffing– All these flavors in one incredible stuffing?! Count me in! check out this dish at No Spoon Necessary!