Do you have recipes that when you make them and take to an event, you are ALWAYS asked for the recipe? I have a few that it's guaranteed that if I bring it, I will be asked for the recipe. Lipton Onion Potatoes is one of those recipes.
I love potatoes and anything that has potatoes in it. There are plenty of ways in which you can come up with a potato recipe. I enjoy mine while baked, boiled, mashed, deep-fried, like french fries and crisps. In my house, there are always potatoes that are ready for snacking whenever hunger comes knocking. What do you expect when you are a full-fledged foodie! Any foodie in the house that can relate?
To be a foodie means you also know how to prepare a couple of recipes. Food brings joy and unites people. My grandkids love it when they come over and find there's lots of food to be shared amongst each other. You should see the smiles plastered on their faces in such moments. The first thing they ask is whether there's a potato recipe from the food prepared. And they devour them like no one's business.
More juice!
I love easy-to-work-with recipes and simple meals that can be taken as either appetizers or main course meals. With potatoes, this is the case as you can play around with them. Potato soup makes a good appetizer, and baked potatoes with cheese make an ooey-gooey main course. And even surprisingly enough, potatoes can be a dessert option. Isn't this just amazing? To know that I can have a full course meal from one main ingredient!
Another of my favorite recipes is Lipton onion potatoes. You have me to take you through this interesting journey of preparing our recipe. Hop on and be sure to have lots of fun while we are at it.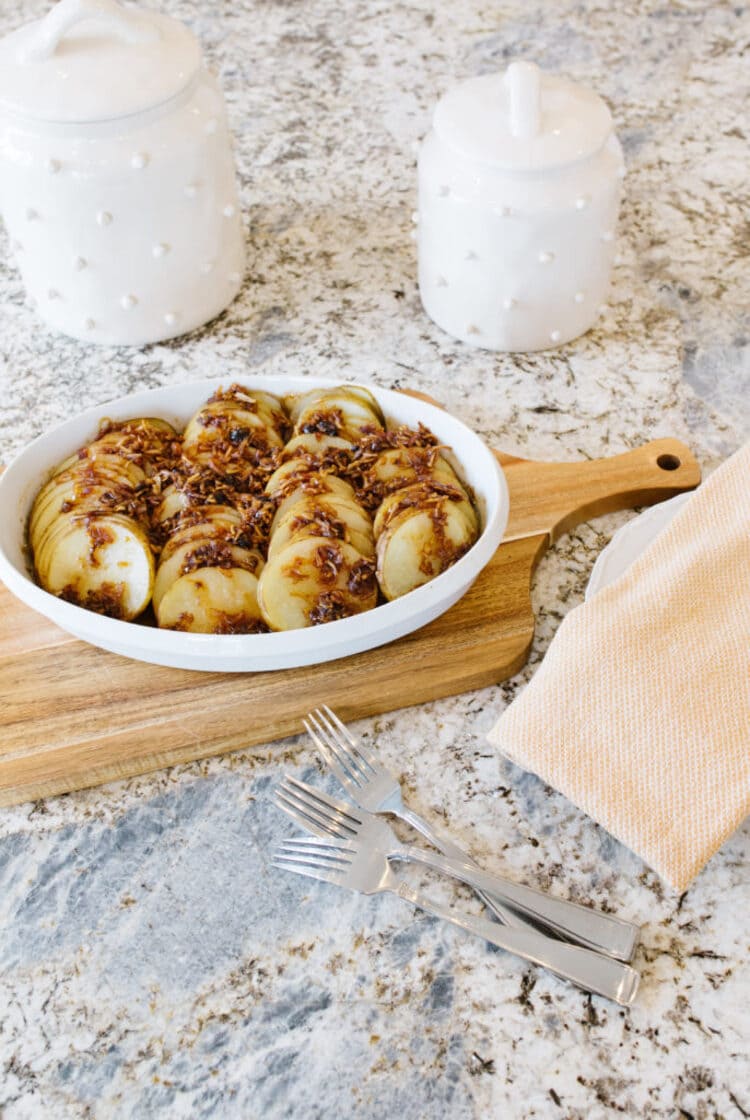 Savoury Lipton Onion Potatoes Recipe
Every once in a while, I will ask someone for their recipe and they are reluctant to share because it's a family recipe or they want to keep the recipe close to their chest so that no one else can make something that scrumdiddlyumptious.
I get that feeling at times. The need to guard what I am attached to. It is a selfish way of living. But, well, I think we all have that territorial or rather possessive bone in us.
Even with that, I am always happy to share my recipes. However, I am somewhat reluctant to share this when someone asks because it's so, so easy!
I bet you ain't ready for this!
Ingredients You Need For This Ooey-Goey Recipe
Onions add a vibe to the taste and outlook of a meal. It is the secret ingredient to having a wonderful meal. Or at least getting close to having one. And what better way than to prepare them with potatoes! Sounds magically good so imagine tasting it! Heavenly is an understatement. I live for such simple and delicious meals.
For our recipe, the ingredients are super simple and easy to come across. Hopefully, for this recipe, you'll have all you need at your home so that you won't need to step out to get any.
The supplies for the recipe are:
About 6-8 medium potatoes – You don't need many potatoes unless you have lots of guests to host. So these 6-8 (at most) medium-sized potatoes will work perfectly.
Two envelopes of Lipton Onion Soup Mix
Butter
1 teaspoon garlic powder
1/2 teaspoon pepper
3-4 tablespoons olive oil
If you love your food extra spicy, you can add more spices of your choice to the list above. But be sure to do it in moderation. We still want to taste the potatoes and onions combo in the meal.
This is literally the simplest list of ingredients I have ever come across while preparing a recipe. I also love that you can get the ingredients easily from the nearest grocery store.
Step by Step Preparation of Lipton Onion Potatoes
Now that our supplies are ready, we can dive into the interesting phase of our activity. I am super exhilarated and can't wait to have a bite of what we prepare. So without wasting any time, shall we start?
First, we work on the potatoes. Wash your potatoes thoroughly. Then thinly slice them with the skin on. A chopping board and a good sharp knife are efficient enough to get the work done. Most importantly, chop the potatoes in circular bits, as the image below indicates.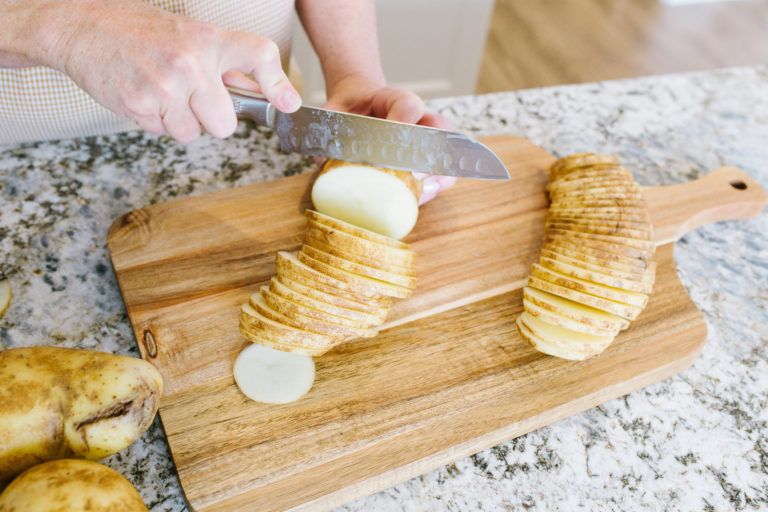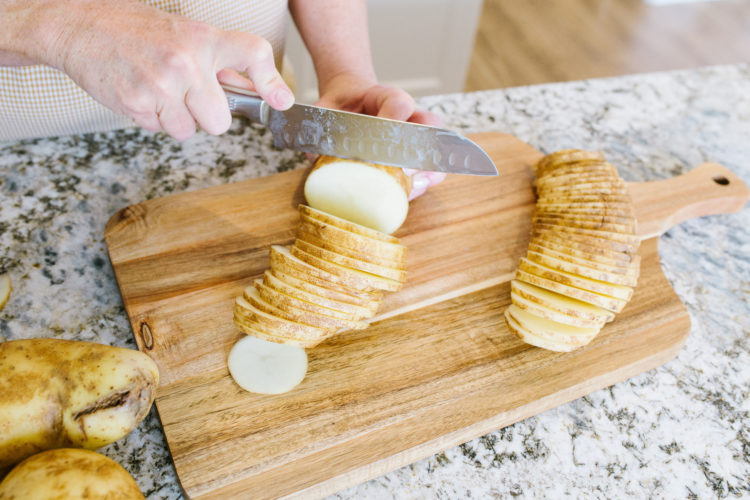 Once chopped in the circular bits, lay them in a 9×13 pan or 2-quart casserole dish. If in a pan, make sure the pan has been lined with cooking oil.
Thirdly, melt 2 cubes of butter (1 cup) in a microwave-safe dish.
Take two envelopes of Lipton's Onion Soup and pour them into your melted butter. Stir them until they are well mixed.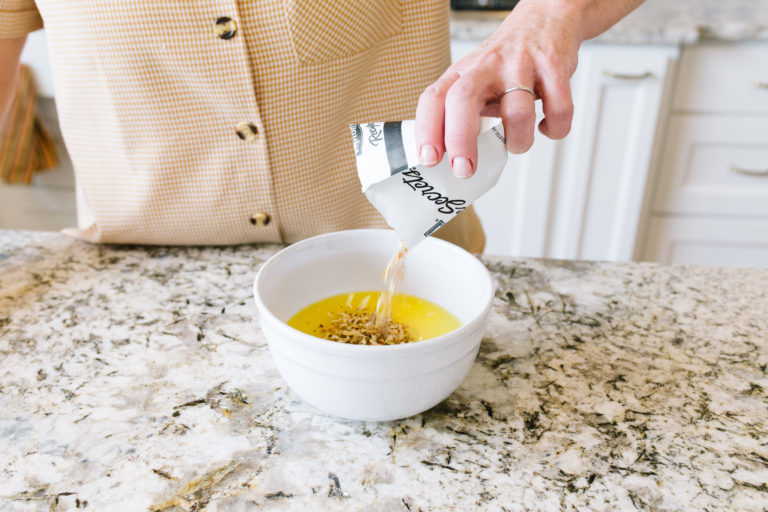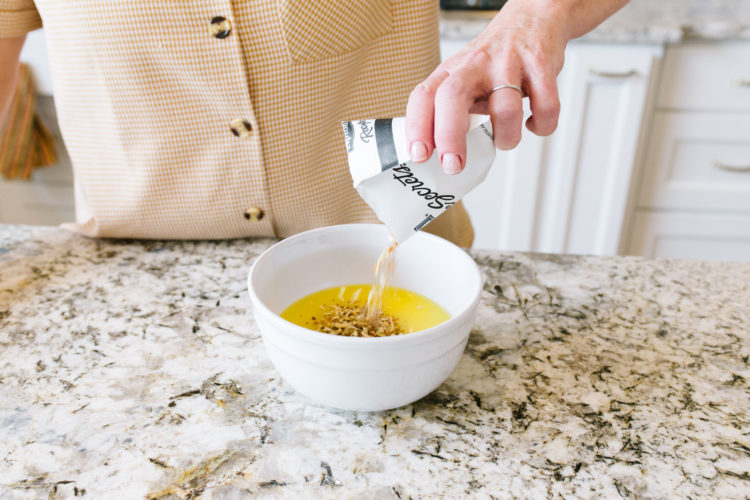 Next step, pour the onion butter mixture over your sliced potatoes that are arranged on a baking sheet. They shouldn't be crowded, so if you need to, be sure to use two sheets. Crowding the potatoes will be bad for our recipe as the potatoes will steam and get mushy. And we want to get it right all through. So more sheets will be appreciated.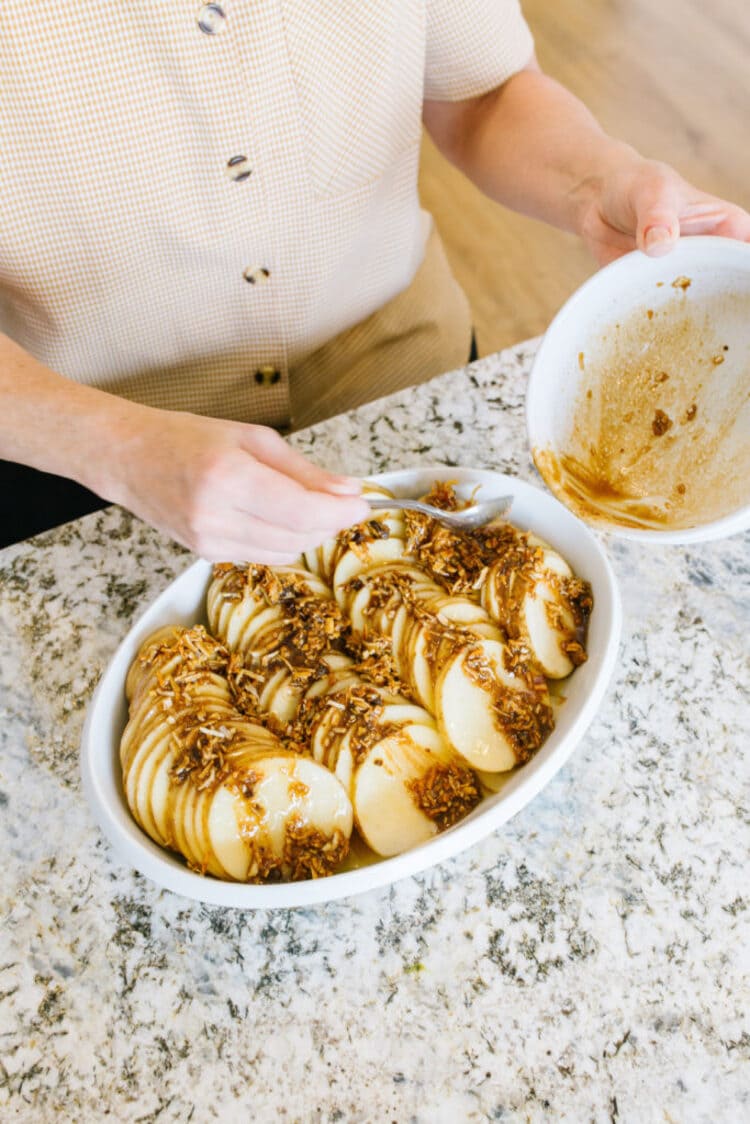 When all is ready, cover with aluminum foil and bake them at 375 degrees for about 45 minutes, or until soft when pricked with a fork. You also need to check them as they bake. So, flip once with a sturdy spatula halfway through the baking time, to ensure both sides have cooked. A sturdy spatula will come in handy in the event the potatoes stick to the bottom of the pan. You'll need to scrape them off so the potatoes and skins stay intact.
At this point, your meal should be fully cooked. You can serve it with sour cream and chives or good old ketchup.
When your potatoes come out they should look like this: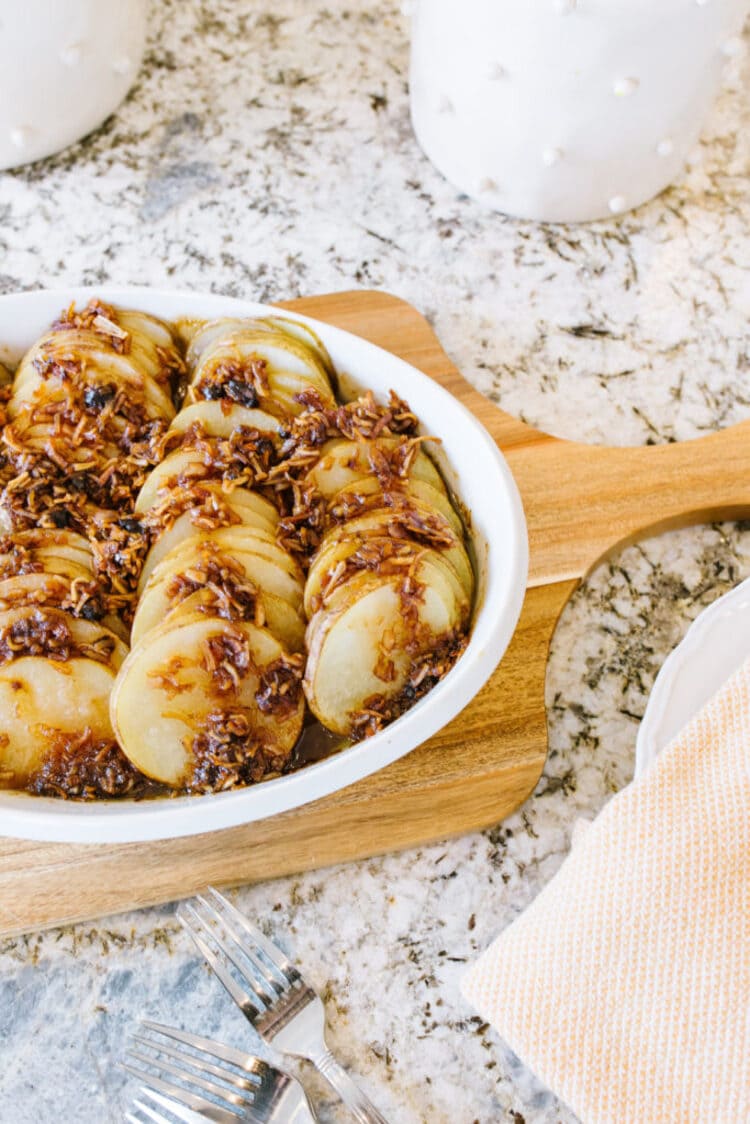 Aren't these so pleasing to look at? I am salivating just from a simple glance. They sure look so crispy and super delicious. I mean! Wow!
Lipton Onion Potatoes are super amazing. I guarantee that you will be asked for the recipe, and I also guarantee that there won't be any left by the end of dinner! You can never have enough Lipton onion potatoes for sure. At least not me.
Dishes You Can Serve With Our Lipton Onions Potatoes
Our prepared meal is an easy side dish recipe that you can serve with a couple of meals. Here are such meals from the South Your Mouth blog that you can enjoy with the Lipton onions potatoes.
Crockpot pulled pork – Well-cooked and spiced pork will make the perfect match for our recipe.
Sticky chicken – Have you ever gone wrong with chicken? Perfect choice for accompaniment for our Lipton recipe.
Pork steak – A combo of this and Lipton onion potatoes is heavenly, to say the least. I won't even talk much about it coz girl! I can't describe enough the magic created here.
Barbequed steak – I love steak. One that is fried well and has thick soup to it. Whenever I have my Lipton recipe it is always part of the dishes cooked.
Ribs – This would make a perfect choice for the Lipton Onion Potatoes. Perfectly baked ribs glazed with some vegetables.
I get my whole table set for this moment and any other dish that would go well with the recipe is included. My grandkids eat the food without waiting for it to be set. They never leave my side in the kitchen during the preparation of the meal. I am not complaining though. Because they are the best company I could ask for. Especially, when doing what I love. Cooking.
When you have a big party you can prepare the meal beforehand, to have an easy time with the crowd. The good thing is, this meal can be stored and warmed up later upon guest arrival. Your parties will never be the same. Nor will your family moments, once this is added to your recipe list.
It's a Wrap!
We can't wait to hear from you on how your experience was on trying this recipe! We are certain your family will be grateful. More so your grandkids. You can bond over the meal, as you lick your fingers. We are so excited for you and wish you the best as you try out the recipe.
It's been so much fun sharing our recipe with you. Be sure to leave us a comment down in the comments section. We are zealous in waiting to celebrate with you the joyous moment you'll experience. So break a leg!
This pin rocks!
Did You Love Our Lipton Onion Potatoes Recipe? Here Are More Recipes Just For You!