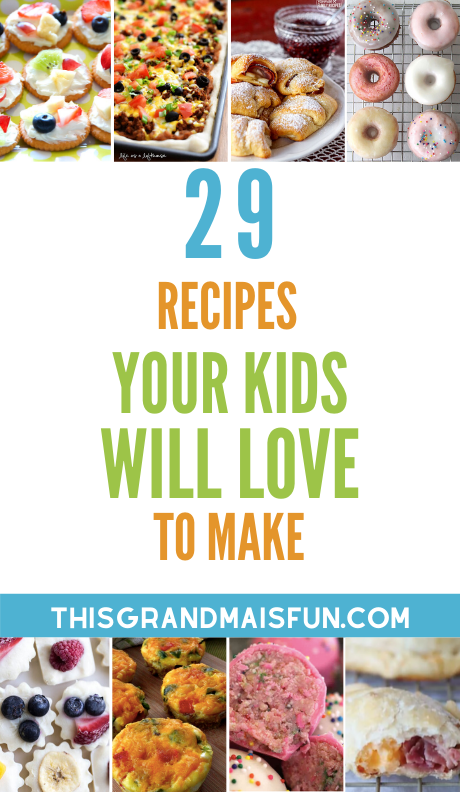 One of my worst fears as a parent is that some day, when my child finally goes off into the world as a young adult, he won't know a thing about taking care of himself! What if he doesn't know how to budget?! What if he doesn't know how to clean up his apartment?! How will he get a job?! What will he eat?! Well, it's never too early to start teaching your kids independence, and at our house, we're starting with cooking (…. and cleaning. But that's for a different post…). And, no surprises, our kids are having a blast! Get your oven mitts ready with these 29 recipes your kids will love to make!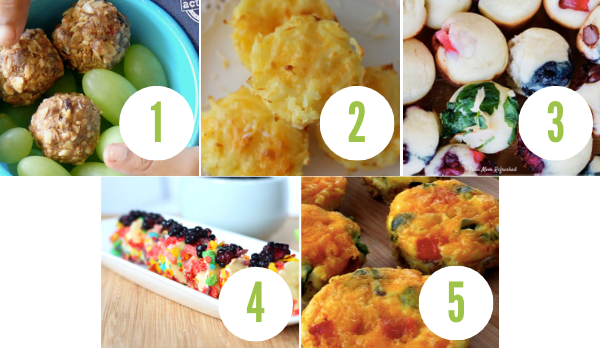 1. Breakfast Balls– Start your family off right with Kids Activities breakfast balls!
2. Hash Brown Egg Cups– There's nothing like waking up to the smell of hash browns wafting through the house. Find this recipe at The Taylor House.
3. Pancake Muffins– Forget the griddle! Your kids will love customizing these pancake muffins from Twin Mom Refreshed!
4. Breakfast Sushi– Don't worry! There's no raw fish in this healthy banana treat from Raising Whasians!
5. Omelet Breakfast Bites– Forget the stove top! These omelets from A Worthey Life are baked right in your oven!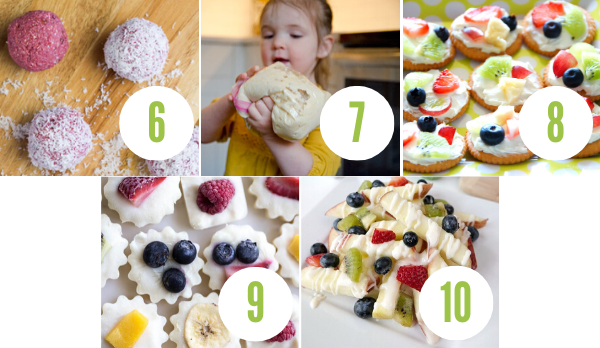 6. Raspberry Coconut Breakfast Balls– Add some flavor to the morning routine with Healthy Little Foodies breakfast balls.
7. Bread in a Bag– This recipe from Busy Toddler is sure to keep little hands occupied!
8. Fruit and Cracker Pizza– Sunshine and Hurricanes's recipe is quick and easy!
9. Frozen Yogurt Bites– We love making frozen yogurt bites at Grammy's house with our recipe here at This Grandma is Fun!
10. Apple Nachos– Forget the cheese! The Simple Parent's nachos are a fun fruity spin on the classic appetizer!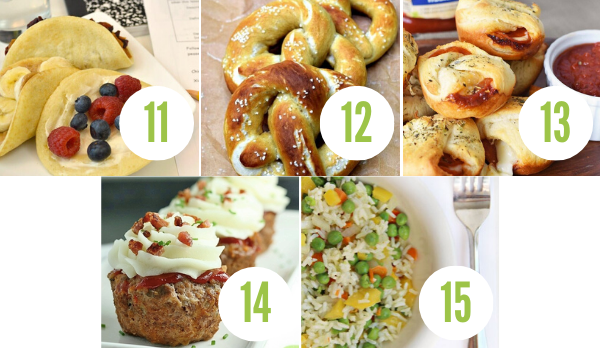 11. Fruit Tacos– Speaking of fruity spins, have you tried Organized 31's fruit tacos? Yum!!!
12. Easy Soft Pretzel– Who knew soft pretzels were easy to make?! Find this recipe at Miss Information.
13. Pepperoni Cheese Bombs– It's a well known fact that all kids love pizza, so it only makes sense that they should learn to make it in all its forms and variations, like these pepperoni cheese bombs from Sizzling Eats.
14. Meatloaf Cupcakes– With First Look Then Cook's recipe, cake becomes meat and frosting becomes mashed potatoes. So easy. So classic. So good.
15. Veggie Rice– An easy way to get your daily serving of vegetables in! Check out the recipe at The OT Toolbox .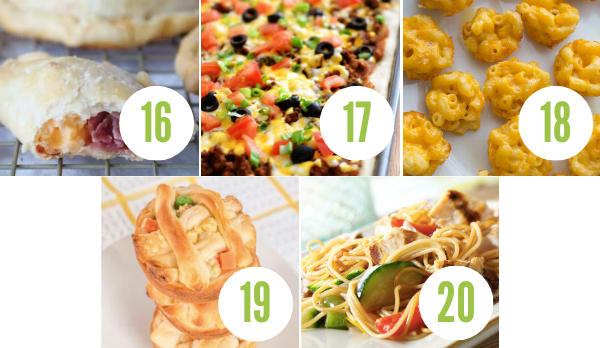 16. Empanadas with Ham and Cheese– The picture is making my mouth water! Go to The Anthony Kitchen for the recipe!
17. Taco Pizza– Two delicious foods combined into one! Try it out at Life in the Lofthouse.
18. Mac and Cheese Bites– The Best Ideas for Kids's mac and cheese bites are easy, delicious, and totally kid-approved!
19. 4 Ingredient Mini Chicken Pot Pie– Hearty and filling, your kids will love making these cute pies from Charisse Yu!
20. Stir-fry– This recipe from My Life and Kids is a great introduction to using the stove (with plenty of adult supervision of course!)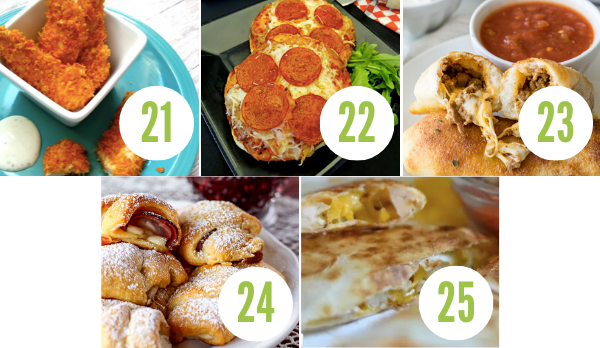 21. Doritos Chicken Tenders– What is it about Doritos and kids? If there was one food my kids would eat every day for the rest of their lives, it would definitely be Doritos. So, of course, we're going to try Dancing through the Rain's recipe here soon!
22. Mini Biscuit Pizza– Pizza comes in so many shapes and sizes, like these mini biscuits from Mommy Hood Life.
23. Cheesy Taco Sticks– Cheese? Tacos? Count me in! Find this recipe at I Wash, You Dry!
24. Easy Monte Cristo Sandwich– Favorite Family Recipes has found the secret to making this delicious sandwich a cinch to whip up!
25. Easy Chicken and Cheese Quesadilla– Little hands will love helping you make this tasty dish from Faith Filled Food for Moms!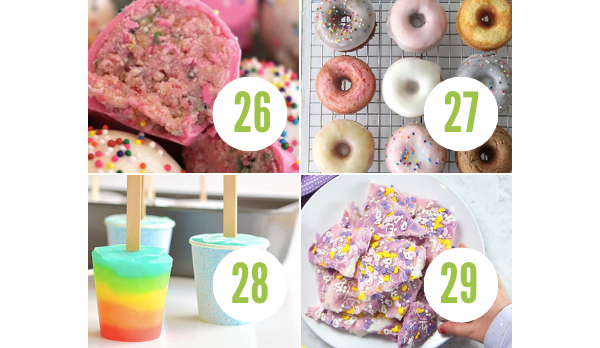 26. Circus Animal Cookie Truffles– When I was a kid, I had an obsession with circus animal cookies. So, naturally, I need to pass on my love for them with The Three Snackateers yummy treat!
27. Cake Mix Donuts– These donuts from It's Always Autumn are almost too pretty to eat! Almost….
28. Rainbow Popsicles– One Little Project's popsicles are the perfect treat to make for a hot summer's day.
29. Yogurt Unicorn Bark– My girls would go crazy for this! Try it at Baby Foodie!
We hope you got some ideas from our list of recipes your kids will love to make! Which is the first one you'll try with your family? Happy cooking!