Are you planning on throwing a party? In the summer, my favorite is the beach theme. All these blue color items, starfish, and seashells look amazing! This pudding sand cups recipe will be a great addition to your party menu!
What is more, they look super cute on the festive table. And it sure feels like we're on vacation!
It's only April but here I am dreaming of the beach. I guess I'll have to eat a Pudding Sand Cup instead…
What do you need to make this Pudding sand cups recipe?
In fact, these are so easy to make, you will need no more than 10 minutes tops. In addition to the ingredients in the recipe, you will need small cups and some more decorations such as cocktail umbrellas. You can find these in the party section of your grocery store or a party supplies store.
Remember that you make these for the grandkids, so they don't have to be in large cups. They will be a hit at your beach-themed party!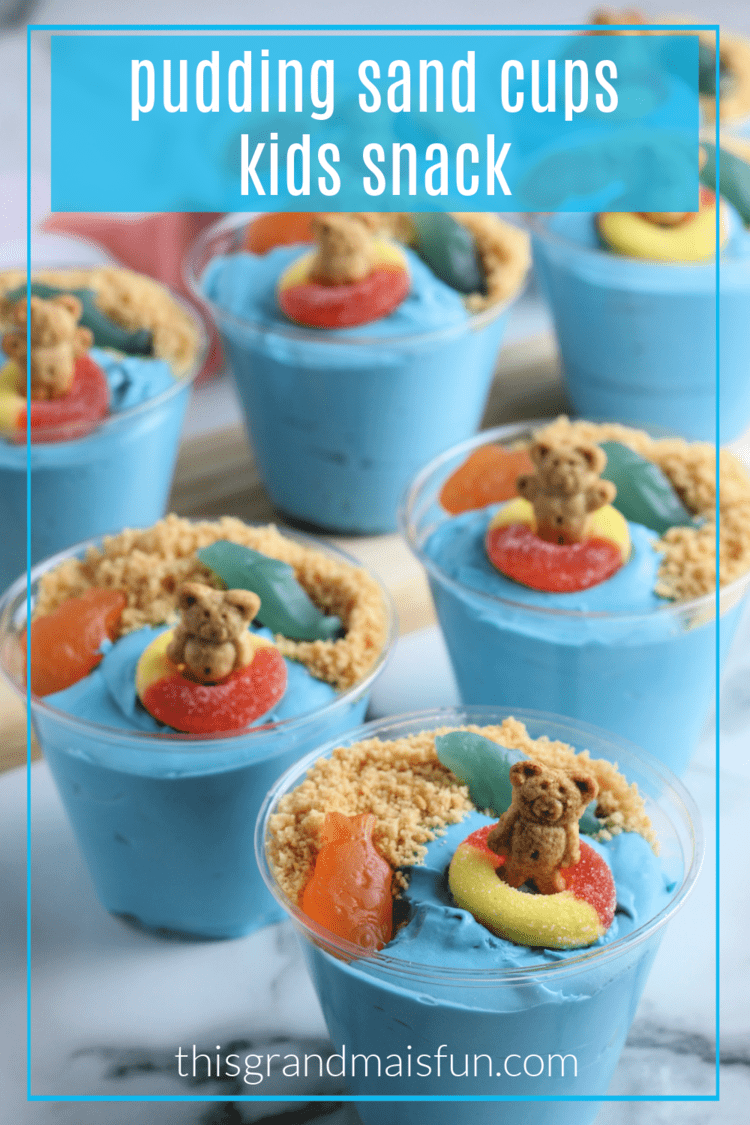 These pudding sand cups are:
easy to make
tasty
don't require any special skills
summery snack
creamy
Make a Pudding sand cups recipe for your beach-themed party
To begin with, planning and organizing a party for the little ones can be a difficult task. If it is possible, begin preparations the month before to be sure you won't miss anything.
Make a party plan, choose the theme, cake, decorations, and schedule the activities and games for the grandkids. Make a food menu, and organize it all in a folder on your tablet. It helps the party to be less stressful for you.
Helpful tips:
You can crush the biscuits in a food processor or a ziplock bag using a rolling pin.
Feel free to use the candy you already have.
Instead of gummy bears, you can use different types of summer-themed treats.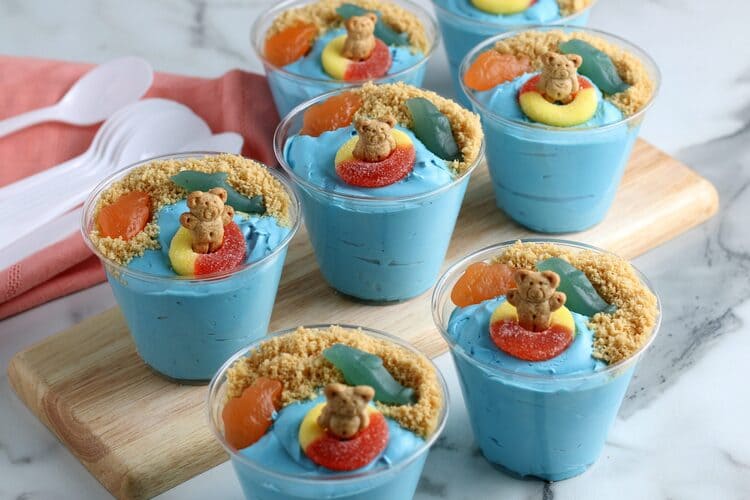 What do you need to make the perfect beach-themed party?
Save on time and stress by choosing the theme first. If you decide on a beach theme party, start with the cake and then plan the decorations for the room and the table. You should include the theme colors in the appetizers, desserts, and other tasty treats you serve.
For your party you will need:
Party theme
Invitations
Cake
Food menu
Table and room decorations
Fun games and activities for the grandkids
What is more, make sure you send out the invitations a few weeks in advance. For more excitement, grandkids can get involved in making the invitations and get crafty. They can make the invitations by using paper, pencils, stickers, and other craft supplies.
Write a list of all the beach-themed items you want to include at your beach party:
seashells
starfish
sand
beach or pool
umbrellas
fish
boats
palm trees
pineapples
flamingos
beach balls
Make super funny food names and put labels on the table
Would you like to try these pudding sand cups with bears? Or some beach party dip? How about a starfish sandwich? Come up with cute and amusing names for the tasty treats and label them.
Put the labels on the table. It will make the party a lot more fun! Even the picky-eaters will be enjoying this party food!
Try some of these ideas:
Starfish sandwiches
Swimming teddy bear dip
Bikini beach bear cupcakes
Beach party pops
Surfing bear cupcakes
Plan the party outside
Grandkids need to be outside to get more Vitamin D. Also, to have more space for running and expressing their excitement. They need to play outdoors for at least 30 minutes a day. This party will give them lots of reasons to stay in the sun and have fun.
Easy-to-make party food snacks
Party food should be related to the topic. And it is great to have beach theme shapes and decorations, too. Get creative in the kitchen! Search the internet for some party food ideas and create them with the products you want to use.
We have many recipes on our blog where your grandkids can help make the food item. This Pudding Sand Cups Recipe is no different. I've mentioned before that these are my favorite kind of treat to make because it keeps my little ones busy for a bit in the kitchen and then they always love to eat what they make. Just wait until they see this!
In addition to our Pudding Sand Cups recipe, here's another "beach" type snack that I have made many times with my littles and they love it! It's our Beach Theme Fruit Dip and it's always a hit!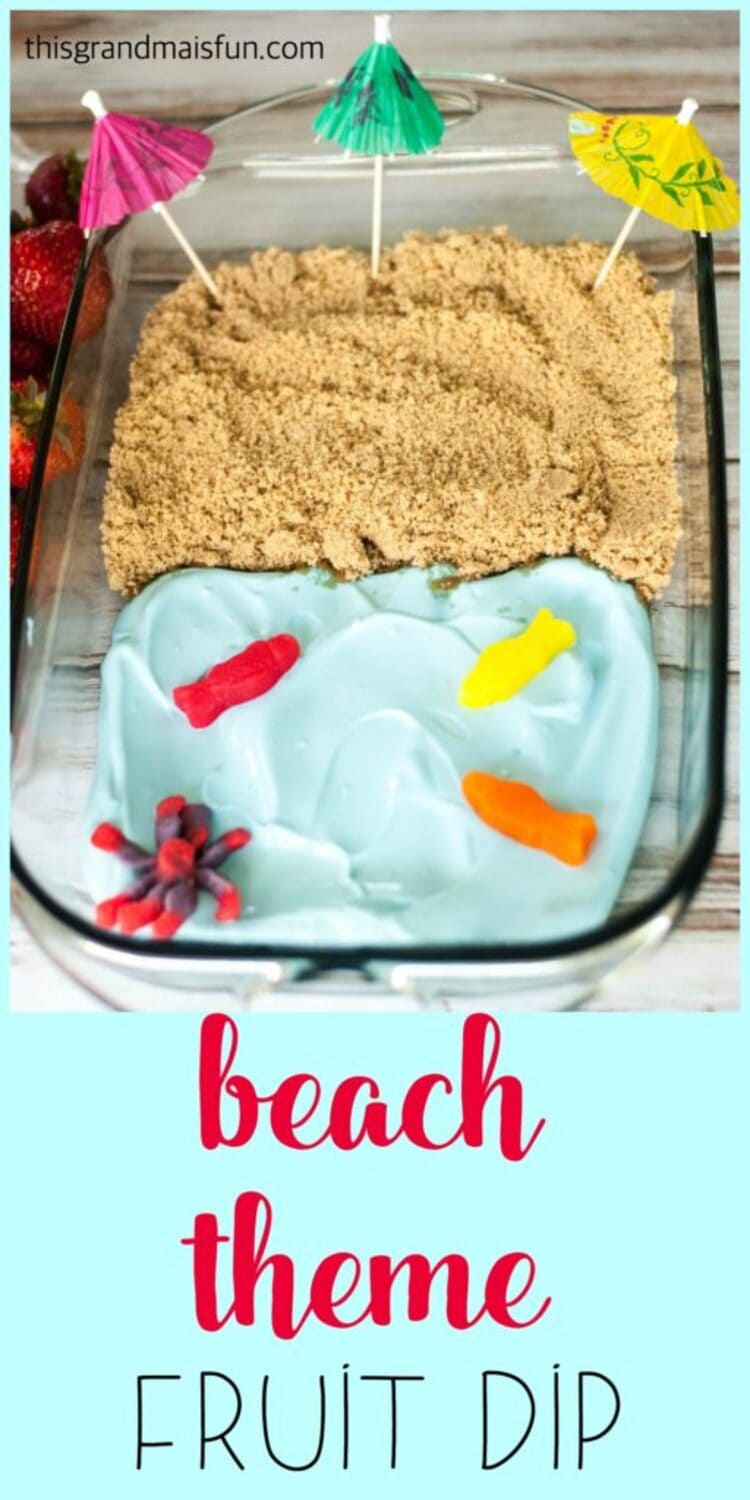 With summer quickly approaching, you may want to grab some of the ingredients for this recipe so that you have everything on hand. I know that my refrigerator is often sparse because there is just my husband and me at home. We don't eat that much.
Our little 6-year-old granddaughter was here the other day, and she opened our refrigerator, and then she said "Grammy, now I know why you and Pa come to our house for Sunday dinner because you don't have a lot of food!"
I may not have a lot of food. But I do have lots of things to make recipes for with my grandkids. I guess I better go to the store and get some pudding! Using instant puddings makes this recipe an easy one. So let's get started!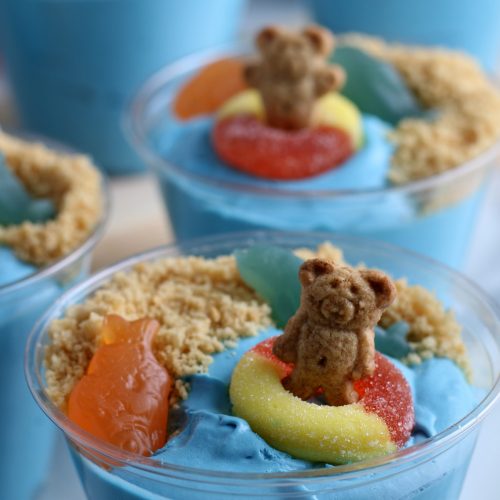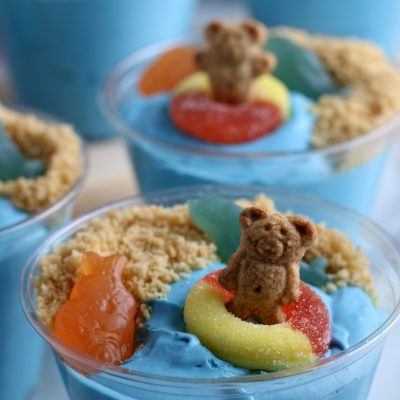 Pudding Sand Cups Recipe
Kids of all ages love to make this Pudding Sand Cups Recipe. Using instant puddings makes it so easy!
Ingredients
1-2

pkg

small box (3.4 oz) instant vanilla or white chocolate pudding mix

2

cups

cold milk

1

tub

8 oz whipped topping (thawed)

Blue Food Coloring

6-8

Golden Oreos, crushed

Gummy sea creatures, stars or shells

Teddy Bear Grahams
Instructions
In a medium bowl, add cold milk

Sprinkle pudding over top and whisk until well combined

Add food coloring and mix well

Place in refrigerator about 10 minutes or until set

Fold in whipped topping until well combined

Place in refrigerator 20 minutes to chill

Crush cookies in food processor or resealable plastic bag until fine

Add your gummy sea creatures and Teddy Bear Grahams
Notes
You can adapt this recipe to a "dirt cup" recipe by following the same recipe but using these ingredients:
1-2 small box (3.4 oz) instant chocolate pudding mix
2 cups milk
1 tub (8 oz) whipped topping, thawed
10-12 regular Oreo cookies, crushed
Gummy worms
How to make table and room decorations for the beach-themed party?
It is no surprise that the general color is blue. You can combine it with white and other bright colors for accent. White table cloths will make your dishes and decorations more visible.
For the perfect beach themed-party provide:
decorative fishnet wall hanging
fish and boat ornaments
seashells centerpiece for the table
white table cloth
beach signs
colorful balloons
a small pool with inflatable fish and boats
For the table setting, you may use a blue scarf or organza fabric to drape in the center of the table. Put decorations on the top. For example, seashells, and boats. Stretch a fishing net across the table cloth or hang it on the wall. Use blue napkins and straws. You can even put an umbrella on each straw to make it more fun!
Fun party activities for the grandkids
Thirty minutes for each game is enough for the grandkids to have fun and then move on to the next activity. Plan some quiet games, too, such as puzzles or board games. This way grandchildren won't be exhausted before the cake arrives.
You can give all the grandkids some beach-theme items like goggles, sunglasses, flippers. Make them participate in the beach-themed photo booth wearing them and take photos.
For instance, hide some beach-themed items somewhere in the garden and organize a scavenger hunt. Grandkids will be having a lot of fun while finding them. Leave clues in different places and watch them playing.
Schedule different beach-themed party activities, such as:
scavenger hunt
decorating seashells
craft with tropical items
beach-themed photo booth
make a beach-themed sensory bottle
catching fish in the small pool with inflatable fish
Get some seashells, paint, glitter, and get crafty. The grandkids can make their painted seashells and take them home as a gift from the party.
Besides, we have already shown you how to make a sensory bottle in some of our blog posts. You can use this idea as a great party activity.
Provide bottles, cooking oil, paint, glitter, different seashells, and window stickers. Grandkids will have fun while making their ocean-filled bottles. Homemade toys are great for developing grandchildren's skills.
These activities will create meaningful conversations and lots of long-lasting memories. And most importantly, grandkids will be having fun!
Healthy party food
Create a well-balanced and healthy menu for the party. Include vital nutrients such as proteins, carbs, and healthy fats. Minimize using sugar as much as possible. Substitute it with fresh fruit.
Here is what you can do to make your party food healthier:
Why not go sugar-free? Grandkids won't be able to tell if you use sweeteners instead of sugar. But it will make it much healthier. Try stevia or erythritol. You can use sugar-free chocolate, too.
Instead of artificial food coloring, put some blue spirulina. It will make the pudding the desirable blue color.
Make sure you have lots of colorful fresh fruit on the table. Bright colors will attract the grandkids, and they would want to have some.
In fact, cooking food at home is always a better option to make it organic or eliminating food coloring and artificial food enhancement agents. If you decide to buy prepackaged food, make sure it contains less sugar and no preservatives.
Allergy-friendly Pudding sand cups recipe variation
When you gather more grandchildren together for a party, you have to consider whether some of them have food allergies or not. Make sure your food is allergy-free. Use dairy-free milk to make the recipe lactose-free and vegan.
Why not make a homemade "biscuit sand" for the Pudding sand cups? Use a gluten-free mix of flour and add sweetener to make it tasty.
For example, you can mix equal quantities of buckwheat flour and gluten-free oat flour with some erythritol to make it sweet. There are gluten-free crackers or biscuits you can use, too.
The bottom line
How to throw the perfect beach theme party for your grandkids? We have you covered with tips and ideas to make your occasion memorable. Everyone will love these delicious and cute Pudding sand cups.
Not only are these easy to make but also look super cute on your party table. Your grandkids will be looking forward to the party!
Moreover, get them involved in making the invitations and even the Pudding sand cups. They will be so excited to take part in the whole preparations! It is an affordable and money-saving idea for a sweet treat that will take your party to the next level!
Are you already enjoying our pudding sand cups recipe? You have to check out these other posts, too: