Summer looks a little different this year, and many of us have had to postpone our beach vacations for a season. But that doesn't mean you can't have your own backyard beach party! Get ready to dig out your swimsuit because we're bringing the beach to you! Here are 23 ideas for a beach staycation!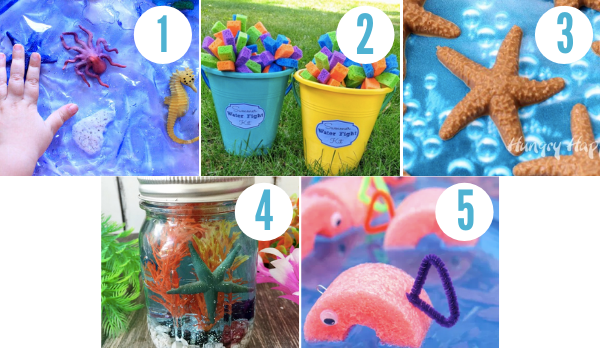 1. Beach and Sea Squish Bags– Kids can start to explore the wonders of the ocean with Fantastic Fun and Learning's sensory bags.
2. Water Fight Kit– Can't have a beach day without water and Inner Child Fun's water fight kit is just the thing!
3. Butterscotch Crunch Starfish– These yummy starfish look almost real! Try this treat at Hungry Happenings!
4. Mason Jar Aquarium– Make this fun aquarium without all the maintenance at A Little Claireification.
5. Pool Noodle Fishing Game– Here's a fun easy game from Happy Tot Shelf that is perfect for your littler grandkids!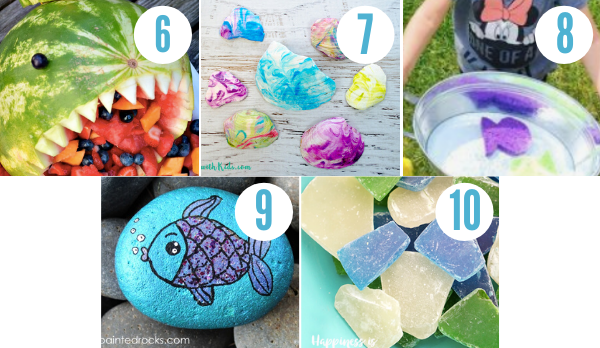 6. Shark Fruit Salad– Maybe if sharks tried some fruit salad, they wouldn't be such dangerous predators anymore…. Find this amazing idea at Kid Friendly Things to Do.
7. Marbled Seashell Art– Turn seashells into a work of art with Projects with Kids's marbles seashells.
8. Flying Fish Catch– A fun, easy water game from Mrs. Plemon's Kindergarten that kids will love!
9. Glitter Fish Painted Rock– Learn how to make these beautiful rocks at I Love Painted Rocks.
10. Sea Glass Candy– Happiness is Homemade 's sea glass candy looks almost too real and pretty to eat…. almost….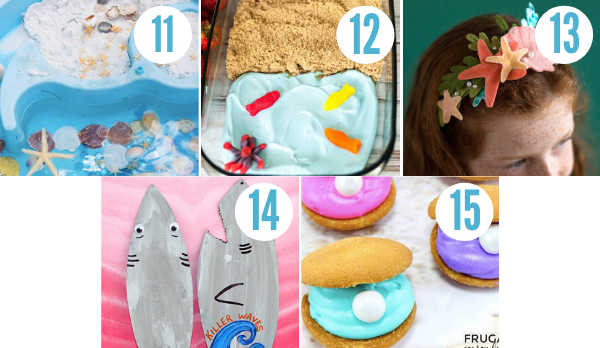 11. Beach Water Table– Little hands will love exploring the wonders of the ocean with Sugar, Spice, and Glitter's fun water table idea!
12. Beach Fruit Dip– This fun fruit dip is a kid favorite! Make it right here at This Grandma is Fun!
13. No-Sew Felt Mermaid Headband– If you have a mermaid for a granddaughter, then you will love Lia Griffith's pretty and simple headband!
14. Shark Surfboard Craft– Nothing says the beach like sharks and surfing. Find this craft at Artsy Momma.
15. Clam Cookies– If you're looking for a treat that is easy but eye-catching, then this is the treat for you! Check it out at Frugal Coupon Living.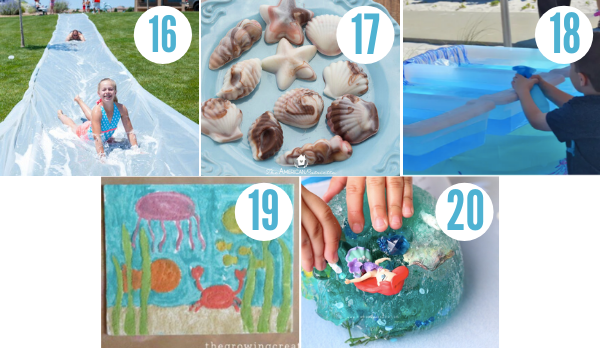 16. DIY Slip and Slide– For some natural beach waves in your hair, you'll have to try All Things Thrifty's slip and slide! It's sure to do the trick!
17. Candy Seashells– Just from the picture, I know I'd be snacking on these gorgeous chocolates all day long. Learn how to make them at The American Patriette.
18. Jellyfish Races– Bring out the family competition with Living Porpoisefully's exciting game!
19. Ocean Sand Art– What's the beach without sand? Make beautiful works of art with The Growing Creatives's sand activity.
20. Mermaid Ice Excavation– This activity from Mama. Papa. Bubba. is sure to keep the kids occupied for hours. Perfect for when you need a break!

21. Flip-Flop Sandwiches– These sandwiches from Cutefetti really are the cutest!
22. Water Balloon Volley Ball– A true summer classic, this game from It's Always Autumn fits right in with a beach staycation!
23. Beach Books– When it's time for a little bit of quiet, Fantastic Fun and Learning's got you covered with this list of beach themed books the kids are sure to love!
Which of these 23 ideas for a beach staycation are you going to try out first?