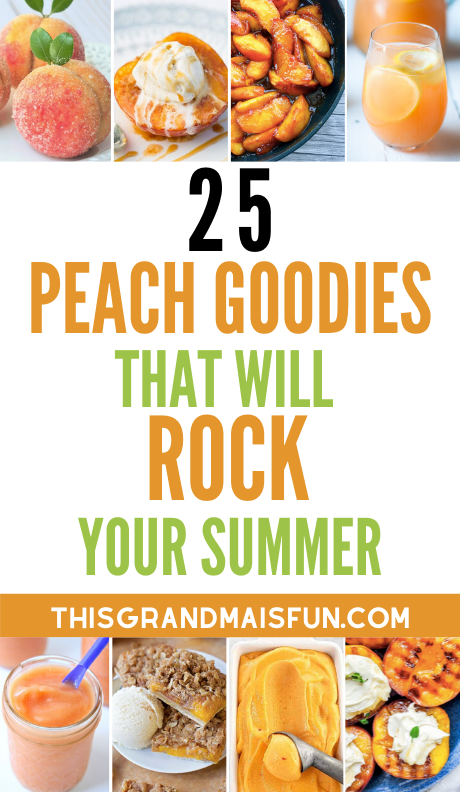 It's the most wonderful time of the year- peach season! So sweet, juicy, and flavorful. The perfect fruit. Have you picked up a box of peaches yet? If you're looking for new, exciting peach recipes to try, check out this list of 25 peach goodies that will rock your summer!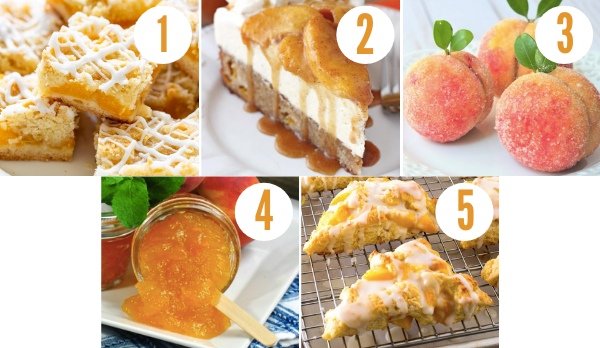 1. Fresh Peach Crumb Bars– Ok, I'm already drooling at these pics from Saving Room For Dessert!
2. Peach Caramel Blondie Cheesecake– Omg, I think I just died and went to heaven. Check this out at Life, Love and Sugar.
3. Peach Cookies– Aren't these cookies from Party Pinching gorgeous?
4. Peach Jam– The perfect pair with a slice of toast, or even better, on a waffle! Find it at Crystal & Co.
5. Peaches & Cream Scones– A Family Feast's scones make me want to sit out in garden with my fancy hat, and enjoy a cup of tea.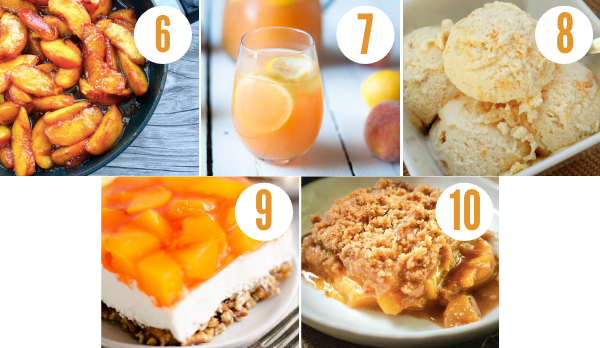 6. Healthy Caramelized Skillet Peaches– If you're looking for something a little healthier (but still totally delcious!), you'll love 90/10 Nutrition's recipe!
7. Ginger Peach Lemonade– Talk about refreshing! Try this recipe at Thyme & Love.
8. Homemade Peach Ice Cream– This ice cream from Events to Celebrate looks heavenly!
9. Peach Pretzel Salad Dessert– The Creative Bite's dessert is a perfect combination of sweet and salty!
10. Homemade Fresh Peach Crisp– Mmmm! I can already taste this peach crisp from Hostess at Heart!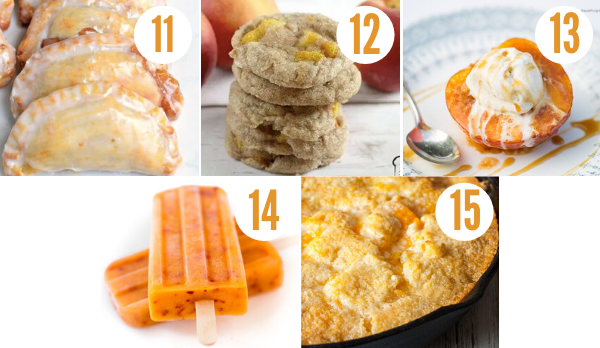 11. Peach Hand Pies– These little pies from Shugary Sweets are the perfect treat for an outdoor picnic!
12. Peach Snickerdoodles– As if snickerdoodles weren't already scrumptious enough, Butter with a Side of Bread added peaches- a snickerdoodle upgrade!
13. Easy Baked Peaches with Cinnamon Sugar Topping– Oh my, these peaches from I Heart Naptime are absolutely dreamy!
14. Ripe Peach Popsicles– The View from Great Island's popsicles are a fantastic way to cool down on a hot summer's day!
15. Two Two Easy Peach Cobbler– Need something quick and easy? Check out our peach cobbler, right here at This Grandma Is Fun!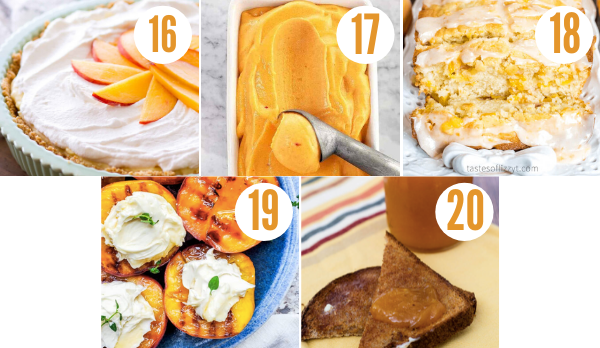 16. No Bake Peach Cream Pie– What is it about peaches and cream that makes them the perfect combination? Find this easy recipe at A Latte Food.
17. Peach Sorbet– Nothing feels better in the middle of summer than a nice, cold treat, like this one from Chef Not Required.
18. Peach Bread– Is this even real?! Tastes of Lizzy T's peach bread sounds too good to be true!
19. Grilled Peaches with Mascarpone & Honey– This dessert from Erhardts Eat is so simple yet elegant.
20. Peach Butter– Imagine spreading this on a slice of bread and enjoying it on your back patio in the early morning hours. Ah, pure bliss! Find this recipe at The Redhead Baker.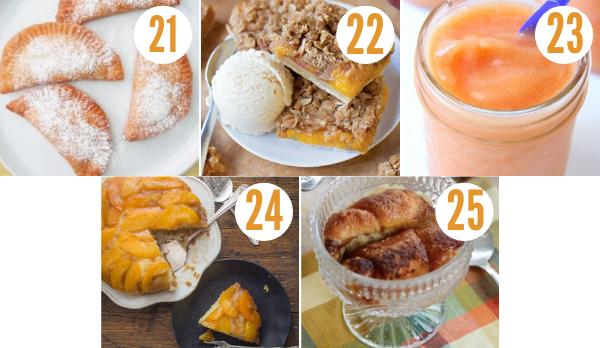 21. Peaches & Cream Empanadas– The picture alone is making my mouth water over Taste Made's empanadas!
22. Peach Pie Bars– Forget about slicing up a pie, now you can have it in a convenient, more delicious bar with Life Made Simple's recipe!
23. Peach Slushies– Kids are sure to love this fun treat from Bite of Delight!
24. Peach Upside Down Cake– Isn't this cake from An Italian in My Kitchen beautiful? What a presentation! And it's absolutely delicious!
25. Ridiculously Easy Peach Dumplings– When you have little kids running around the house, sometimes you need something quick and easy, like these yummy dumplings from Home Is Where the Boat Is!
What do you think about these 25 peach goodies that will rock your summer? Let us know which you'll try first!