I love food. All kinds of food. One of my favorite kinds of food, is down-home, southern cooking. This two-two easy peach cobbler is as simple to make as it is good. And it doesn't even have to be the peach season.
We first published this recipe in July of 2015 and I just have to bring it out again. It is awesome for dutch cooking when you go camping this summer. Like Ah-mazing! But at home, my favorite is the cast iron skillet. Seriously good stuff.
Do you know what is completely awesome about this recipe? It is super versatile. Add cinnamon, nuts, serve it with ice cream, and it is all good. Do you have fresh peaches? That works, too.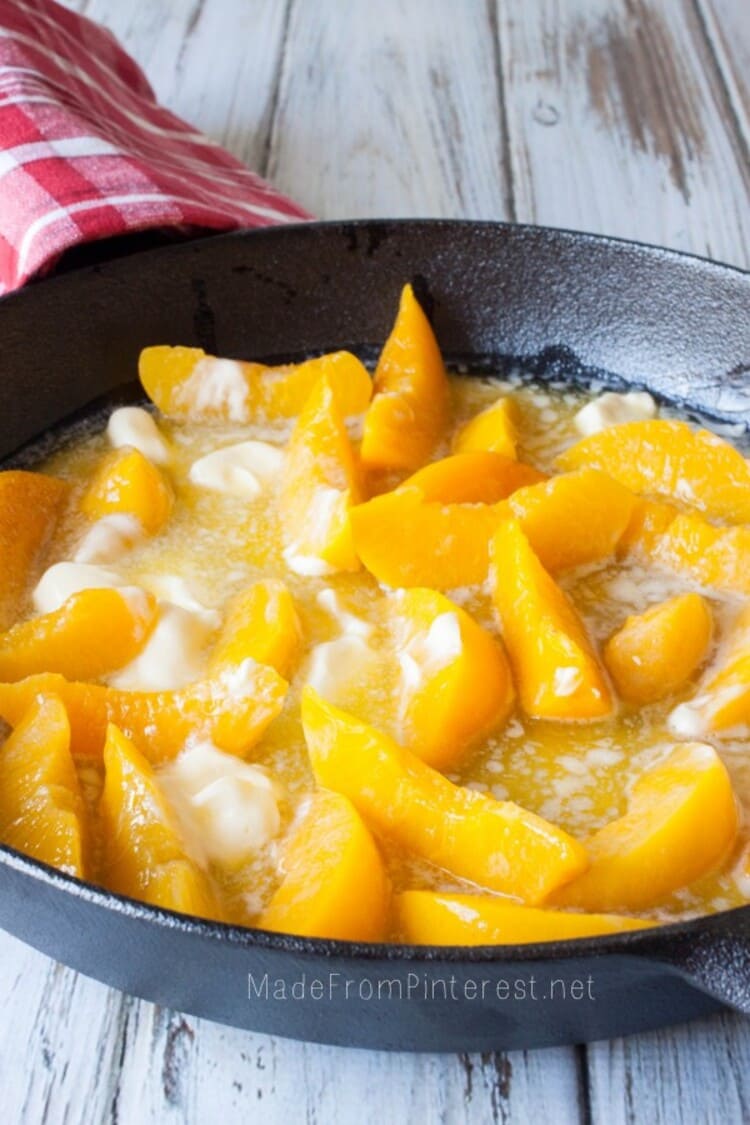 Amazing Peach Cobbler Recipe Your Grandkids Would Love
Little Known Facts About Peach Cobbler
As the name implies, it requires two of everything (except peach) to prepare it.
Peach Cobbler is a dessert consisting of canned peach (or less commonly fresh peach fruit) filling, poured into a large baking dish and covered with a batter, before being baked. Some of the recipes, especially in the American South, resemble a thick-crusted, deep-dish pie with both a top and bottom crust. It is part of the cuisine of the United Kingdom and the United States, and should not be confused with a crumble.
As seen here, the general cobbler recipe originated in the British American colonies. English settlers could not make traditional suet puddings due to lack of suitable ingredients and cooking equipment, so instead covered a stewed filling with a layer of uncooked plain biscuits, scone batter, or dumplings, fitted together.
The origin of the name cobbler, recorded from 1859, is uncertain: it may be related to the archaic word cobeler, meaning wooden bowl. The term may be due to the topping having the visual appearance of a cobbled stone pathway rather than smooth paving.
Here Is What You Will Need
1 Large 29 ounce can of sliced peaches – drained
2 sticks or one cup of butter – melted
2 cups sugar
2 cups flour
2 cups milk
2 teaspoons baking powder
Step 1: Preheat oven to 350°.
Before anything else, preheat the oven to 350 degrees Fahrenheit. This is the temperature that allows for browning and ensures it gets all the glorious flavors.
Step 2: Pour drained can of peaches into the skillet or 9×13 baking dish.
Be sure to drain the peaches, if you are using canned peaches. It might also interest you to know that canned peaches are safe to use.
A study published in the Journal of the Science of Food and Agriculture finds that canned peaches (yes, from the grocery store canned aisle) are as loaded with nutrients as fresh peaches. … In addition, canned had comparable levels of vitamin E and a lot more folate than fresh. You can learn more here.
Step 3: Pour melted butter over the peaches.
Slice butter into pieces and add to a 9×13 inch baking dish. To allow the butter to melt, you can place it in the oven while it preheats. Once melted, remove the pan from the oven.
Step 4: Mix sugar, flour, milk, salt, and baking powder together to form the batter.
In a large bowl mix, the flour, sugar, baking powder, and salt. Stir in the milk, just until combined. Pour the mixture into the pan, over the melted butter, and smooth it into an even layer. This forms the batter.
Step 5: Spoon peaches over the batter.
Use a spoon to place the canned peaches (or fresh peaches and juice) over the batter. Sprinkle cinnamon generously over the top if you wish.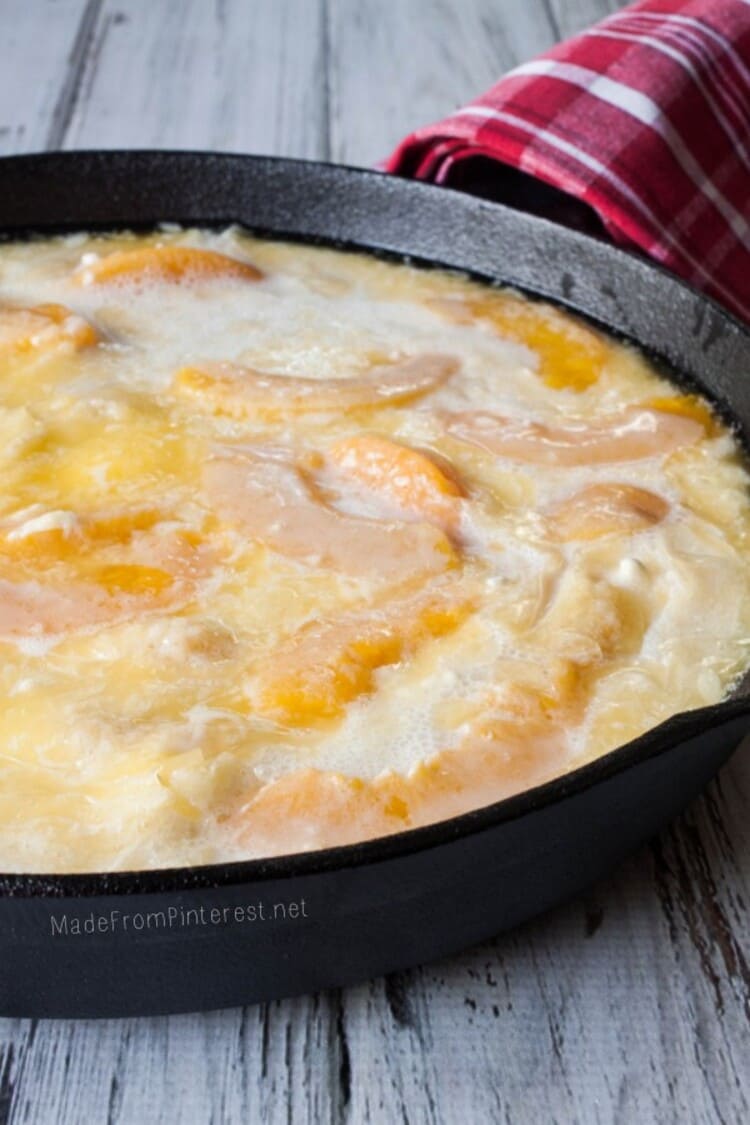 Step 6: Bake for 30 to 45 minutes until the top is golden brown and the edges are crispy.
Bake at 350 degrees Fahrenheit for thirty to forty-five minutes until the edges become crispy and the top turns golden brown.
Step 7: May take longer in a cast-iron skillet.
If you are using a cast-iron skillet, you should know that this may take longer than 40 minutes.
Step 8: Serve
You may decide to serve it warm or cold. Either way, it is delicious.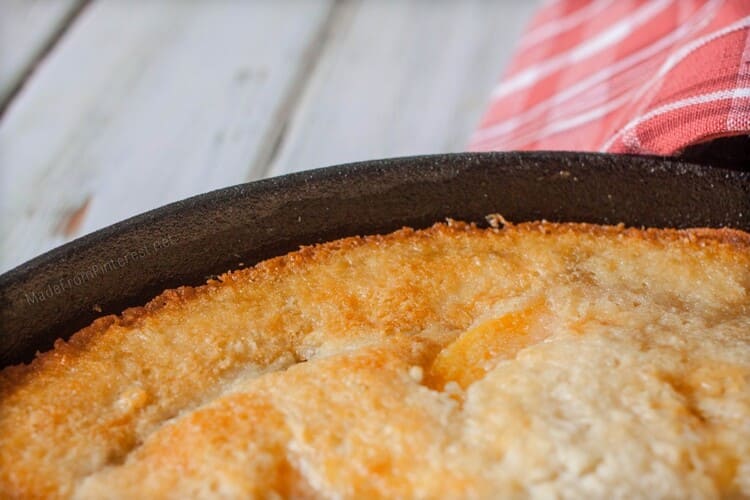 The Recipe – Simple And So Delicious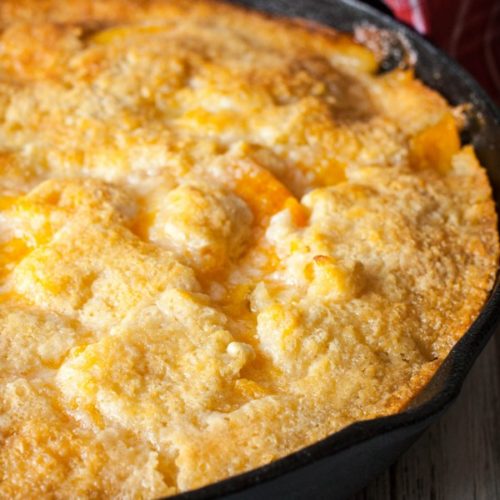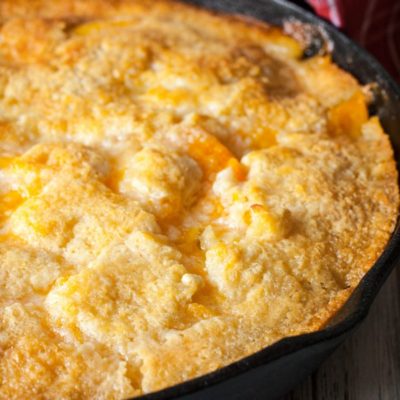 Two Two Easy Peach Cobbler
Ingredients
1

large

29 ounce can sliced peaches - drained

2

sticks or 1 cup of butter - melted

2

cups

sugar

2

cups

flour

2

cups

milk

2

teaspoons

baking powder
Instructions
Preheat oven to 350°.

Pour drained can of peaches into skillet or 9x13 baking dish.

Pour melted butter over the peaches.

Mix sugar, flour, milk and baking powder together to form batter.

Pour batter over peaches and butter.

Bake for 30 to 45 minutes until top is golden brown and edges are crispy.

May take longer in a cast iron skillet.
Check Out The Video For This Recipe

Other Variations Of Cobbler Recipe
1. Grunt
Grunt is typically cooked on the stovetop, or in an iron skillet or pan, with the dough on top in the shape of dumplings. They reportedly take their name from the grunting sound they make while cooking.
2. Apple Pan Dowdy
Apple Pan Dowdy is another variation of the cobbler recipe. It is an apple cobbler whose crust has been broken and perhaps stirred back into the filling. This originated in North America.
3. Betty
Betty is also known as Brown Betties. It is made with breadcrumbs (or bread pieces, or graham cracker crumbs), and fruit, usually diced apples, in alternating layers. They are baked covered and have a consistency like bread pudding.
Nutrition Facts (Per 100g)
These facts were provided by the United States Department Of Agriculture (USDA)
Calories 65
Total Fat 0 g
Saturated Fat 0 g
Cholesterol 0 mg
Potassium 54 mg
Sodium 7 mg
Total Carbohydrate 18 g
Dietary Fiber 0.7 g
Sugar 11g
Protein 0.3 g
Peaches Go Well With…
To your peach cobbler recipe, you can include any of the following. It goes well with these.
Herbs & Spices: allspice, cinnamon, cloves, vanilla, nutmeg, mint, basil, ginger, honey, tarragon, rosemary, and lemongrass.
Produce: berries, lemon, arugula, tomato, fennel, endive, grapes, lime, greens, other stone fruits like nectarines, apricots, cherries, plums.
Dairy & Other: kefir, buttermilk, butter, bourbon, brandy, butter, cream, ice cream, mascarpone cheese, vinegar, wine, sugar, and yogurt.
Savory: pistachios, almonds, hazelnuts, walnuts, pecans, pork, pesto, prosciutto, and poultry.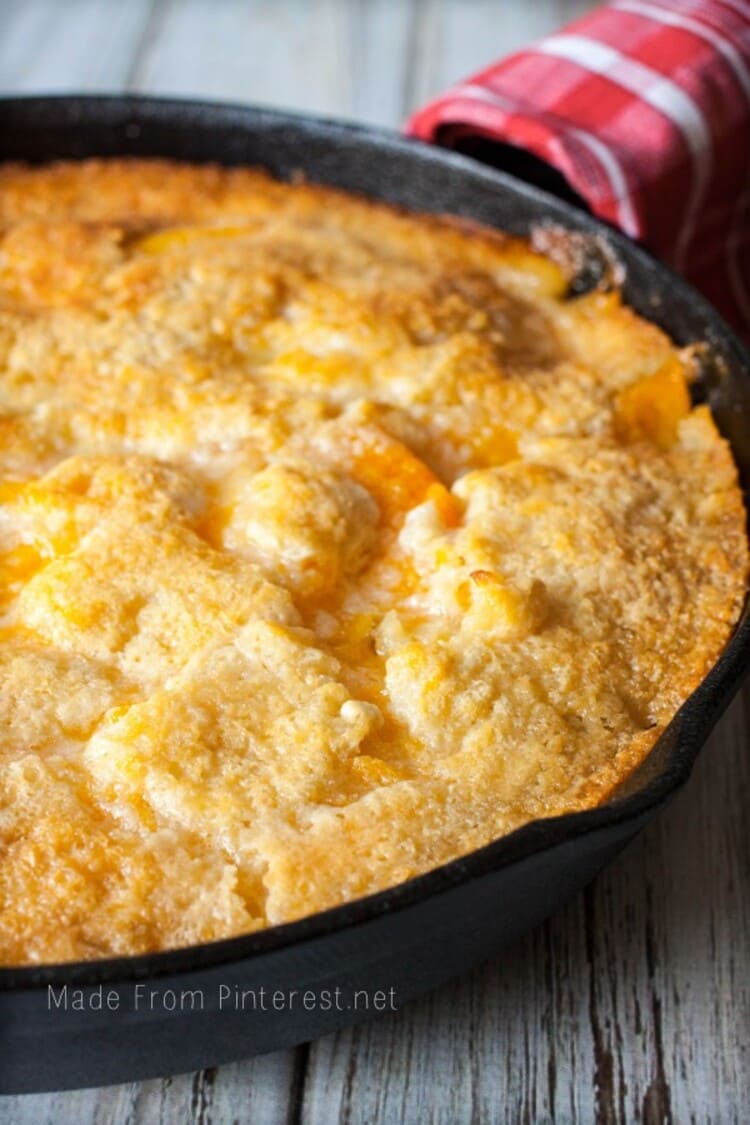 Storing Peach Cobbler
The leftover peach cobbler should be stored covered in the refrigerator. It will help keep the cobbler topping from getting too mushy. It will keep in the refrigerator for 2 or 3 days.
You can also freeze baked cobbler once it has cooled, however, the topping may become soggy once defrosted. To freeze unbaked cobbler, prepare fruit and topping in an oven-safe baking dish. Cover and freeze for up to 3 months. You can bake the frozen cobbler in the oven at 350 F for 20 minutes longer than the recipe directs
Substitute For Baking Powder Used In Peach Cobbler
If you do not have the cream of tartar on hand and your recipe has an acidic ingredient present, then you can substitute the baking soda for baking powder. In place of baking powder, you can use baking soda. Use 1/4 the amount of baking soda than the amount of baking powder called for in the recipe.
How To Peel Fresh Recipe
If you are using freshly plucked peach, you can leave the skin on the peaches for Cobbler. Since the skins on the sliced peaches will soften during baking, they'll be very tender in the final dish. But if you'd rather not have them in your cobbler or other peach recipes, it's perfectly OK to peel the peaches first.
To peel the skin, place the peach in boiling water for about 60 seconds. Using a slotted spoon, remove the peach from the boiling water and place it into a bowl filled with ice and water. As soon as the peach is cool enough to handle, use a paring knife to remove the softened skin.
Interested In Learning More!
What else is there to love about this recipe? Our family fights over the crunchy edges. We like a little butter overload. Those crunch edges are pure heaven and a perfect foil to the tender interior.
My hubby raved about this recipe after a friend made it for us. She lives on a farm near us in VA, and her down-home, southern cooking is to die for. She lets me pick up fresh milk whenever we drive by her place on the way to and from the lake. She likes to cook with fresh ingredients. But with all she has to do on a farm, she doesn't have much time and needs to get food on the table fast.
This recipe is so easy! Two, two easy because it pretty much takes two of everything to make it. Anyway, it is easy to make and easy to remember because it takes 1 can of peaches, and two of everything else.
Make sure to use a 12 inch cast iron skillet so that the whole cobbler bakes through. I love my skillet and you can get yours HERE.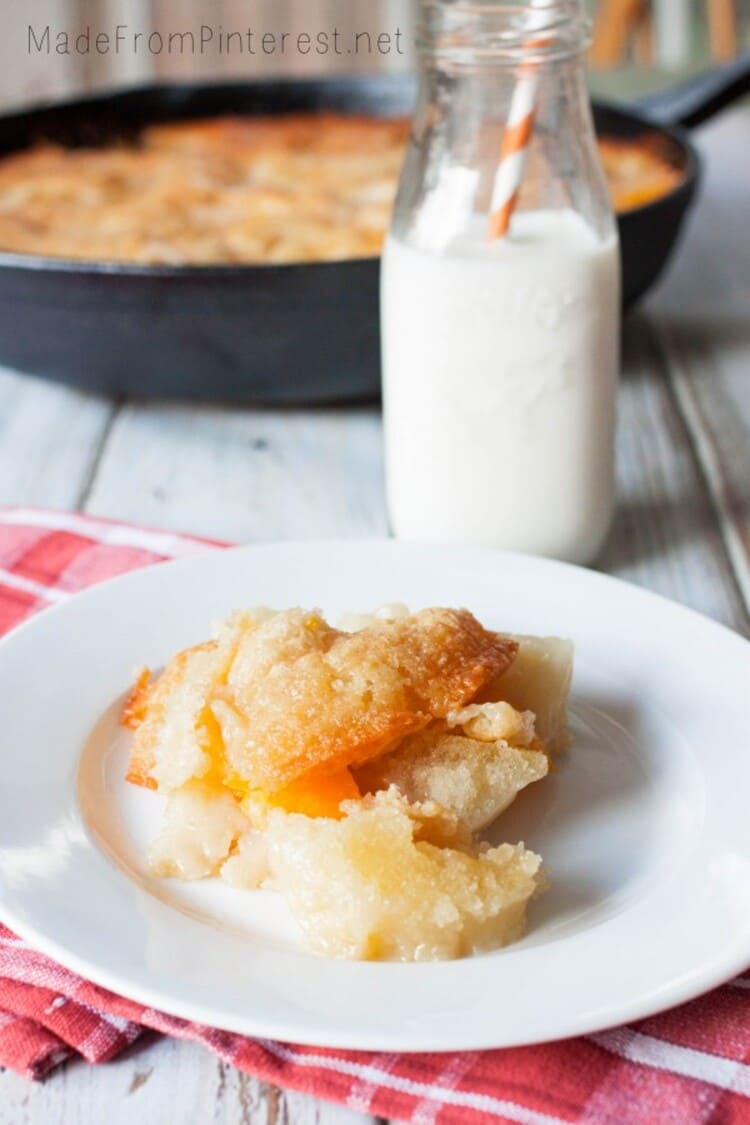 Grab your skillet and get baking this perfect southern cooking favorite. Even though the recipe is super easy, you can print it out below and make it as often as you like. Fairy grandmothers will love sharing this recipe with their grandkids because the kids can handle this. It is a perfect recipe for having little ones join you in the kitchen.
For More Easy Homemade Recipes Like This, Check These Other Posts We Have For You: