Are you planning a cookout or a family reunion? Cleaning your BBQ grills is a huge part of cooking tasty food and making your guests happy. We have you covered with this magic way to clean them. You will thank us later for it.
It is not going to take a lot of your time. Learn the benefits of grilling, how to keep your BBQ sparkling clean and ready for your backyard party. Put safety first and keep your cooking space spotless.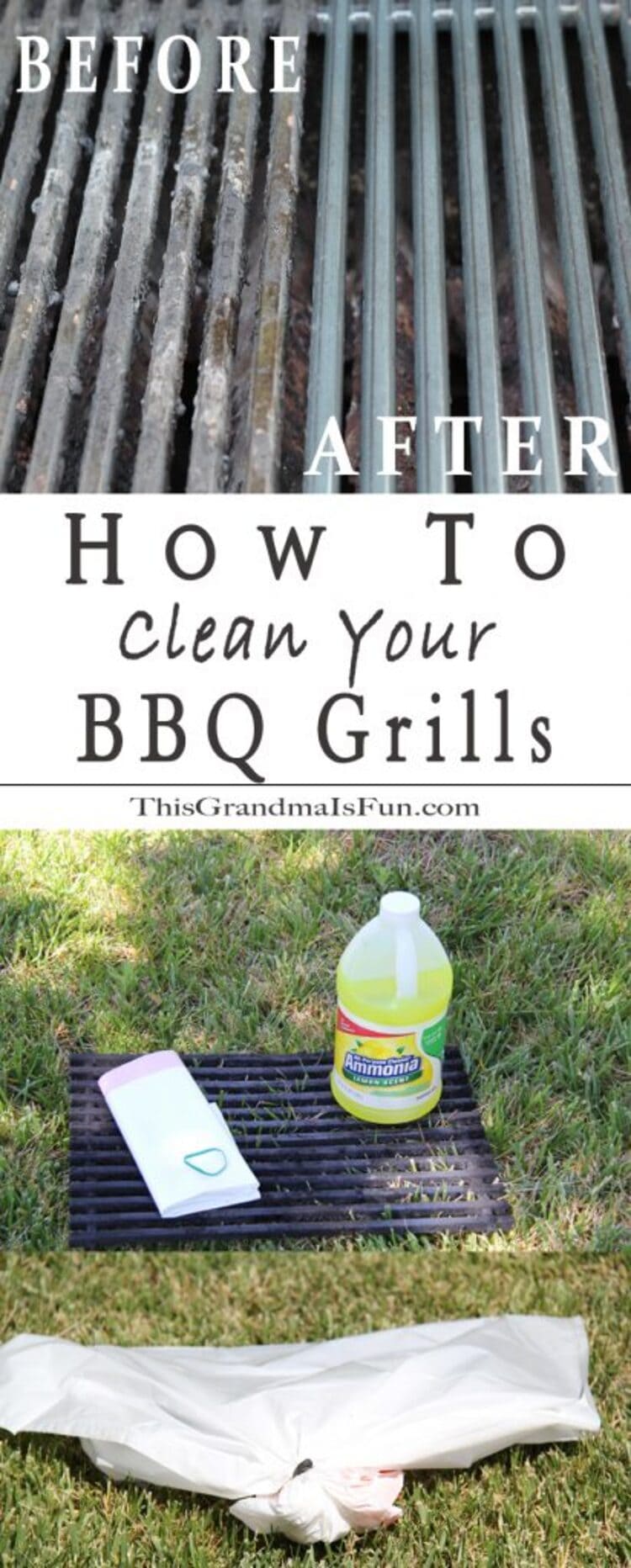 Why do I prefer using a BBQ grill?
Especially in the summer, cooking with BBQ gives me a holiday and festive feeling. In fact, I love to BBQ for so many reasons. Instead of being in a hot kitchen, I can enjoy grilling in my backyard.
Always enjoy being outdoors and spend more time in the sun. The grill adds a specific smoky flavor to the meals and makes them special.
Besides, outside of marinating the meat, BBQing takes little planning and time. It is a healthy way to diversify your meal plan and add some grilled veggies to the plate.
Benefits of grilling
it takes less time to prepare

food tastes great

provides quality time with the family

great for a party outdoors

helps spend time outdoors

adds diversity into your menu

improves your cooking skills

helps cook healthier meals
It is also healthy. You can grill veggies, bread, meat, and fish. Eating at home saves money and tastes better. The main thing with grilling is that fat melts off. It is a lot healthier than frying. Moreover, when you cook the meat at a BBQ, it is a lot juicier and satisfying. Also, it comes with this specific smoked flavor.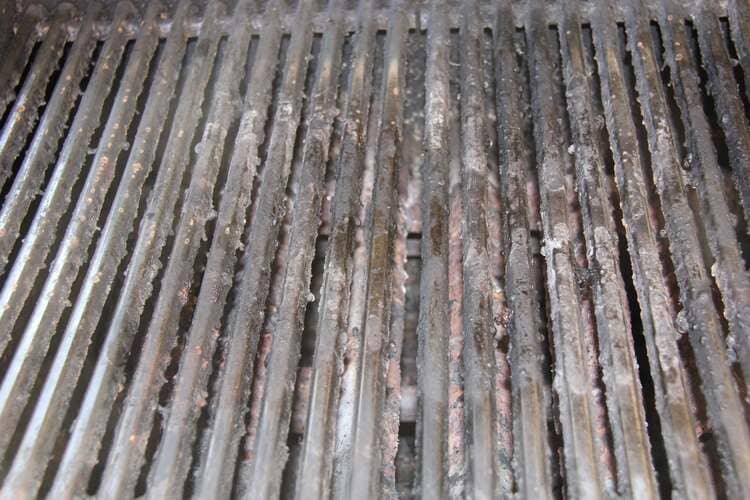 Why should you clean your BBQ grills?
If you don't have the habit to clean your grill, this can lead to accumulating excess grease. It is possible to cause a fire later on. You should clean your BBQ grills to help them last longer and cook better. Moreover, it reduces the chance of fire.
Are you hosting a party this weekend? You want to make a good impression, right? Well, a tidy, shiny, and sparkling clean BBQ grill is the one that you should use for your backyard family gathering or a weekend party. It is simple when you know how to clean it properly and maintain it clean for a longer time.
Benefits of a clean BBQ grill
the grill will last longer

the grill will cook better

removes harmful carcinogens

reduces the chance of fire
A clean barbecue is an attractive view! It shows care and gives your guests the feeling that the food they eat is safe. Also, it shows that you maintain your kitchen tools and utensils. It can tell a lot about your character and cleaning habits.
Dirty grills tend to accumulate bacteria that can cause disease. It is not healthy, and the food may get contaminated. There are food particles that stay on the grill and can get into your food.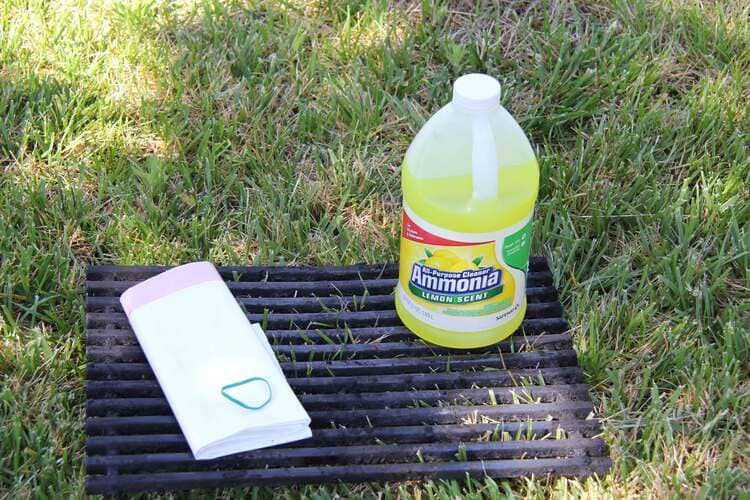 Don't allow you or some of your guests to get sick because of your dirty grills. Here is how I get my BBQ grills sparkling clean with minimal effort. Ammonia is the "magic" ingredient that makes cleaning easier.
Supplies
Techniques to keep your BBQ grill clean
Scrape any food left on the grill. You can rub the cooking surface with a large piece of onion. It will help to get rid of burnt-on food. You can also use a wire brush. Using a grill cover will prolong the life of your grill. It prevents the grill from getting rusty.
Grilling safety tips
When you use the BBQ grill, have in mind these several tips and make sure your use it the right way and carefully.
Always use the grill outside.

Beware not to burn yourself.

Keep the little children away from the grill.

Make sure your grill is on a flat surface.

Never leave your grill unattended.

Wear appropriate clothing – gloves and a cooking apron.

Always clean your grill after use.

Never use the same kitchen platters and utensils for raw and cooked meat.

To prevent charring, remove the fat that can cause a flare-up.
Make sure you store your products the right way. To prevent foodborne illness, never use the same kitchen tools for raw and cooked meat. Keep everything clean and safe.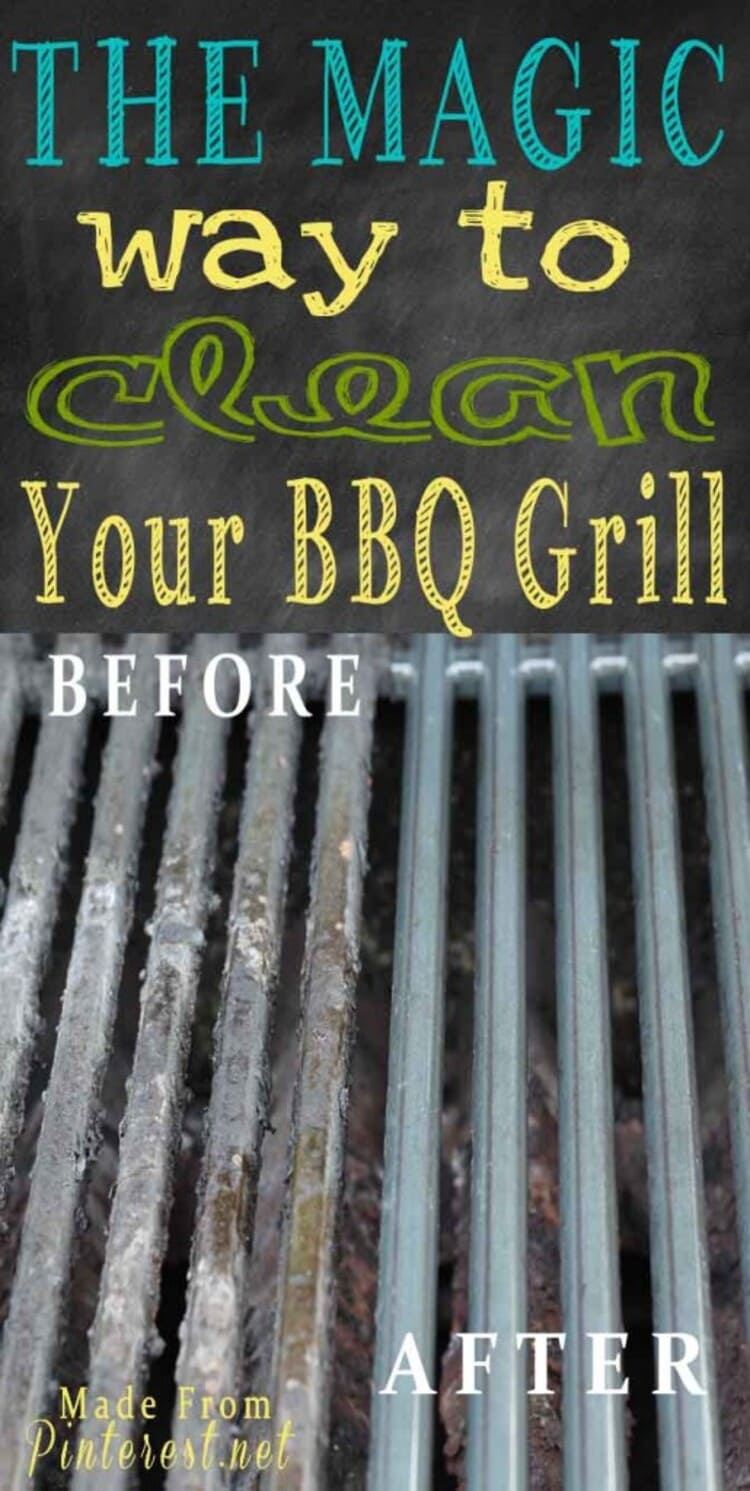 What is the magic ingredient for cleaning your BBQ grills?
Even if I heat the BBQ, brushing the hot grill can't get all the leftover gunk off. A couple of times a year, I like to give them a good deep clean with as little effort as possible on my part. Hello, household ammonia!
Here is how I get my BBQ grills sparkling clean with minimal effort. Ammonia is the "magic" ingredient that makes cleaning easier.
How to clean your BBQ grills – the magic way?
Pour 1 cup ammonia in a thick garbage bag, place your BBQ grates inside the bag and seal tightly. I used a rubber band to seal my garbage bag. You should seal the bag tightly. It is the fumes from the ammonia that loosens all the gunk on your grates. If you do not seal your garbage bag tightly the fumes will escape, and your grill will be a lot more difficult to clean.
Because ammonia is a toxic substance to animals, grass, and plants, I made sure the bag is sealed tight enough that no ammonia would leak out and cause any harm to the surrounding environment.
Be careful to turn your face away when you open your garbage bag the next day. The fumes will be strong and can make your eyes burn. Remove your grills from the bag, scrub them lightly if needed and rinse them off until cleaning begins. Thank you Life 123 for inspiring such a great cleaning method.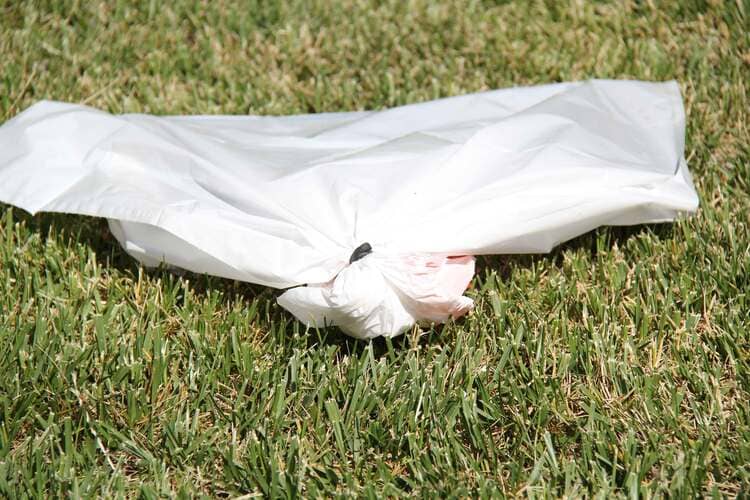 Proper disposal of ammonia
For proper disposal of ammonia, the Poison Control Center recommends disposing of it down a sink where there is plenty of ventilation, such as a garage sink. If you do not have a garage sink, Poison Control recommends opening a window(s) near the sink you are using for 10 to 15 minutes.
You also have the option of taking your ammonia to the nearest hazardous waste center and having them dispose of it for you. (The girl at Poison Control Center asked me if this method works. I told her "Yes." She was excited to go home and give it a try!)
What types of food can you grill on a BBQ?
It is time to get your grill on! Grilling is not just for the main course. You can also grill appetizers, side dishes, and desserts. The best part is I usually use fewer pots and pans, which makes cleaning up faster. That only leaves one thing – cleaning the BBQ grills.
I usually brush the grills and clean them right after cooking the meat. But every so often, I forget. And the next time I open my grill, I will find a mess.
Tips for having the perfect BBQ backyard party
First of all, clean your BBQ grills. Make sure you follow the steps explained in this article. Then plan and organize your party.
These tips will guarantee you host the best family reunion ever! Keep your menu simple. For example, you can include hamburgers, hot dogs, salads, appetizers, desserts, veggies, and cool drinks on your menu. Think of some games that your guest can enjoy while you grill the food.
Play some good music and let your guests enjoy the lovely food!
Provide:
clean BBQ grill

tasty and nutritious food

cool drinks

good music

cozy and comfortable pillows

table cloths

table decorations

pretty backyard lighting

outdoor party games
Prepare some of the food before the guests arrive. This way, it will be less stressful for your to host the party. Make homemade lemonades of other fizzy drinks. Use table cloths, pillows, decorations, string lights to make the atmosphere cozier, relaxed, and friendly.
Think of some party games for even more family fun and quality time spent outdoors. It will keep the grandkids busy for a while and will add to the excitement.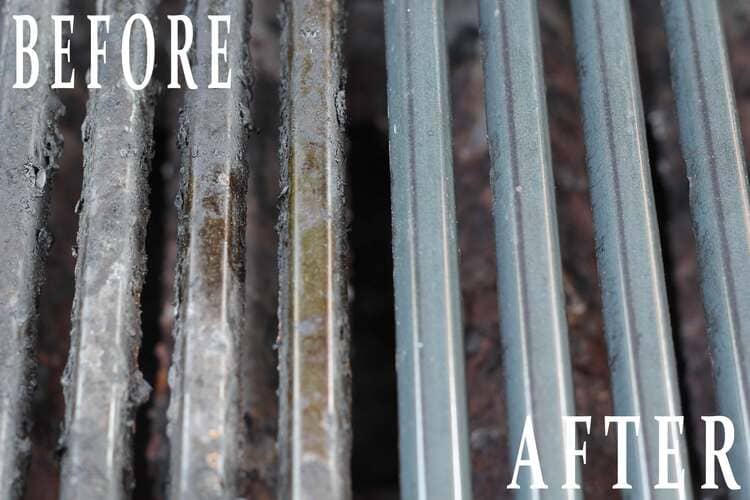 In conclusion
Are you planning a family reunion? Make sure you clean your BBQ grills, first. Think about the health issues that may occur if you neglect your cleaning habits and do not take care of your BBQ grills. It is the same with all the kitchen equipment you use.
In short, the food needs to be prepared with clean and safe kitchen tools. Cleaning your BBQ grills will help you reduce the chance of fire. Also, it prolongs the life of your grills and makes the food taste better. Use this "magic" way to clean it with minimum effort and enjoy your BBQ time!
There is only one thing you should do once your BBQ is sparkling clean – get grilling! Here are our top BBQ recipes to help get you started.
Appetizers
Mango BBQ Brisket and Brie Quesadillas
Glazed Ham and Pineapple Kabobs
Main Course
Applesauce BBQ Chicken
Stuffed Flank Steak Kabobs
Grilled Flatbread with Chorizo & Peppers
Grilled Hawaiin Chicken
Bacon Pineapple Burgers
Spiral Hot Dogs
Grilled Potatoes and Asparagus with Basil and Parmesan
Dessert
Campfire Banana Boats
Campfire Eclairs
Did you like our article about cleaning BBQ grills? You have to read these other cleaning tips here: