Oven cleaning the magic way – because cleaning the oven doesn't have to be a mission! I kept putting off cleaning my oven, but there came the day when I had to face it. One thing I knew for sure is that I wanted this process to be as easy as possible.
Cleaning the oven can be such a hassle, and not to mention how dangerous the fumes in the canned cleaners can be. I scrubbed my oven to clean it once, and that was more than enough for my entire lifetime.
So when it was oven cleaning time, I decided to turn to Pinterest to see if there was a way that I could save my back and still get my oven sparkling clean. And I found several! Here are the 2 oven cleaning methods that worked the best for me.
Now before we get started, I have to warn you:
WARNING, WHAT YOU WILL SEE BELOW MAY SCAR YOU FOR LIFE. YOU HAVE BEEN WARNED.
READ AT YOUR OWN RISK!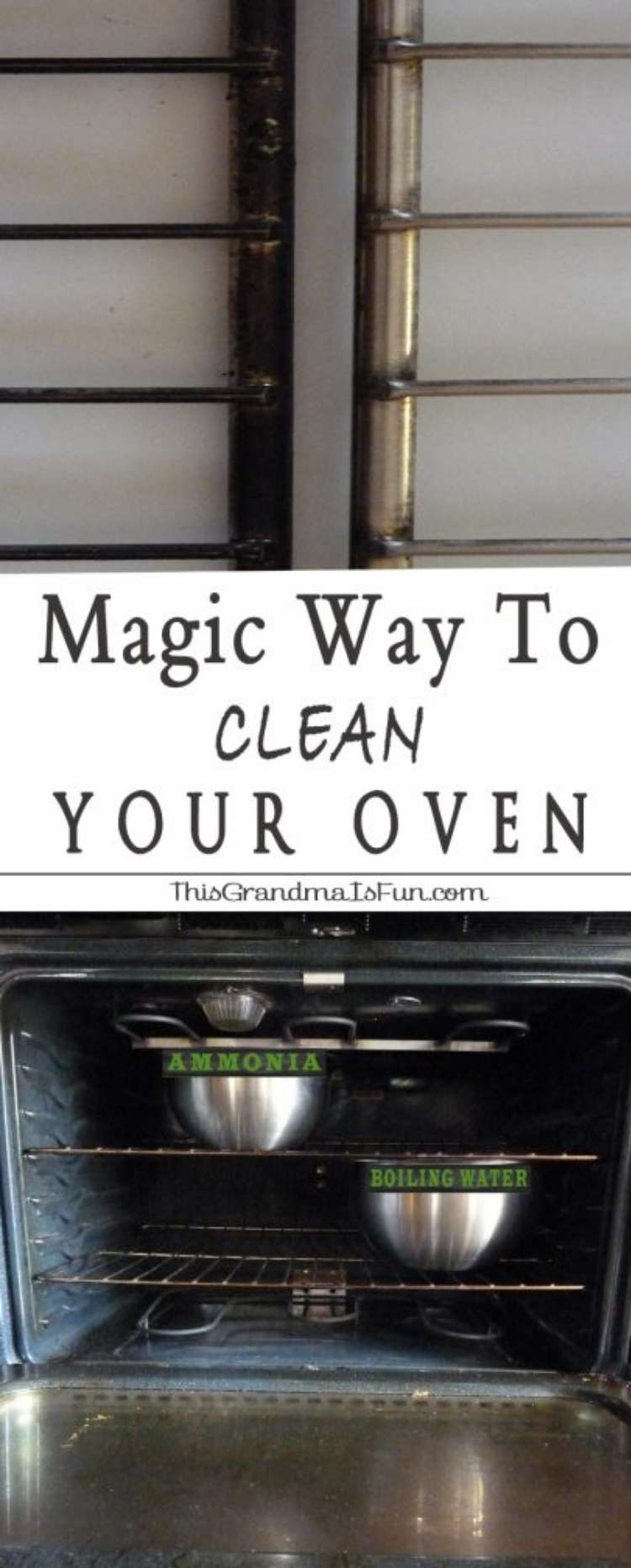 OK, you have been warned, and now I have to come clean about my ovens.
First, let's start with what type of cook I am. I HATE, HATE, HATE cooking in a dirty kitchen. If my kitchen is dirty, then I get it all clean before I start cooking.
Then, I clean as I cook. That way when I am done, I can sit down to enjoy my meal because I know I don't have a big mess to clean up when the meal is over.
Having the kitchen clean helps my food taste better.
Yes, I know, I am weird.
Now, at this point you may be thinking, "she is one of those people who keeps everything clean all the time". Well, the pictures below will tell you otherwise. Yes, this picture is of my filthy, dirty oven window.
Oven Cleaning The Magic Way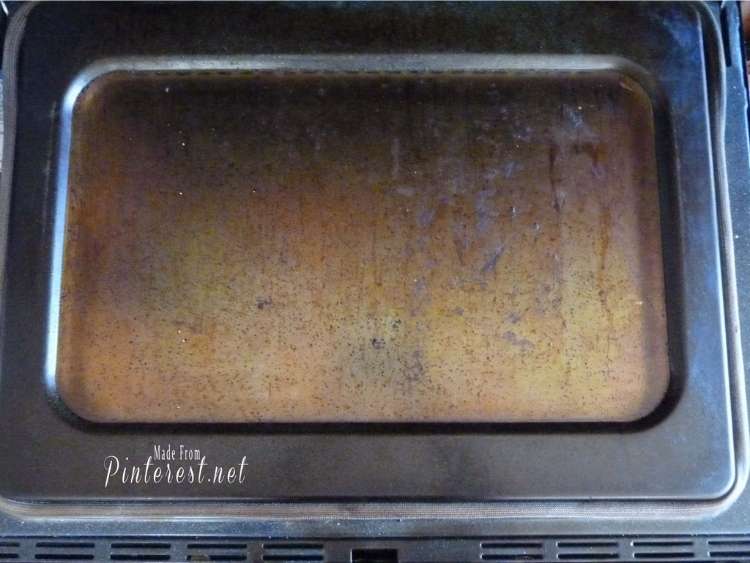 How this whole oven cleaning mission started
It's not that I don't want a clean oven. The funny thing is when you close the oven door the icky mess is no longer visible. This makes it very easy for me to say to myself "I'll clean the oven next week".
Well, next week become a month, a month turned into months, months turned into a year, and years turned into… well… 5 years!
I know it's gross.
I've made myself feel good about it by saying that instead of cleaning the oven I chose to spend lots of quality time with my kids. As a result, I have GREAT kids.
But at the end of the day, I also have disgusting ovens! I use my top oven the most, so of course, it is the worst.
Off I went to Pinterest in search of oven cleaning solutions and I found two options.
option 1 was perfect for cleaning my top oven. I chose option 1 because I thought there was no way it would not come clean without some scrubbing. The baking soda would be the perfect abrasive, I figured.
How to make your oven cleaning solution – option 1
Both of these oven cleaning options are wonderful since they can be made with supplies that you probably already have in your kitchen.
I was a bit nervous about the 2nd option since it was a no-scrub method, but it actually worked out quite well! If you want to clean your oven but don't want to scrub, keep reading!
These are the simple household items needed to create your oven cleaning solution:
2 cups hot water (tap water is fine)
Once you have your ingredients, you're ready to put them to work.
Combine the first four ingredients in a spray bottle and shake well to mix thoroughly.
Spray the mixture generously to cover the

surface

of your oven and the oven door completely.
Sprinkle generous amounts of baking soda on top of the liquid solution.
Spray more of the liquid mixture over the baking soda.
Leave overnight to work its magic.
The next morning

wipe

out the mixture and wash the surface with hot soapy water.
If you need some extra scrubbing power for the extra tough spots, you can use half a lemon with some salt. You can also add a few drops of Dawn soap for extra grease-fighting power.
Oven Cleaning Results
As you can see in the photo below, I started with half of the oven to be able to see how well my solution worked.
I would say that with this method, about 40% of the buildup was removed with the first pass. Another 10% with the second pass, and then I had some scrubbing to do.
It wasn't that bad, took me about 30 to 40 minutes. Considering the many layers baked in my oven I felt this method worked pretty well.
I tried another method, too
After cleaning half of the upper oven, I stopped and went to oven #2 to see how well cleaning option 2 had worked. I was a bit skeptical of this scrub-free oven cleaning method.
Could a scrub-free cleaning method actually work on so many layers of stuck-on food and grease? I wasn't sure, but that is what I set out to figure out!
Would I be pleasantly surprised or disappointed? Either way, I knew that I had this first method that worked. So far, so good. I am really excited about being able to clean the oven while I sleep.
Talk about multi-tasking, right?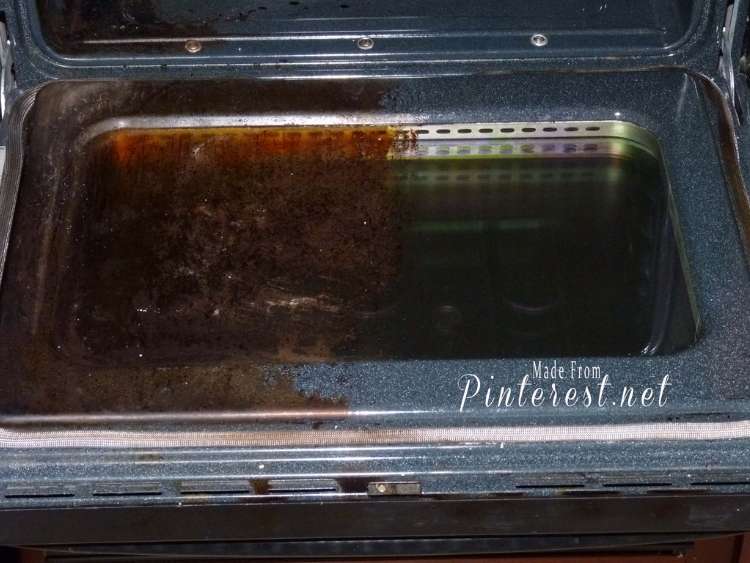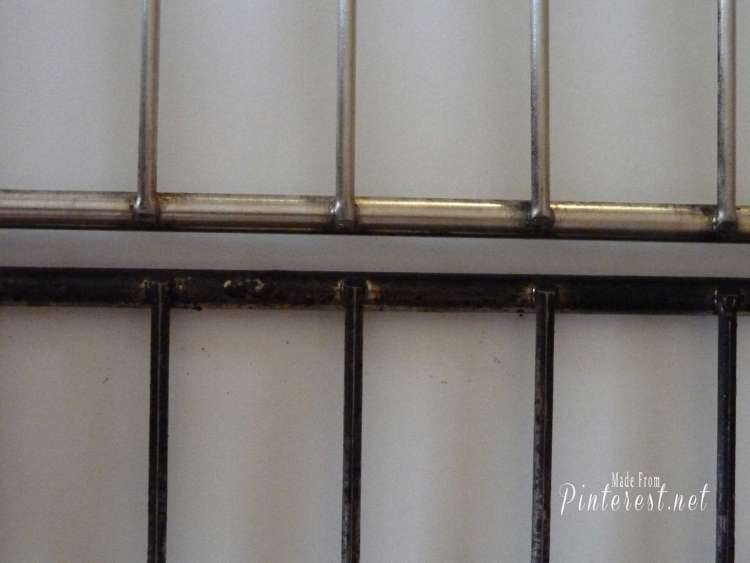 No Scrub Oven Cleaning
This no-scrub oven cleaning requires only 3 ingredients and little to no elbow grease. It uses the amazing and often overlooked power of steam to get the cleaning done. Don't forget to turn the oven off before adding your cleaning solutions.
No Scrub oven cleaning ingredients
No scrub cleaning procedure for your dirty oven
Preheat the oven to 200° Fahrenheit then turn it off.
Fill a heat-safe glass dish with ammonia and set it on the middle rack (about 1 to 2 cups of ammonia).
In another dish, fill it with about 2 cups of boiling water and set it on the bottom rack.
Leave the bowls in the oven overnight so the steam can loosen the grime and grease.
The next morning, remove the bowls and wipe down the inside with a hot wet sponge first drizzled with baking soda.
No scrub oven cleaning results
Even though I had great success cleaning my stove burners and BBQ grills with ammonia, I was still skeptical about the oven because it was in such bad shape. I mean, that is a lot of years of great food that has been building up in there.
I couldn't have been more wrong!
The yucky gunk literally wiped right off. I did have to rub over a few places more than once, there were two small spots that needed some scrubbing.
I loved that this worked on both the oven and the racks at the same time. This made this method extra effective. Don't forget to wipe those down, too.
This oven cleaning method won hands down!
The real test came when I decided to try method #2 on the still uncleaned half of my upper oven. I only cleaned half of it so I could have a picture for comparison.
Out came the ammonia again. I was excited when I woke up the following morning to see how well it worked.
Once again the ammonia came through! 90% of the gunk was removed with one pass! I had a couple of spots that needed 3-4 mins of scrubbing and I was DONE!
This is definitely the best oven cleaning method I have ever found! I absolutely love the simplicity of the ingredients, and the amazing way it just cuts right through the grime.
Never again do I have to suffer through scrubbing the insides of the ovens! My back feels relieved just thinking about it. I'm so grateful to have found this magical cleaning solution on Pinterest!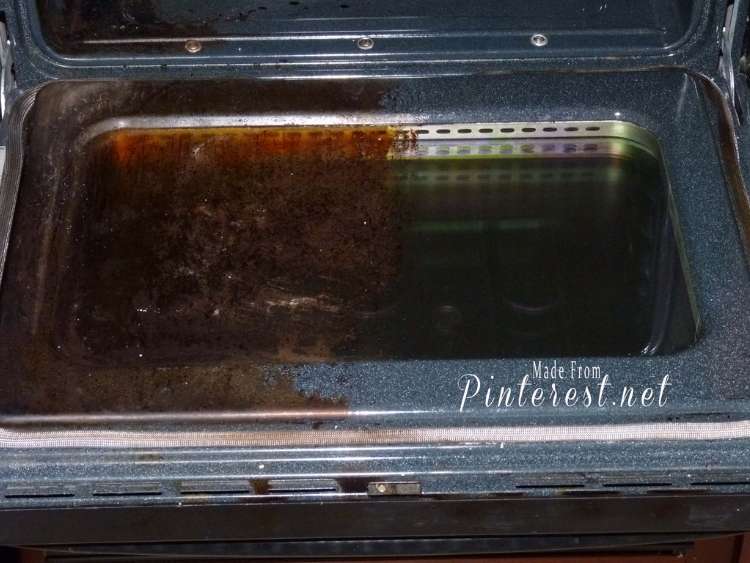 These hacks made cleaning an oven so easy!
I love having two sparkling clean ovens. Now that I know how easy it is, I will definitely clean them at least twice a year! A HUGE thank you to Life 123 and Cleverly Inspired for these great cleaning tips!
I'm just saying This Pin ROCKS!
Oven Cleaning Updates
Update 1
I was so excited to have a clean oven after all of these years that I started wondering what else I could clean with these simple ingredients. Learn how to use this no scrub ammonia cleaning method on your stove burners and BBQ grill as well!
Update 2
If you have a gas oven, turn off the pilot light. Before cleaning, make sure the pilot light is out and the gas has been turned off.
Never mix ammonia with other strong cleaning agents, such as bleach or oven cleaners.
Love these oven cleaning tips? Check out these great articles we have for you:
Save