I adore silver jewelry! Sterling silver is widely available and buying beautiful things doesn't need to break the bank. However, one of the downsides of silver jewelry is that it needs to be cleaned regularly. Honestly, I always postpone this task because I kind of feel it will require too much effort. And then, I stumbled on the answer: a magic silver cleaner that helps you get rid of tarnish without an effort! No scrubbing, no dangerous chemicals involved. Exactly what every jewelry-loving grandma needs!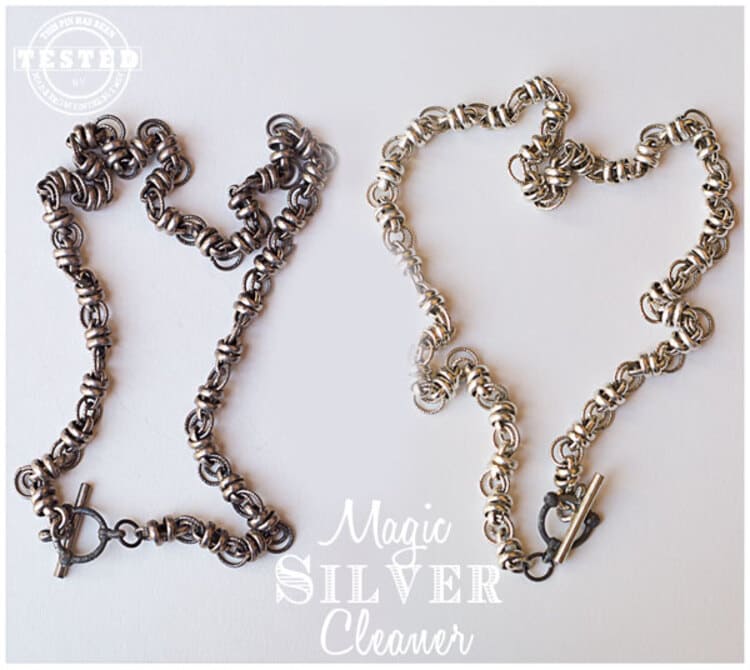 Have you ever started a project that has led you to more unexpected projects? About a month ago I decided it was time to clean out my closet. I started by going through my clothes first. I was so inspired by the results that I decided to go through my jewelry next.
After sorting and organizing my jewelry, I realized I hadn't worn any silver in a long time because most of it need to be cleaned. The necklace above is one of my favorite necklaces because my husband bought it for me when we were on vacation in the British Virgin Islands. Ah, such wonderful and precious memories!
I'd procrastinated cleaning it because I thought it would take too long and I would get to it later. Now I was looking at a pile of jewelry that needed cleaning. I needed a Magic Silver Cleaner!
A quick trip on Pinterest led me to this pin from Cha Ching Queen, and her no scrubbing jewelry cleaner was just the answer I was looking for.
The Silver Jewelry Obsession Phase Every Woman Goes Through
Silver is one of the most preferred materials for making jewelry all over the world. And there's a bunch of reasons for that.
Silver is bright and sparkling material and it's way cheaper than gold or platinum. It's also widely available and there are SO many different beautiful things made of silver you can choose from!
It makes fantastic gifts for family, friends, partners, kids, even for yourself.
Did you know that because silver conducts heat so well, it is used by novice jewelry makers to learn their craft? Once they master this highly conductive metal, they can control gold and platinum easily. Interesting, ha?
The statistics for 2020 state that there have been 148.6 million ounces of silver used for jewelry. And if that's not a good reason to learn to properly care for it, I don't know what is!
Know Your Silver – What The Numbers Say?
To understand why your silver tarnishes, you need to know silver as a material.
There are two main ratings you can find silver in jewelry – .950 and .925. You can usually find the mark on the inside of your rings or the back of your necklaces' fasteners.
.950 Silver
The number "950" on silver is an indication of high purity. It's relatively rare and it was once common in the USA.
If you own silver with a "950" mark, it means that your silver item is 95% silver and 5% alloy.
.925 Silver aka Sterling Silver
925 Sterling silver has become the modern standard for pretty much anything made of silver in the USA today. Sterling silver contains 92.5% silver and 7.5% copper. This makes it sturdier and increases the bending a bit. It prolongs the life of your jewelry. And allows jewelers to create beautiful things every grandma loves wearing.
Jewelry care according to the mark
950 rate silver is harder to clean. It's a softer silver material that bends easily. This means cleaning is more challenging, involves more effort, and more polishing. (Let's face it – no one has time for these today…)
Sterling silver with a rate of 925 is sturdier and easier to clean. It requires a little less work than the 950 rate kind.
Can't find the numbers?
If you can't identify the number on your silver, I'd recommend you check in with your jeweler.
I strongly advise you to buy silver items only from legitimate places, as there are a lot of fakes present out there.
When the proper care is applied to your silver jewelry, the pieces can last for years. You can even pass something to your kids and grandkids, it could become a family heritage. That's why keeping it clean is important.
How To Make Your Own Magic Silver Cleaner?
Cleaning your silverware doesn't need to mean long and boring rubbing and polishing! There's a really easy way to make your silver sparkling clean with almost no effort. And the answer is this magic silver cleaner recipe.
List of Supplies And Ingredients You Need:
flat pan covered in foil with the shiny side up
boiling water: 1 cup
vinegar: 1/2 cup
baking soda: 1 tablespoon
salt: 1 tablespoon
How To Prepare The DIY Magic Silver Cleaner?
Line up your pan with foil (shiny side up).
Place the jewelry in the foil-lined pan.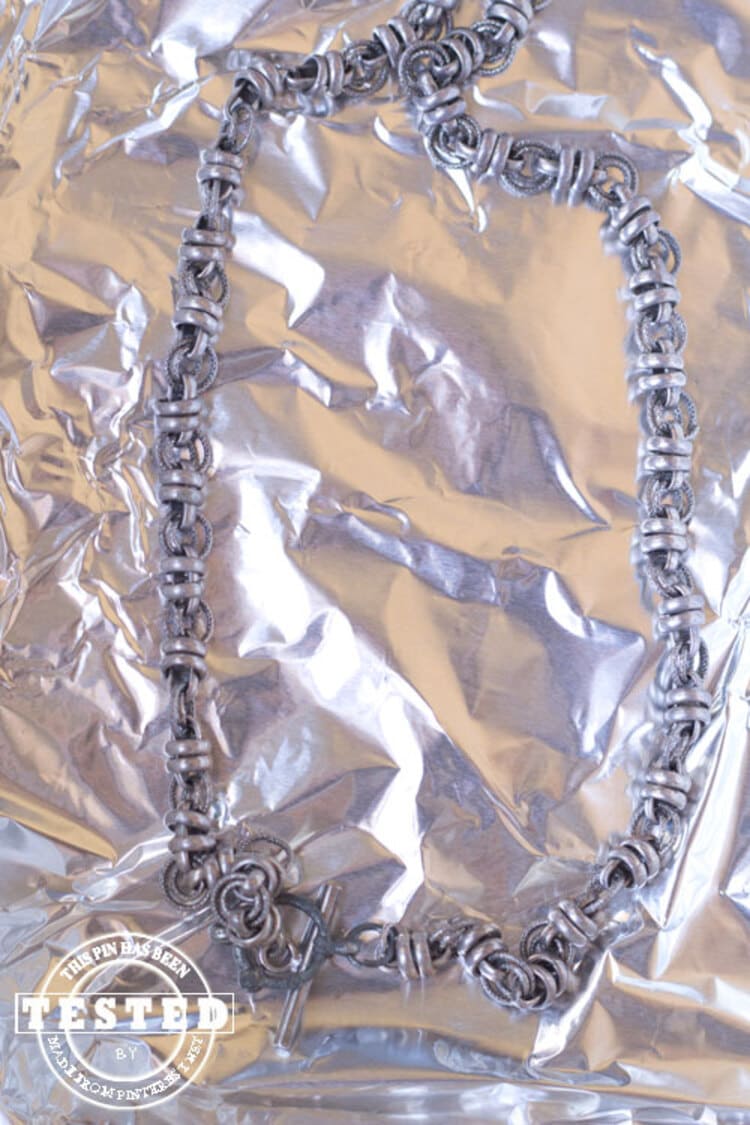 In a separate pan or bowl, mix 1 cup boiling water, 1 tablespoon salt, and 1 tablespoon baking soda. Stir well, until the salt and baking soda dissolve.
Pour the mixture over your jewelry.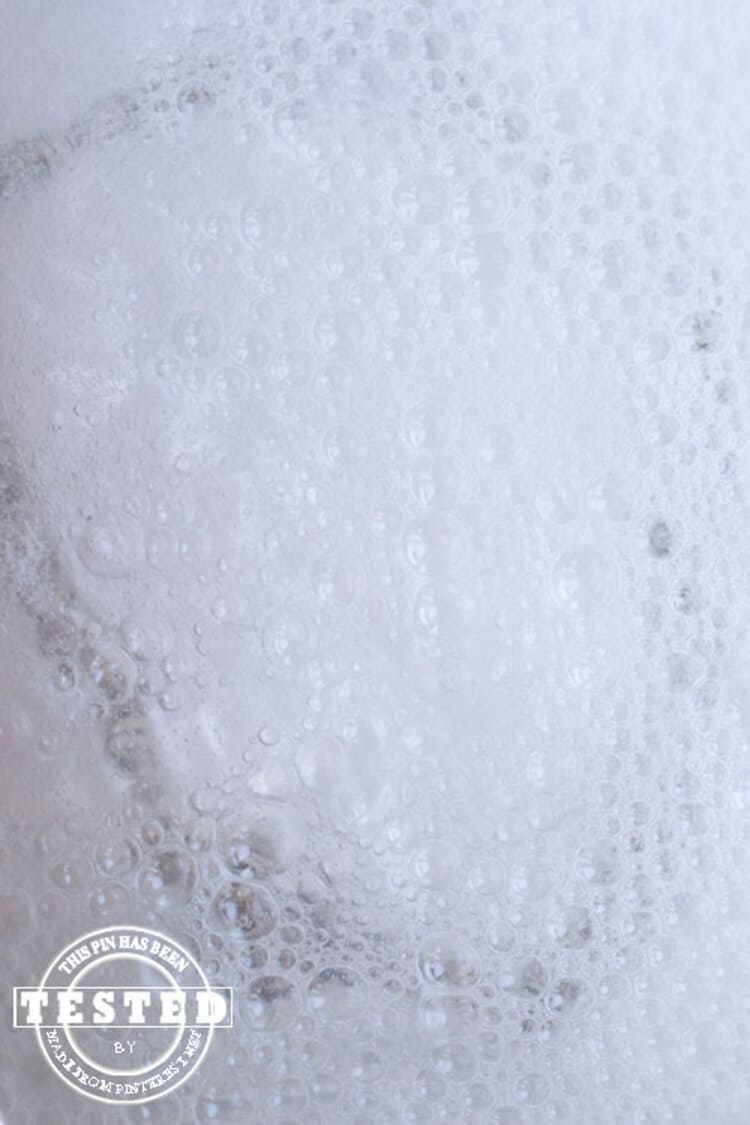 Slowly pour the vinegar into the pan and let it sit for 5 to 15 minutes. Watch the bubbles do all the work for you. Such a beautiful view!
Rinse with water and dry it well. Voila! Have fun wearing your beautiful clean jewelry!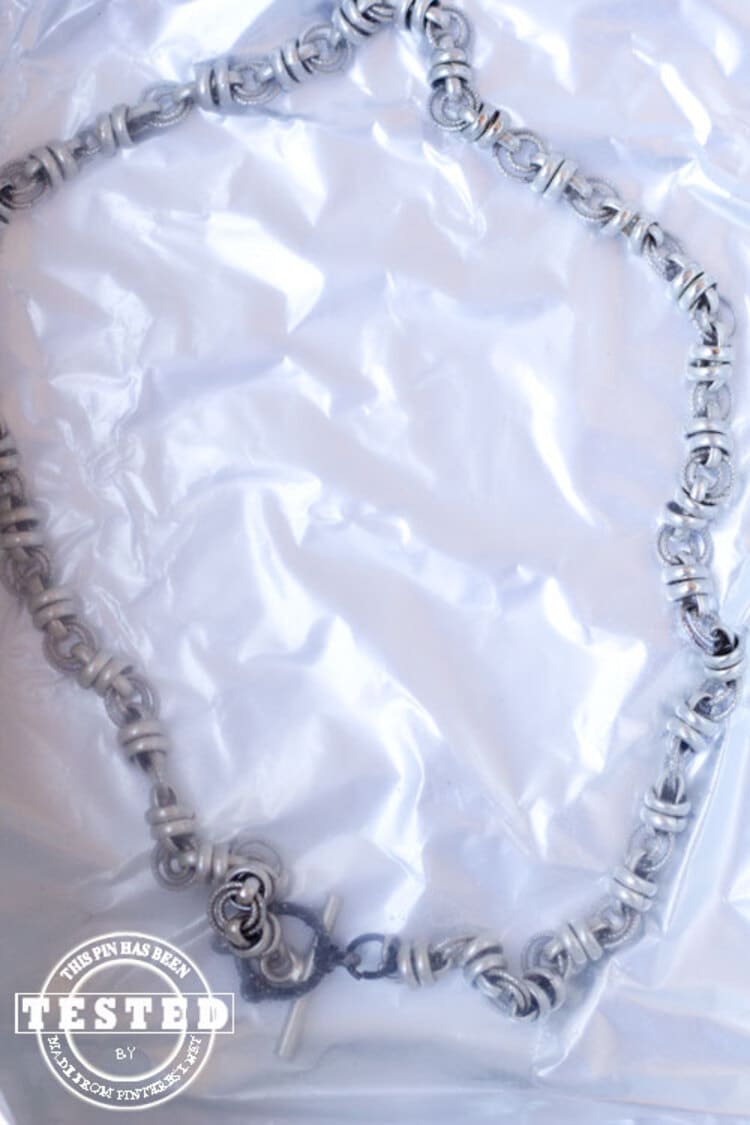 Advice For Long-Lasting Sterling Silver Jewelry Pieces
1. Clean regularly – Put The Magic Silver Cleaner Into Action
Regular cleaning of your silverware will prolong its life for a lifetime and more. And it doesn't need to be hard work and involve enormous efforts. Nope!
Just make a batch of the Magic silver cleaner and get your silver pieces sparkling clean with pretty much no effort.
2. Keep away from water
A good rule of thumb to follow with any jewelry, not only silver, is that you should keep them away from water.
If you're wearing rings, an occasional washing of your hands, while you're wearing your treasures is not an issue. But wearing them in the shower, or the pool, or in the hot tub – that's a "No-no".
And here's proof that a grandma is never too old to learn! One of my daughters has a designated place in her bathroom (it's a very cute porcelain bowl) where she leaves all of her jewelry before jumping into the shower. Simple and brilliant!
3. Store your silver properly
As I know you like spending time on Pinterest, I'm sure you've seen plenty of ways to store jewelry around your house: on doors, on DIY hook hangers, on clothes hangers, etc. But there's a downside to all of these ideas. They keep your treasures uncovered. This means that your silver will be constantly exposed to dust and other dirt.
This means more maintenance. More frequent uses of the magic silver cleaner will be required to keep it clean.
Silver jewelry does best when it's stored in a jewelry box lined with felt. The felt helps absorb excess moisture and prevent premature tarnishing.
For some large pieces, it might be best to keep them stored separately inside a felt pouch or wrapped in a silver polishing cloth to limit exposure to the air. In this case, you'll have to remember what you have and make a conscious choice to wear it.
Even with proper storage, silver jewelry will require regular polishing at least twice a year to remove tarnish.
Don't overpolish silver jewelry because this can also cause damage.

via LifeStorage
4. Wear your jewelry when you need to wear it
At this stage in life, we've already learned how to wear jewelry and what makes the best match for your outfit. But we also need to know that we don't need to wear our silver treasures when there's no one to see them.
Don't take your chances. Preventative care is significantly easier than dealing with damaged jewelry!

It is optimal to remove jewelry during the following times:

Household chores, such as dishes, laundry, and when using cleaning supplies
When exercising, at the gym, or playing contact sports
When showering or bathing
Swimming, hot tubs, or saunas
Very hot places (such as when lying out at the beach or pool)
When getting ready (i.e: putting on lotion, makeup, hair products)
Preparing, cooking, or eating foods that contain sulfur (this includes eggs and mayonnaise).
Outside chores or tasks, such as gardening

Preventative care is ALWAYS easier than aftercare!
5. Polish it to Shine
No matter how clean and beautiful your silverware will look after you make use of the Magic silver cleaner, a bit of polishing will add some extra shine to your treasures.
Use a microfiber cloth and polish your silver with caution and care.
In Conclusion
My necklace was the first piece of jewelry I cleaned. The magic silver cleaner did an amazing job.
The next time, I placed several pieces of jewelry in the pan, making sure they didn't touch each other and repeated the process. It worked perfectly and I was done with my pile of jewelry in no time. It made me feel so happy, seeing all of my silver treasures shiny and glowing!
Besides, my husband was thrilled to see me wearing the necklace he had bought from our British Virgin Island vacation! And now, we're going to dinner at the new Italian place that opened in town.
This Pin Rocks!
Did you like this Magic Silver Cleaner? Then, you're going to love these other cleaning tips we have for you: