A magic way to clean your windows, does such a thing exist in the real world? Yes, it does. Wands and magical training are not required. Dawn Dishwashing soap, Jet Dry, and some warm water are all you need.
I love having a clean house, I do not, however, love cleaning. One of my least favorite cleaning tasks is window washing. Ten years ago we moved to a larger home. Our kitchen and family room share a long wall with eight full-length windows and a sliding glass door.
The living room and entry way have eight full-length windows, and the office has three. That's a total of 20 full-length windows. (We have a two story house, I don't remember the last time I washed the upstairs windows).
I have a love-hate relationship with my windows. When they are clean, I love looking through them to our beautiful front and backyard. I tend to hate them when they are dirty.
Since I hate dirty windows, one would assume I clean mine on a regular basis. Wrong. Getting them clean takes what feels like a herculean effort on my part. I usually procrastinate washing them until they are filthy.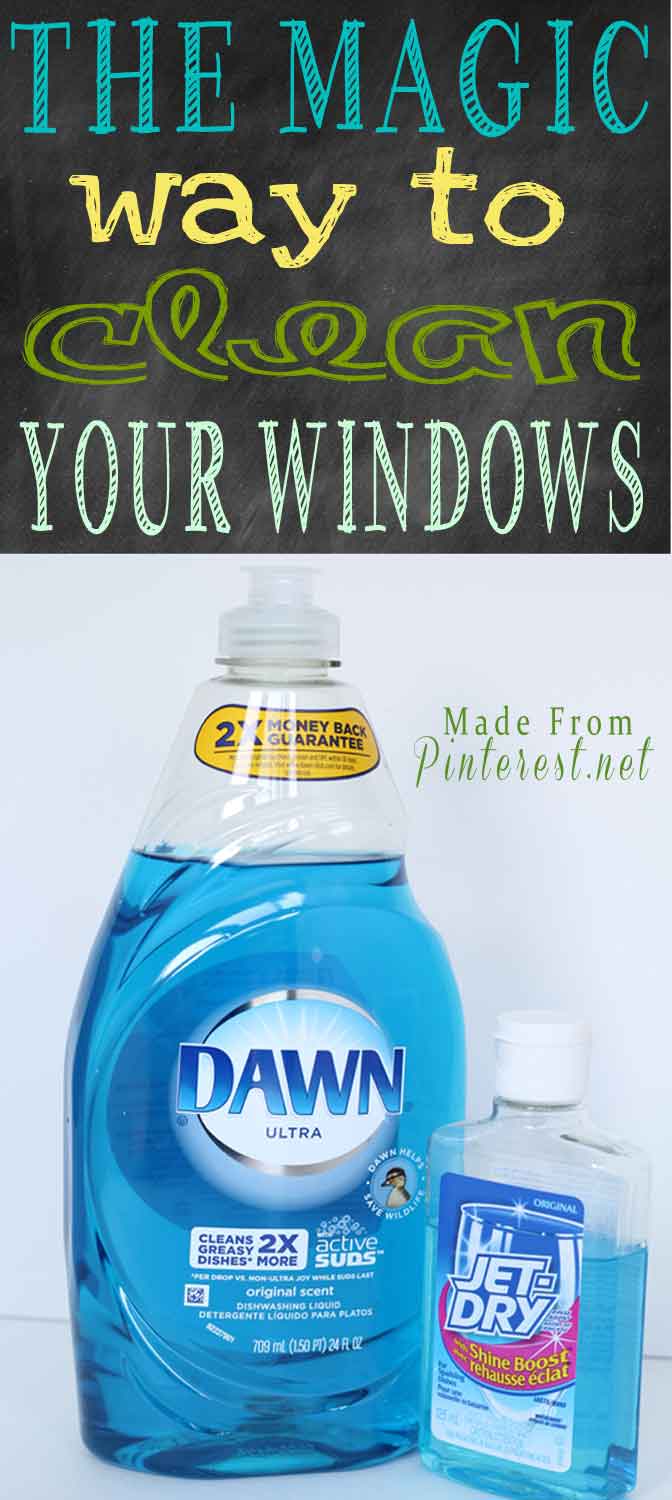 I've tried using newspapers and Windex, (rubber gloves were required to prevent getting ink on all over my hands) a professional cleaning tool with a sponge scrubber and squeegee, and non-lint cleaning cloths. No matter what I've tried, it has been a long, tedious process that always ended in clean windows with streaks left behind.
I finally decided it was best to ignore the streaks because getting perfectly cleaned windows was an impossibility. Then I found this quick, easy non-streak window washing method.
Here is how two of my windows looked after being cleaned as they dried.
This window had one large water drip down the middle.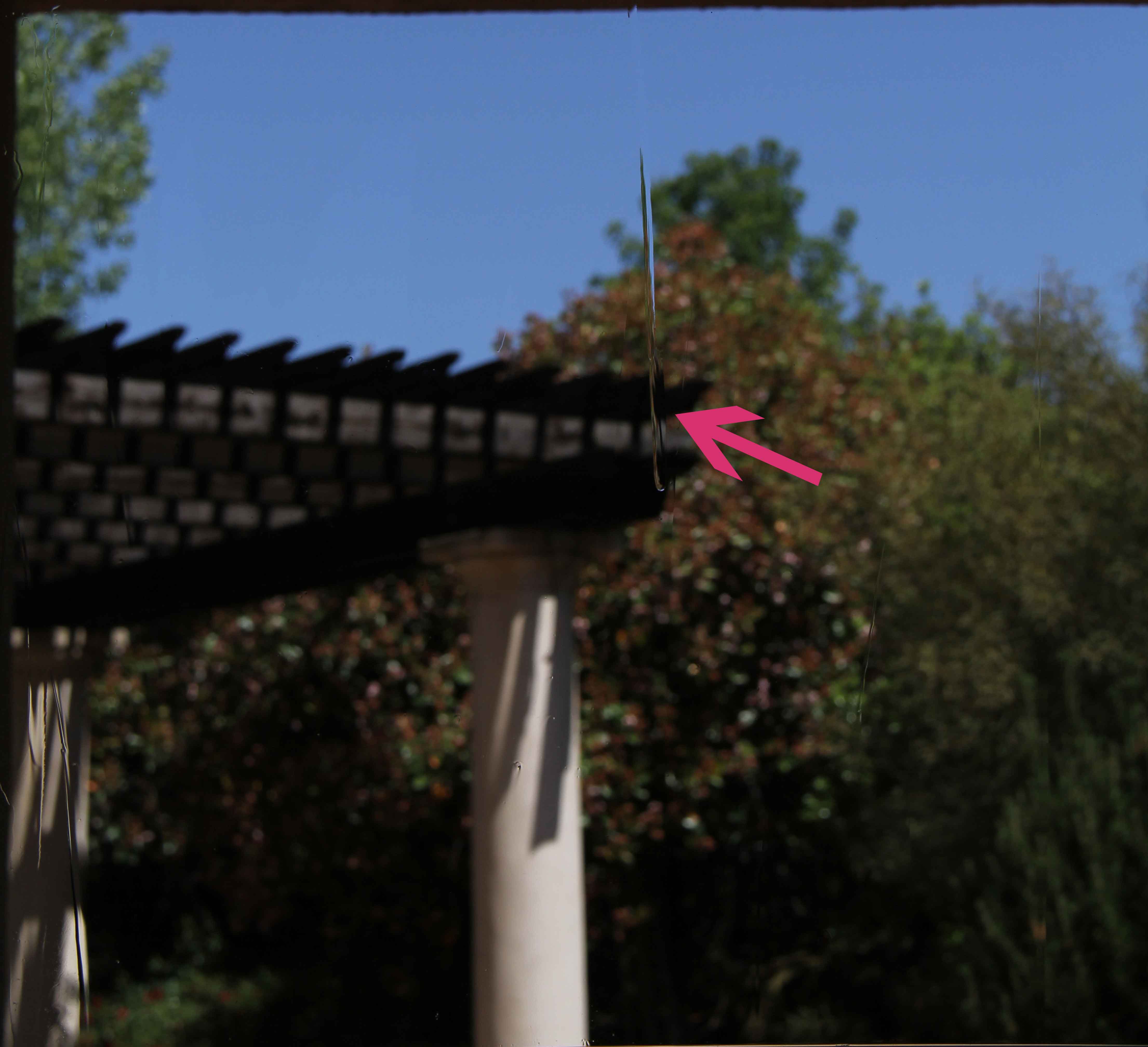 This window had a lot of wet spots.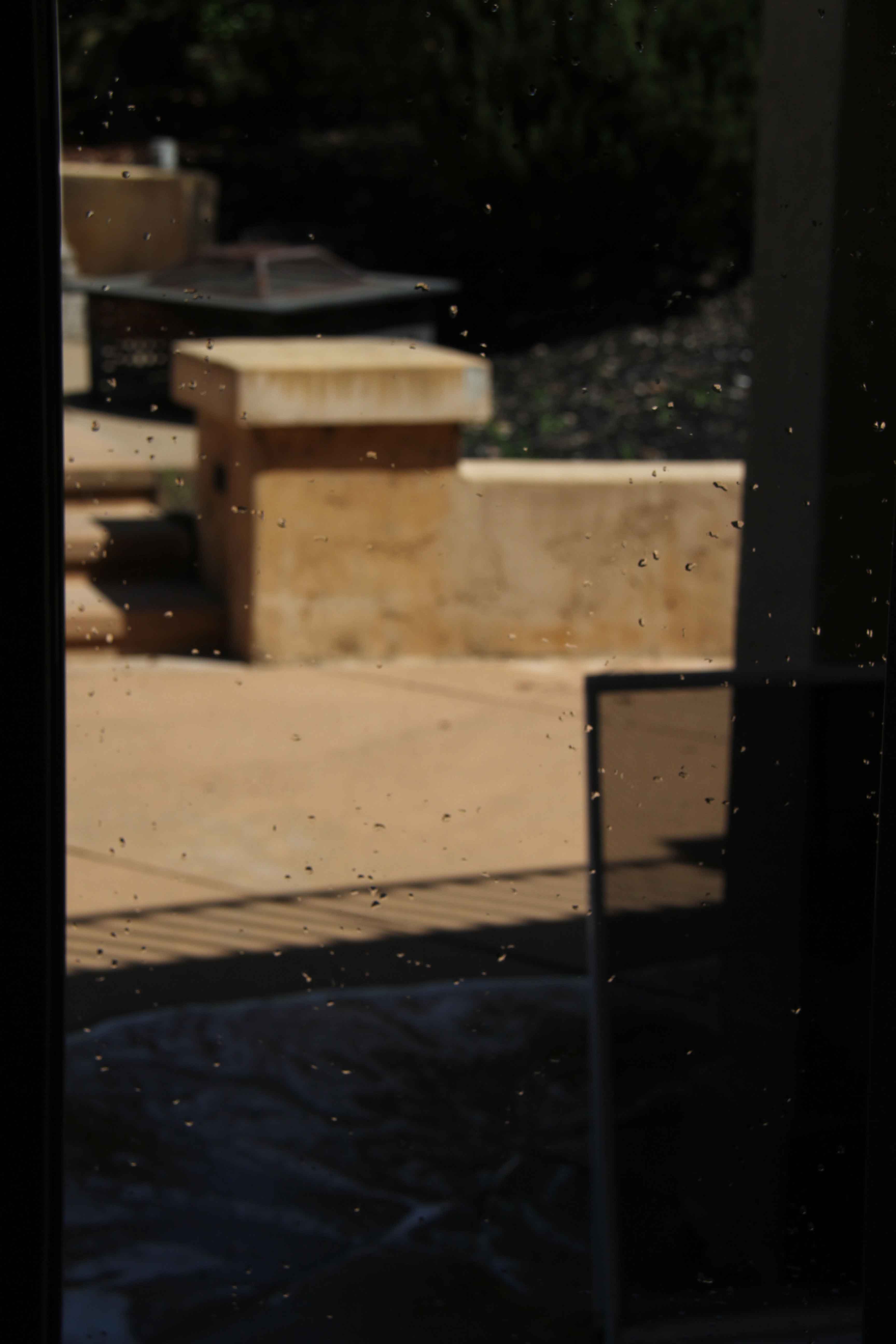 I sprayed my windows, wiped them with the cleaning solution and then rinsed them down. I found it hard to believe the spots and streaks would dry without leaving some kind of visible residue. Fifteen minutes later I was surprised and thrilled to find perfectly cleaned windows! How long did it take me to clean one full sliding glass door and eight full-length windows? Ten minutes flat!
Using this handy cleaning bucket on wheels and microfiber mop (14.75″ 360 degree rotating metal mop) helped keep my actual cleaning time down to just 10 minutes. Using the right tools does make a difference.
I was skeptical at first, now I am a believer!
If your first attempt is not successful don't give up! Try one or several of the following tips from our followers if your first window cleaning does not meet your expectations.
use more Dawn dishwashing detergent for dirtier windows

use less Dawn dishwashing detergent for cleaner windows

wash your windows in full sunlight

wash your windows when shaded or in indirect sunlight

use cold water instead of warm water

How to use this cleaning method if you have hard water.
Hard water contains magnesium and calcium that leaves small hard white spots on windows. These white spots most often come from the sprinkler system and splashes from the kitchen and bathroom sinks.
As time goes on, it can become difficult to remove the spots. If you have a build up of these white spots and your normal cleaning solution will not remove them, try the following process.
First, make sure remove all dust from the windows or they will become scratched during the cleaning process (once the dust is removed it will be easier to see the white spots). Second, using a solution of 50% water and 50% vinegar, clean the windows and then rinse them off.
If the spots are really tough to remove, your best option is to use undiluted vinegar.
Put vinegar in a spray bottle, then spray a large area of the window and clean until clear. Rinse your microfiber cloth until the water runs clean before cleaning the next section of window. You can also use a small, soft brush if needed. Scrub gently and dab the brush into the vinegar as needed. When the windows are clean, be sure to rinse off all of the vinegar.
Once you have your white spots removed, use my magic cleaning method for clean window maintenance. With regular window cleaning, you can avoid the white spots from returning and building up.
Cleaning Solution
1/2 gallon warm water
1 Tablespoon liquid Jet Dry
2-3 Tablespoons Dawn dishwashing soap
Cleaning bucket
Microfiber mop
Mix all ingredients above in a large bucket.

Spray windows down with your hose.

Wipe or brush cleaning solution onto windows, immediately hose off your window.
That's it! You are now done. The remaining water will sheet off, leaving clean streak free windows.
Thank you 33 Barefoot Lane for the great cleaning idea!