When you hear the magic word "butter" what do you think of? Toast? Pancakes? Baking? Paula Deen? Me too. I have never made a single recipe from Paula Deen (sorry Paula! I still like y'all!) but I have seen this Paula Deens Ooey Gooey Butter Cake pinned so many times that I couldn't resist.
There just had to be a reason this particular butter cake recipe to be such a success. And there was. It's super simple to make and it tastes SO good! The grandkids loved it, too!
I have also seen this pinned as "The Original Neiman Marcus Bars" and "Texas Gold Bars". But the name doesn't really matter. Because whatever you call them, they ARE ooey, they ARE gooey and they definitely have a rich, buttery flavor. They're also about to become one of your family's favorite treats of all time.
Paula Deens Ooey Gooey Butter Cake – The Best Dessert For Your Favorite Grandkids
The verdict from my family? Paula Deen's Gooey Butter Cake recipe ROCKS!
Who is Paula Deen?
Paula Ann Hiers Deen (born January 19, 1947) is an American TV personality and cooking show host. Deen resides in Savannah, Georgia, where she owns and operates The Lady & Sons restaurant and Paula Deen's Creek House with her sons, Jamie and Bobby Deen. She has published fifteen cookbooks. Though married since 2004 to Michael Groover, she uses the last name – Deen, from her first marriage.

via Wikipedia
Paula Deen is well-known for her traditional Southern cooking. Her books are best-sellers, her restaurant businesses are a hit, too. I've heard so many good things about her recipes that I just had to cook something of hers. I had to check for myself why her cooking is so appreciated.
And boy, Paula Deens Ooey Gooey Butter Cake was definitely the right recipe choice to make.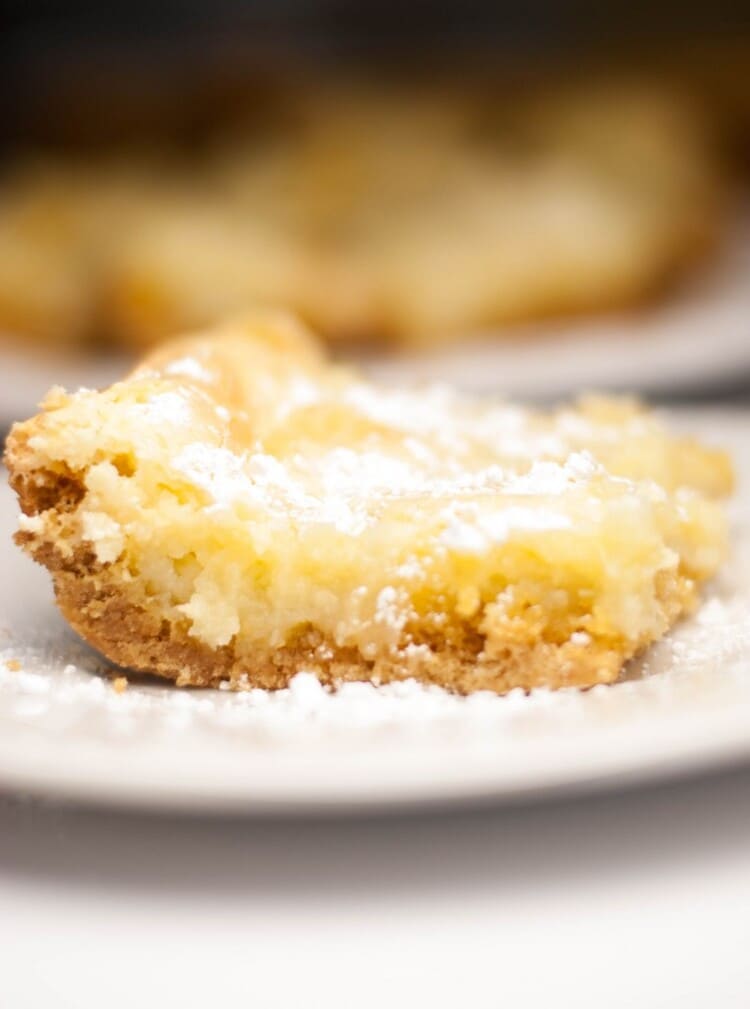 Wanna know more about butter?
I can never think of butter without remembering one of my mother's memories about butter. It was a story we heard multiple times and yet, we enjoyed every single one of them. It was during World War II and my mother lived in a project. She remembers getting rations during the war and one of the things that were in scarce supply was butter.
She told us that it used to come as white butter with a little packet of yellow dye. To make your butter yellow, you took the packet and mixed it into the butter.
Well, one time her older brother decided to have some fun with their butter.
Along with the yellow packet of coloring that came with the butter, he had an idea. He decided it would be funny to add a few drops of blue coloring to the butter.
And you know what happens when you mix yellow and blue – you get green. All of their butter supply had a lovely green color.
Their mother (my grandmother) was furious because they wouldn't be getting any more butter any time soon. They had to use what they had and so they had to spread green butter on everything. And cook with green butter.
Funny story, ha? Well, my grandma didn't think so… But you know how young boys are.
Back to the point. Butter, as a cooking condiment, has been appreciated by humans for a long time and there are multiple reasons why.
Benefits of Including Butter In Your Menu
adds a rich flavor to sautéed and pan-fried foods
improves texture and adds volume to baked dishes
Butter contains Vitamin A, Vitamin B12, Vitamin D, Vitamin E, Vitamin K2, Calcium
As with everything else, butter is to be consumed in moderation. It is a wonderful product. But it also contains a significant percentage of fat. Consuming too many rich-in-fat foods can lead to weight gain and serious health troubles.
How is Butter Made?
The dairy product produced from churning milk or cream is called butter. The process of churning separates the solids (the butterfat) from the liquids (the buttermilk).
Butter is the product you get when you've achieved approximately 80% of butterfat. At room temperature, it is semi-liquid and easy to spread. It is also great to use in cooking for frying, sauces, baking, etc.
It's usually pale yellow in color. However, it can range to deep yellow, depending on what the animal's been eating, before giving milk. Most often, we buy butter made from cow's milk from the store.
But butter could be made from the milk of:
Sheep
Goat
Yak
Buffalo
even Camel
Donkey
or Moose (commercially available in stores in Russia and Sweden!!)
Historical evidence point butter's been around since at least 2000 BC, and we know there's a good reason why. (It's SO good!)
DIY Homemade Butter for your Paula Deens Ooey Gooey Butter Cake
Yes, you actually can make your own butter at home! However, I am not a huge fan of the process. But you can try it and decide for yourself – is it worth the effort to make your own butter.
Here's a video you can check out about how to make your own butter at home:
What's a Butter Cake?
Butter cakes are my favorite type of cake. Wanna know why? Because they're usually hard to mess up!
Another name in the US you can find butter cakes under is pound cakes. They are full of flavor and light in texture.
Butter cakes are a part of American cuisine. Their original pound cake is believed to have been baked in England. The American version of this cake is said to be a variation of its main formula.
Butter cakes make a big part of our favorite birthday and wedding cakes. They are moist and yet hard enough to be covered in a variety of frostings and toppings.
Tell me you're not drooling already…
Luckily, nowadays butter now comes in a soft, creamy yellow, and we can make Paula Deens Ooey Gooey Butter Cake so it will look like this: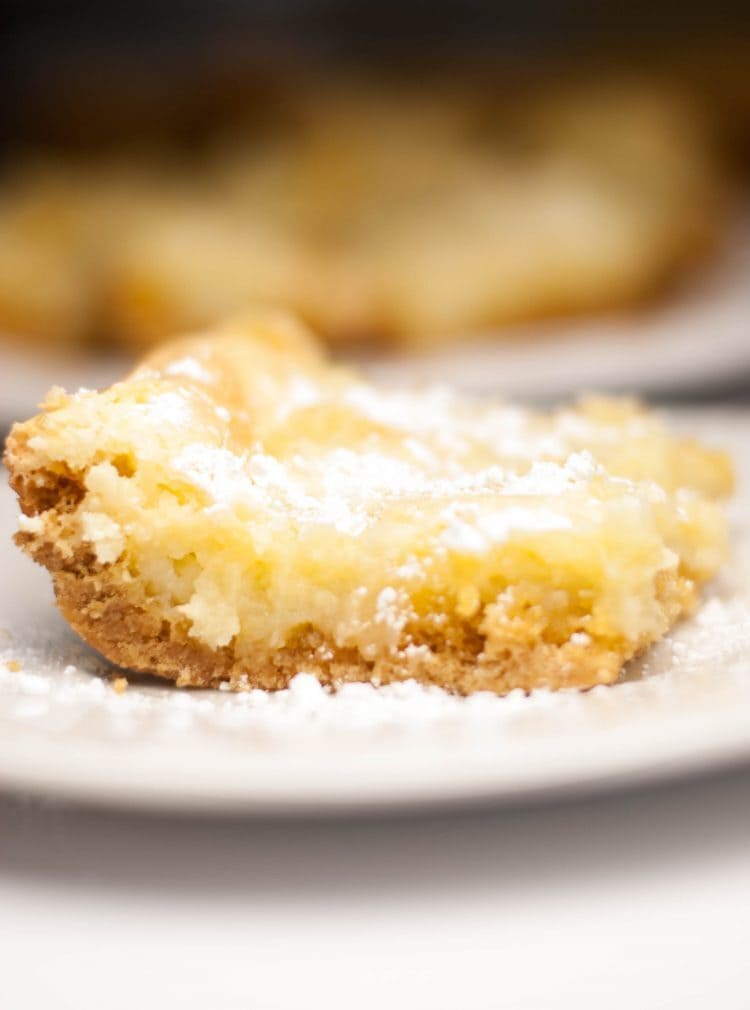 How To Make Paula Deens Ooey Gooey Butter Cake?
The base recipe for all butter cakes is pretty much the same. It includes flour, eggs, butter, sugar, sometimes salt, and a chemical leavening pair.
Paula's recipe is even simpler – she uses a store-bought cake mix. So this is a great way to simplify your cake baking process, too.
Trying different kinds of cake mixes allows you to experiment with the taste. You can effortlessly come up with your own version of an ooey gooey butter cake!
What Ingredients Do You Need?
For the Cake:
1 18 1/4-ounce package of yellow cake mix
1 egg
16 tablespoons melted butter (divided)
For the Filling:
8-ounce package of cream cheese (softened)
2 eggs
1 16-ounce box powdered sugar
1 tsp vanilla
How to prepare Paula Deens Ooey Gooey Butter Cake?
Preheat your oven to 350 degrees F (180 degrees Celsius).
Combine the cake mix with the egg and 8 tablespoons of butter (about half a stick). Mix well with an electric mixer until all ingredients are well combined. The mixture needs to be completely homogenous.
Grease a 9×13 baking pan. Press the mixture into the bottom of the pan.
In a large bowl, beat the cream cheese until it's smooth.
Add the eggs, 8 tablespoons of butter (about half a stick), and vanilla. Beat them together until they're fully incorporated.
When the mixture is ready, add the powdered sugar and mix well.
Spread over cake batter.
Bake for 40 to 50 minutes.
Important notice: Make sure not to overbake your cake. The center should be a little gooey.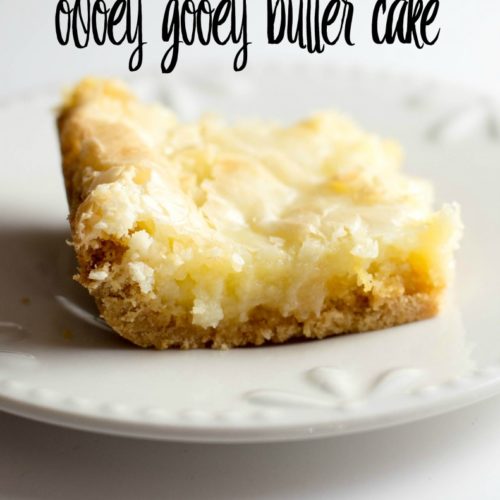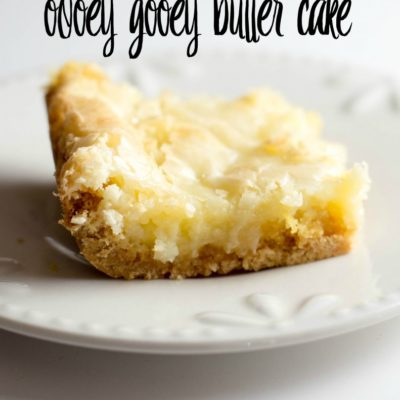 Paula Deen's Ooey Gooey Butter Cake
Ingredients
Cake:

1 18 1/4-

ounce

package yellow cake mix

1

egg

16

tablespoons

melted butter

divided

Filling:

1 8-

ounce

package cream cheese

softened

2

eggs

1 16-

ounce

box powdered sugar

1

tsp

vanilla
Instructions
Preheat oven to 350 degrees F.

Combine the cake mix, egg, and 8 TBL butter and mix well with an electric mixer. Press the mixture into the bottom of a lightly greased 9x13 baking pan.

In a large bowl, beat the cream cheese until smooth. Add the eggs, 8 TBL butter and vanilla and beat together.

Next, add the powdered sugar and mix well. Spread over cake batter and bake for 40 to 50 minutes. Make sure not to over bake as the center should be a little gooey.
I must issue a warning here if you haven't already figured it out on your own. This cake is super rich, and a little goes a long way.
When I made this for my family, I cut the pieces as big as a regular piece of cake and no one was able to finish it. However, every one of them LOVED the cake.
So Paula Deens Ooey Gooey Butter Cake is not only one of the most delicious butter cakes you'll ever try. It also makes a dessert that the grandkids enjoy for more than one day! If this didn't convince you to try this recipe, I don't know what will.
Final Thoughts
If your grandkids (or you) have a sweet tooth, you definitely need to include this recipe in your meals rotation. It's ooey, gooey, delicious, and absolutely irresistible. Even my pickiest grandson enjoyed a decent amount of his piece.
Cooking with butter is always a good idea. Because butter adds this unique taste only a home-cooked meal has. And there's nothing better than a tasty cake prepared by your grandkids' favorite grandma.
And don't forget: Do not try to make your butter green at home. Leave this up to the professionals!
Did you like Paula Deens Ooey Gooey Butter Cake? Then, you're going to love these other dessert recipes we have: