Are you in the market for a treat for your loved ones on Valentine's? Well look no further…have I got the thing for you. Whether you are making a goodie for your children, spouse, mother, father, neighbor next door, or even the mailman, they will love you for this one. This treat NEVER lasts for long in our house. With thanks to Our Best Bites for the recipe, let's get started! (Complete recipe below)
Pop 12 cups of popcorn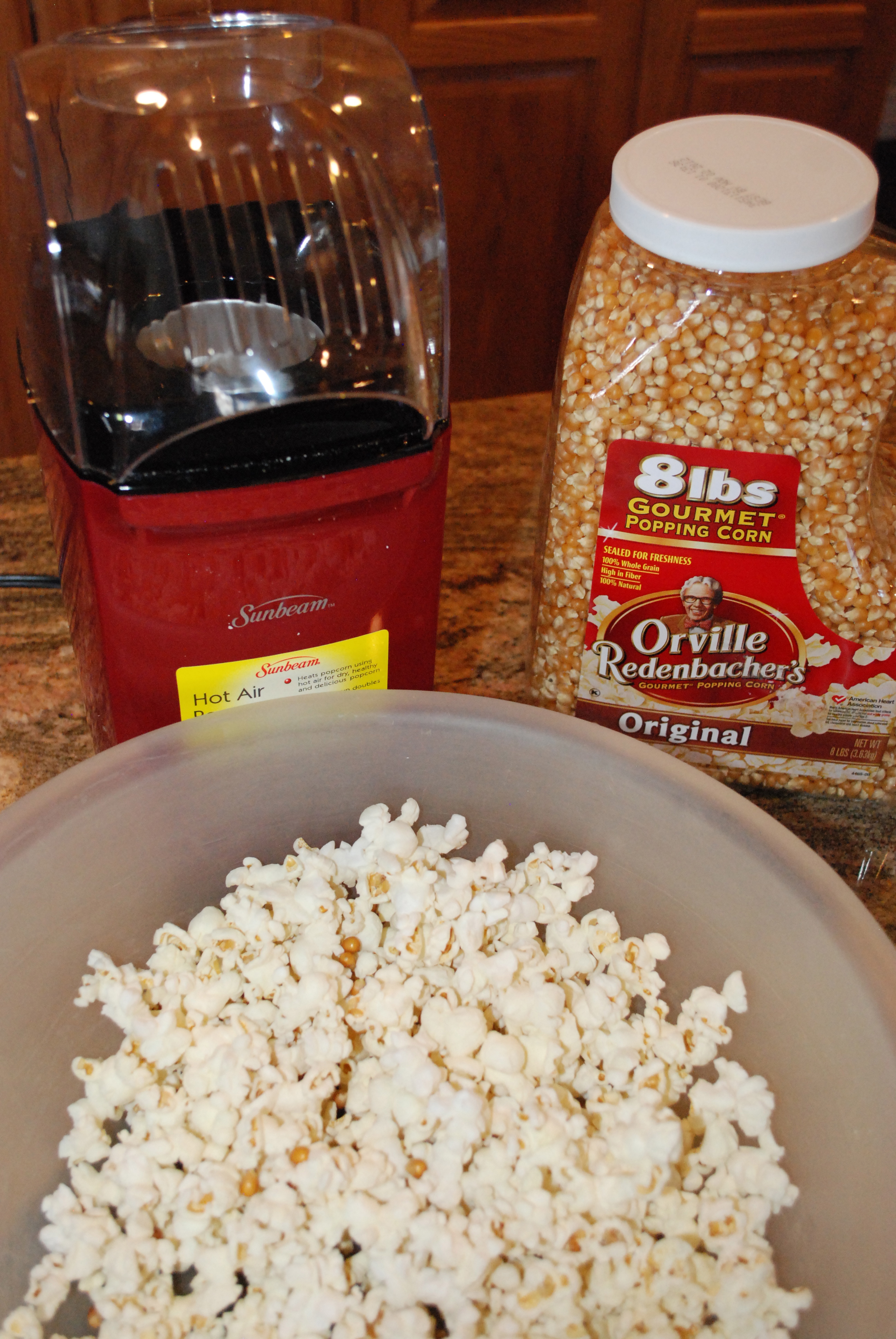 After popping,remove as many unpopped kernels as you can so that you don't send anyone to their dentist with an emergency.
Put your sugar, butter and corn syrup in a microwave safe bowl: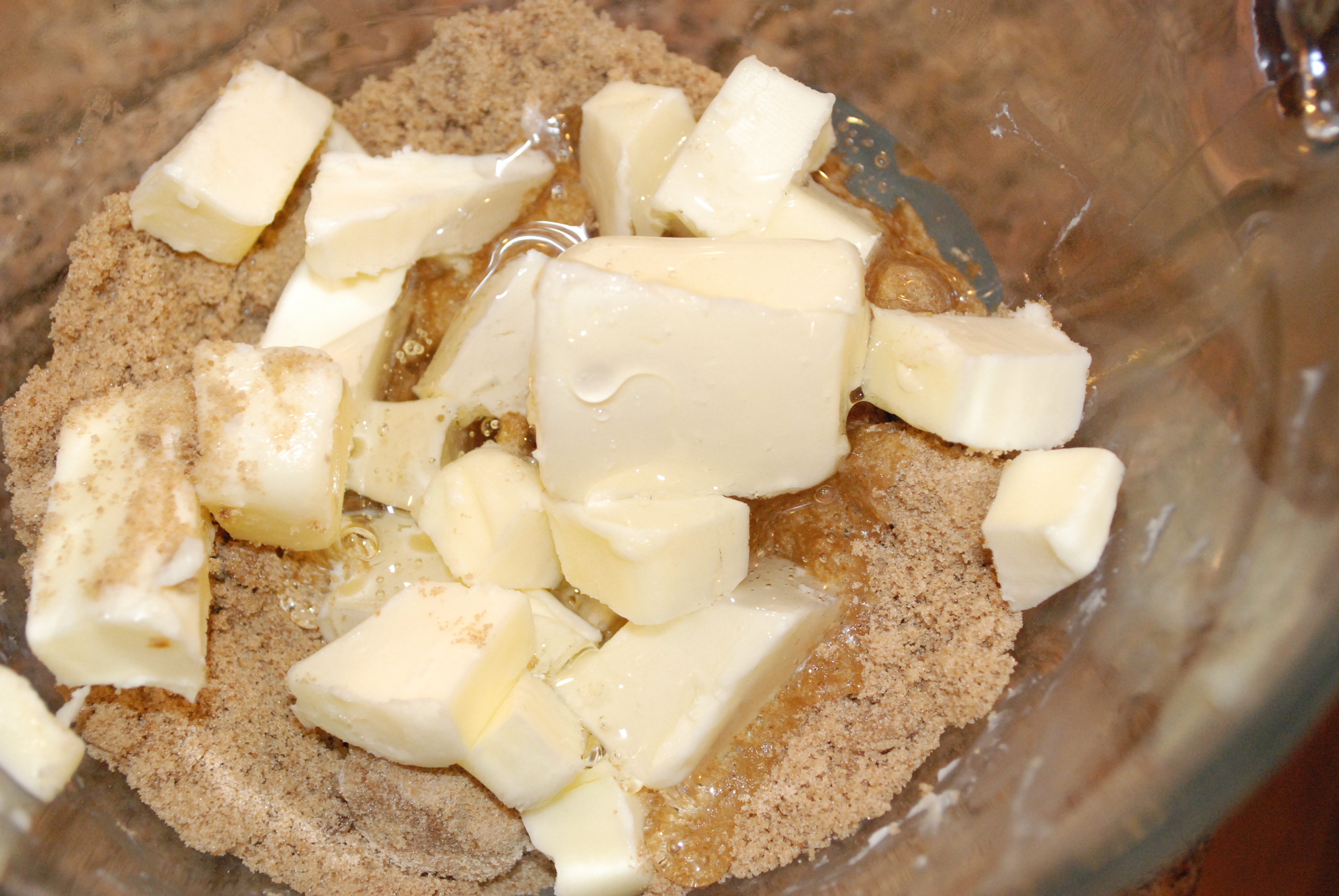 Microwave as directed and it should look like this: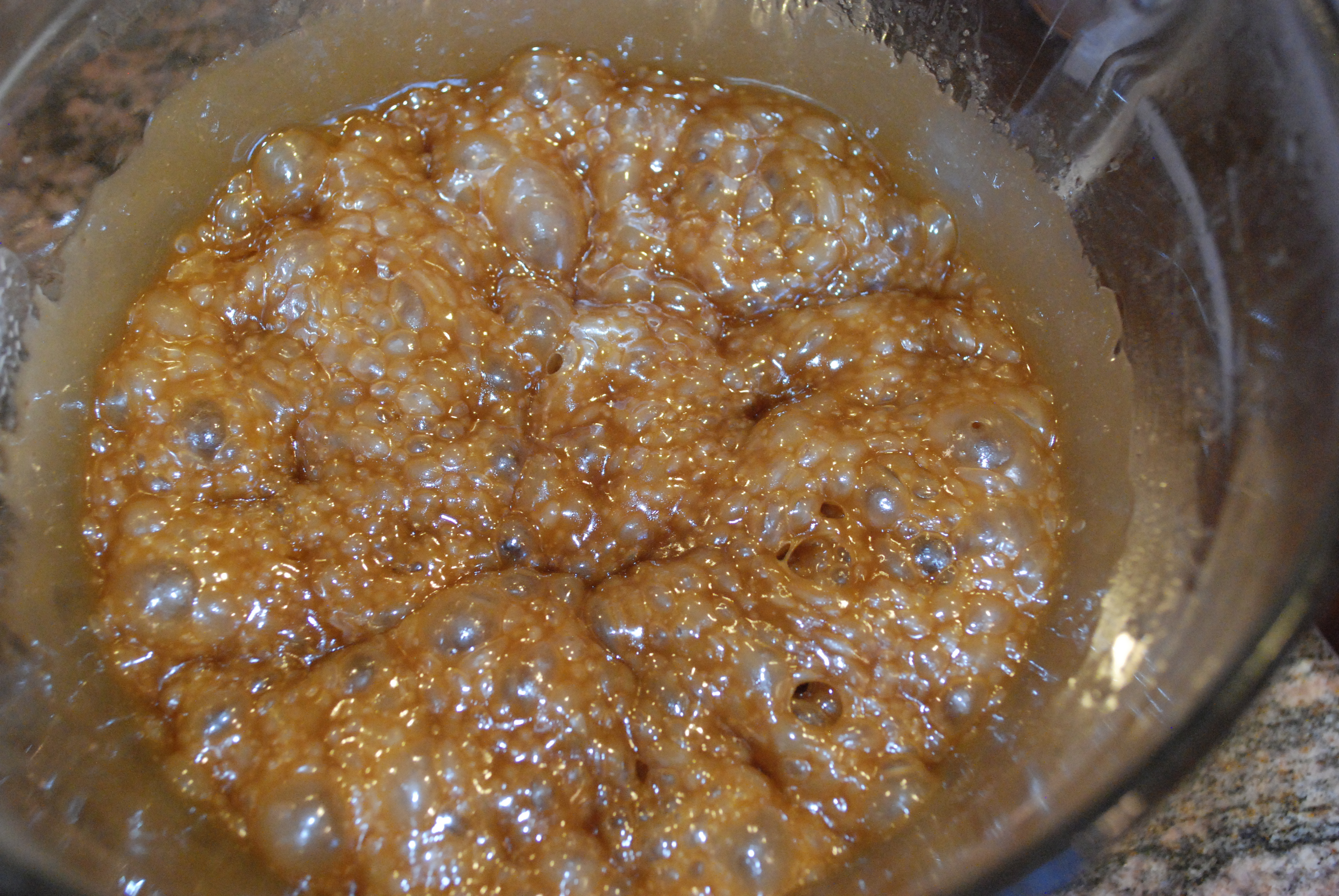 And now here comes the science experiment. After microwaving, you will add the vanilla and baking soda and the mixture will start to foam up. Not to worry….this is the desired effect!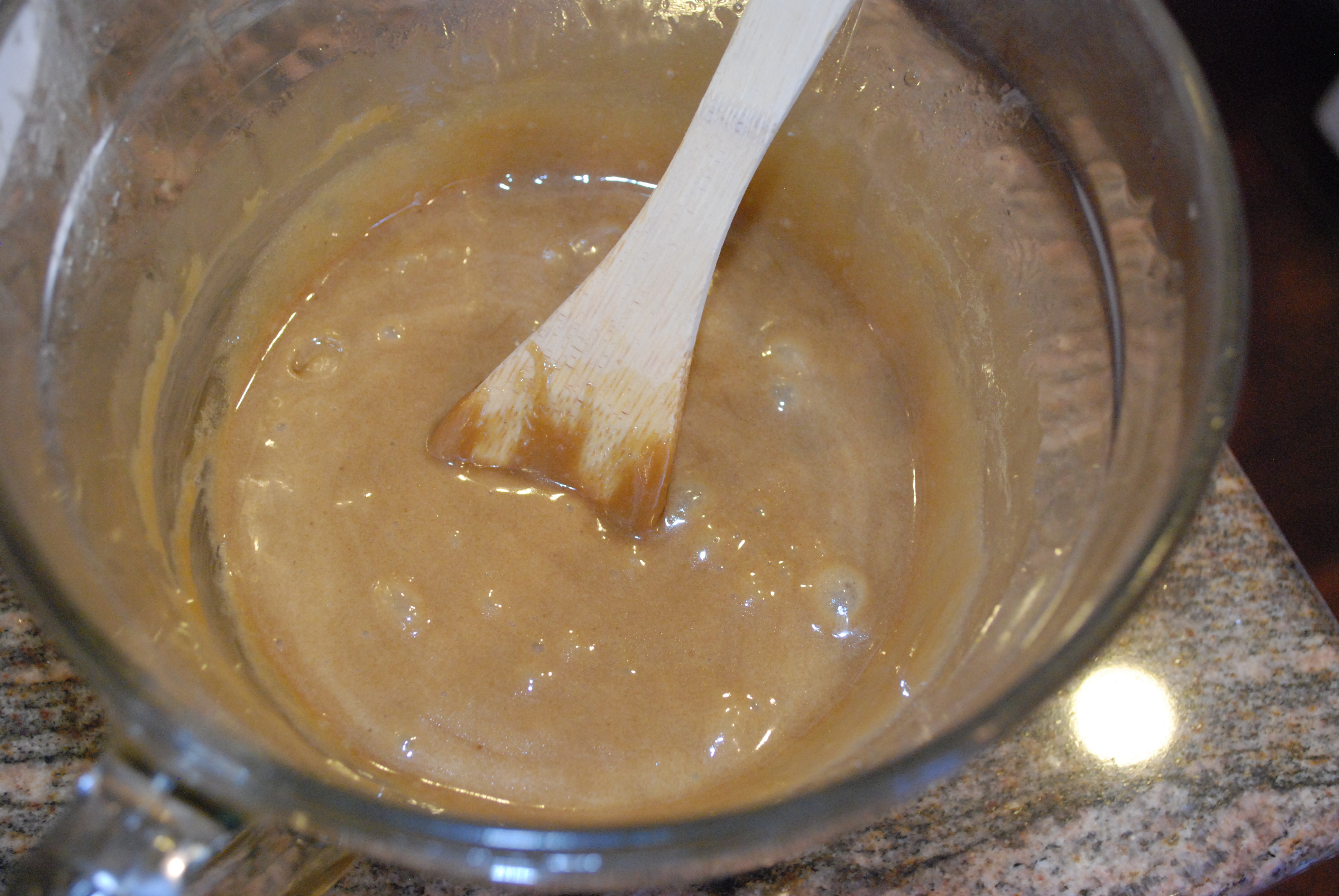 Put your popcorn in a big bowl. Bigger than you think you need because mixing the mixture into the popcorn is challenging! Pour the sugar mixture over your popcorn and mix well.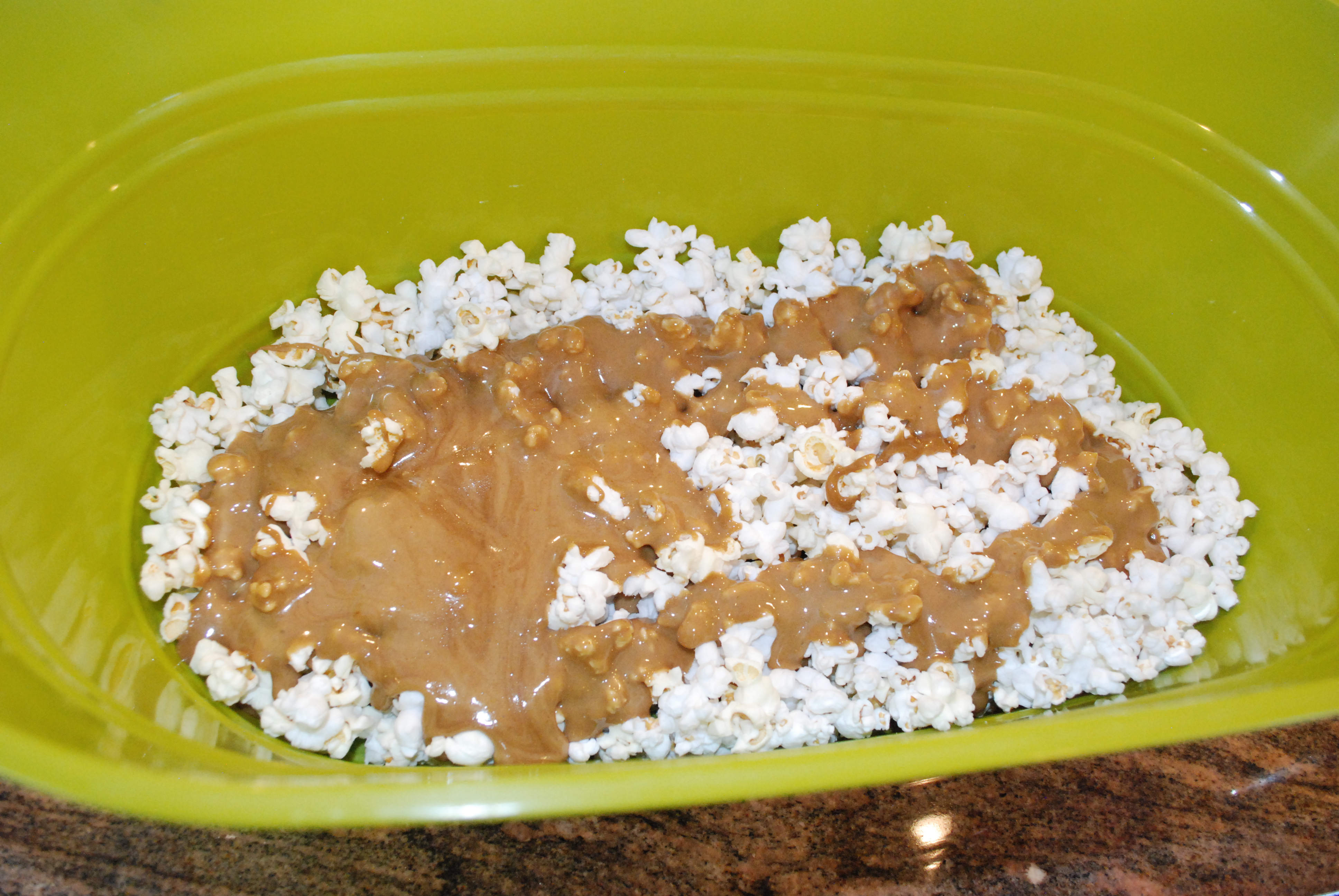 Next place your popcorn on a cookie sheet lined with foil and bake, turning the popcorn every 10 minutes.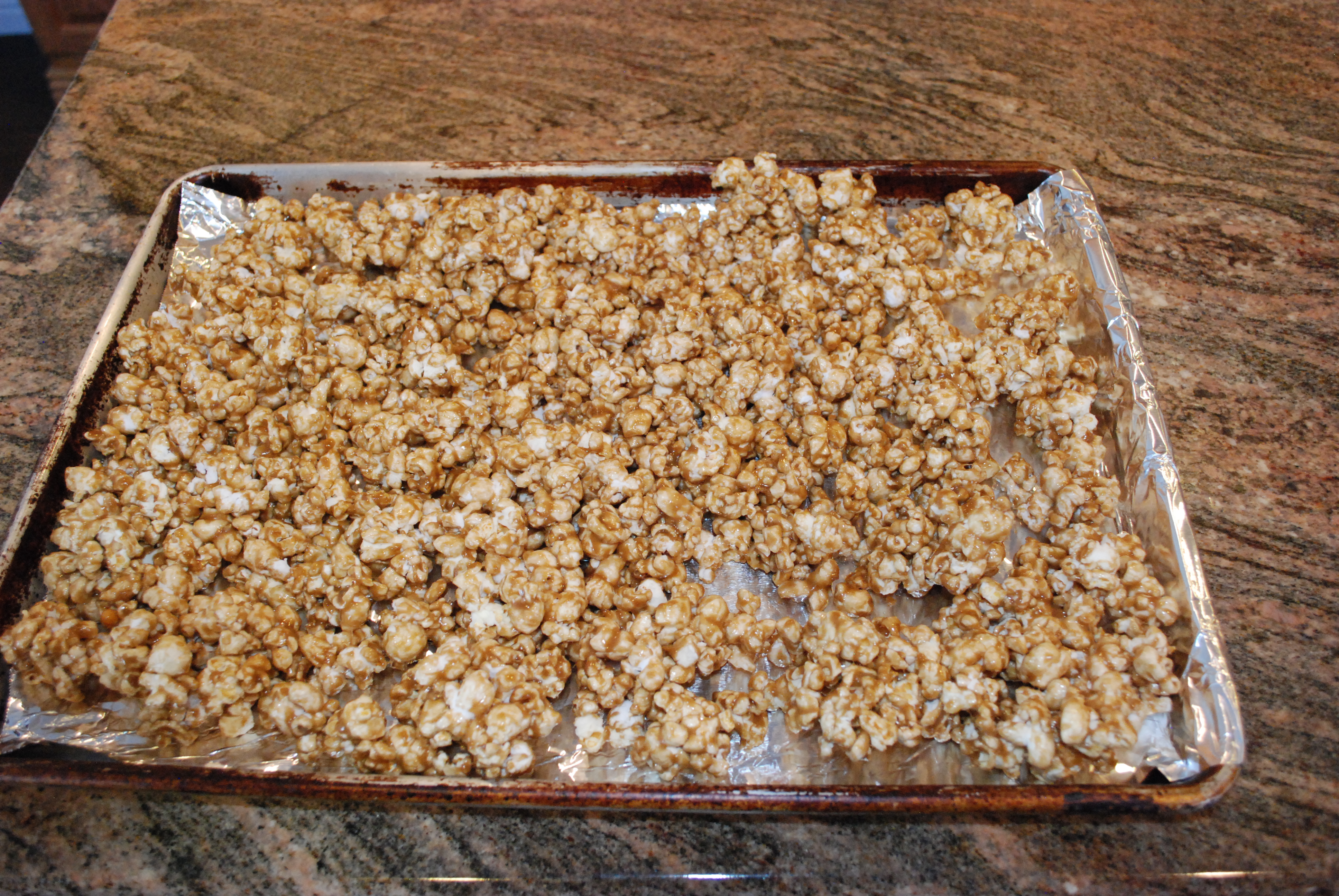 Oh no. I can see an unpopped kernel. Dang it. No worries. All kernels were removed to protect the innocent. After this has cooled, pour on some waxed paper that has been sprayed with Pam.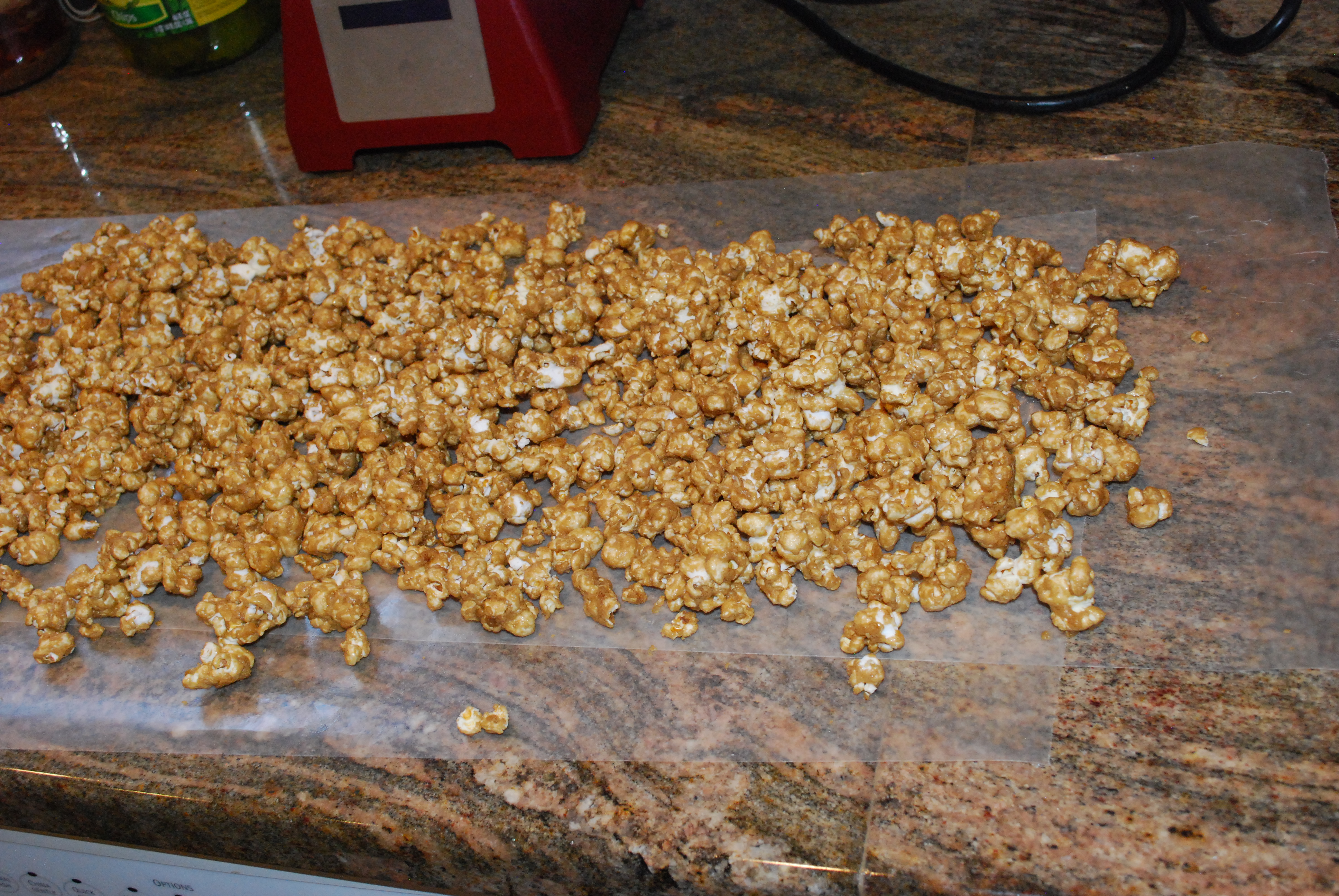 Next melt your almond bark and drizzle over the popcorn. Drizzly goodness. Gooey goodness. See that white kernel in the middle? Yeah. That one is mine.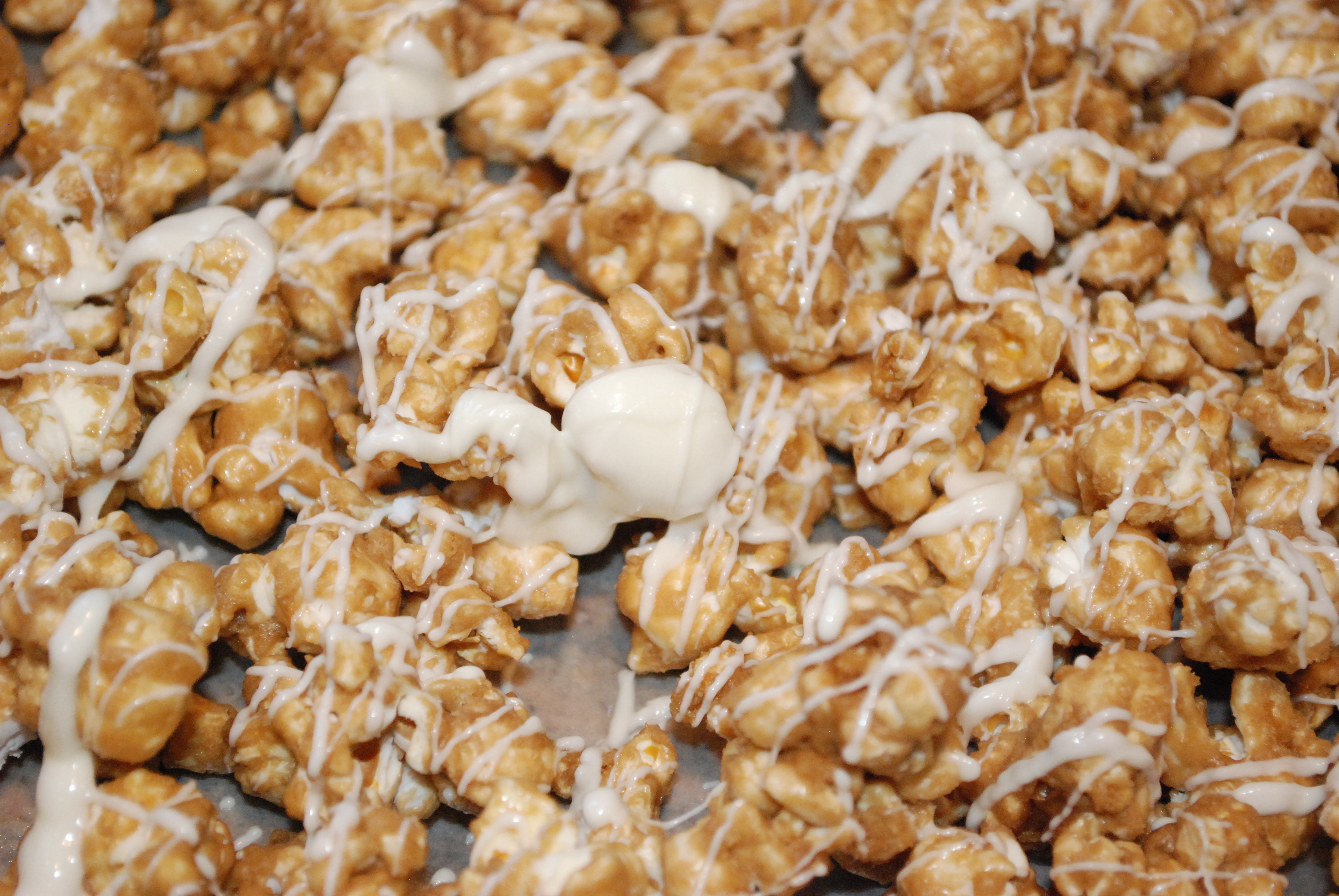 Now we could stop here. We could. This is the actual end of the recipe. But this post is titled "Zebra Caramel Corn" Do you see any dark stripes to compliment the white almond bark? No? This is where our family turns this popcorn in Zebra Caramel Corn just like Popcornapolis. Next drizzle some melted choc chips over the almond bark.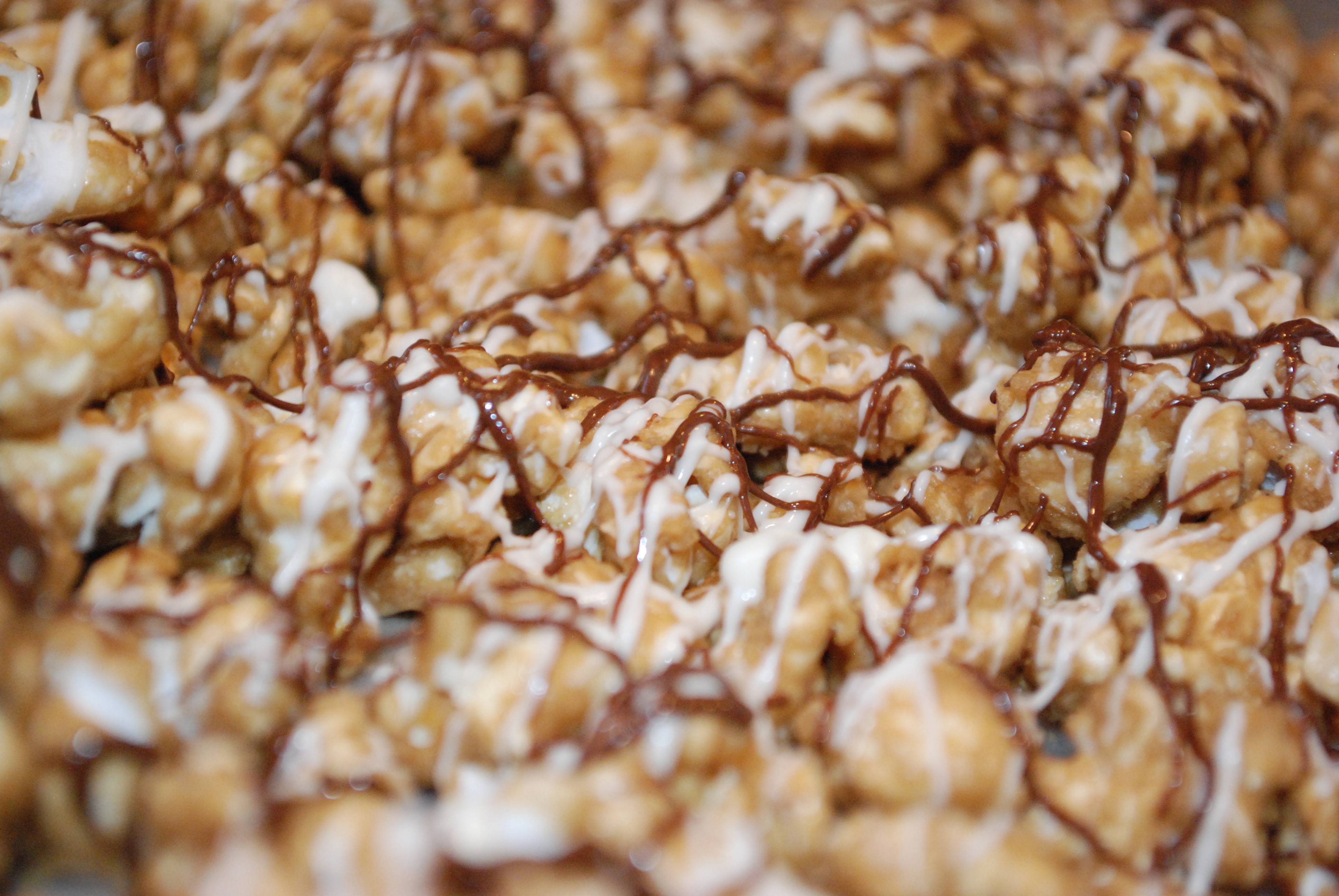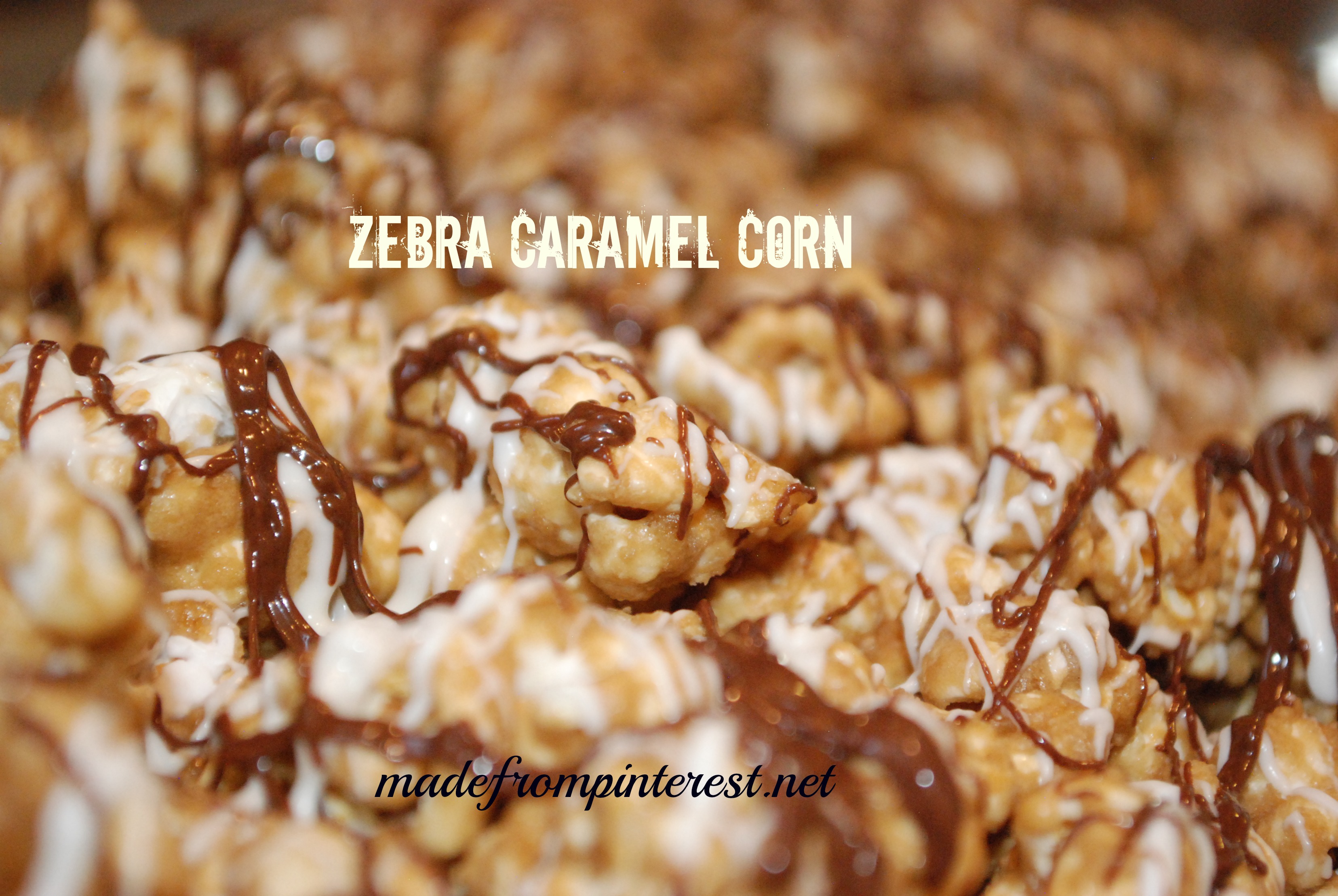 Now that's more like it!! This is popcorn heaven, popcorn utopia, popcorn nirvana. Just trust me on this one.
Now that you have your treat all ready for Valentine's, don't you need a cute little way to give it? Never fear! Watch for tomorrow's post for a darling way give this as a present.
Picking out popcorn that is stuck in my teeth, I can confess that This Pin Rocks!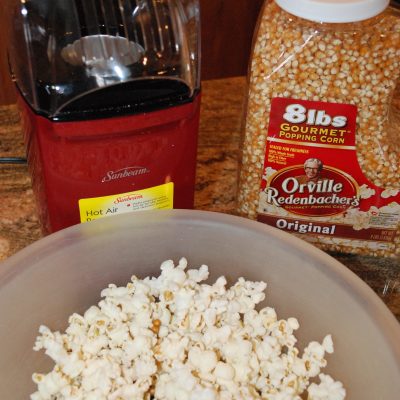 Cinnamon Caramel Corn
Ingredients
12

C

popped popcorn

about 1/2 C kernels*

1

C

brown sugar

3/4

t

cinnamon

1/4

C

Karo syrup

or honey makes a good substitution

1

stick real butter

1/2 C

1/2

tsp.

baking soda

1

tsp.

vanilla

3

squares almond bark
Instructions
Preheat oven to 250 degrees

Place popcorn and chopped pecans in a large bowl and set aside. And by large bowl, I mean like, twice as big as you think you really need. If you don't believe me, then maybe you will believe the scorching hot caramel goo that's splattered all over your hands while you're stirring in your not-so-big bowl. Just a thought.

Combine brown sugar and cinnamon in a big, microwave-safe bowl. Like a 2-quart bowl or Pyrex measuring bowl. Again, use a bowl larger than you think you need to avoid scorching hot caramel goo accidents. It's really important to incorporate the cinnamon into the brown sugar at this point. For some reason, if you don't it does crazy things. I don't know why. Try it and then email Alton Brown and ask him if you really want to know.

Chop butter into chunks and place on top of sugar mixture. Pour corn syrup (or honey) over the top of everything.

Microwave on high for 30 seconds (just to soften the butter a bit) and then stir to combine.

Return to microwave and heat for 2 minutes. Remove and stir and then microwave for 2 minutes more.

Remove from the microwave and add in vanilla and baking soda.

Now take that foamy science project and pour it right over the popcorn and pecans. Stir right away, and stir lots. Take too long and the caramel will harden on you. Keep stirring until everything is well coated.

Spread popcorn mixture onto a foil-lined jelly roll pan.

Place in oven and bake for 30 minutes, stirring every 10 minutes.

Now, just use a fork and drizzle the melted almond bark over the popcorn mixture.

When it's hardened (pop it in the fridge to speed that process along) break into chunks and enjoy!
We are excited to be linking to these great sites today!
Cornerstone Confessions – Homes Stories A to Z – Funky Polka Dot Giraffe – Blackberry Vine – Carolyns Homework – Creatively Tuesday