Ready for a nutritious snack hit? Look no further than these great healthy roasted chickpeas recipes. Not only will it help you reach your daily protein requirements but also gain valuable sources of fiber.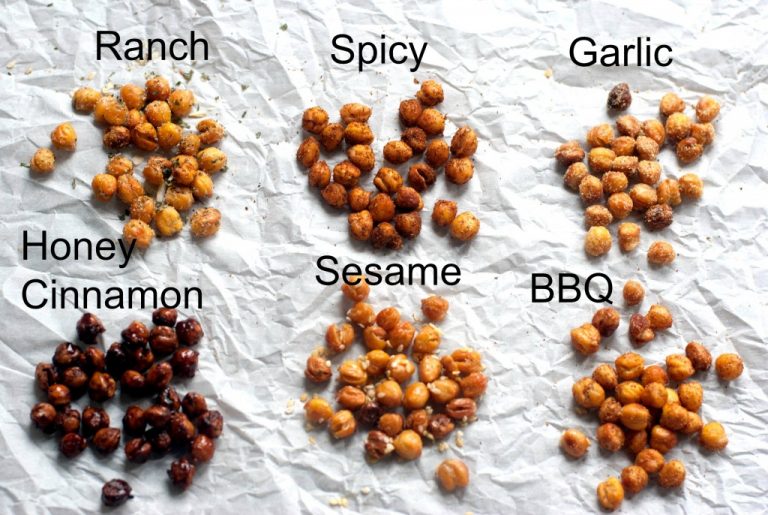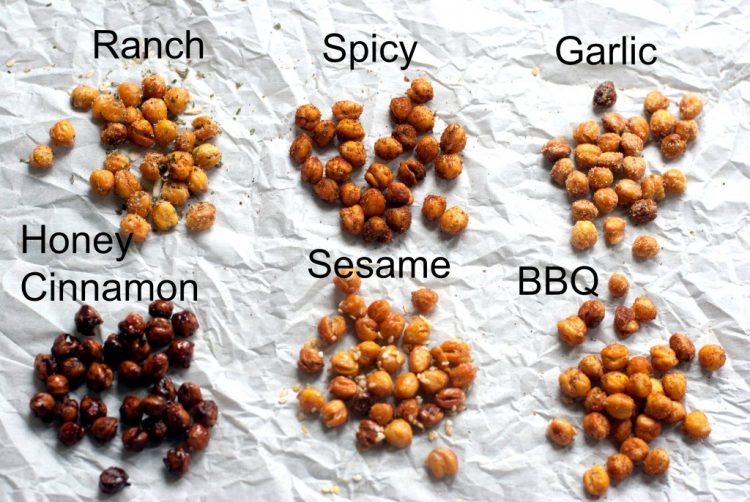 I wanted to prepare a super crunchy and flavorful snack. But the main idea was to be healthy, too. The first thing that popped into my mind was Chickpeas. I have some great recipes for roasted chickpeas that I want to share with you. Tested in my kitchen and family-approved, of course.
What are Chickpeas?
Some of you may not know what Chickpeas are. They look like Garbanzo beans, and this is what they are. Chickpeas are gluten-free, vegan, rich in plant-based protein and fiber.
First, let me tell you more about chickpeas and the health benefits they provide.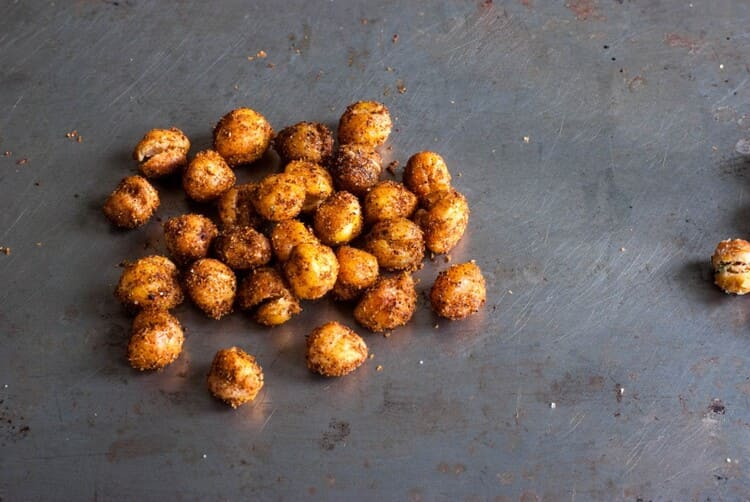 Roasted chickpeas recipes for the perfect gluten-free and nutritious snacks
If you are diagnosed with celiac disease, a grain-free diet is essential.
In addition to this, if you are vegetarian or avoid gluten, these are great for you. Don't have any food restrictions? You will love these recipes for their satisfying flavor.
Protein is essential for the human body. One cup of cooked chickpeas equates to a single serving of plant-based protein. And there is more! Chickpeas are a great source of folate, B group vitamins, calcium, zinc, and magnesium. What an easy, affordable way to get the protein and fiber you need each day!
Try to cut down on meat consumption? Make some dishes of chickpeas. Besides, it adds a significant amount of protein to your diet.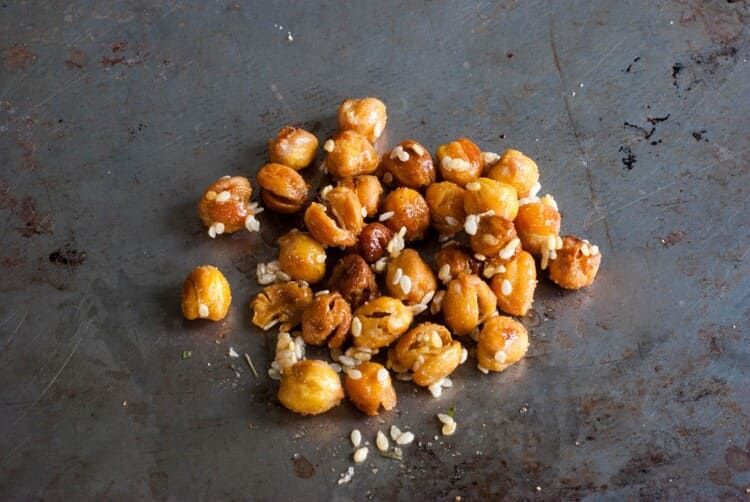 Make healthier food choices
First, if you want to lose weight you are probably advised to eat fiber-rich foods. The reason is they tend to be low in calories and high in nutrients. What is more, fibers make you feel full for longer. The protein content in cooked chickpeas is around 7.25 g per ½ cup. Being a rich source of vitamins, minerals, and fiber, they offer lots of health benefits.
Also, eating fiber helps to lower cholesterol and minimizes cravings, which is useful when trying to lose weight.
Healthy snacking is key to maintaining your ideal weight. Sadly, unhealthy snacks such as chips and cookies tend to be easily accessible with little prep required. In other words, it makes certain less-than-healthy foods more appealing to busy, on-the-go people. Healthy, homemade snacks are for everyone! These recipes will be viable for you, even if you have a busy schedule.
Adult and seniors' eating habits depend on the foods that you eat as a child. That is why healthy eating is crucial during childhood! Helping your grandkids develop healthy eating habits is very important.
Kids, in particular, tend to prefer bright colors. Fruits and veggies added to the chickpeas will help keep snack time appealing! A bit of creativity can go a long way in the kitchen!

Healthy food substitutions with chickpeas
Replacement for bread crumbs – it makes an excellent gluten-free alternative.
Replace nuts for people with nut allergies.
Replace croutons on soups – it will add body and crunchiness.
Salads make for a healthy, easy-to-prepare snack. You can use any ingredients you have on hand. For example, try adding lettuce, carrots, cucumbers, even a bit of chicken or cheese.
Also, salads make a pack-and-go snack that you can take along to work or school. Sprinkle some roasted chickpeas on top for extra crunchiness and nutty flavor.
The well-known hummus is a dip made of chickpeas and sesame paste or tahini. Eat it with a slice of bread or crackers. Actually, 2 tablespoons of the hummus on the bread or crackers average 100 calories. You can add hummus to a sandwich for a protein-rich alternative to butter.
Furthermore, to make healthy food choices you need to swap some ingredients for others. Use chickpeas to replace some or all the meat in soups and stews. Add them to a vegetable soup or stew to add nutrients.
For example, make hummus, which can be a dip or spread for your sandwiches. Falafel is mashed chickpeas with cumin, garlic, chili, and coriander. Separate the mixture into small balls and fry them until they are crisp.
You can make these with lots of flavors, but I couldn't decide on just one flavor, so I decided that I would try six!
Holy Moly! These are absolutely my newest favorite snack food!
Are you going vegan?
It means getting rid of meat, dairy, and all animal products in your meal plan. Going vegan may be an opportunity to maintain healthy eating habits and stay fit in every stage of your life.
If you think of becoming a vegan, you should consider including chickpeas in your diet. It is a great way to gain more protein and fiber. Why not try it for a month? You could start with removing meat and dairy one day a week and substitute them with nuts, chickpeas, tofu, or other healthy alternatives.
Add chickpeas to your everyday meals
Chickpeas will add some extra plant-based protein to your salad, soup, or stew. In fact, it is a type of carb that you can use in your low-calorie diet.
What is more, chickpeas are an excellent replacement for meat because of their nourishing taste. Aim to swap at least three times a week. Certainly, they add body to the soup, as well as protein and fiber.
Enjoy them in hummus, pasta dishes, salads, or roasted in a hot oven for a high-protein snack.
Want another type of carb that is different from rice and potatoes? Chickpeas are worth trying. Definitely, it is a way to make nutritious and healthy meals.
Your Grandkids will love roasted chickpeas
Salty or sweet – your grandkids will enjoy eating these like popcorn. They are even more addictive than potato chips.
Surely, this healthy kid-friendly snack will be the new favorite! Besides, you can use the leftovers in a veggie-filled sandwich or a wrap to add some extra crunchiness. Try some hummus instead of butter? It is going to be one satisfying and nutritious meal! Plus, it's great for school snacks, too.
Make the best crispy roasted chickpeas recipe
First, cooking at home is a smart choice. Also, it is the way to avoid saturated fat, added sugar, and extra sodium. The main challenge is to make chickpeas stay crispy.
Without a doubt, there are lots of flavors that go together with them. I couldn't decide on just one flavor. That's right, I decided to try six!
Oh my Gosh! These are my newest favorite snack food!
In fact, they were SO easy to make and took no time at all. And wait for the best part! I had most of the ingredients I needed in my kitchen cupboards. Indeed, no fancy ingredients, no fuss. Just perfectly roasted chickpeas.
They were all super yummy, but my absolute favorite was the ranch flavor.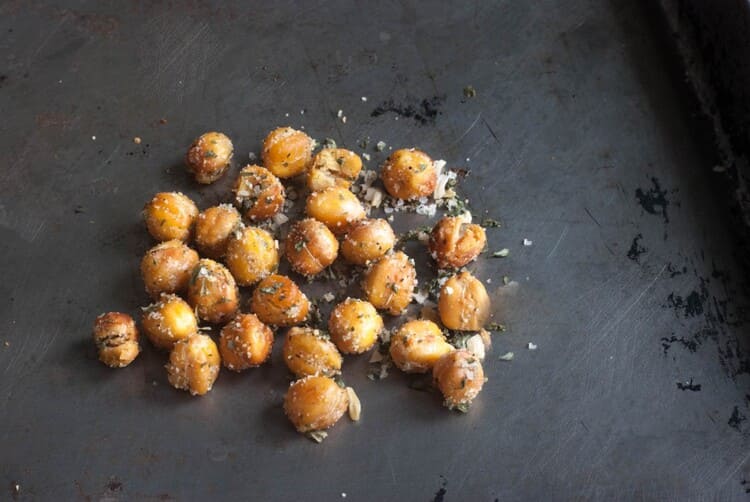 Not joking, I could munch on these all day. And I did. Surely, they are satisfying enough when you want a little something crunchy to eat! Moreover, these are perfect for eating while watching a movie.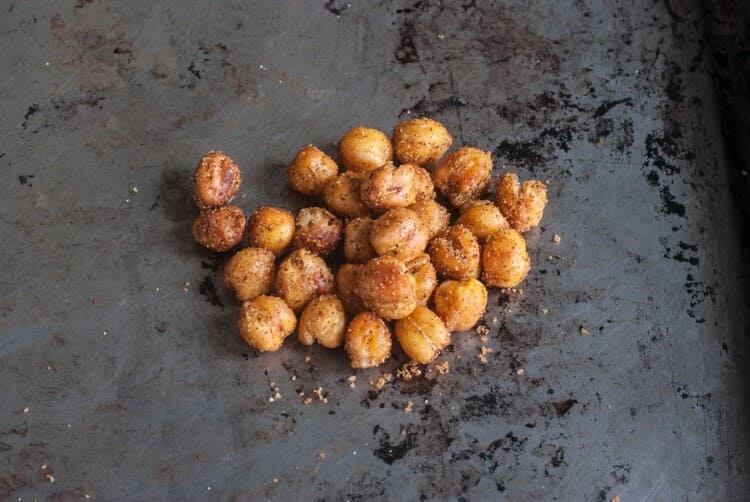 Well, let's get on to the recipes so that you can enjoy some, too!
I'm sure they will turn you into a chickpea lover!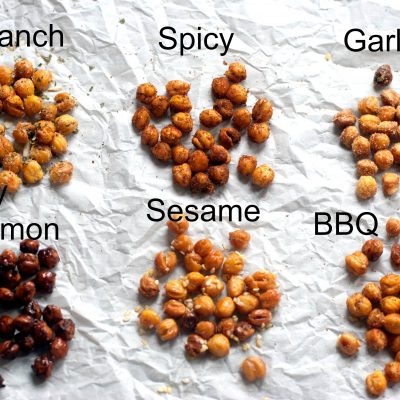 Print
Roasted Chickpeas Recipe
Materials
2 14-15

oz

cans of chickpeas

also known as garbanzo beans

2

TBL olive oil

can also use coconut oil
Honey Cinnamon
1

tsp

ground cinnamon

1

TBL granulated sugar

2

TBL honey
Sesame Seed
1

tsp

sesame oil

1

tsp

garlic powder

1/2

tsp

sea salt

1

TBL sesame seeds
Garlic
1-2

tsp

garlic powder or 2 cloves fresh minced garlic

1/4

tsp

fresh cracked pepper

1/2

tsp

sea salt
Spicy
1

tsp

ground cumin

1

tsp

chili powder

1/2

tsp

cayenne pepper

1/2

tsp

sea salt
BBQ
2

tsp

paprika

1

tsp

cumin

1

tsp

chili powder

1

tsp

onion powder

1

tsp

garlic powder

1

tsp

salt

3

tsp

brown sugar
Ranch
¼

Cup

Black Pepper

1½

Cup

Parsley Flakes

½

Cup

Garlic Salt

2

TBL Kosher Salt

¼

Cup

Granulated Garlic

¾

Cup

Granulated Onion

2

TBL Dill Weed

This seasoning mix is used to make homemade ranch dressing. You can find the whole recipe HERE. It does contain some dairy products. You can reduce the amounts for the chickpeas recipe or make the whole recipe. It is the way to stay fresh in your fridge for months.
Instructions
Drain and rinse your chickpeas. Remove any loose skins off of the beans. There is no need to be all of them. Remove the super loose ones.

On a paper towel or towel, spread your beans and let them dry. I dried mine for about 1/2 hour.

Preheat the oven to 400 degrees.

Line a cookie sheet with either foil or parchment paper.

Evenly spread your dried beans on a cookie sheet.

Bake for40-60 minutes. It will all depend on your oven. Check after 40 minutes if they are crunchy, then they are ready. If they are soggy, cook a little longer, but watch, to prevent them from burning.

After baking, transfer to a bowl and mix with the 2 TBL olive oil or coconut oil.

Then spread the seasonings of the flavor you are using and mix well.

After coating with the honey cinnamon flavor, you can put the beans back into the oven for 5minutes. It will allow them to caramelize.

With the ranch recipe, mix 2-3 tsp of the whole mix into your baked chickpeas and refrigerate the rest for other recipes.

Yummy!
Helpful tips
To achieve the crunchy texture you are after, you have to remove the outer skin from the chickpea. Otherwise, the result will be chewy chickpeas, not crunchy.
Actually, if you use canned chickpeas, drain and rinse them in water before use. It is a way to reduce the quantity of sodium.
Spread chickpeas on a towel and dry them.
Surely, the cooked chickpeas will last for 2-3 days stored in an airtight container in a fridge.
Add spices after roasting the chickpeas.
Keep the cooking water or the water from the can (if you use canned chickpeas). It is called Aquafaba and is known as the perfect egg replacer.
Also, chickpeas have to be spread in a single layer on the baking sheet.
You can cook the chickpeas in an instant pot, slow-cooker, or on a stove-top.
Experiment to find your favorite combination of spices!
These roasted chickpeas recipes are:
Super crunchy
Flavorful and filling
Perfect movie night snack
Late-night snack
Gluten-free
Vegan-friendly
Low-calorie snack
Rich in fiber and protein
So easy to make
The bottom line
In conclusion, chickpeas are a nutritious and healthy food to incorporate into your diet. Not only it packs a lot of plant-based protein, but also fiber to help you maintain healthy body weight.
Want to change your usual meal plan? Chickpeas will help you add texture and body to your dishes. What is more, add some crunchiness to your salad or sandwich and provide your meals with healthy nutrients.
In short, pick your favorite flavor from these six recipes and give it a try. It is sure to be a kid favorite that adults will crave, too.
Are you looking for other easy healthy snack recipes? Check out these recipes:
You can also follow us on Pinterest │ Facebook │ Twitter │ Instagram │ Hometalk