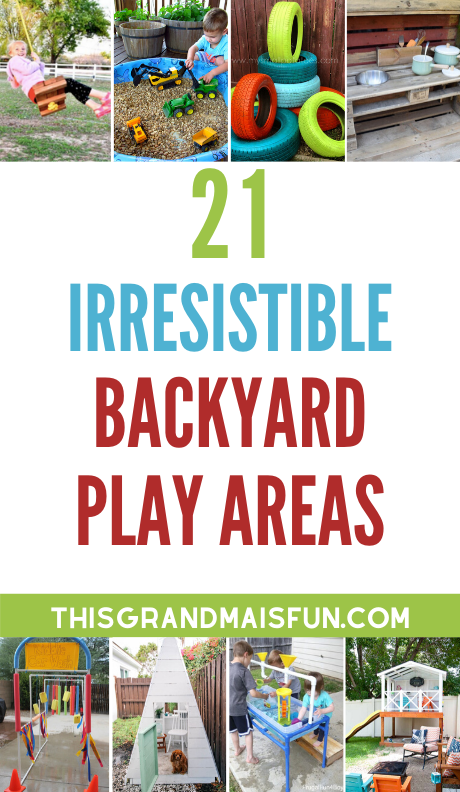 My kids never go in our backyard. Some days, I have to force them out the door. While I'd like to blame the hot weather out here (we are in AZ after all), I can't help but think it might be because there isn't much going on back there. Well, we are about to move to a new house, and I am determined to make good use of it. My goal is to create a backyard that my children can't resist playing in! Is your backyard in desperate need of an upgrade too? We're in this together then! Here are 21 irresistible backyard play areas I can't wait to try out!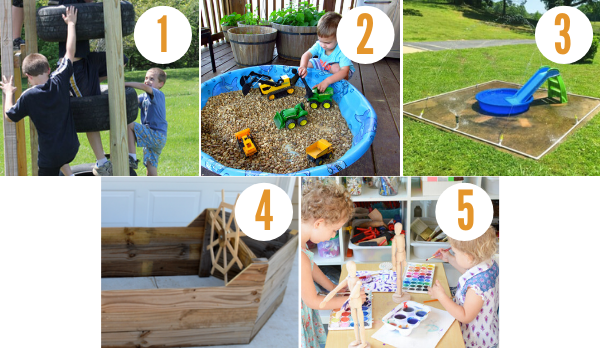 1. Tire climbing tower– For the brave and daring, they'll love climbing all over this tower from Blessings Overflowing.
2. Construction Play area– Is your child obsessed with tractors and bulldozers? They this is the perfect backyard play area for your family! Find instructions at Simply Laura Leigh!
3. Splash Pad– Who says you need to go to the park to play at the splash pad? Build this simple design from SHTF Preparedness !
4. Pirate Boat– Let your child's imagination run wild with this tutorial from The Resourceful Mama.
5. Backyard Art Oasis– With Tinker Lab's artistic play area, your kids can have fun making a beautiful mess that stays outside!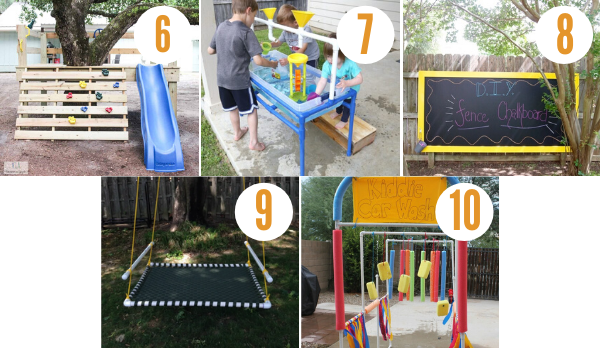 6. Platform Tree House– Every kid needs a tree house, am I right? Try Repurpose and Upcycle's simple design!
7. Sand and Water Table– This play table from Frugal Fun 4 Boys is the perfect place to experiment and make a mess!
8. Giant Chalkboard– Take coloring outside with Love and Renovations's giant chalkboard.
9. Platform Swing– Fit multiple people on this giant swing from The Naughty Mommy!
10. Kiddie Car Wash– This idea from Mom Endeavors is sure to be the new favorite activity at your house!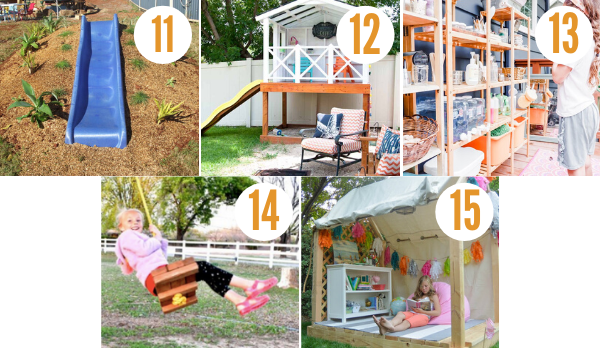 11. Hill Side Slide– We love this dreamy slide from The Empowered Educator! It's perfect for little legs to climb up to!
12. DIY Play House– The perfect place to have imaginary adventures! Find this easy design at Houseful of Handmade.
13. Outdoor Tinker Space– Keep your kids busy and exploring with Work Space for Children's tinkerspace!
14. One Rope Tree Swing– Let your child's dreams take flight with Tee Diddly Dee's rope swing.
15. Outdoor Reading Nook– Vintage Revival's reading nook is the perfect escape for your little bookworm! We have links to both parts: Part1 & Part 2.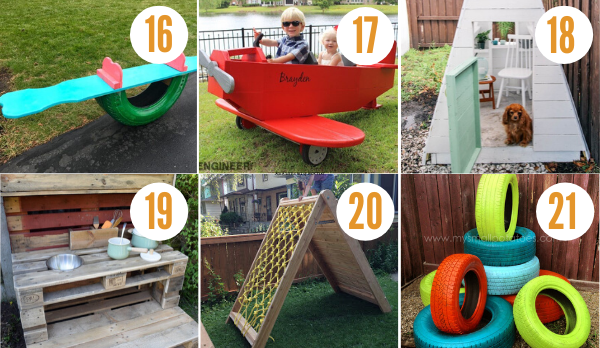 16. Seesaw– Seesaws are an excellent practice in teamwork, don't you think? Find this fun DIY at A Turtle's Life for Me.
17. Airplane Play Structure– Your children will have so many adventures with Rogue Engineer DIY airplane!
18. A-Frame Play House– We love this unique design from At Home with Ashley.
19. Mud Kitchen– What kid doesn't love playing in the mud? Create your own mud kitchen at Tippy Tupps.
20. Climbing Wall and Net– Have you ever wondered if your children are actually little monkeys that won't stop climbing? If your answer is yes, someone please save my sanity, then you'll love this idea from Mincing Thoughts.
21. Tire Climber– This climbing structure from My Small Potatoes is sure to get out all the wiggles from your kids!
Which of these 21 irresistible backyard play areas is your family going to try first?