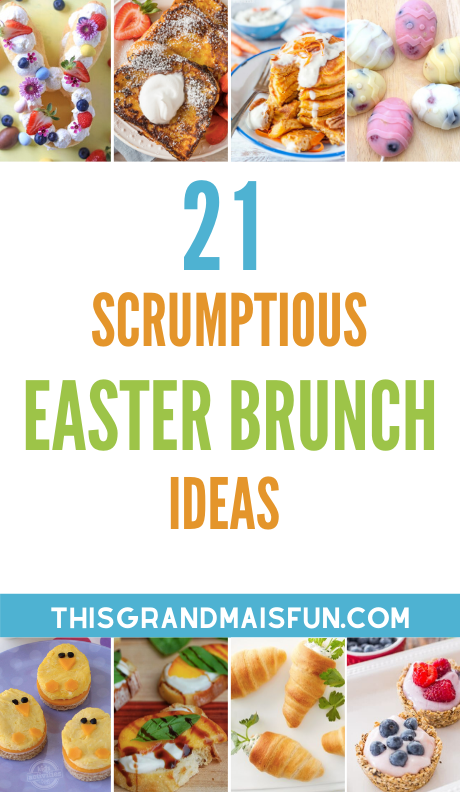 If you're like me, breakfast is the most unexciting part of the day. I pretty much eat the same old, same old: a bowl of cereal and a banana every day. That's why Easter is an especially exciting day! The Resurrection, the Easter Bunny, and….. BRUNCH! If you're as excited as I am for a break in boring old breakfast, check out these 21 scrumptious Easter brunch ideas!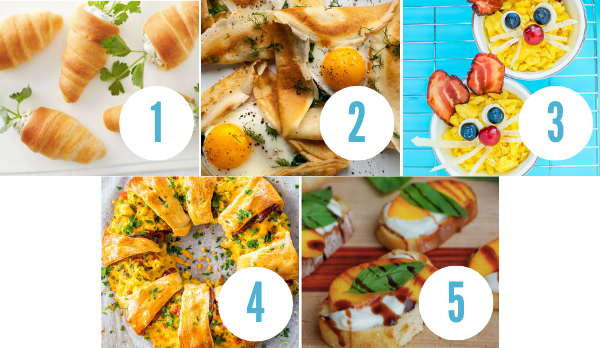 1. Stuffed Crescent Roll Carrots-The Easter Bunny is sure to love these crescent roll carrots from Pillsbury.
2. Savory Crepes with Cheese, Spinach, and a Fried Egg– The wonderful thing about crepes is that they can be either sweet or they can be savory, like this recipe from Amanda Fredrickson!
3. Easter Bunny Breakfast Bowls– Looking for something the kids will love? Check out our Bunny Breakfast Bowls!
4. Crescent Bacon Breakfast Ring– This recipe from Jo Cooks is exactly the type of recipe that gets me excited for brunch! Yum!
5. Peach & Honey Whipped Ricotta Crostini– Scrambled and Spiced's crostinis add such an elegant touch to brunch, don't you think?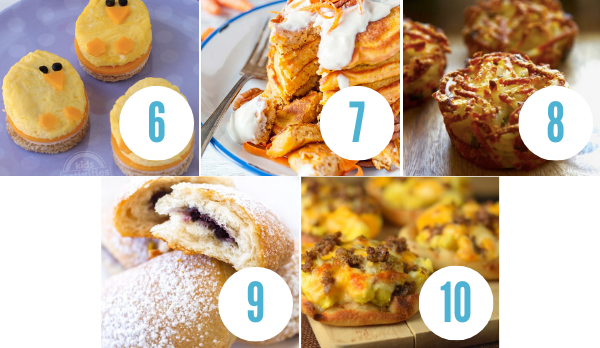 6. Spring Chick Egg Breakfast Sandwich– Forget the bunny! These little springtime chicks from Kids Activities are adorable!
7. Carrot Cake Pancakes with Cream Cheese Maple Syrup– Who says carrot cake is only dessert? Have it for breakfast with Imagelicous's recipe!
8. Parmesan Baked Hash Browns– It's not brunch without hashbrowns and we found just the recipe for you at Delicious Table!
9. Blueberry Orange Beignets– A Latte Food
10. English Muffin Breakfast Pizza– Pizza- the Breakfast of Champions! Ok, but this one from Fox Valley Foodie is altered to include eggs, sausage, and its own special sauce, which makes it even tastier!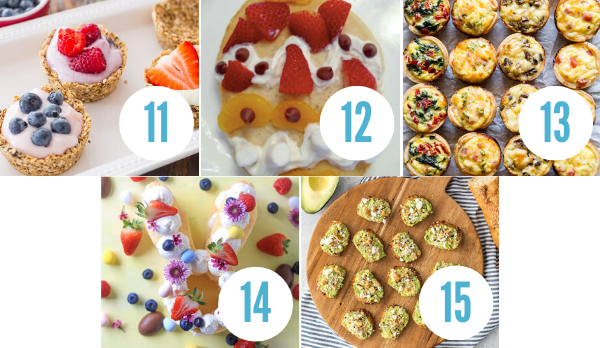 11. Oatmeal Cups with Yogurt and Fruit– Try this fresh take on yogurt parfaits from Domestically Speaking!
12. Easter Egg Pancakes– The Joys of Boys's recipe has inspired me to start hiding pancake eggs around the house instead of real ones. Great idea, right?!
13. Mini Quiche– For any quiche fans out there, Culinary Hill has four different ways to prepare it!
14. Easter Bunny Cream Tart– Make the cutest little bunny treat around with this cream tart from Ku'uipo Vea.
15. Mini Avocado Toasts– The food of a generation! Find this fun recipe at Pizzazzerie.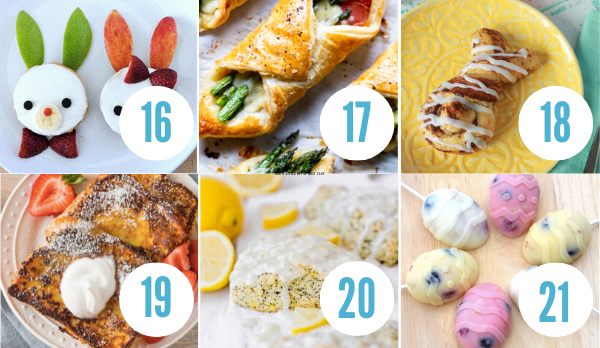 16. Breakfast Bagel Bunnies– Looking for something simple that the kids will love? Try Handmade Charlotte's bagel bunnies!
17. Prosciutto Asparagus Puff Pastries– There's no rules about these pastries from Fox and Briar only being for brunch right? I'm pretty sure this is something I could eat every day, all day…
18. Easter Bunny Cinnamon Rolls– What better way to celebrate Easter than with these yummy cinnamon rolls from That's What Che Said?!
19. Creme Brulee French Toast– French toast- good. Creme brulee- awesome. Put them together and you have AMAZING. Find this recipe at Mom's On the Clock.
20. Lemon Poppyseed Scones– I really can't think of a better fit for a spring time brunch than these lemon poppyseed scones from Salt and Baker.
21. Easter Egg Breakfast Popsicle– It's like having dessert for breakfast! Check it out at Eats Amazing!
Which of these scrumptious Easter brunch ideas did you like the best? Let us know!