This is sponsored content written by me in partnership with Marie Callender's. All opinions are my own.
When it comes to dessert would you rather choose a cake or a PIE?!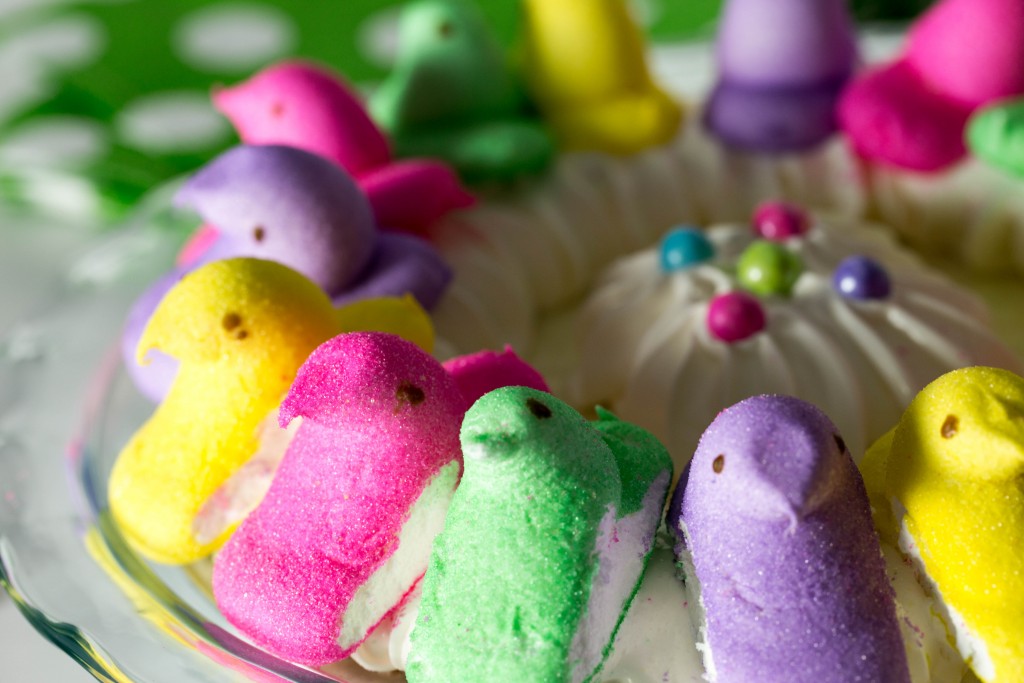 I will choose a pie every time. I also don't have one person in my family who's really fond of frosting hence they're not a fan of cake either so for us Marie Callender's is our go-to pie. Why Marie Callender's you ask? Are you kidding? Their crust is the perfect amount of flaky. (in this case flaky is a good thing!) Plus they smell and taste just like homemade and are just plain beautiful right out of the package.
Right now spring is in the air at Marie Callender's and what better way to celebrate than with pie? With Spring comes warmer weather, the emergence of spring flowers and we are celebrating by making your "Spring a Little Sweeter" with these 5 Fun Things to do with Marie Callender's Cream Pie.
Before I show you our suggestions though, we wanted to let you know that from March 16-25, we will be curating the Marie Callender's Pinterest Board and you are definitely going to want to follow them and watch for some more great ideas for a Sweet Spring. Make sure to visit everyday!
Now, prepare to be amazed at some fun things that you can do with a cream pie that you may never have thought of before. Here we go!
1. Mini Cream Puffs and Eclairs
I chose a Marie Callender's Banana Cream Pie to make these mini cream puffs and mini eclairs. The sliced almonds that come with the pie make for a great garnishment on these eclairs, don't you think?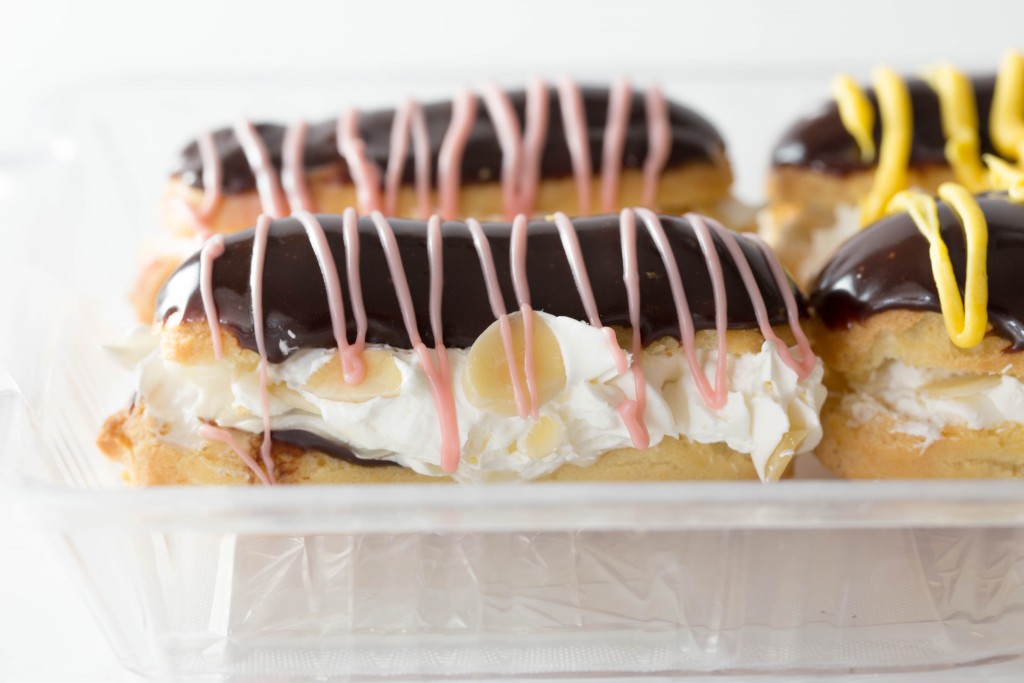 These cute mini cream puffs were a breeze to make because I bought the mini eclairs and mini cream puffs from my local baker. They were very inexpensive and well worth not having to make them myself. After dipping the tops in chocolate (recipe below) I added the banana cream filling straight from the pie then garnished with some spring colored melted chocolate.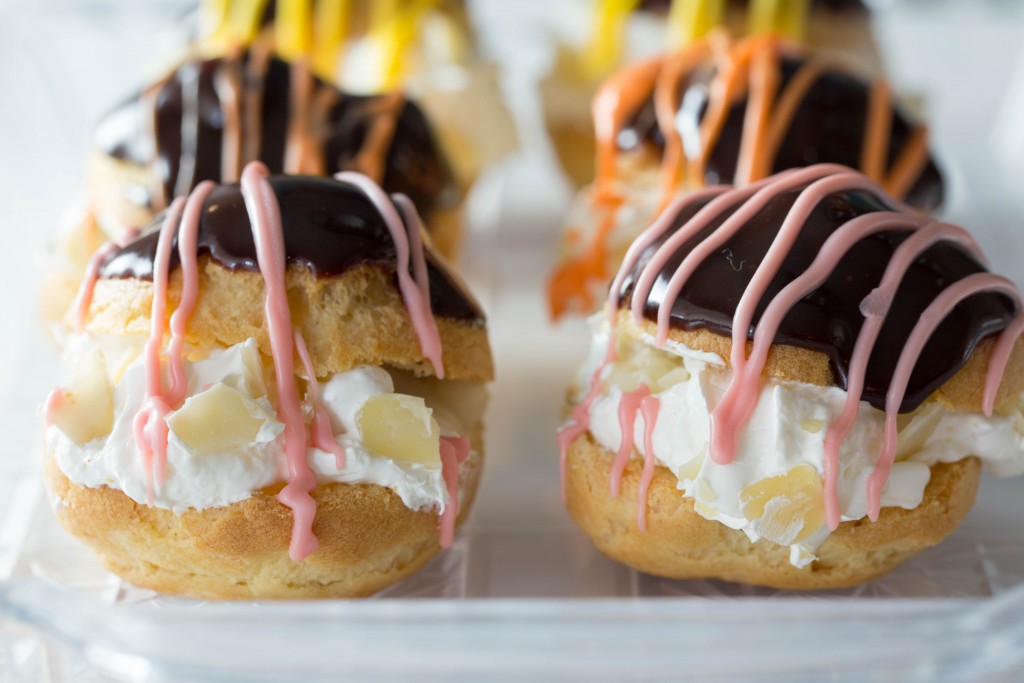 2. Coconut Cream Pie Sundae
With the warmer weather of spring comes the need for a cooler dessert and what is cooler than pie and ice cream? Layer some Coconut Cream Pie into an individual serving dish, add a scoop of ice cream then top with Reddi-Wip and some toasted coconut.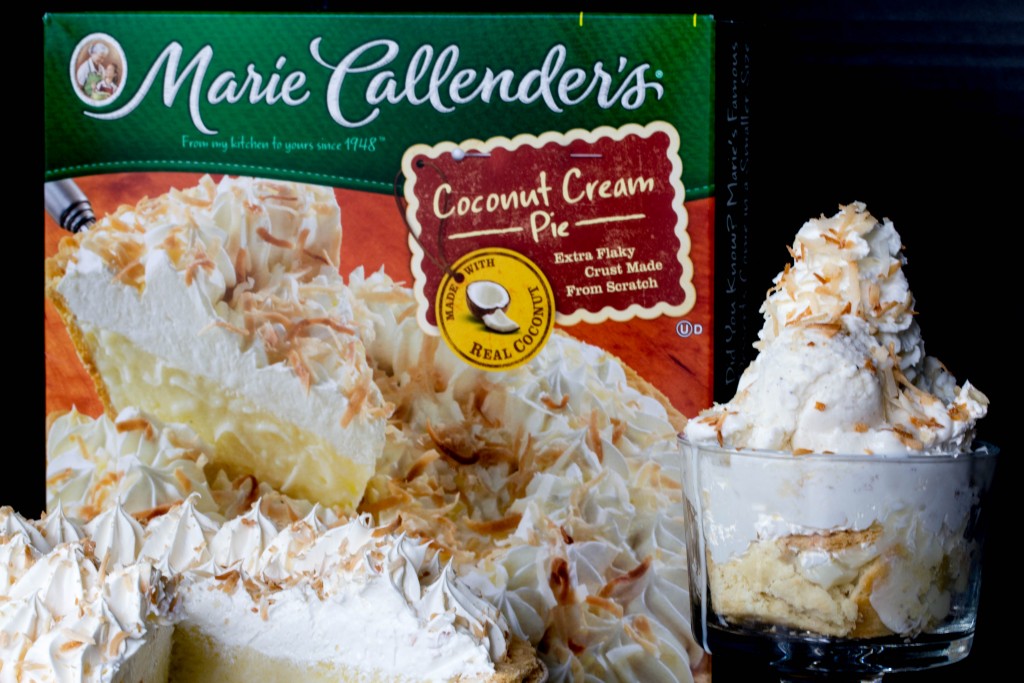 3. Spring Garden Pie
Spring has sprung on this Lemon Meringue Pie by adding some green sugar crystals on top of the meringue and some pastel colored chocolate flowers springing up through the ground. (recipe below)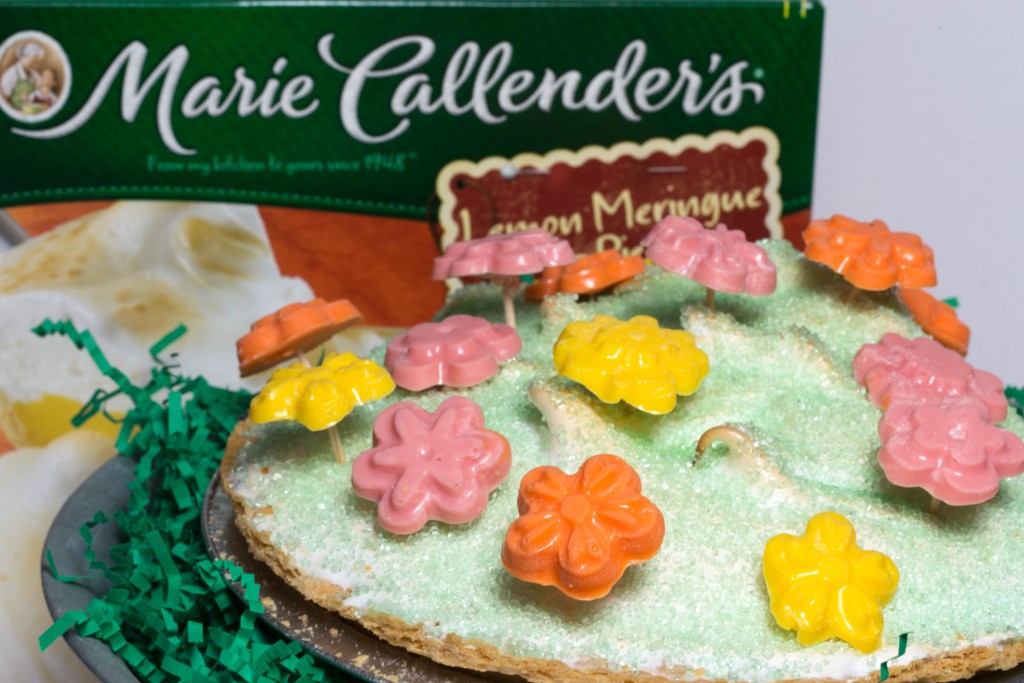 4. Banana Cream Pie Shakes
When my kids were at college, there were quite a few restaurants around campus that were famous for their "Pie Shakes". My daughter and her roommates would save their money and then go and split one. Poor starving students. You don't have to split one. Make your own with a Banana Cream Pie. (recipe below)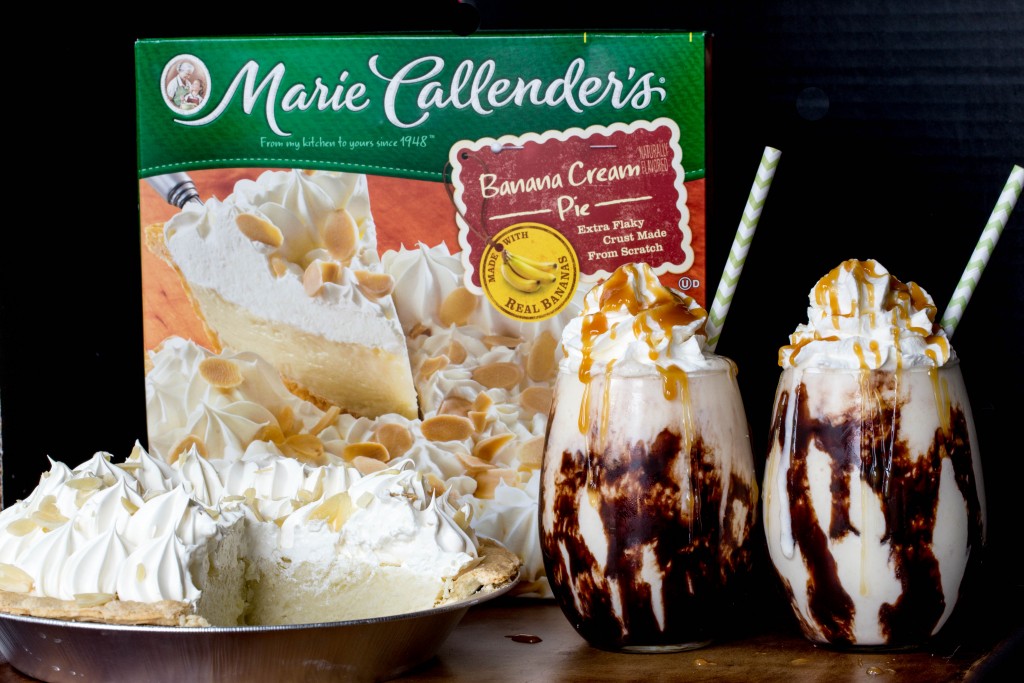 5. Chick Pie
For a great spring look, I dressed up this Key Lime Pie with some multi-colored chicks. How fun would this be at a spring brunch? The Key Lime Pie was just right for this because of where the pie is lined with cream. The chicks fit perfect.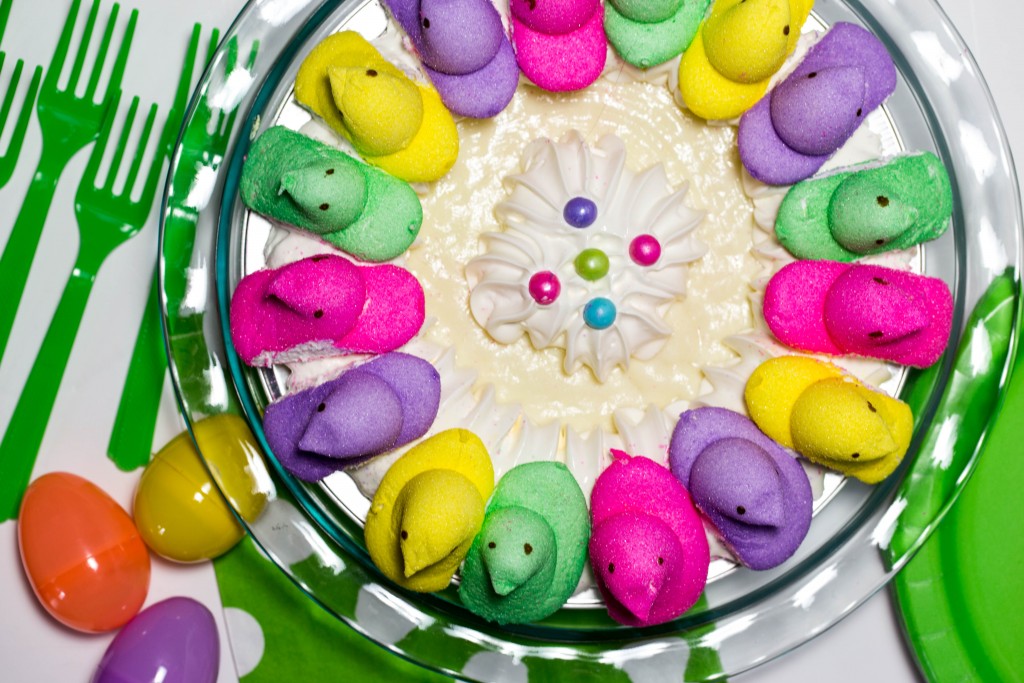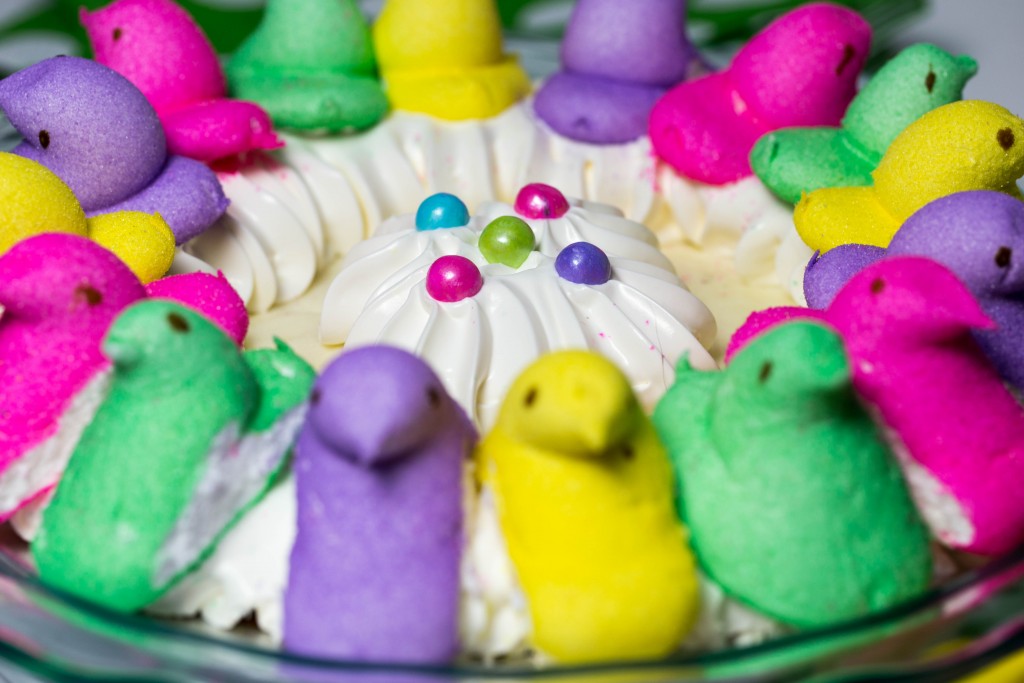 So do you agree with me that pie is not just for slicing anymore? Make your spring a little sweeter by dressing them up or making a completely new dessert with them. It's that easy.
I'd love for you to check out all the great ideas on Marie Callender's Facebook Page for some more ins-PIE-ration and watch for March 16-25 for our curated content on their Pinterest Board "Spring Desserts".
Happy Spring Everyone. Celebrate with a piece of pie!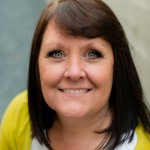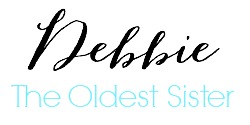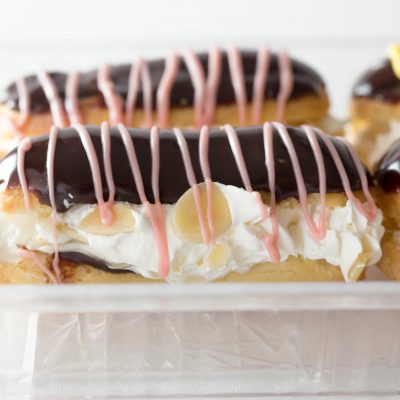 Eclairs and Cream Puffs
Ingredients
Mini Eclairs and Cream Puff shells. I purchased mine at my local bakery shop. They were $.30 a piece.

1

cup

semisweet chocolate chips

2

TBL butter

1/3

cup

corn syrup

3

tsp

water

Marie Callender's Banana Cream Pie

Pastel Chocolate
Instructions
In a small sauce pan, slowly heat and mix the chocolate chips, butter, corn syrup and water until the consistency is smooth and pourable.

Dip the tops of the eclairs and cream puffs into the chocolate and chill in the refrigerator until set.

Cut the eclairs and cream puffs where desired and spoon banana cream pie into the shells with some whipped cream in the front.

Place the sliced almonds from the pie onto the whipped cream as garnish.

Melt pastel chocolate per the instructions on the package.

Pour into a sandwich ziploc bag. With scissors, cut a small piece of the bottom corner off the bag. Push the melted chocolate to that corner.

Squeeze softly and draw lines over the eclairs and cream puffs.

Refrigerate until ready to serve.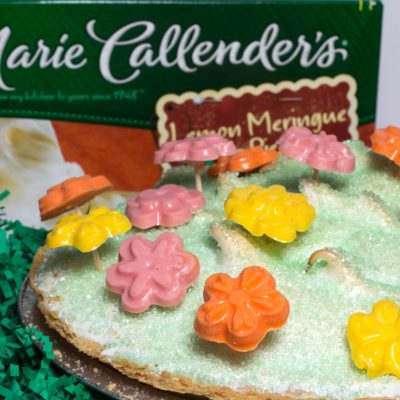 Pastel Candy Flowers
Ingredients
Candy flower mold

Pastel Chocolate
Instructions
Melt the pastel chocolate per the instructions on the package.

Pour into a sandwich ziploc bag. With scissors, cut a small piece of the bottom corner off the bag. Push the melted chocolate to that corner.

Squeeze softly into the flower mold.

These will set at room temperature so just wait until set. Usually takes around 1/2 hour.

Pop the flowers from the mold.

If you'd like the flowers to stand up from the pie, insert a toothpick into the back of the flower and then insert into the pie where desired.
Pie Shakes
Author:
Ingredients
3 cups vanilla ice cream
1 cup milk
Banana Cream Pie
Reddi-Wip Whipped Cream
Chocolae Sauce and Caramel Sauce for garnishing
Instructions
In a blender, blend together your ice cream and milk.
Add two normal sized pieces of Marie Callender's Banana Cream Pie.
Pulse blend enough to incorporate but not until pureed. It tastes better if you've got some chunks of pie crust in there.
If desired, pour chocolate sauce inside a glass and let drip down the sides.
Pour your milkshake mixture in your glass.
Top with Reddi-Wip whipped cream and caramel sauce.
This is a sponsored conversation written by me on behalf of Marie Callender's. The opinions and text are all mine.