S'mores are one of those things that I'm convinced God put on this earth because he loves us. Crispy graham cracker with gooey sweet marshmallow toasted with that delightful charred skin topped with a melted piece of oh-my-goodness Hershey's chocolate…it's something that is so entirely right. But even rightness can be improved on, yes? I think so. How does a semi-homemade salted caramel s'more with Hershey's ganache sound? Definitely not too good to be true. Read on my friend!
These ooey, gooey marriage-proposal-inducing s'mores are an indulgence that are worth every sumptuous bite.
Ingredients:
White chocolate macadamia nut cookies (or any sugar cookie)

Salted caramel buttercream frosting (recipe below)

Square s'mores marshmallows

Hershey bar chocolate ganache

Caramel waffle cookies
To cut down on prep work, because there are a few homemade items on this list, go to your local deli and buy a box of cookies to use as the top and bottom layer. Then whip up the frosting from the recipe below. You can make your own salted caramel (this recipe from Brown Eyed Baker is my total favorite) or buy it ready made from the grocery store. You're going to want to pipe or spread the frosting onto one side of the cookies as part of the s'mores sandwich.
Small Batch Salted Caramel Buttercream Frosting:
1 stick salted butter

1 lb powdered sugar

1 teaspoon vanilla

1/3 cup salted caramel
Cream butter and sugar together in a mixing bowl on medium until it is light and fluffy–about 2 minutes. Add in the vanilla and salted caramel and beat for an additional 2 minutes. Pipe onto your cookies as shown in the picture above! Save some for the top of the s'mores later.
Take one of the square marshmallows and place it on top of the buttercream frosting.
At your option, you can toast the marshmallow a bit. I'd recommend a creme brulee torch or something similar, as popping these in the toaster will also melt the buttercream.
If you're a purist when it comes to ganache – or any chocolate artistry whatsoever – you'll probably reach for the best quality chocolate you can find and chop it into bits to melt and make a sublime ganache. If you're lucky you made it to the grocery store at all this week and are a little less particular, you work with what you have like I did. You can use chopped up Hershey bars or you can use chocolate chips, both will work well in this recipe. For a really in depth study on the art of making ganache, this article is an excellent read. But if you're ok with a few shortcuts, my way also works!
Milk Chocolate Ganache Recipe

1 cup chopped milk chocolate bar or chocolate chips

1 cup heavy cream
Heat cream in a saucepan over medium heat until bubbles start to form, remove from heat before it boils. Place the chocolate chips in a medium bowl. Pour the heated cream over the chocolate chips and stir until the mixture is smooth. Let cool.
Drizzle the ganache over the marshmallow…drippy chocolate never looked so good!
Place a second cookie over top to make your sandwich. Add a small swirl of buttercream on top and pop in a segment of Hershey bar and a caramel cookie wafer for a little extra special garnish.
If you do make these, and a marriage proposal does result, please do let me know. I love happy endings after sweet happy endings and want to hear all about it!
Thanks again to MFP for asking me to be a regular contributor! I'd love it if you'd stop on by Frog Prince Paperie for party inspiration, and maybe find some tutorials and recipes for a few other holidays, too! You can also find me on Facebook, Pinterest, Instagram, Twitter and Google+.
If you loved this post, be sure to subscribe to my email list! CLICK HERE!
You might also like these gems from my site…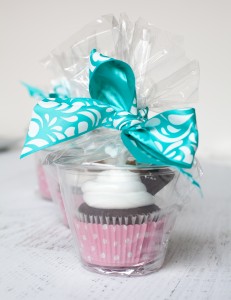 S'mores Cupcakes with Bake Sale Packaging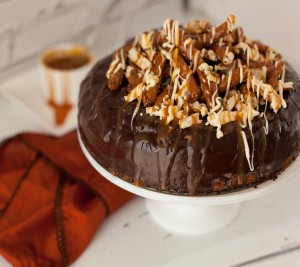 Chocolate Salted Caramel Cheesecake