Gluten-Free Almond Butter Breakfast Cookies, made with creamy almond butter and old-fashioned oats, a delicious way to start any day. From the oven to your mouth in 20 minutes.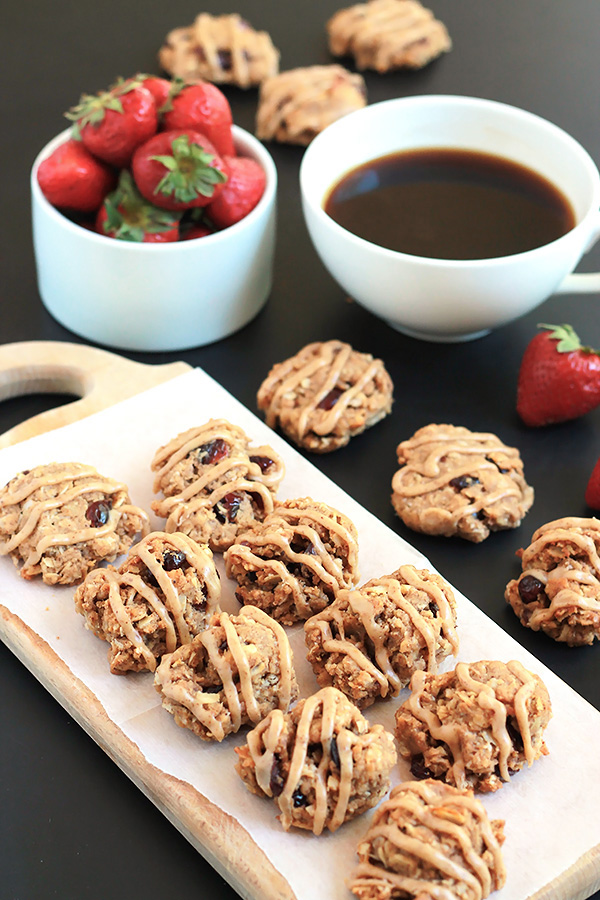 Cookies for breakfast? Definitely, when they are this delicious.
Hello Made For Pinterest readers, it's Celeste again from The Whole Serving, here with a delicious breakfast cookie for you.
I love cookies, and I love them even more when they give me the energy boost I need before or after a morning run or when I get the late afternoon munchies. When I make cookies it's usually chocolate chip, sugar or any other really sweet cookie. I decided to give breakfast cookies a try after seeing a commercial for some on TV.
I'm always trying to get my 20 year-old to eat breakfast, but she says it makes her stomach upset when she eats before 10 in the morning. I don't know why. But mid morning she needs the energy. She likes cookies, so I decided to make these for her so after her first class she would have the energy pick-me-up she needed to make it until she eats lunch, which happens to be around 1:30 in the afternoon, after her classes.
It's a versatile recipe, I used almonds and almond butter because my daughter has a peanut allergy. Feel free to use whatever nut butter is your favorite.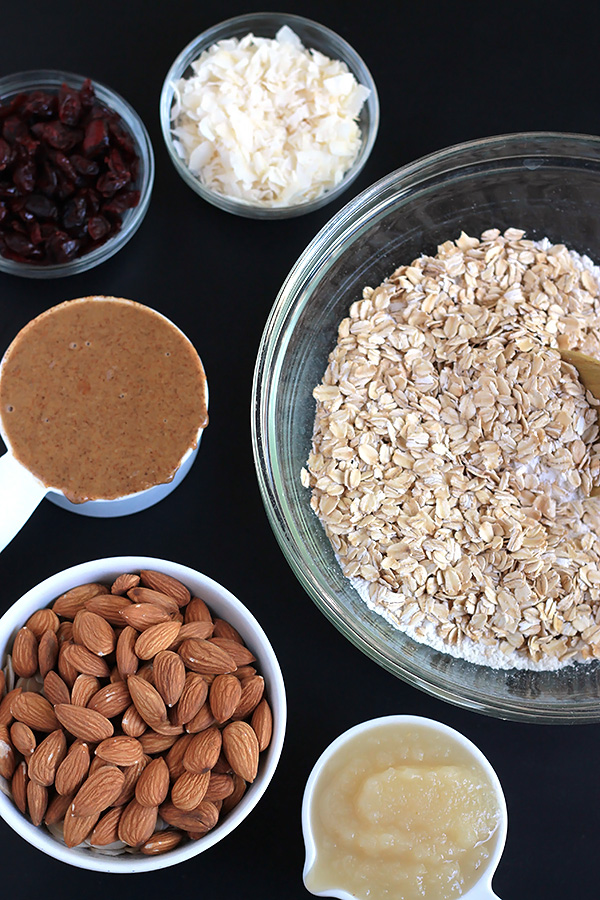 When baking them you can make them flat or keep them round.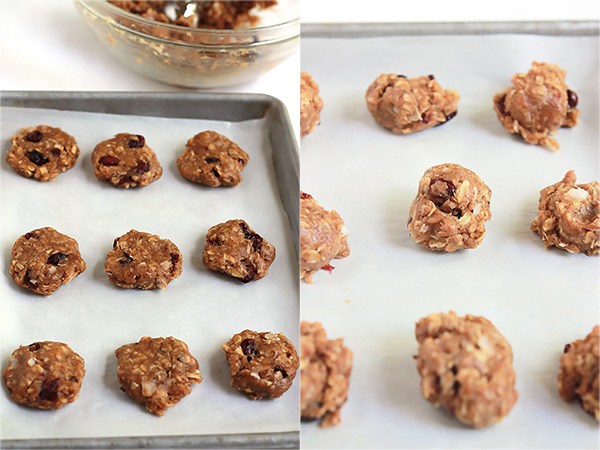 If you are like my daughter and can't stomach a big breakfast in the morning, give these Almond Butter Breakfast Cookies a try. I like to have mine with fresh fruit with yogurt and coffee.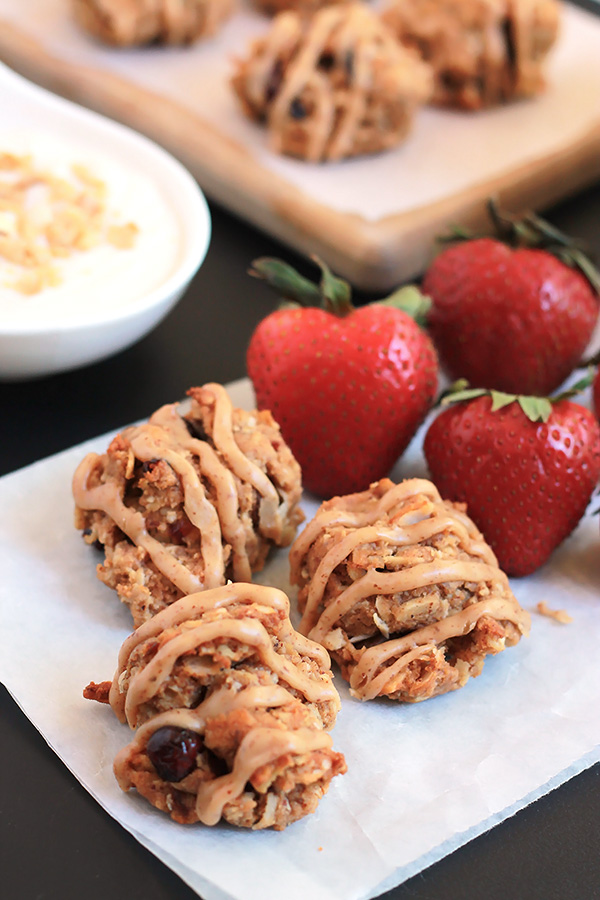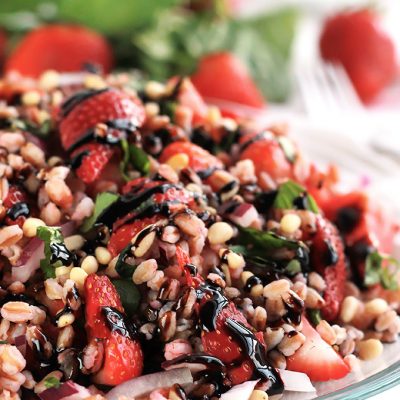 Almond Butter Breakfast Cookies
Ingredients
COOKIES

1

cup

gluten-free flour blend

1/2

teaspoon

baking soda

1/2

teaspoon

baking powder

3

tablespoons

natural cane sugar

1/4

teaspoon

salt

1 1/3

cup

old-fashioned oats

2/3

cup

almond butter

2/3

cup

unsweetened applesauce

1/4

cup

maple syrup

1

teaspoon

vanilla extract

1/4

cup

melted coconut oil

1/2

cup

almonds roughly chopped

1/2

cup

dried cranberries

1/2

cup

coconut flakes

GLAZE

1

cup

powdered sugar

1 1/2

tablespoons

almond milk

2

tablespoons

almond butter
Instructions
Pre-heat oven to 350 degrees and line a shallow baking pan with parchment paper.

Place the flour, baking soda, baking powder,sugar, salt and oats in a medium bowl, whisk to combine and remove any lumps.

Add the almond butter, applesauce, maple syrup, vanilla, and coconut oil to the flour mixture, mix until well combined.

Add in the remaining ingredients and combine until well incorporated.

Using a mellon scoop or spoon, scoop up about 2 tablespoons of the dough and place on baking pan. If you want a flat cookie simply flatten with your fingers before baking.

Bake for 12 to 15 minutes.

This part is totally optional -- While cookies are baking, mix together the powdered sugar, almond milk until well combined. Add the almond butter and mix until mixture is smooth and creamy.

Allow cookies to cool before drizzling glazing over cookies.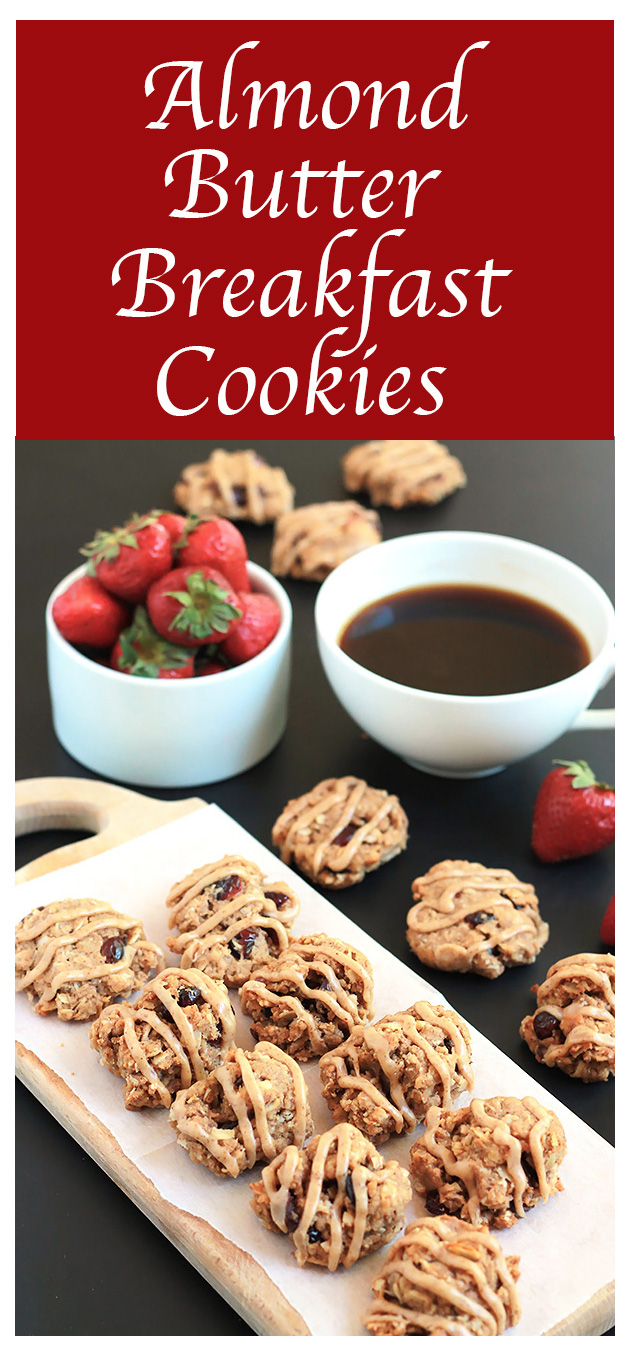 If you like this, you may enjoy some of my other creations over at The Whole Serving. Here are a few of my latest creations, stop by a check them out.