When I cook a nice meal, what I want out of my family is an end of the cooking show reaction. At the end of the show the host and their guests taste the recipe of the day and ooh, and aah, over the taste, texture, flavor, moistness; every exquisite detail is described. What I get most often when I ask how my family likes a new recipe is, "It's good. I like it." I't's good? Good? LIKE? I press for more detail. "On a scale of 1-10, where would you rate this?" By now they are annoyed and evasive. "I already said, it's good." Ugh! Good is such a generic term, I don't know what to make of it.
It is the start of a new year, and your kids, like mine, are probably not back in school yet either, so we are all still eating holiday food. But come Monday morning, we are all going to step on that scale and let out a shriek over what we have done to ourselves. I know, you are probably totally irritated with me for mentioning it before Monday. But, trust me, I am trying to do you a favor. I am giving you time to go grocery shopping and be prepared to make this for dinner Monday night. The shift from holiday eating to more healthy eating, can taste a little, well…bleh. Baked Parmesan Tilapia to the rescue. For once, I got my end of the cooking show reaction! Hubby said he definitely wanted this again. Daughter said, this is fish? In fact, the fam said I did not make enough, and everybody had their own large filet! We like it with Garlic Parmesan Roasted Squash or Oven Roasted Cauliflower.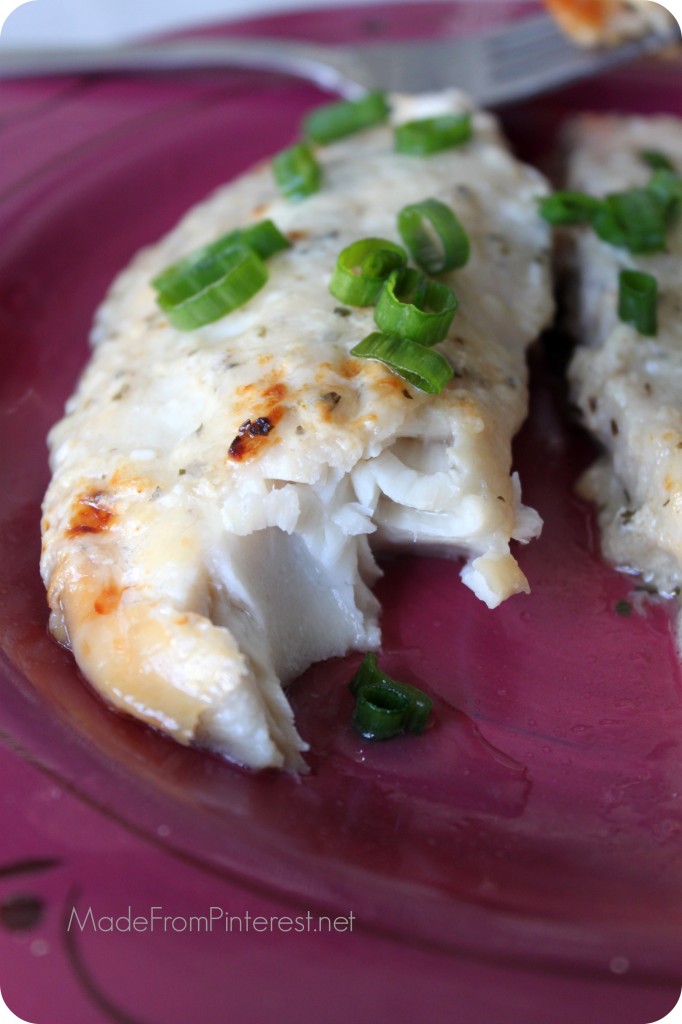 I found this pin when I was looking for recipes to use up some tilapia I bought on sale. But when I went to print out the recipe, it suddenly struck me that it seemed like the fish in the pic was sitting in a pool of melted butter. All that fat was going to defeat my healthy goals, so I read through the comments and found that several people substituted greek yogurt for the butter and mayonnaise. Perfect. With the cheese, seasonings and spring onions, we didn't miss out on flavor at all this way. This recipe from Mama's Supper Club is a keeper! Here's to eating healthfully, and feeling like you aren't.
This fish Rocks!
Baked Parmesan Tilapia
Ingredients
2

lbs

tilapia fillets

orange roughy, cod or red snapper can be substituted

2

tablespoons

lemon juice

1/2

cup

grated parmesan cheese

7

Tablespoons

Greek Yogurt

3

tablespoons

finely chopped green onions

1/4

teaspoon

seasoning salt

1/4

teaspoon

dried basil

black pepper

1

dash hot pepper sauce
Instructions
Preheat oven to 350 degrees.

In buttered 13-by-9-inch baking dish or jellyroll pan, lay fillets in single layer.

Brush top with juice.

In bowl combine cheese, greek yogurt, onions and seasonings.

Mix well with fork.

Bake fish in preheated oven 10 to 20 minutes or until fish just starts to flake.

Spread with cheese mixture and bake until golden brown, about 5 minutes.

Baking time will depend on the thickness of the fish you use.

Watch fish closely so that it does not overcook.
Notes
This fish can also be made in a broiler.
Broil 3 to 4 minutes or until almost done.
Add cheese and broil another 2 to 3 minutes or until browned.
We are happy to link this post to these great blogs: Lamberts Lately – Living Well, Spending Less – Live, Laugh, Rowe – 52 Mantels – A Glimpse Inside – What's Cooking Love