Do you mind if I am on a breakfast kick this week? On Monday I posted about Almond Pancakes with Blackberry Syrup and today we're talkin' French Toast! Yum!
Last week I was in Arizona helping my daughter who just had her second little boy. My primary job was to help take care of her first little boy who is almost 2 1/2 years old. He and his Grammy (me!) had so much fun. Don't tell his mom but I let him watch WAY more videos than his mom ever lets him watch. Shhh. It's our little secret. But isn't that what Grammy's are for?
Grammy's are also made for making a yummy breakfast that a two year old will eat. In comes Blender French Toast with Coconut Syrup from Cooking a la Mode to the rescue! Adding some flour to the mix and blending it in a blender as stated in the recipe, really cut down on the "eggy" feel and taste like some other French Toast recipes. The Coconut Syrup was not overwhelming but light and yummy.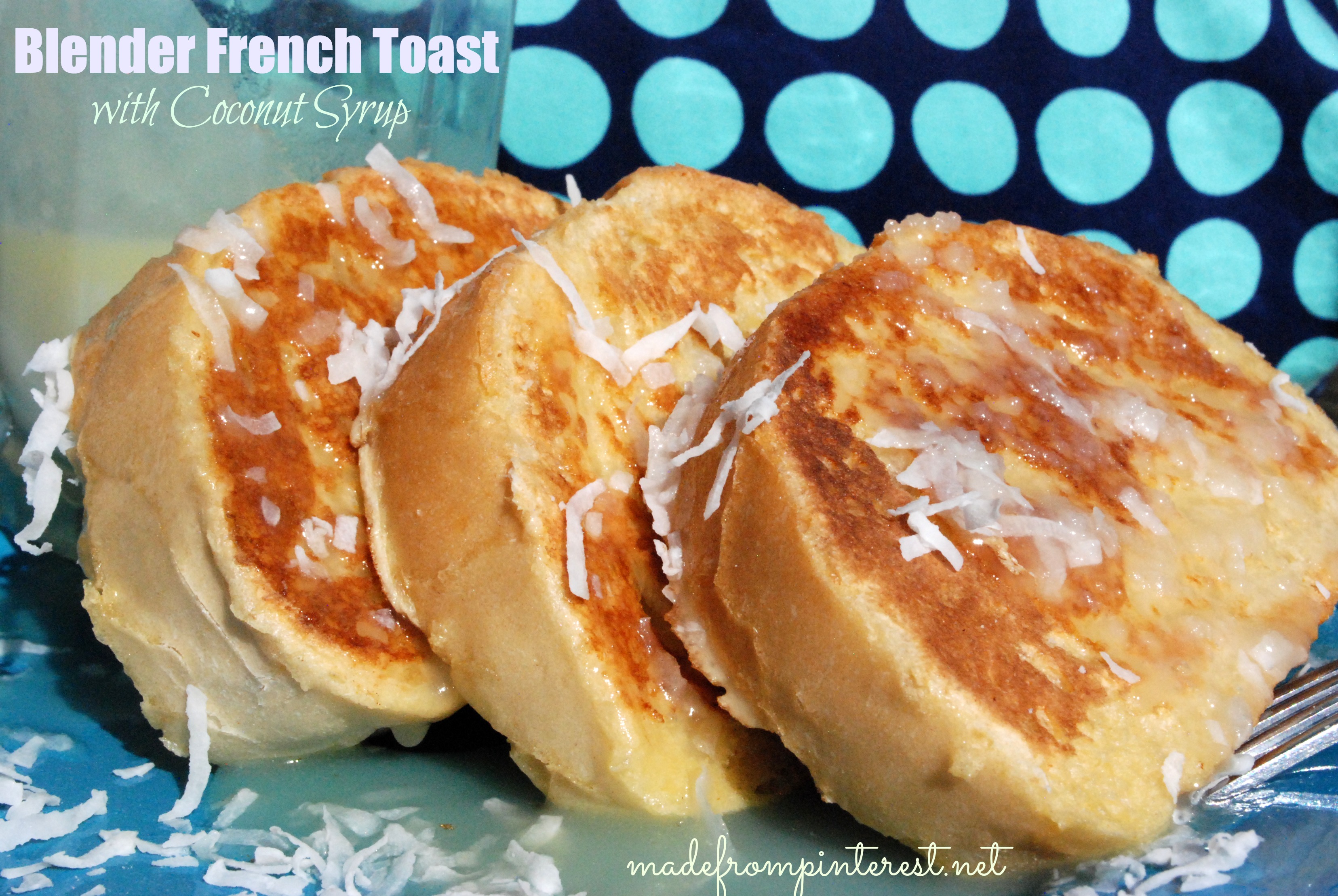 I knew this pinned recipe was a success when my grandson had three pieces! I am sure that it will be a big hit with your family too.
More than one person in my family agrees that This Pin Rocks!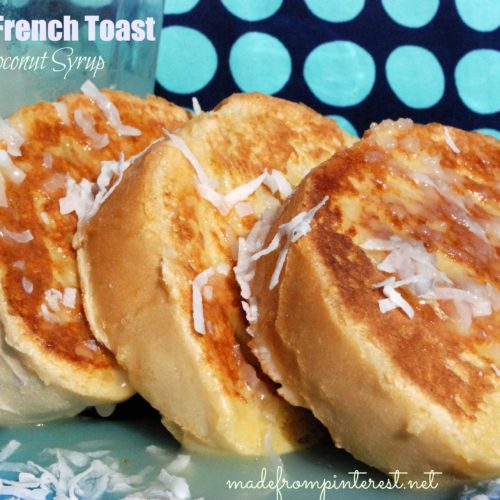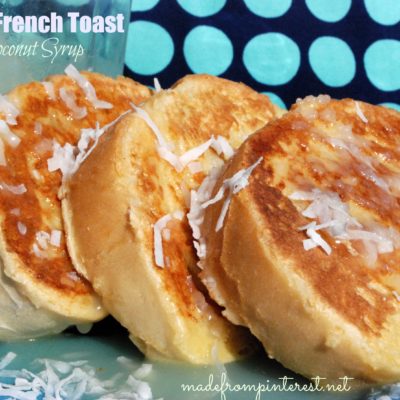 Blender French Toast with Coconut Syrup
Ingredients
4

eggs

1

c.

milk

1/4

tsp.

salt

2

tsp.

vanilla

1/4

c.

+ 2 T. flour

1

lg. loaf French bread

sliced thick (about 12-13 slices)

1/2

c.

butter

¾

c.

buttermilk

1

c.

sugar

½

tsp.

baking soda

1

tsp.

coconut extract
Instructions
For French Toast:

In blender, combine first five ingredients. Blend until mixture is lump-free. Transfer to a shallow bowl.

Quickly dip both sides of bread in mixture and place on greased, hot skillet (heated to 325 degrees). Flip over when browned.

For Coconut Syrup:

Place butter, buttermilk and sugar in a medium saucepan. Stir over medium heat until butter melts and sugar dissolves. Bring to a boil and boil one minute.

Remove from heat and add baking soda and extract, stirring constantly. It will bubble up, so if your pot is small, hold it over the sink to avoid spillage. Continue to stir syrup and let it rest for a few minutes before serving. Serve over almost any breakfast food: waffles, pancakes, French toast, crepes, etc.