Are you prone to having dry, chapped hands? Me too. Now raise those hands if you are ready to do something about it! Between the winter months of harsh cold temperatures and how it seems like wherever I have lived, we have always had hard water, my hands get extremely dry. My skin tends to be more on the oily side, but sometimes I will get cracks in my index fingers so bad they will bleed if I don't do something quickly to reverse the damage.
I was visiting a friend for coffee when she noticed me pawing at my sore thumb. I was floored when she tossed together this hand scrub in less than 2 minutes right in her kitchen, and IT WORKED! I will never be without this home remedy for chapped dry hands again, and neither should you!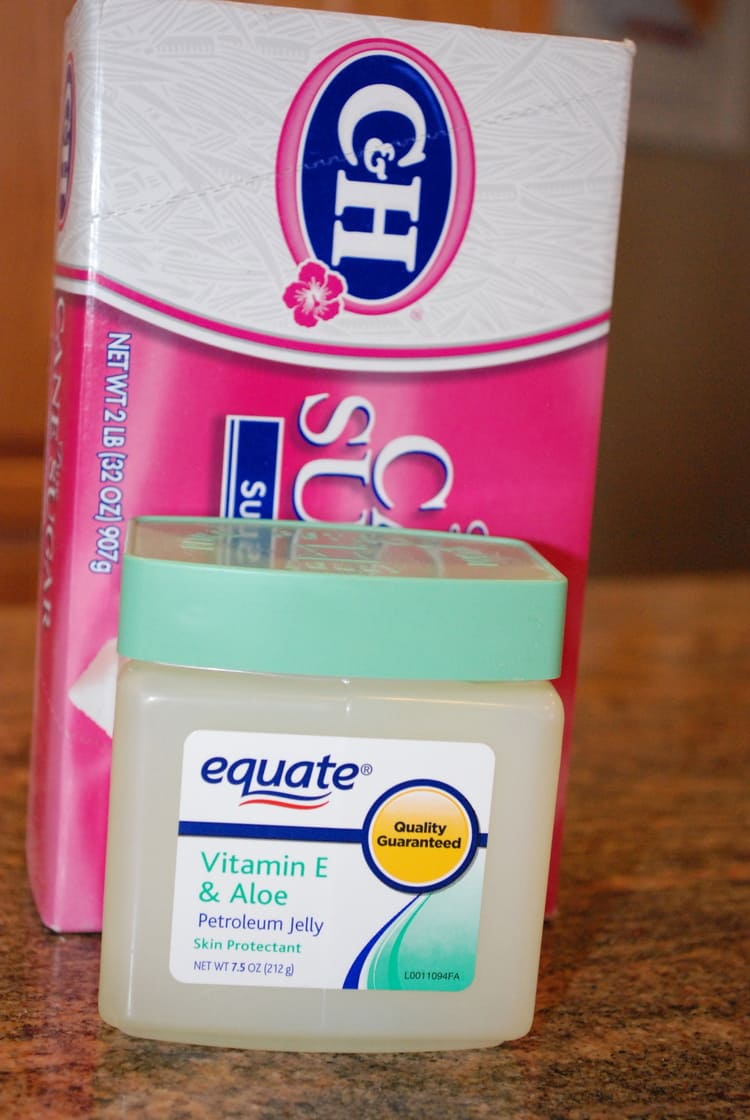 How to Fix Dry, Chapped Hands
Hard water and cold weather dry out everything, and my skin is no exception.
I have tried what feels like hundreds of different lotions and creams to help prevent, protect, or repair my poor damaged hands. All these products either work for a short time or not at all. Some have even left my hands worse off than before I put them on, and the price tag on some of these creams can be pricey.
If you are tired of throwing money at solutions that aren't working for your dry chapped hands, it's time to try this home remedy. All you need for this amazing remedy is Petroleum Jelly, granulated sugar, liquid dish soap, and any kink of mild lotion. Whenever I tell people about this paste, they think it's kinda weird, and they skeptically don't believe me that it works.
UNTIL THEY TRY IT!
What Causes Dry Chapped Hands?
Winter weather tends to get the brunt of the blame for drying out our skin, but did you know you can get dry chapped hands ANY time of year?
There are many different culprits which can cause our skin to dry out, chap, and crack. Some of them you may have heard of, others might be new to you.
We are constantly using our hands and exposing them to all kinds of materials and chemicals. I don't know about you, but I tend to not keep myself hydrated enough either, and this adds to drying out my skin. My hands feeling stiff and itchy are usually my first indicator that a bit of chapped irritated hands is soon on the way.
Check out our list of other culprits that are often overlooked when we think of causing the skin to dry out.
Is your skin exposed to any of these factors regularly?
Sneaky Skin Irritants
Cold, Dry Winter Weather
Dehydration (are you drinking enough water?)
Underlying Health Conditions (these can make your hands extra sensitive)
Medications
Hard Water (my nemesis)
Environmental Factors (air pollutants, pollen, dust, sun exposure)
Your Profession (do you wear plastic gloves all day, work with chemicals, money, or paper?)
Hand Sanitizers
Diet (caffeine contributes to dehydration)
Your Pet (yes, things your pet has on their fur can dry out your hands)
Washing Dishes (some dish soaps are pretty bad for our hands)
Most of us don't tend to pay much attention to all the ways we are using our hands every day. If you seem to feel like your hands dry out more often than not, stop and think about what you touched recently. What have your hands been doing? Do you notice a change in your skin after doing certain tasks you haven't put much thought into?
What habit might you want to look at changing to have fewer episodes of dry chapped hands?
Frugal, Kid Friendly, and Safe Remedy
Another great reason to love this amazing home remedy for dry chapped hands is because of how much money it will save you! No joke, I have likely saved hundreds of dollars a year switching from all the fancy and expensive products for my hand condition, to this simple two-ingredient scrub.
Petroleum Jelly and granulated sugar, two inexpensive items you likely already have in your kitchen and bathroom, are all you will need. This makes this home remedy great for your wallet and kid-friendly.
My grandkids have needed to combat the chapped hand problem on several occasions (usually after playing in the snow), and I love how easy it is to get them to use this scrub. The little ones find it fun when I put sugar in their hands and then a glob of Petroleum Jelly. It is kind of like making mud in their hands, and they giggle.
Keeping things simple is always better, and I love how simple this remedy is. I feel safe using it on myself and my grandkids because it doesn't have all chemicals and unknown in it that I frankly can't pronounce, let alone know if it is safe for prolonged uses.
This paste takes care of the unknown.
Mixing Your Chapped Hand Home Remedy Paste
Now that I have shared a few of my favorite things about this wonderful home remedy for dry chapped hands, let's get to making some!
It is super simple. Like I said, my 4-year-old granddaughter, can do it.
Grab your ingredients, (Petroleum Jelly, granulated sugar, dish soap, and a mild lotion of choice), and let's get started!
1. Glob the Jelly
Place about 1/2 teaspoon of petroleum jelly in the palm of your hand. A little bit goes a long way, so don't get over-excited and overload your hand or you will have a very difficult time washing it off. The first time my granddaughter did this she spent 15 minutes at the kitchen sink scrubbing off the mound of Petroleum Jelly she had used. Go light, you can always add more if needed, but you can't take any away.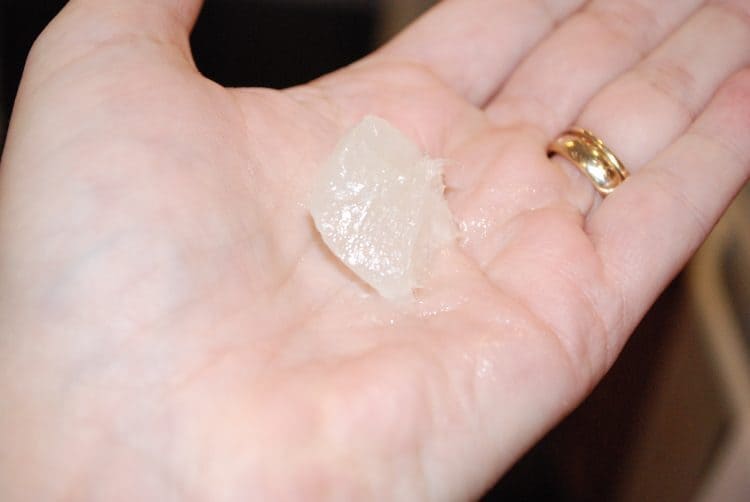 2. Sprinkle the Sugar
Second, sprinkle about a teaspoon full of sugar onto the petroleum jelly. Heed my advice and pay close attention to not overdo it at first. Too much sugar will not allow the paste to spread evenly. Plus, the scrub will then feel like you are scrubbing large boulders across your knuckles instead of pebbles. So, if you find the paste too thick, barely add a little more jelly to your palm. Sparingly, only a little at a time.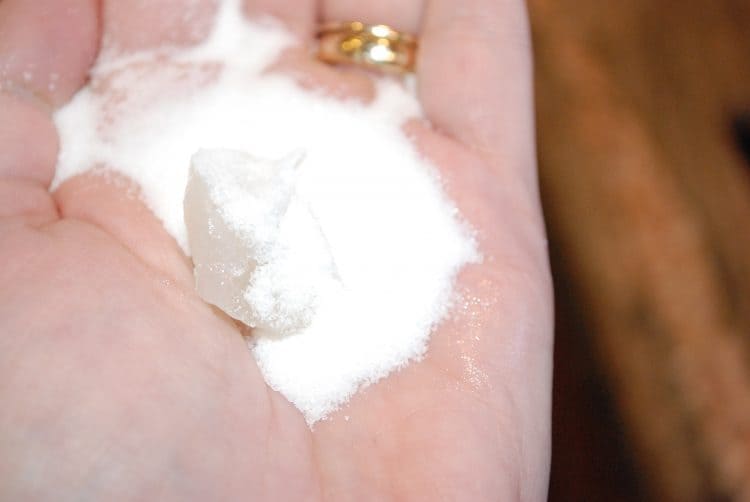 3. Mix it as you Mean It
Mush the sugar into the jelly to make a paste. You want to make sure it is all a good consistency and blended well. Doing this will allow the sugar to get dispersed evenly across your fingers, so you don't miss a spot. You'll want the scrub soft but firm enough it will hold an imprint if you pushed your finger into it.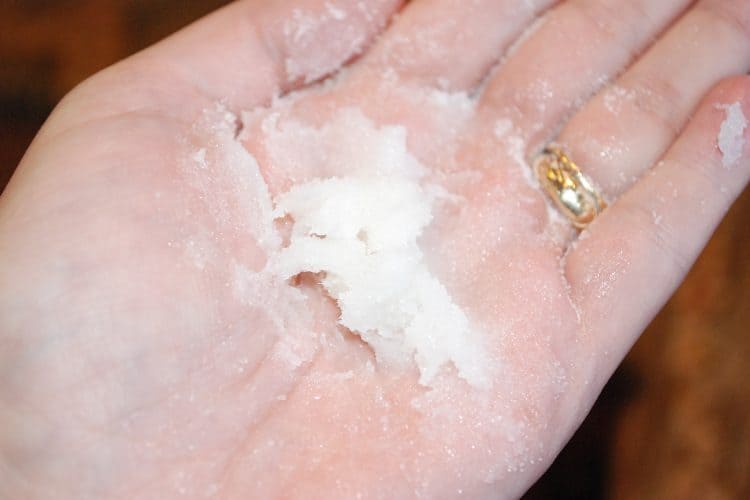 4. Briskly Scrub
Then briskly rub this mixture over both of your hands. Briskly, meaning rubbing in with as much pressure as you can stand. The sugar will act as an exfoliate to get the dry skin cells off your hands.
Next, wash your hands with tempered warm water and your favorite liquid soap you have around the house.
Finally, finish by applying your favorite lotion. I tend to use a mild-based lotion with little or no fragrance or additives. Sometimes, some creams with aloe or shea butter will overly dry out your hands even more, or over oil them and cause more problems for your hands which are trying to heal.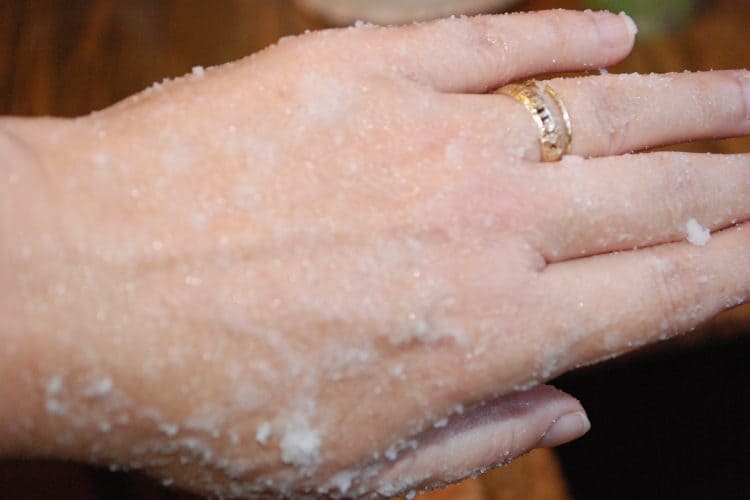 Try it for Yourself!
Now it's your turn! If you don't have the Petroleum Jelly and sugar handy, take a quick trip to the store. You can pick up what you will need for under $5. If you don't notice a difference the first time you do this, I will come over and give you a pedicure! I don't enjoy touching feet. That's how confident I am that this will work for you.
After repeated uses, the cracks in my fingers disappear, my skin feels less tight, and the redness and irritation disappear.
During the winter, I mix up a larger batch of this chapped hand remedy and store it in an air-tight container. The reason is, that I go through it much more often. However, in the other months of the year, I simply grab it right off my shelf and mix it right in my hand. Rub down your hands and if you are feeling fancy, try it on your sore cracked feet too. You can thank me later.
What are you waiting for? Trust me. This tip is a lifesaver!
Looking for More Health and Beauty Tips?
If this post got you thinking about how you are in desperate need of a spa day, don't feel bad. It did the same thing to us. Pamper yourself. Discover a few more great home remedies and beauty hacks that we love.