Happy Friday! I'm Annie from RockyMtnBliss and I'm super excited to share one of my favorite DIY gifts with you this month – DIY Lavender Bath Soak. This fun craft is perfect for a housewarming gift, teacher appreciation, or for the kiddo's to give to their grandma for Mother's Day. Coming in at a total cost of $3 per jar, you can't beat this well loved DIY gift idea.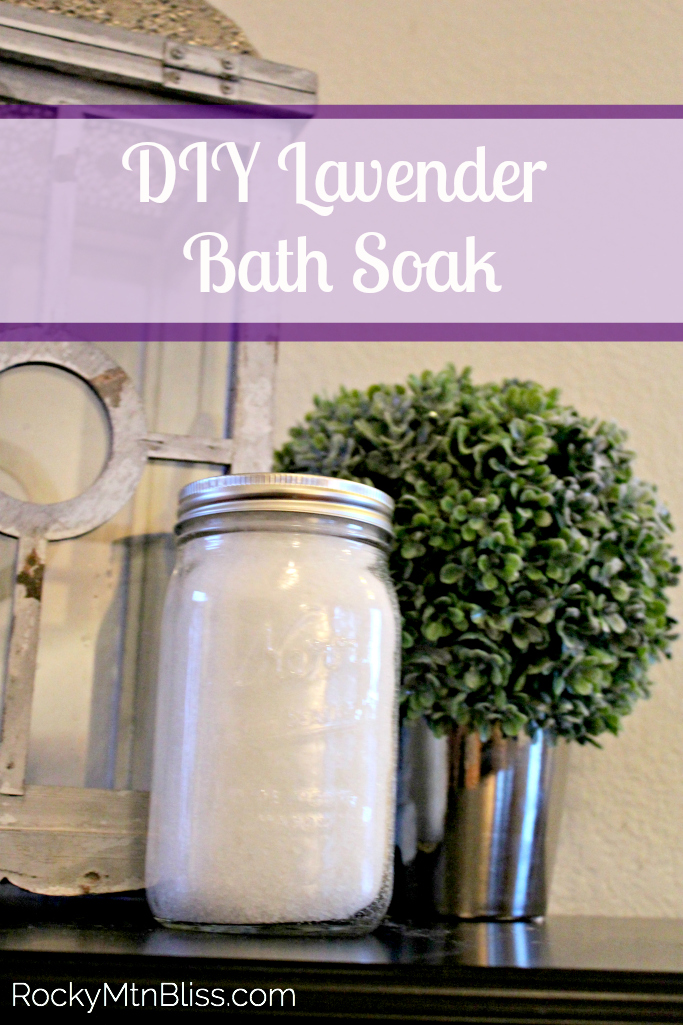 PROJECT SUPPLIES
Epsom Salts
Lavender Essential Oil
Baking Soda
Almond Oil
Rock Salt
Mason Jar (or other decorative) Canister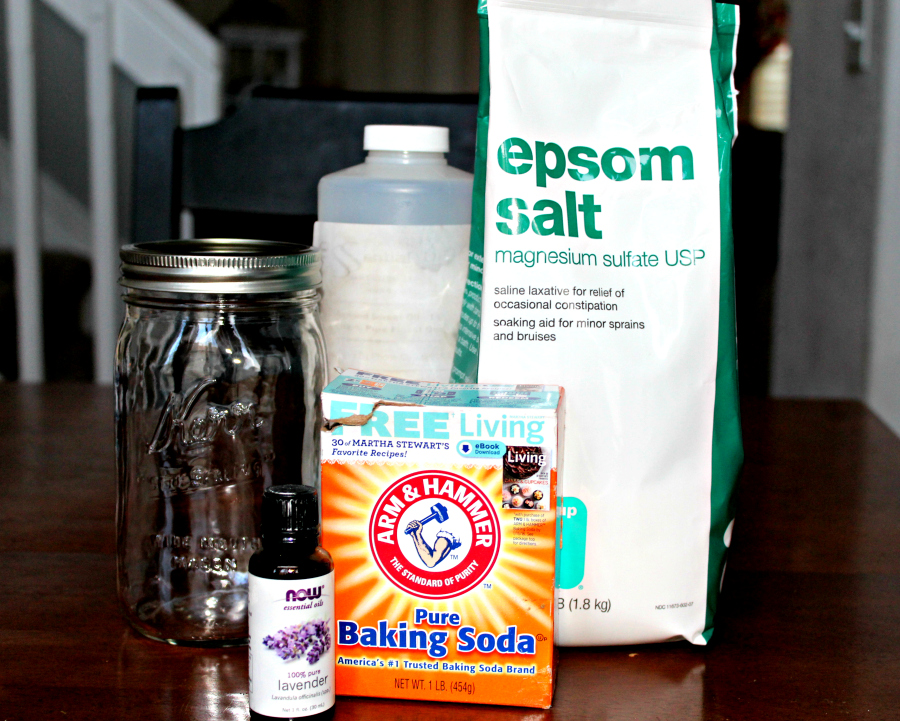 Step 1: Measure the proper amount for your canister.
I typically make this in 12 ounces jars, but if you are using a different sized canister you'll want to measure out the exact amount of epsom salts you need for each jar. I fill mine about 5/8 of the way with epsom salts and then toss it into a large mixing bowl to add the rest of the ingredients.
Step 2: Add Rock Salt and Baking Soda
The rock salt and baking soda are additional softening agents and help hold onto the scent of the essential oil. Add 1 tablespoon of each to the bowl. Stir with an old spoon or paint stick until everything is combined. I don't like to transfer the favor of essential oils into my cooking so I like using something that is disposable.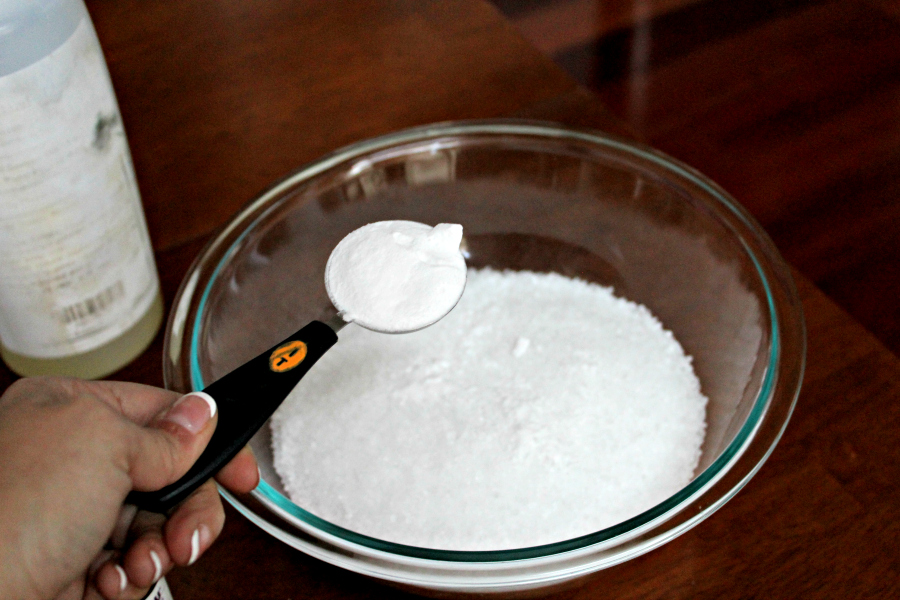 Step 3: Add Almond Oil
The almond oil helps all the ingredients stick together and when added to bath water will act as an extra softening ingredient. For a 12 oz jar, use 1/4 cup.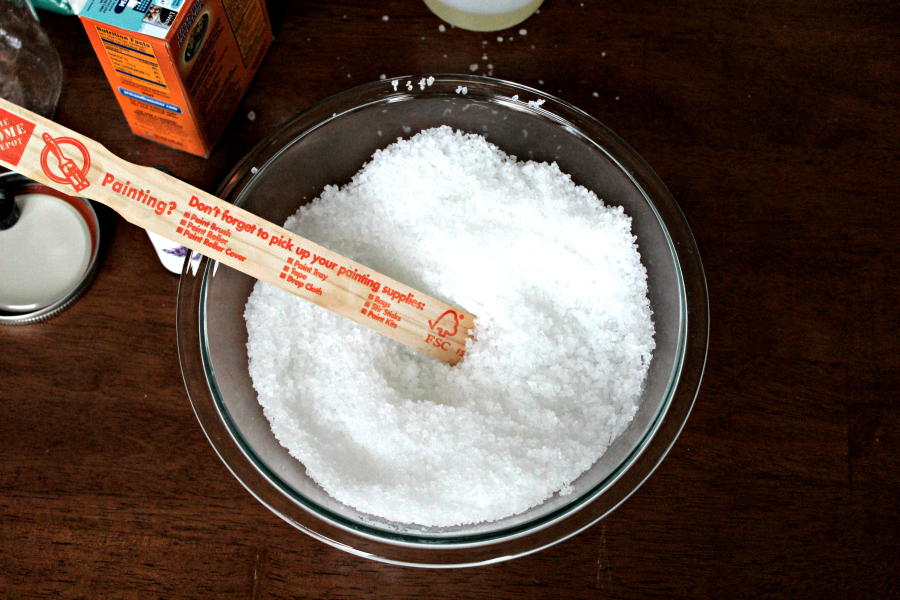 Step 4: Add the Essential Oil
For this project, I am using lavender oil. You could use any essential oil you prefer but I love how calming and relaxing lavender is. As an alternative, if the gift is for a man, rosemary is a great scent. For a 12 ounce jar, I add 15 drops of oil. You can use more or less dependent on how strong you'd like the scent to be when added to bathwater. Mix together until well combined.
If lavender is in season you can also add dried lavender directly to the salt at this stage. It adds a bit of fun color and texture to the finished look. Be careful when adding actual lavender to make sure not to overdo the amount – a little goes a long way and the flowers won't dissolve in the bathwater like the rest of the salt.
Step 5: Return to the Jar
Fill up your mason jar or canister with the salts. You may find you have slightly more salt than space in your jar, just pack it down to fit more in.
Step 6: Decorate your Gift
One of the things I love about mason jars is that it has space where you can add a paper label to the top. You could also tie a bow with instructions or a label that mentions who the gift is from. I traced the top of the mason jar onto a piece of scrapbook paper. Once I decide who I'll be gifting this jar to I'll add their name to the top.
In less than 15 minutes, you can finish a whole set of gifts for the neighborhood or create the perfect bath soak for you to enjoy the next time you have a relaxing night at home. What other scents might you want to try with this project?
Did you like this project? Check out some of other fun projects and recipes over at RockyMtnBliss