One of my favorite things to do is taking a Sunday drive with my husband. We leave the kids at home (which of course is fine with them) and enjoy the beautiful scenery of the Sierra Moutains. We get to have conversations that are un-interrupted by kids, phones or computers. It doesn't take long for our drive to take us out of "cell phone" range. Funny how you suddenly put the phone away and truly relax when that happens! We come back refreshed and ready for the upcoming week. This past Sunday we went on one of our drives. When we walked in the door my 15 year old daughter said "I have a surprise for you!". Since the kitchen was clean before I left and it was now somewhat of a disaster zone, I knew she had baked something. Madison is a wonderful cook and not so wonderful at cleaning up. If her treat tasted as good as the kitchen was messy, I figured it would be worth the mess. She was proud to announce that her recipe, of course, came from Pinterest and that I had her permission to use it for our blog. (Thank you Amira from Divine Baking for the recipe.) What a darling she is! I had to admit that from first glance the Chocolate Flourless Cookies looked wonderful. My first thought was "please taste as good as you look"! We hadn't eaten dinner yet so I entertained the idea of waiting until later to try one of these cookies. Huh, like that was really going to happen!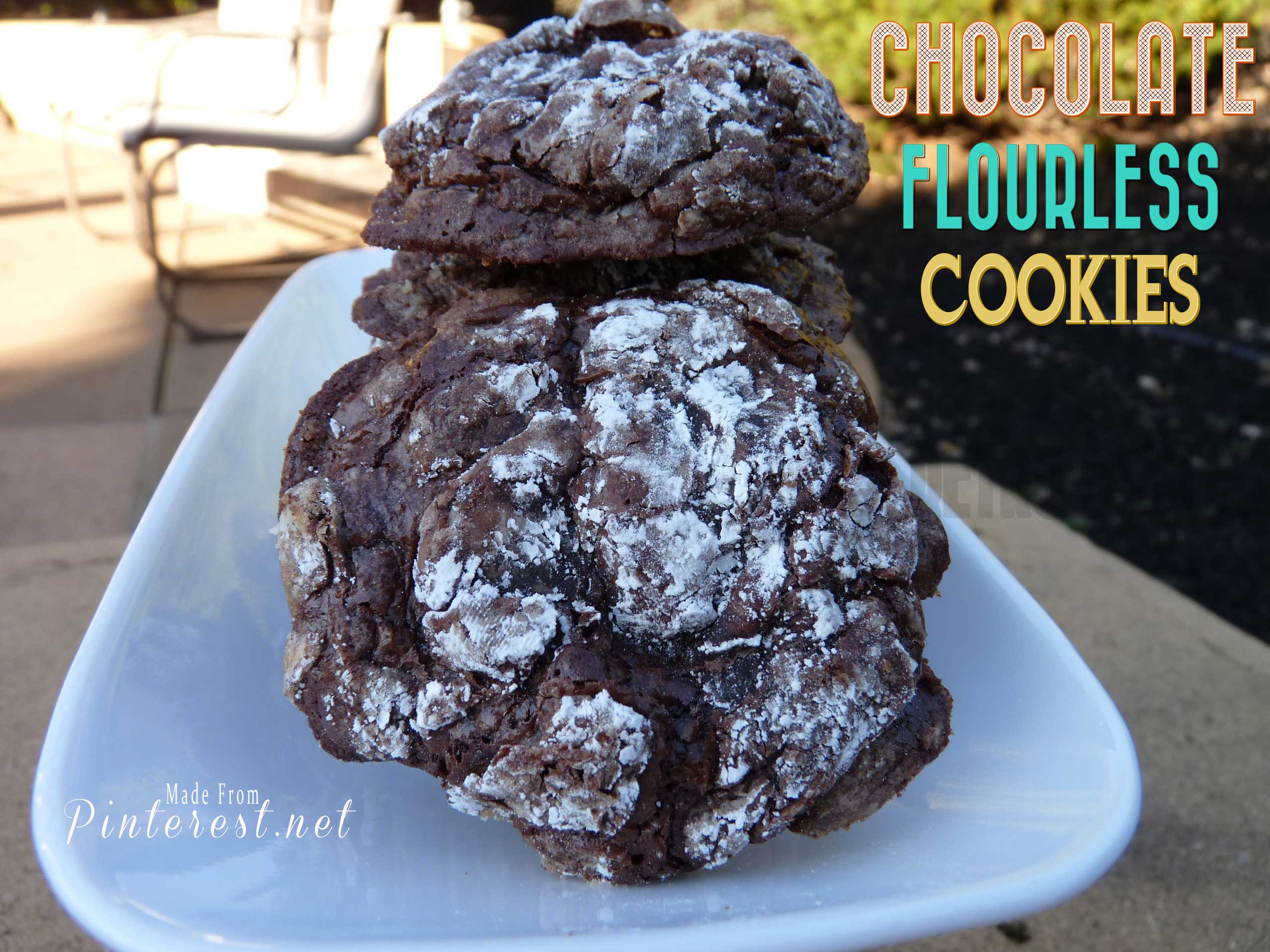 I learned early on after having gone gluten free that it takes awhile to find recipes that truly taste great and don't make you feel like you are compromising. So I was thrilled to find out that these cookies are truly out of this world, have a party in your mouth, kind of wonderful. And it has nothing to do with the fact that I didn't have to make them. They are just fantastic….first you get the taste of the powdered sugar, next comes the crunchy outside and then the fudgey, ooey gooey chocolate chip middle of the cookie. HEAVEN! It's official, I've decided that having these cookies as an appetizer before dinner could be a new tradition in our family!
Yes indeed…...This Pin ROCKS!
Tracy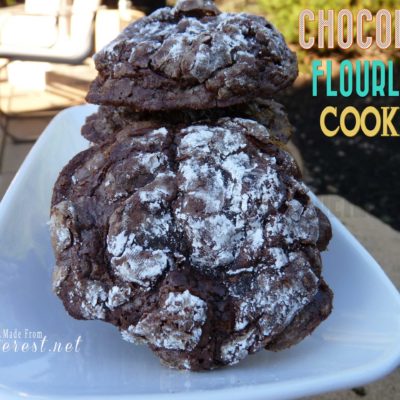 Flourless Chocolate Cookies
Ingredients
Nonstick vegetable oil spray

1 1/2

cups

bittersweet chocolate chips

about 9 ounces, divided

3

large egg whites

room temperature

2 1/2

cups

powdered sugar

divided (I used 2 cups)

1/2

cup

unsweetened cocoa powder

1

tablespoon

cornstarch

1/4

teaspoon

salt
Instructions
Preheat oven to 350°F. Spray 2 large baking sheets with nonstick spray. Melt 1 cup chocolate chips in glass bowl in microwave, stirring twice, about 2 minutes. Cool slightly.

Using electric mixer, beat whites in large bowl to soft peaks. Gradually beat in 1 (I halved the sugar here) cup sugar. Continue beating until mixture resembles soft marshmallow creme.

Whisk 1 cup sugar, cocoa, cornstarch, and salt in medium bowl to blend. On low speed, beat dry ingredients into meringue.

Stir in lukewarm chocolate and 1/2 cup chocolate chips (dough will become very stiff).

Place 1/2 cup sugar in bowl. Roll 1 rounded tablespoon dough into ball; roll in sugar, coating thickly. Place on prepared sheet. Repeat with remaining dough, spacing 2 inches apart.

Bake until puffed and tops crack, about 10 minutes. Cool on sheets on rack 10 minutes. Transfer to rack; cool.
We are linking with these great blogs! Kitchen Meets Girl, Skip to my Lou, The Creative Girl, Sew Can Do, Sew Chatty, A Southern Fairytale, Delightfully Dowling, At Home Take 2, Say Not Sweet Anne, JemBellish, The Plaid & Paisley Kitchen, Sarah – n – Dipities, Our Delightful Home,