Candy Corn. Do you love them or hate them?
Unfortunately I love them. I know, I know, they are cheap candy made of tons of sugar and high fructose corn syrup.
I get it.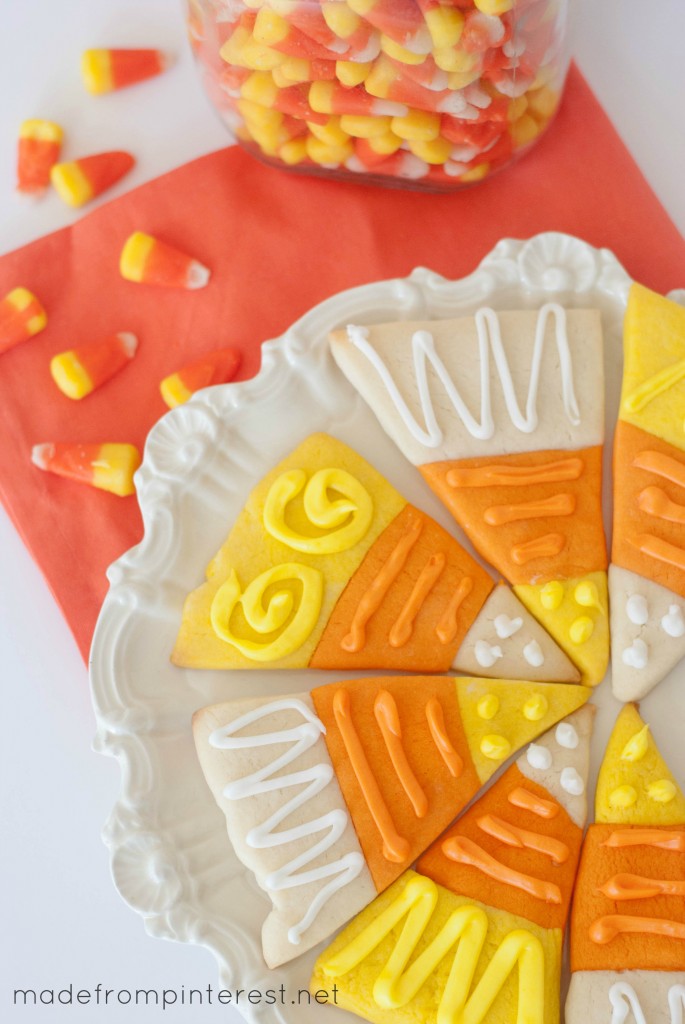 But I still love them.
If you love candy corn, then you will love this recipe that I'm sharing today because they make darling Candy Corn Sugar Cookies.
If you hate candy corn, then you will love this recipe that I'm sharing today because they don't taste like candy corn. With almond flavoring in the cookie mix, these sugar cookies are divine!
As soon as I saw this pin that I pinned from Jamie Cooks It Up! I knew that I wanted to make them. Except that I had one small problem.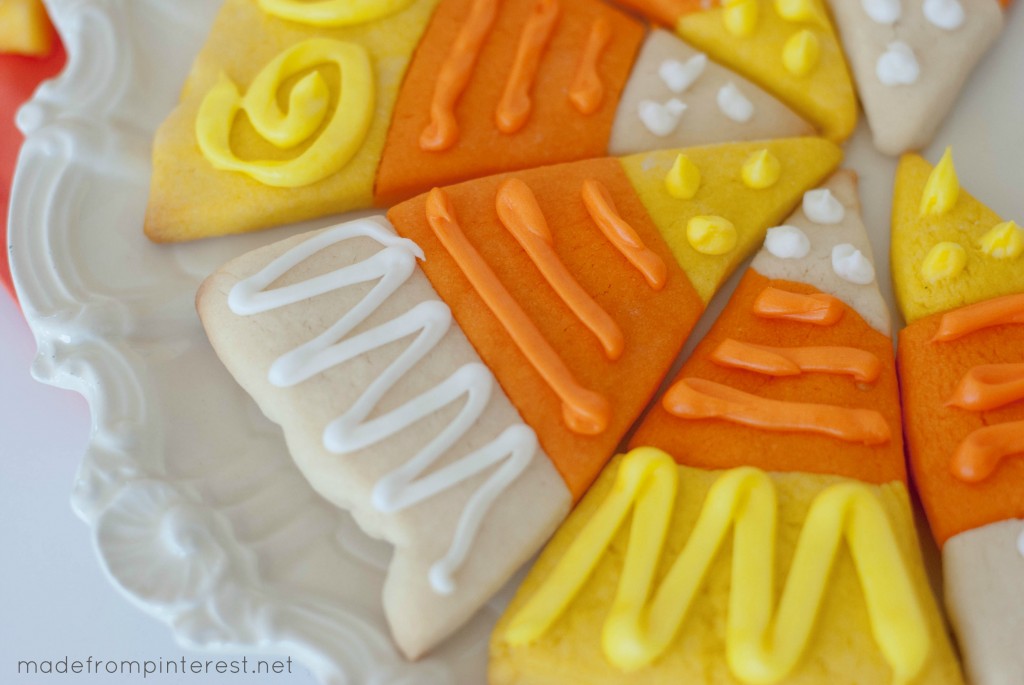 I cannot make someone else's sugar cookies because I LOVE MY OWN RECIPE SO MUCH! So instead of using her recipe, I used my recipe that I'm famous for which is for Cream Cheese Cutout Cookies. Just click on the link to get the recipe!
So after making the cookie dough, divide the dough into three parts and with orange and yellow food coloring, color two of the three parts of dough so that you have one white, one yellow and one orange. I use Americolor Gel Pastes. I love the vibrant color they provide! Then cut each color in half so you end up with six small balls of dough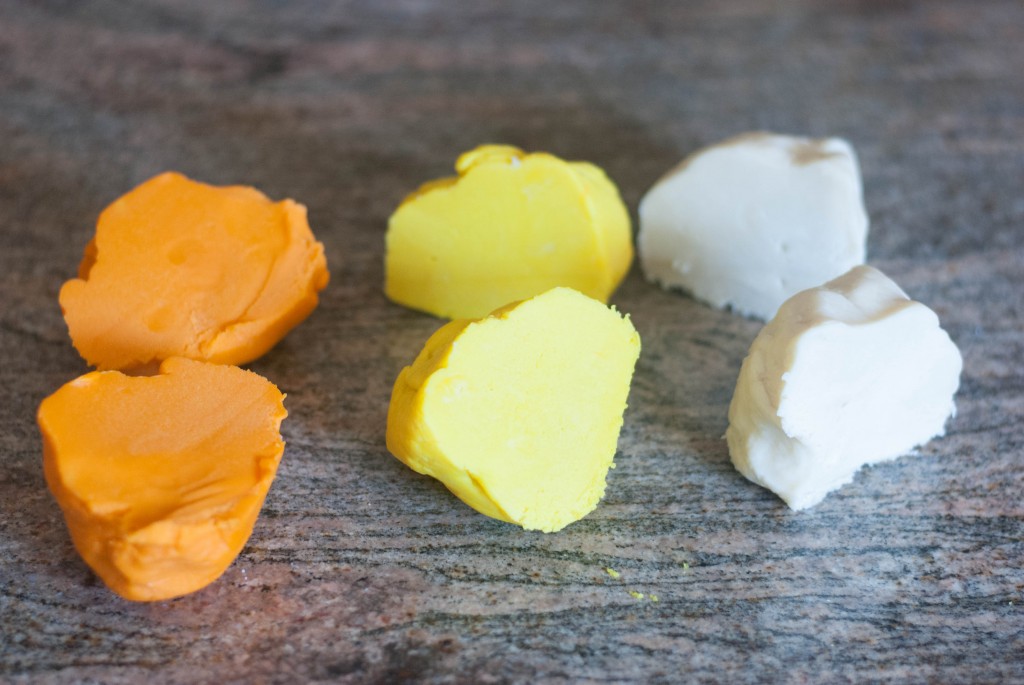 Next take one of the balls of dough and roll it out to a 4 x 9 inch rectangle: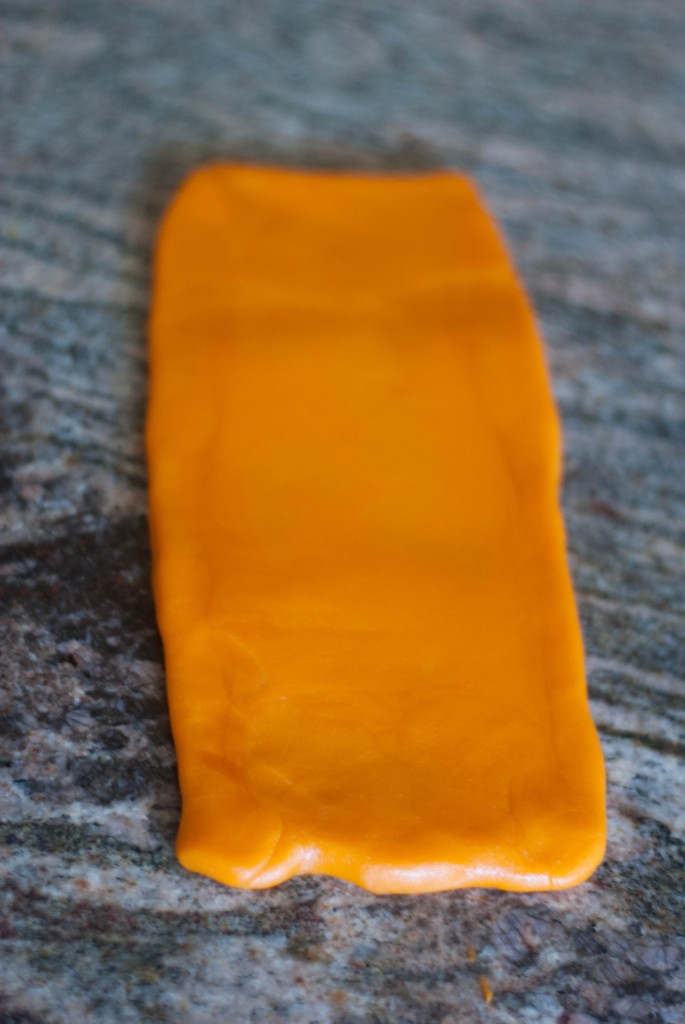 Repeat with the other two colors: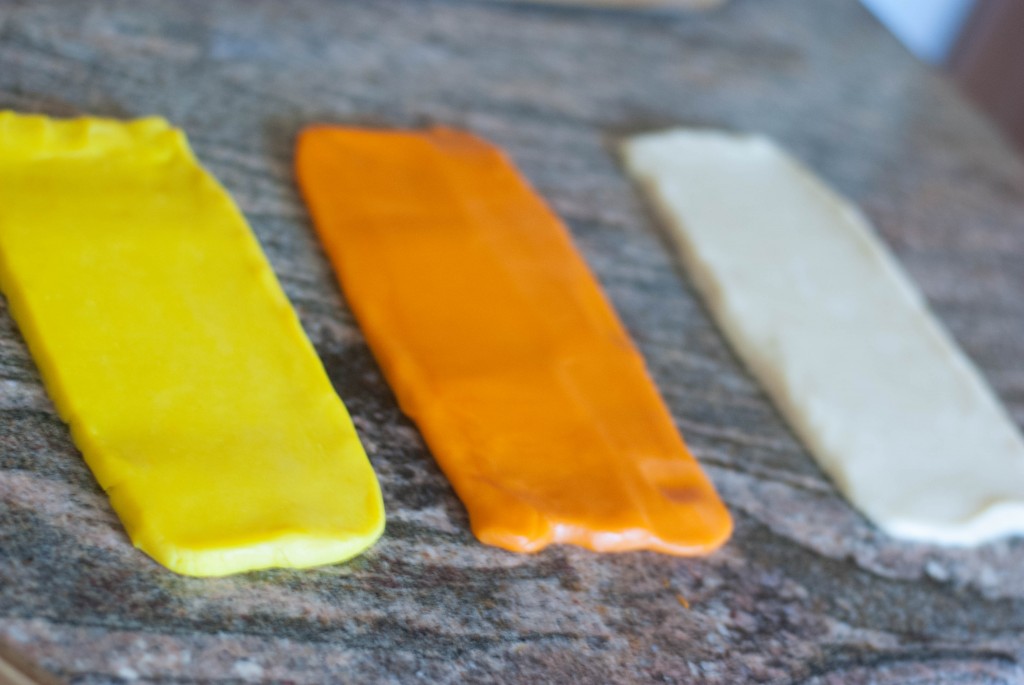 Then with a pizza cutter, cut each color into thirds lengthwise. Combine each third with the two other colors so it looks like this: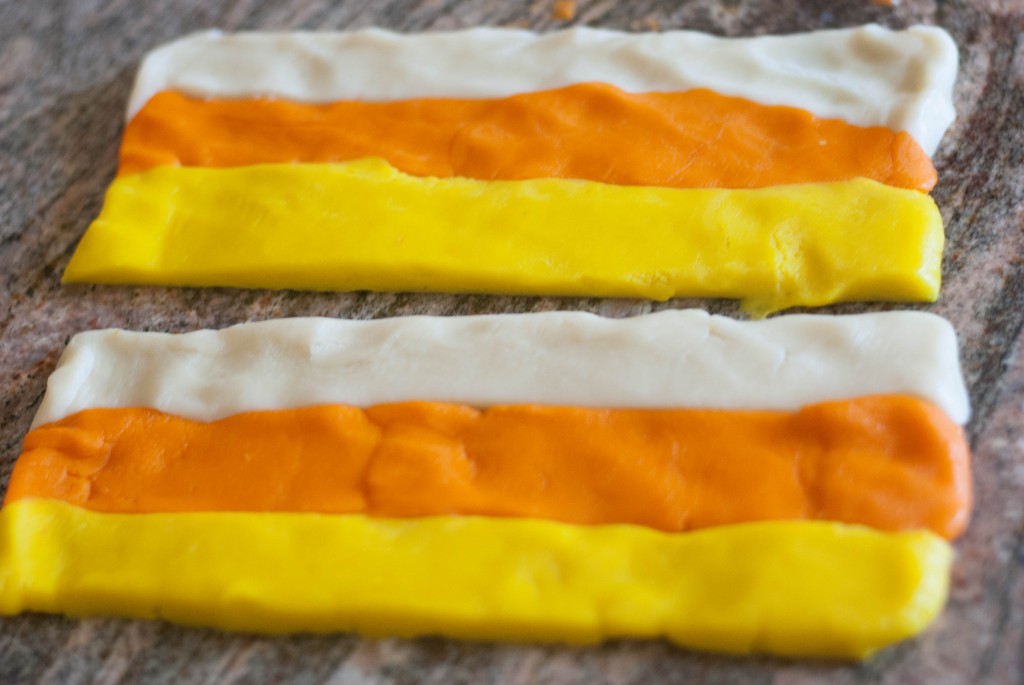 Take your rolling pin and slightly roll over the dough to help combine the rows together. Then again with your pizza cutter, cut the dough into triangles: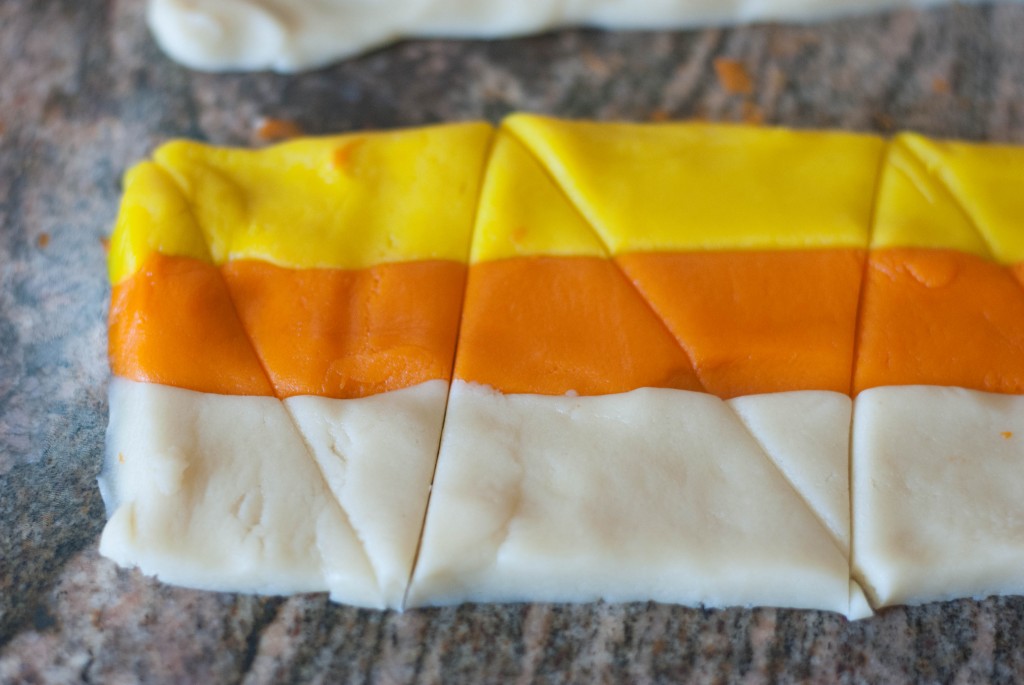 You may have some extra dough on the sides that is perfect for eating right here and now! Yeah, the dough is that good.
Very carefully, lift each triangle onto a cookie sheet and bake for 8-10 minutes at 350 degrees.
After the cookies are cooled, make your frosting (recipe below) and divide the frosting into three bowls and color with the same food coloring as your cookie dough. I just kept adding color until I liked it.
Put your frosting into three plastic bags and cut a small corner off the bag to pipe your frosting on the cookies. Feel free to design any way you like!
Frosting
Cream the butter, sugar and almond extract. Add in the milk one tablespoon at a time until you reach your desired consistency.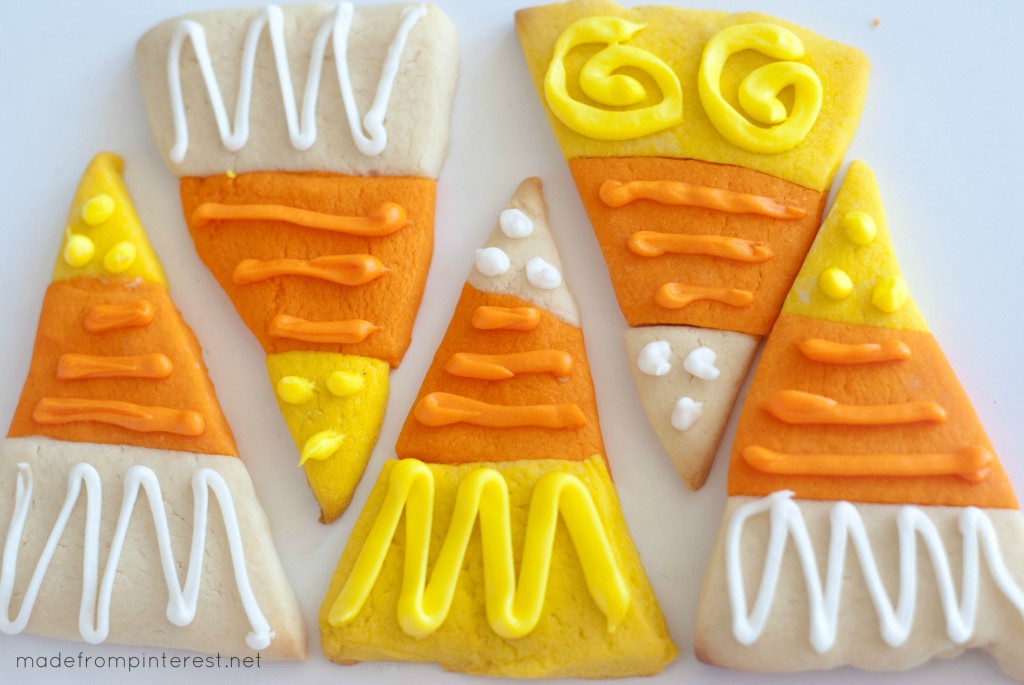 I hope this recipe makes a candy corn lover out of you because This Pin Rocks!