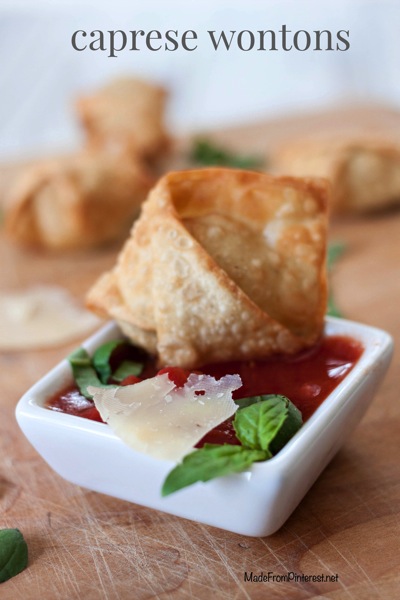 Don't overthink it. Sometimes it is just best to just KISS it. Keep It Simple Silly! I know a few people who are under the impression that if you heap gourmet ingredients together, it will make a great dish. But the truth is, some of the best foods are made from simple ingredients without a lot of fanfare. It is that perfect combo of plain foods that can make a recipe one that endures in your recipe collection. To become that recipe that I go back to over and over again, until it becomes one of my signature dishes, it has to have ingredients that are not hard to find, easy to make, with impressive results. Caprese Wontons from Return to Sunday Supper have now made the A list of recipes in my collection.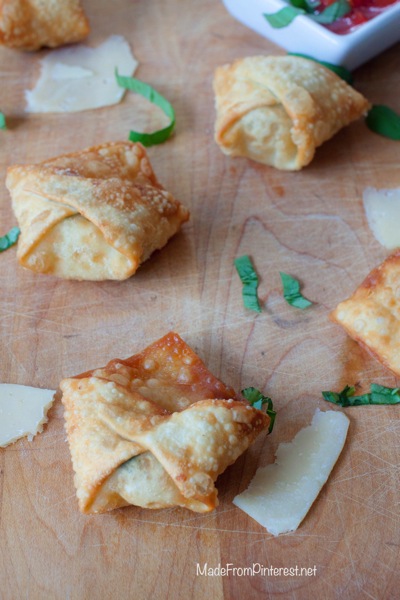 Tomatoes and Basil. These are a few of my favorite things from my garden in the summer. Actually, these are my absolute favorite things from my summer garden. I cannot get enough of basil and tomato. I don't have a lot of room for a garden. So I train my tomatoes up a trellis leading up to my deck. One year, I grew a perfectly square tomato. It had grown up under the railing and conformed to the shape under there. When I pulled it gently out, there it was! A ripe, juicy square tomato. I had so many tomatoes that year I made sauce and froze it to enjoy all year long.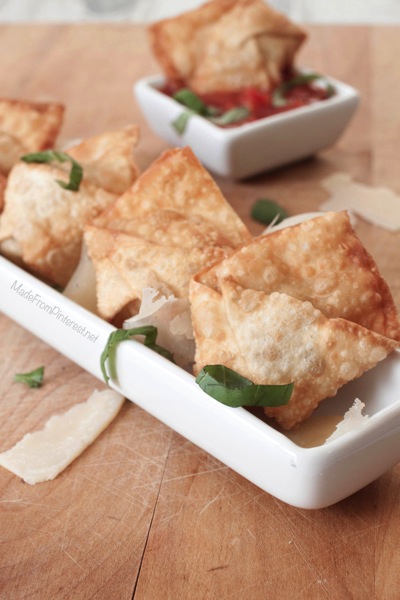 These Caprese Wontons will not last you all year. I could barely restrain myself from eating them all before snapping these pictures. Little balls of fresh mozzarella and ribbons of fresh basil are wrapped in wonton wrappers and fried. Those basil ribbons are like party streamers for the melty, gooey, perfectness of the cheese tucked in a crunchy shell. Um, yeah, these are really good. Topped with grated or shaved parmesan and dipped in your favorite fresh marinara? These are like little bites of summer. Dig in!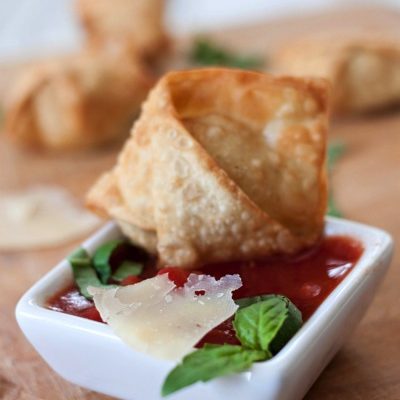 Caprese Wontons
Ingredients
1

package of cherry sized fresh mozzarella balls

about 15, cut in half to make 30

1

egg plus 1 tablespoon of water for egg wash

15

fresh basil leaves

plus more for garnish

30

sheets fresh wonton wrappers

1

cup

fresh extra virgin olive oil or canola oil

if your olive oil has not been purchased recently, use canola oil instead.

1

cup

of your favorite warm tomato sauce

canned is acceptable here or fresh diced tomatoes.

Grated or shaved parmesan.
Instructions
Lay the mozzarella on a paper towel and roll around to get dry. If they balls of mozzarella are wet, it will cause the wontons to break open.

Whisk egg and water together in a small bowl.

Wash and dry the basil. Stack the leaves on top of each other and roll into a bundle. Slice through the bundle of basil, creating ribbons.

Place the mozzarella in the center of the wonton wrapper and top with basil strips.

Wet your finger with egg mixture and run it along the two edges. This will help the wonton wrapper to seal.

Fold the wrapper into a triangle and press firmly to seal really well. It is important that this is sealed well so your yummy cheese will not melt out.

Wet you finger with egg mixture again and moisten the two corners. fold the two corners over to meet in the middle.

Keep wontons under a damp kitchen towel so they do not dry out.

When all wontons are made, heat oil in medium pot to 350 degrees.

Add 4 wontons at a time. I like to put the on their "backs" first and then roll them over onto their "tummies". Cook to golden brown on both sides, about a minute.

Drain on a paper towel lined plate.

Serve with fresh grated or shaved parmesan and warmed sauce or fresh tomatoes.
For some more great summer cooking, check these recipes out by clicking on the picture!
We're sharing this post with: