Hi guys, it's me, Judy from I'm Bored Let's Go. Happy to be back here this month with a fantastic Cheesecake Ice Cream recipe to share with everyone today!
I recently posted a recipe on my blog for blueberry cheesecake ice cream and let me tell you… I've made a lot of ice cream this summer and it might have been my favorite so far! I liked it so much I just had to make it again and spread the word. You NEED this cheesecake ice cream in your life. Right now!
I adapted my favorite creamy cheesecake recipe into an ice cream base and it turned out amazing! Tastes exactly like the cheesecake I love so much. Then, to make it even better, there's an insanely delicious strawberry/blueberry sauce and yummy graham cracker crumbles to top your ice cream with. You could swirl them into the ice cream base prior to freezing the ice cream if you wanted. I decided to use them as toppings this time around.
I really hope you get a chance to make and enjoy this Cheesecake Ice Cream. You're gonna love it!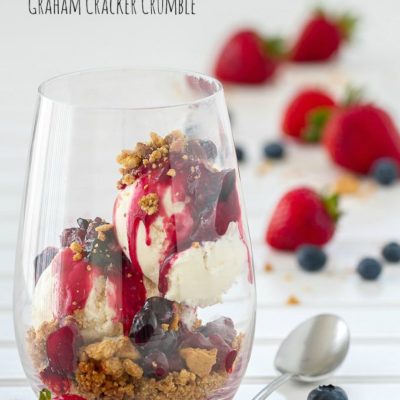 Cheesecake Ice Cream
Ingredients
For the Ice Cream base:

8

oz.

cream cheese

room temperature

1

C.

sour cream

1

C.

whole milk

½

C.

heavy cream

¾

C.

sugar

2

Tbls.

vanilla

½

lemon

juiced

For the Strawberry/ Blueberry sauce:

1

C.

blueberries

1

C.

sliced strawberries

½

C.

water

½

C.

sugar

½

lemon

juiced

1

Tbls.

corn starch - optional

if you want a thicker sauce

For the Graham Cracker crumble:

1

package graham crackers

one wrapped envelope from box

½

C.

flour

¼

C.

brown sugar

½

stick butter

melted
Instructions
Make the Ice Cream base: In blender or food processor, or use a hand mixer, add ice cream base ingredients and blend to combine ingredients. Pour into container and refrigerate several hours or overnight to completely chill the mixture.

Make the Strawberry/Blueberry sauce: Combine strawberry/blueberry sauce ingredients into saucepan. Stir well and bring mixture to boil. Reduce heat and cook several minutes until fruit has softened and sauce is thickened. You can crush the fruit if you want or leave it chunky. Pour into container and chill in refrigerator until ready to use.

Make the Graham Cracker crumble: Preheat oven to 350° Crush the graham crackers into coarse crumbles. Combine graham crackers in bowl with remaining crumble ingredients. Stir thoroughly to combine ingredients and make sure they're all covered with the melted butter. Spread on baking sheet and bake in oven about 10 minutes. Stir a few times while baking, and be sure not to let it burn. Remove from oven and let cool. Store in plastic bag until ready to use.

Make the Ice Cream: Churn ice cream base in ice cream maker according to manufacturer's directions. Mine takes about 20 minutes. Pour into freezer container and freeze a few hours to firm up.
Notes
If you want to swirl in the fruit and graham cracker crumble instead of using them as a topping, pour half of ice cream mixture in freezer container. Layer some strawberry/blueberry sauce and some crumble. Top with remaining ice cream, then more fruit/graham crackers. Using a knife, lightly swirl through the ice cream. Sprinkle a little more crumble on top, cover and freeze until frozen throughout.
For more delicious recipes I hope you'll visit my blog at I'm Bored Let's Go or catch up with me on Facebook, Pinterest, Instagram or Twitter. I'd love for you to follow along!
See you next month! Judy
Here's a couple more ice cream recipes I think you'll enjoy: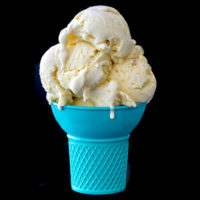 Chocolate Peanut Butter Banana Ice Cream (dairy free, no churn)