Check out this warm and delicious Chicken Pozole Verde Recipe!
Hey y'all, it's Marye from Restless Chipotle and I am back again to share one of my favorite comfort foods with you. Chicken Pozole Verde is a hearty soup made with chicken, peppers, hominy, and enough of those great Southwestern spices to make you think you are relaxing next to the Riverwalk in San Antionio!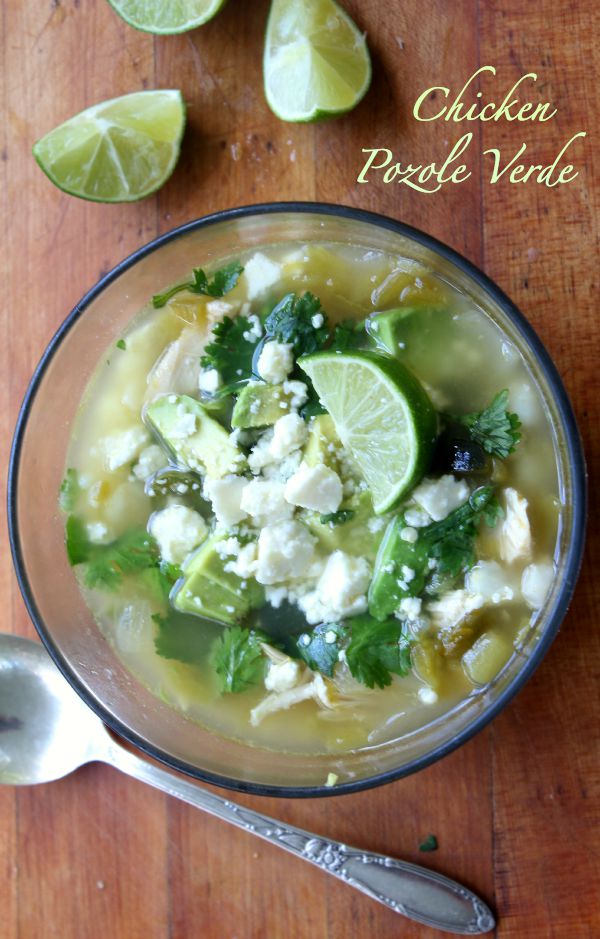 Pozole, sometimes spelled Posole, is a soul warming soup that is chock full of chicken, hominy, peppers, and all of those spices that we love so much here in the Lone Star State. Big state… big flavor. One thing I really love about this soup is that despite the fact that it is filling, it doesn't weigh you down like super heavy cream soups do.
Don't get me wrong, y'all. I LOVE those rich, creamy soups! It's just sometimes if I am running around like a dog at a frisbee tournament I need something light on my stomach by heavy on the staying power. That's what this soup does — it won't make you feel stuffed or sleepy but its got tons of protein to keep you alert.
You can make it in a slow cooker or on top of the stove and it freezes really well. It also is better the next day so leftovers are even better than the first time you serve it. It's one of those recipes you just go-to again and again because it's so darn good. I like to serve it with cornbread and a salad, but there's no reason not to serve it with crackers or chips.
It's the funniest thing about Chicken Pozole Verde — it just doesn't look that impressive. You read the ingredients and think, eh… maybe. Then you taste it for the first time and you wonder why you've never eaten it before.
We had a blue norther come through in the past few days. . . dropped the temperatures down to the mid-80's. You might not think that is much of a cold front but when you've been picking sun-dried tomatoes right from the tomato vines like I have you'll take what you can get! Although we probably have another month of 80's and 90's we're probably past the 110's. In my family that means it's soup weather.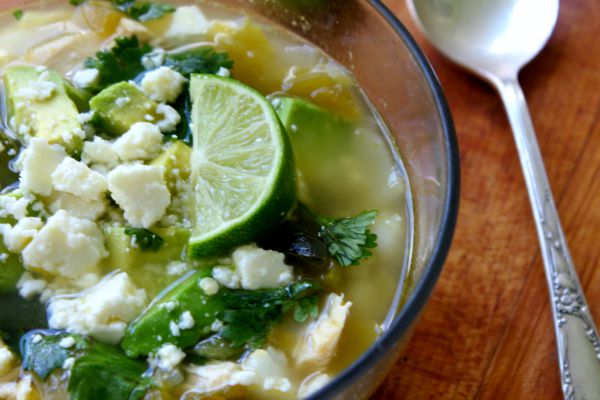 Seriously. It was 82 degrees and rainy the other morning and my daughter wore a sweater and a hoodie to her college classes. I almost expected to see her blowing on her fingers, you know?
When I make this I like to make a double batch and freeze it in 24 ounce servings. I have two kiddos in middle school and one in high school and I like to send them something hot for lunch every day to have along with their sandwiches. This is perfect for warming up and sending in little thermos.
Feel free to adjust the heat by adding or subtracting the number of jalapenos. I like to drop a dried chipotle in the broth while it's simmering up the smoky heat index — give it a try that way, too.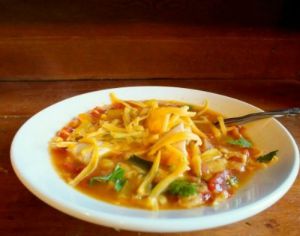 Chicken Pozole Verde Is Serious Tex-Mex Comfort Food
Pozole, or posole, is a Southwestern style chicken soup full of chicken, peppers, and hominy in a garlicky, spicy broth. You can make it in minutes on top of the stove or add all of the ingredients except the garnish to a slow cooker and cook on low for 6 to 8 hours. If you can't find Cojita cheese Feta, although saltier, is a good substitute.
Ingredients
1

tablespoon

olive oil

1

cup

diced onion

1

large poblano pepper

cored and diced

1-2

jalapeño peppers

sliced thinly in rounds (be sure to remove seeds)

3

cloves

garlic

minced

3

4-ounce cans diced green chiles

6

cups

chicken stock

2

14-ounce cans white hominy, drained and rinsed

3

cups

cooked shredded chicken

2

teaspoons

ground cumin

Salt to taste

Garnish: diced avocado

lime wedges, chopped cilantro, crumbled cotija cheese
Instructions
Heat oil in a large stockpot over medium-high heat.

Add onion and poblano.

Saute for 5 minutes, or until the onion is soft and translucent, stirring once in awhile.

Add the garlic and saute for an additional minute, stirring occasionally.

Add the diced green chiles, jalapeños, chicken stock, hominy, chicken, cumin and salt.

Stir to combine.

Simmer for 5 minutes or until heated through.

Garnish with toppings of choice, squeezing a little lime juice into each bowl.
Nutrition
Serving:
1
g
Calories:
265
kcal
Carbohydrates:
26.7
g
Protein:
23.5
g
Fat:
6.4
g
Saturated Fat:
1.2
g
Cholesterol:
54
mg
Sodium:
1315
mg
Fiber:
3.9
g
Sugar:
6.2
g
Well y'all, that's it for this month. I love sharing recipes with you here but I'd love to catch up with you on social media, too! Please consider following me on Pinterest, Facebook, Twitter, and Instagram. See you there!
If you liked this Chicken Pozole Verde you might also like these Restless Chipotle Favorites…
Slow Cooker Chicken Fajita Soup